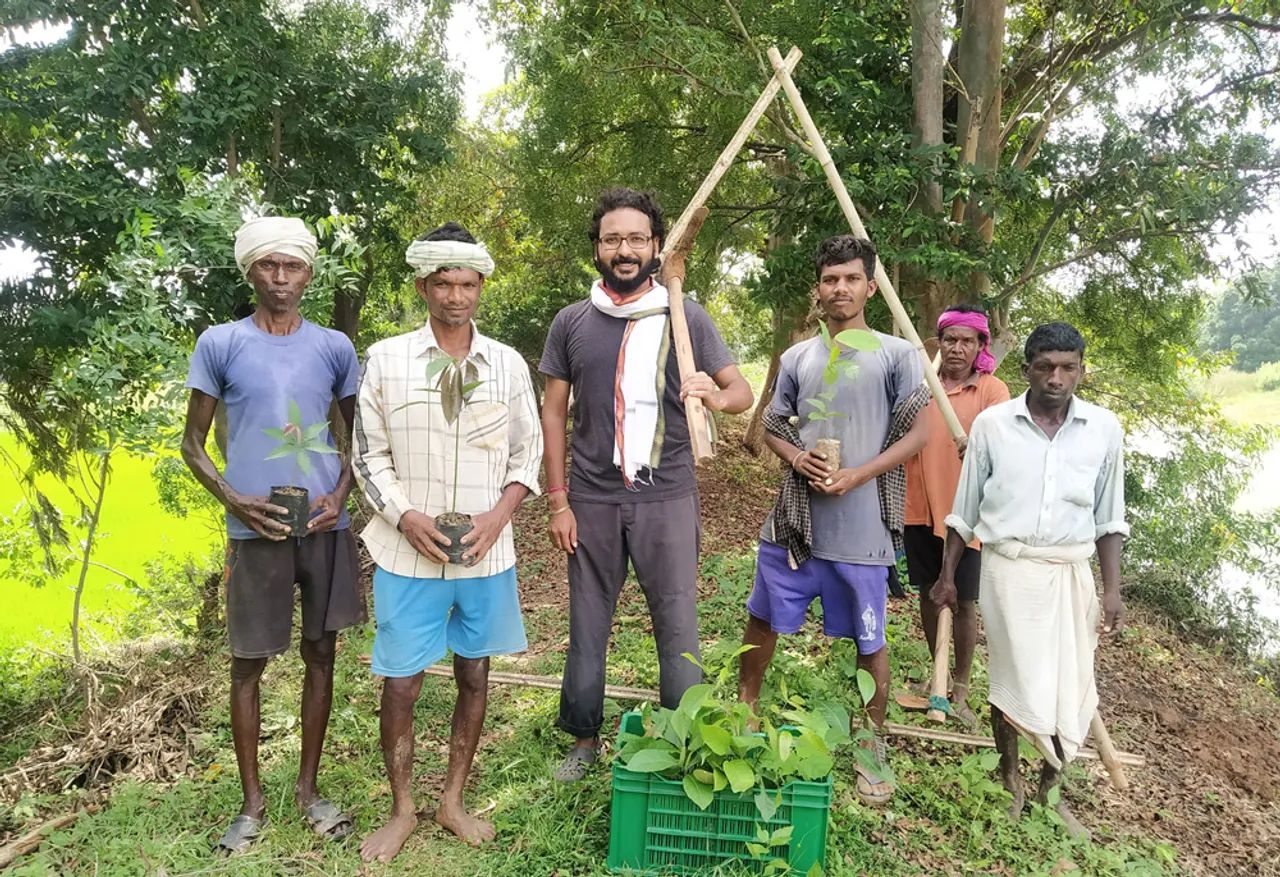 Rakesh Mahanty was born in a farmers' family in Patamda town, about 30 km from Jamshedpur in Jharkhand. His grandfather and previous generations had earned from the soil but his father and uncle did not take up the family occupation of farming due to dwindling earnings. And Rakesh's father focused on good education for his son so that he could get a secure job.
After finishing schooling at Kerala Samajam Model School, Jamshedpur, Rakesh went on to complete B. Tech in 2012 and began working with Tata Consultancy Services (TCS) in Kolkata as an IT Analyst.
Also Read: Gujarat's MBA farmer Chintan Shah turns infertile land into organic farm of turmeric, ginger & wheat
But destiny had different plans. The farmer within Rakesh was calling him to get back to his roots. And so, six years later, he quit his cushy corporate job and returned to his village Aguidangra in Patamda, East Singhbhum, to launch a farm-to-table organic food startup – Brook N Bees.
"Although I studied engineering and got a job in TCS, my heart was always in my village."
Rakesh did not want to just earn money and retire securely. "I wanted to do something meaningful for people back in my village," says the 31-year-old.
Also Read: Mirzapur man leaves high-paying job at ILO to set up FPO; turnover crosses Rs 2 crore in two years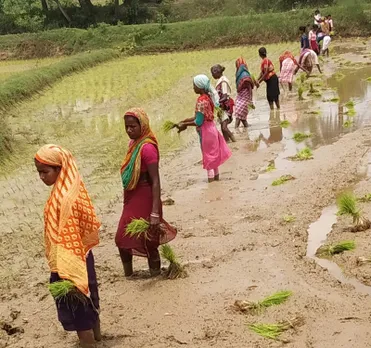 To begin with, Ramesh Mahanty clubbed the landholdings of 80 farmers for community farming that benefits from the pooling of resources. Pic: Brook N Bees 
Giving up city life for the hinterland
While still working at TCS, Rakesh planned his return and when he was sure that he could quit his job and pursue farming, he left the city life to embark on a new innings.
While his mother was supportive of his decision, his father was not happy. "My father's concern was not unfounded. He didn't see a future in farming, which is why he had pushed me out so I could lead a secure life in a city."
"Also other farmers too had been giving up agriculture due to rise in costs and decline in soil productivity and revenues," he says.
To understand sustainable farming better, Rakesh travelled to Punjab, Andhra Pradesh, Karnataka and eastern parts of India. He also pursued a six-month certificate course in entrepreneurship development at XLRI- Xavier School of Management from Jamshedpur in 2017 to develop skills and knowledge for running a successful business.
Also Read: Banker during the week, farmer over the weekend: How Prateek Sharma built Bhopal's Green & Grains organic grocery start-up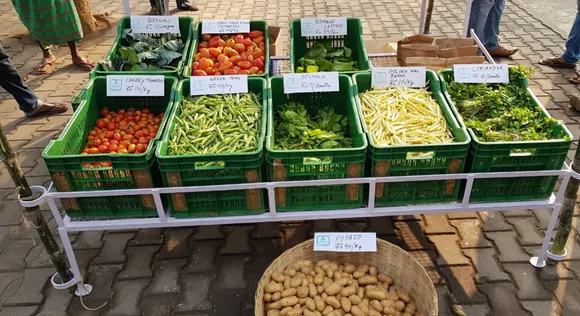 Brook N Bees sells the organic produce directly to households in Jamshedpur and through stalls it has branded as 'Farmer's Haat'. Pic: Brook N Bees 
"I travelled to different places across India to learn about farming and then began with vegetable cultivation on a small patch of our land," says Rakesh, whose family owns 20 acres of land. Growing vegetables using organic manure and vermicompost gave him a good understanding about organic farming and once he was satisfied with his output, he began convincing other farmers to follow suit.
Rakesh collaborated with about 80 farmers and clubbed the farmland of around 60 acres to derive economies of scale through community farming.
With small landholdings, marginal farmers feel pressured to pump in more chemical fertilisers to boost yields, in turn increasing costs and harming the environment.
With community-based farming, which Rakesh promotes and practices, farmers can pool in resources like land, machinery and knowledge besides gaining bargaining power in the market.
Also Read: How Bangalore's retail chain Humus is taking fresh fruits & veggies from farms to urban homes
​"Yet, in the early days, it was tough to convince the farmers because they had lost faith in agriculture. They were practising farming without hope of good returns. But after seeing the sustainable agriculture model that I created in two years, the farmers joined me gradually," says Rakesh.
Today, about 200 farmers, including women, work with Brook N Bees. "They earn Rs6000-8000 per month," he says.
Earlier, they were struggling to make a living and migration to cities was the only option for them.
Taking organic food from farm to table
"We have adopted sustainable farming using organic manure, vermicompost and growing multiple crops on a single piece of land (crop diversity)," he says.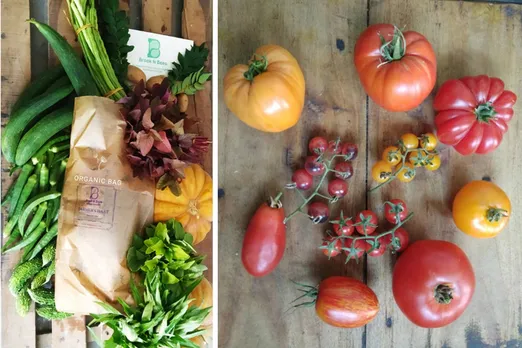 With increasing awareness about health benefits of organic food, customers are willing to pay a premium for Brook N Bees' produce. Pic: Brook N Bees 
To cut irrigation costs and promote water conservation, the farm uses drip, sprinkler and other types of micro-irrigation techniques that minimise wastage. It also undertakes watershed development through regeneration of ponds and rainwater harvesting.
"The belt is good for horticulture, so we mostly grow vegetables," he says. The farmers cultivate jackfruit, beans, black rice, and Gobindobhog rice among other crops.
Also Read: How Tamil Nadu farmer increased profits & cut costs by 30% through organic farming
Rakesh says after farmers began to get good yields, the next issue was to market the produce. He realised if the farmers were unable to sell their produce, they would not be able to sustain farming for long. So in 2018, he set up 'Brook N Bees' through which the farmers' produce is sold.
It was, however, challenging to create a dedicated customer base that could buy the produce at a good rate. "Since the products are organic, the price is about 25 percent higher than other vegetables. So the customers were not willing to buy organic veggies."
But as awareness about organic food and healthy eating grew, the customers for Brook N Bees increased.
Now the enterprise has a customer base of 120 households in Jamshedpur. Rakesh collects the harvested crops from the farm and sends them to residential societies in Jamshedpur for sale. It is delivered door-to-door and sold through stalls, branded as Farmer's Haat, in Jamshedpur city.
Also Read: How organic fruit farming made Rajasthan's Santosh Devi a millionaire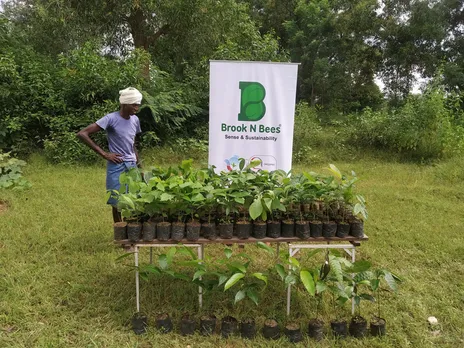 Saplings for Brook N Bees' 'Be a Tree' initiative. Pic: Brook N Bees 
Rakesh has a team of five people working with him for sales and distribution and he also hires people on a contractual basis as and when required.
The start-up had a turnover of Rs8 lakh in the first year and Rs13 lakh in FY 20.
"The sales were hurt due to Covid-19 as collection and transportation were affected. However, sales are now picking up and we expect the numbers to improve," he says.
Also Read: Jharkhand: Tech graduate duo's dairy venture Puresh tastes success amid COVID-19
Brook N Bees is also undertaking an afforestation and tree tagging initiative called 'Be A Tree'. It aims to create forests through crowdfunding not only for biodiversity conservation but also to create livelihood opportunities for local communities. They can access timber and non-timber produce from community forests going forward.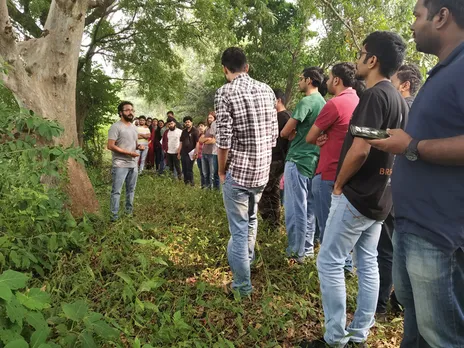 Ramesh Mahanty at a Farm Paathshala session. Pic: Brook N Bees 
Rakesh feels satisfied that he was able to change the local farmers' perspective towards farming and make it a viable livelihood option. He also runs an awareness programme called 'Farm Paathsala' where he conducts classes for urban youth to learn about sustainable farming and the importance of taking farming to the next level.
"I aim to help the farmers do sustainable farming and make it a good source of income. Moreover, I also want to grow my start-up and provide healthier food to the urban population. The educated youth can play an important role in achieving this aim," he signs off.
(Bilal Khan is a Mumbai-based independent journalist. He covers grassroot issues, LGBTQ community and loves to write positive and inspiring stories.)
Also Read: MBA-turned-farmer: Sachin Kothari leaves high-paying but stressful job to set up blooming plant nursery business in Dehradun