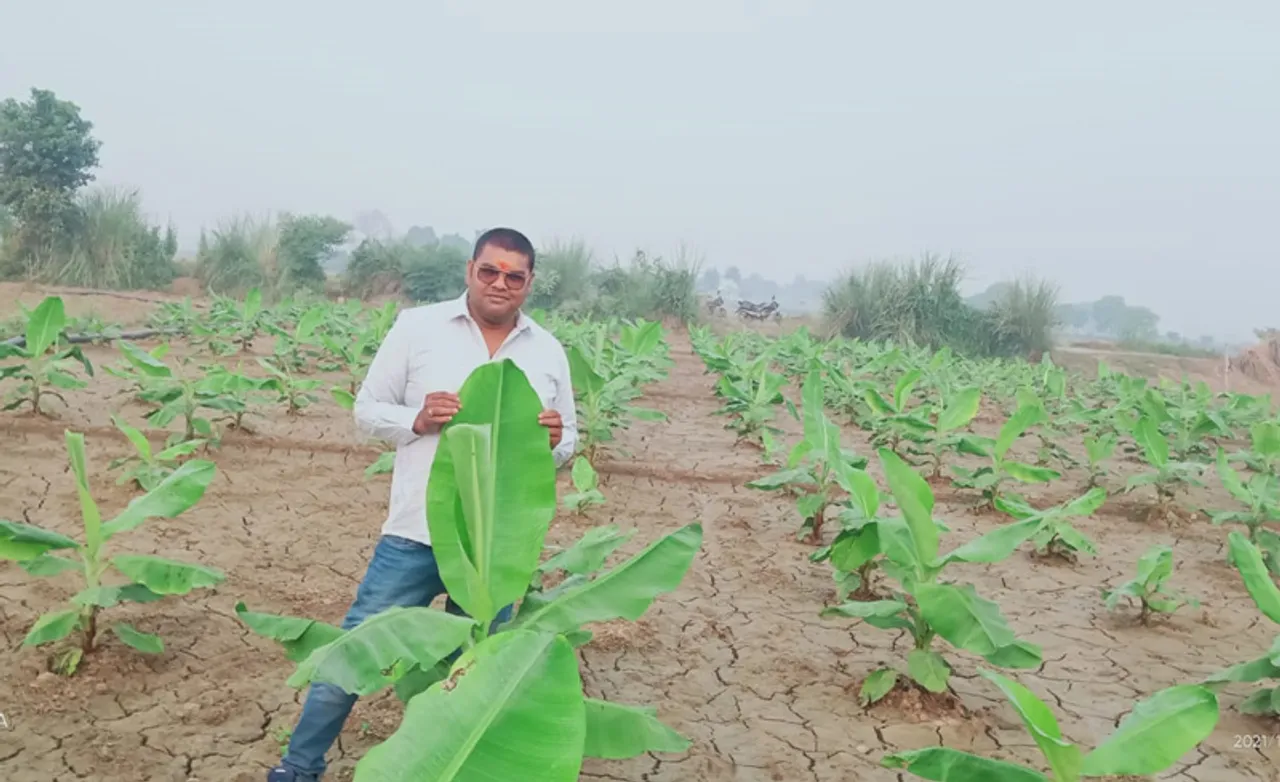 After losing his father to cancer, Mukesh Pandey from Sikhar village in Mirzapur, Uttar Pradesh, had to take an education loan for higher studies. He completed post-graduation in NGO Management and Entrepreneurship in 2010 and began working as a social worker in the arid region of Kutch, Gujarat. 
In 2014, he joined the International Labour Organization (ILO) as a training consultant for Gujarat and Jharkhand, where he trained rural youth in entrepreneurship and earned Rs one lakh per month. Working at the grassroots gave him a wider exposure to the challenges faced by people and he decided to give up the high-paying job to work for the farmers in his village.
Also Read: Rapid Organic: Rajasthan farmer's venture helps 12,000 organic growers find global market
"I have always been interested in working at the grassroots level. After my stint in Gujarat, I gained hands-on knowledge on entrepreneurship and returned to my village," says Mukesh, who set up Nav Chetna Agro Centre Producer Company, a farmer producer organisation (FPO), in Sikhar village in 2019.
The FPO provides farm machinery at subsidised rates to farmers, helps them transition from chemical to organic farming, markets their produce and trains them on efficient farming practices. 
It has helped more than double the income of most farmers and cut their input costs by half. Mukesh says the venture would not have been possible without training from the National Bank for Agriculture and Rural Development (NABARD) which he attended in 2018.
Also Read: Engineer leaves high paying job at Microsoft for Gerbera farming; creates jobs in his village
The FPO started with an investment of Rs 50,000 and now has a turnover of Rs 2.25 crore. It has registered 1,067 registered farmers including 634 women across 15 villages of Mirzapur.
Changing lives in UP's hinterland 
Kiran Yadav, 32, from Sikhar says despite farming for many years over her two-acre landholding, she struggled to earn well. "I would earn about Rs4000 per month. It was tough to make ends meet because of high farming expenses and poor sales of the crops," she says.
Seven months back, Kiran joined Nav Chetna. "Now I earn about Rs13,000-14,000 per month. I continue to grow peas, chilli, gram and tomatoes as before but now I get financial help and farming assistance from the FPO," she says. 
Also Read: Residue-free farming: How Nashik's millionaire grape farmer uses technology to get a yield of 10 tonnes per acre
Nav Chetna helped her transition from urea and other expensive chemical pesticides and fertilisers to vermicompost and organic manure, which reduced her farming expenses considerably.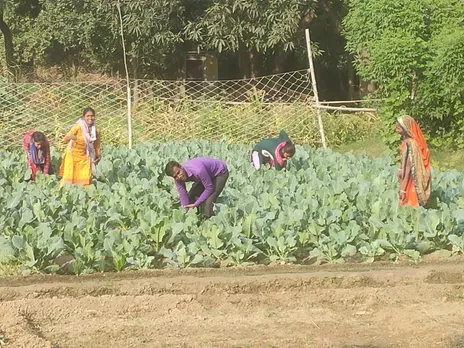 Mamta Kumari (in yellow) could start cultivation on her small landholding with help from Nav Chetna. Pic: Nav Chetna Agro 
Similarly, Mukesh Kumar, 50, had been farming from a young age but his choice of crops wasn't suitable for his land and his earnings were low. The FPO suggested him to opt for banana farming to which he agreed. He earned around Rs 4 lakh from the last harvest.
Also Read: Andhra farmer gets triple the market rates for mango & paddy with zero-cost natural farming
"Earlier most of the income would go towards meeting farm expenses. Now the costs have halved because with the use of organic fertilisers, subsidy on farming machinery through the FPO and other training," he says, adding that improved income means better living and education for his children.
Farm to market, without middlemen
Mukesh's journey to help farmers, however, wasn't easy as the farmers did not trust him initially.
"It was tough to convince the farmers to join the FPO. They thought I would not pay them for their crops."
But when five-six farmers began working with Nav Chentna, the others began to trust him. Moreover, because of the FPO, the district officials began visiting the village which also sent out a message to farmers that our work was genuine. So they started joining the FPO," says Mukesh.
Also Read: How Tamil Nadu farmer increased profits & cut costs by 30% through organic farming
"Interestingly, more than half the registered farmers are women. So our work has helped in women empowerment," he adds.
Mamta Kumari, 25, is a case in point. She was keen to do farming on her small landholding of 12 biswa (about 0.4 acres) but did not have the wherewithal to start. Her father would grow some vegetables, rice and wheat for the family and repair hand pumps for a living.
"But he did not earn enough for a family of six. Two years back, I attended a training programme by Nav Chetna and started farming on my land, which changed my life," she says, adding that her annual profit is about Rs50,000.
Also Read: Banker during the week, farmer over the weekend: How Prateek Sharma built Bhopal's Green & Grains organic grocery start-up
"Now I believe that farming can help us get rid of poverty," says Mamta who cultivates peas, cabbage and green chilli on her land.
She does not have to worry about expenses for farm inputs, irrigation, transport, seeds and other expenses because the FPO helps her and she repays the expenses after the crop is sold.
The farmers cultivate peas, chillies, cabbage, tomatoes, papaya and banana besides other crops.
The FPO collects the produce from farmers and sells them in big vegetable markets and retail outlets of Mirzapur, Varanasi, Lucknow and Prayagraj, ensuring good rates. "Earlier because of the middlemen the farmers would get low rates and delayed payments. As result, farmers struggled despite hard work. Now their incomes are higher and assured," Mukesh says.
Also Read: How Bangalore's retail chain Humus is taking fresh fruits & veggies from farms to urban homes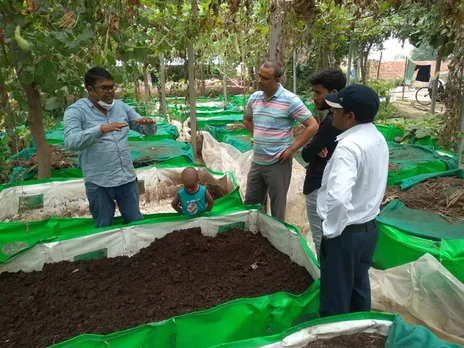 Mukesh Pandey (in blue) at his vermicomposting facility. Pic: Nav Chetna Agro 
It has a training centre for farmers spread over 3,000 sq ft. "We are also planning to build a seed processing unit at an investment of Rs 60 lakh with the help from the government," says Mukesh.
The FPO has 1,000 beds for making vermicompost. It produces 20,000 tonnes of organic fertiliser annually, sold across India under the brand name Nav Chetna. 
Also Read: Jayant Barve: Maharashtra's organic farmer who became manure millionaire
"We started with two beds initially and now we have 1,000. We are one of the biggest exporters of vermicompost from Uttar Pradesh," says Mukesh. 
He says apart from vermicompost, the FPO earns revenues through the sale of seeds, providing machinery to farmers and charges one percent commission for facilitating sales of crops.
Mukesh is striving hard to help the farmers go organic farming and also export the crops out of Uttar Pradesh. "I am happy that I am able to do so much for the struggling farmers in my district but there is still a long way to go," he says.
(Bilal Khan is a Mumbai-based independent journalist. He covers grassroot issues, LGBTQ community and loves to write positive and inspiring stories.)
Also Read: Andhra farmers set up own retail chain Amravathi Organics; cut middlemen & get higher prices