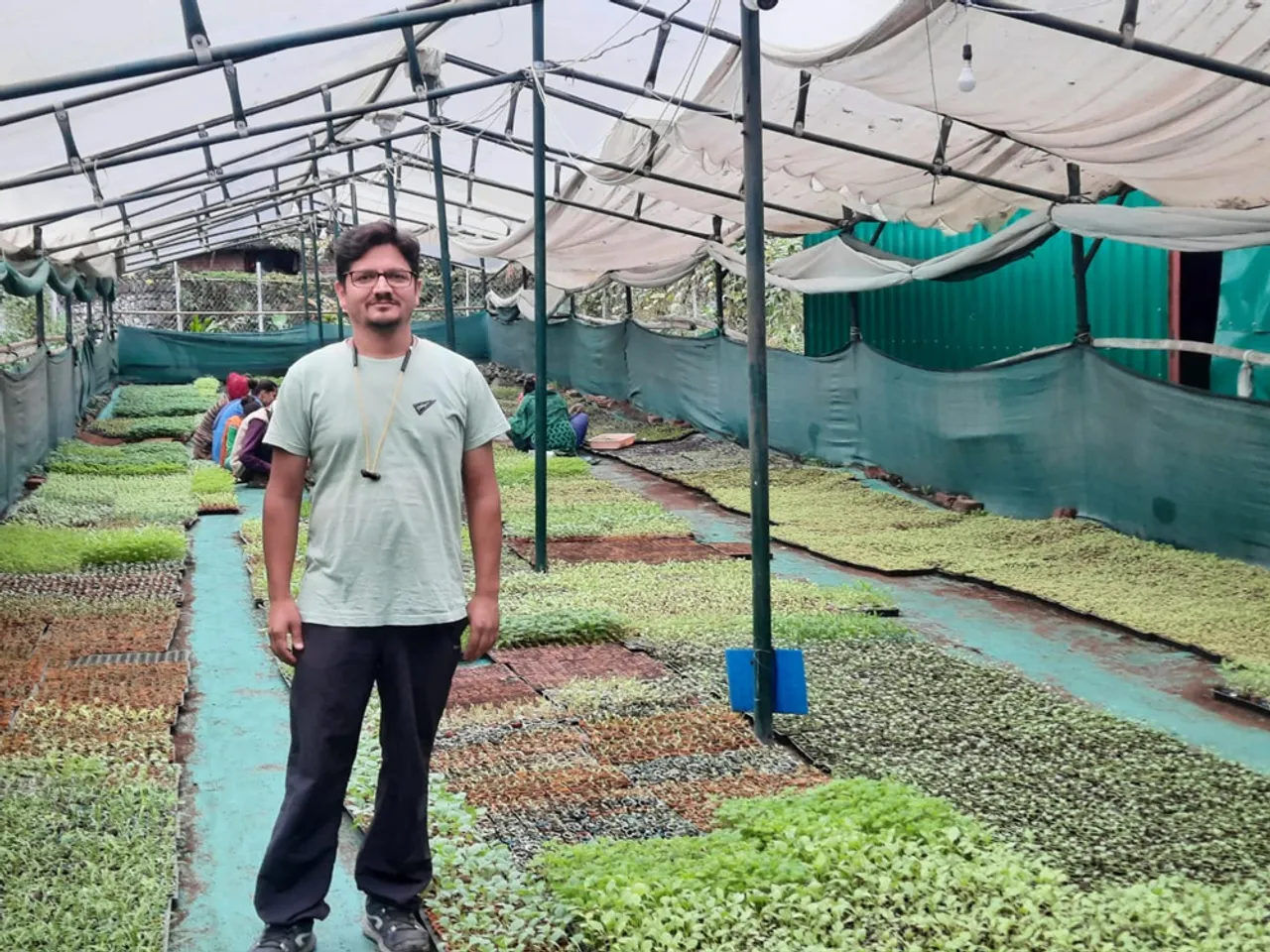 About 70 percent of professionals in India experience stress at work at least once every week, according to global payroll and HR firm ADP. Sachin Kothari was one of them. He had a cushy job, was travelling to new places and climbing the corporate ladder quickly. Yet, he was not happy. Meeting targets and staying away from family due to work-related travel was taking a toll on him. 
Luckily, he quit the corporate job before it was too late and moved back to his hometown Dehradun, Uttarakhand, to set up a flower and vegetable nursery. "Now I am free from stress and can spend quality time with my family. I decide my own routine and earn more than enough to live a decent life," says 37-year-old Kothari, a commerce graduate from DAV College, Dehradun.
The journey from MBA to nursery
He went to the Institute of Management Education (IME), Ghaziabad, for an MBA and began working in the sales and marketing field in 2008, starting his career as a sales officer with Asian Paints. By 2011 he had become an area executive in Total Oil India Ltd. 
Also Read: Gujarat's MBA farmer Chintan Shah turns infertile land into organic farm of turmeric, ginger & wheat
"I was doing great professionally -- travelling to different places, staying in luxurious hotels for work and had a monthly package of around Rs 85,000. But I was not happy," says Kothari.
Life was stressful because of high sales targets and not being able to spend time with family. "It was taking a toll on me despite a good bank balance," he says.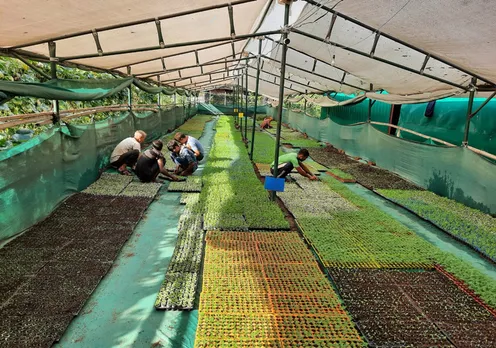 Dev Bhoomi Plant Nursery is spread over 1500 sq mt at village Sarkhet, Dehradun. Pic: Courtesy Sachin Kothari 
Kothari also observed that professional stress was causing diabetes and blood pressure among his seniors who were just in their early thirties back then. "I did not want to end up like them. In 2011, I left the job and chose to take up work that would give me a decent earning to lead a stress-free life," he says.
He used to visit the nursery of his brother-in-law (sister's husband) in Dehradun in his spare time and found the greenery and colourful flowers very peaceful and soothing. "That is why I decided to start a flower and vegetable nursery," he says. 
Also Read: Rapid Organic: Rajasthan farmer's venture helps 12,000 organic growers find global market
Kothari began to read about plants and greenhouses over the internet and books to gain as much knowledge as possible. He also met a lot of people who were into the business to understand the nuances of running a commercial nursery.
Since he did not have a farm, one of his friends agreed to let him use his land for setting up a polyhouse or greenhouse where plants are kept in a structure made of transparent material to grow under controlled climatic conditions. 
His friend also partnered with him and the duo invested Rs 6 lakh in the nursery, contributing 50 percent each. "I had Rs 1.5 lakh savings and took a loan from my father and brother," he says.
The duo, however, did not have hands-on experience regarding farming and plant care. So when Kothari's friend saw no hope in the first year, he went back to his profession of engineering. 
Also Read: Gujarat: Dentist-turned-farmer reaps rich harvest with organic farming of dates
"In the first year, we did badly. It was all about failing and learning."
Kothari was also frustrated and family members suggested he look for a job. "I updated my curriculum vitae but got no offer in a month. So I decided to keep trying in the nursery and stopped looking back."
The season of blooming
By the second year, Kothari had learnt about maintaining the saplings and optimum temperature and moisture levels besides providing the right organic nutrients. People began to buy his plants and money started trickling in. 
Today, the Dev Bhoomi polyhouse nursery is spread over 1500 sq mt in Sarkhet village of Dehradun. 
The saplings are grown on trays with cocopeat, which is a natural fibre made from coconut husks. 
Cocopeat can hold large quantities of water and nutrients like a sponge while keeping the weight low. 
Though it is more expensive than growing in soil, the ease of packaging and lighter weight make cocopeat convenient for transporting saplings far and wide.
Dev Bhoomi's saplings of flowers and vegetables are sold in Saharanpur, Delhi, Ghaziabad, Chandigarh, Ludhiana, Amritsar, Jalandhar and other cities apart from Dehradun.
Also Read: How this Rajasthan farmer went from zero to millions with organic farming using his own manures & sprays
Kothari offers 20 varieties of flowers including petunia, marigold, pansy and osteospermum. The 15 types of vegetables include bok choy, cauliflower, cabbage, broccoli, brinjal, tomato among others. 
He sources seeds from multinationals like Syngenta, Sakata, Benary, Hem Genetics and others. "I source seeds through importers in Delhi, Pune and Kolkata because their quality is good. This leads to high-quality saplings," he says.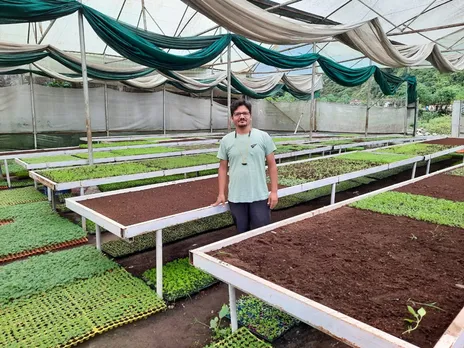 Dev Bhoomi Nursery offers saplings of 15 varieties of vegetables and 20 varieties of flowers. Pic: Courtesy Sachin Kothari 
The months of September, October and November bring in 60 percent of the annual revenues. 
"I had revenues of Rs 30 lakh each in the last two fiscal years."
"Earlier, I would spend more time on the business. But now I visit the nursery at around 11 in the morning and come back by 6 in the evening. The rest of the time is spent with my family," Kothari says, adding that he is content because he is creating livelihood for ten others in the village. 
Also Read: How Tamil Nadu farmer increased profits & cut costs by 30% through organic farming
Creating employment
Kothari has around 10 people working in his nursery regularly and he hires more hands during the winter season. Most of the workers in his nursery are farmers who just grow wheat and rice for self-consumption. 
"They used to take up temporary odd jobs of labourers, peon etc. in the city, away from families, earning around Rs 5000 a month. Here, they earn around Rs 10,000 a month," Kothari says.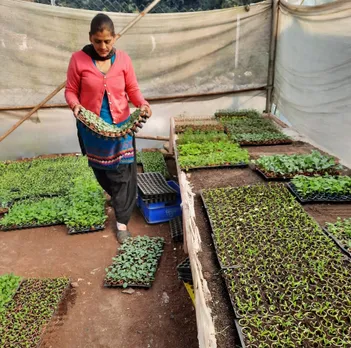 Guddi Pawar working at the nursery. Pic: Courtesy Dev Bhoomi Nursery 
Chote Lal who is from Sarkhet village was working as a labourer, earning Rs. 300 daily but only on the days when he got some work. He lived in a hut with his wife, daughter and son. Three years back, he began working at the Dev Bhoomi Nursery.
Also Read: Residue-free farming: How Nashik's millionaire grape farmer uses technology to get a yield of 10 tonnes per acre
"Now I live in a rented house with an electricity connection and a toilet. I get Rs. 10,000 a month for taking care of plants in the nursery. The house rent is paid by Mr Kothari," says Lal, who is around 50. 
Similarly, Guddi Pawar, 30, began working in the nursery about eight years back and her life changed. She was a housewife while her husband earned Rs 12,000 a month by working as a labour in Dehradun city. "His income was not regular. But with the work at the nursery, I have an assured monthly income of Rs10,000 which reduces our financial stress," says Guddi, who also has two children and parents in her family.
Guddi's work at the nursery ranges from arranging the saplings to making seedling trays and taking care of plants. And she is happy because she can now give a better and brighter future to her children. 
(Bilal Khan is a Mumbai-based independent journalist. He covers grassroot issues, LGBTQ community and loves to write positive and inspiring stories.)
Also Read: Mirzapur man leaves high-paying job at ILO to set up FPO; turnover crosses Rs 2 crore in two years