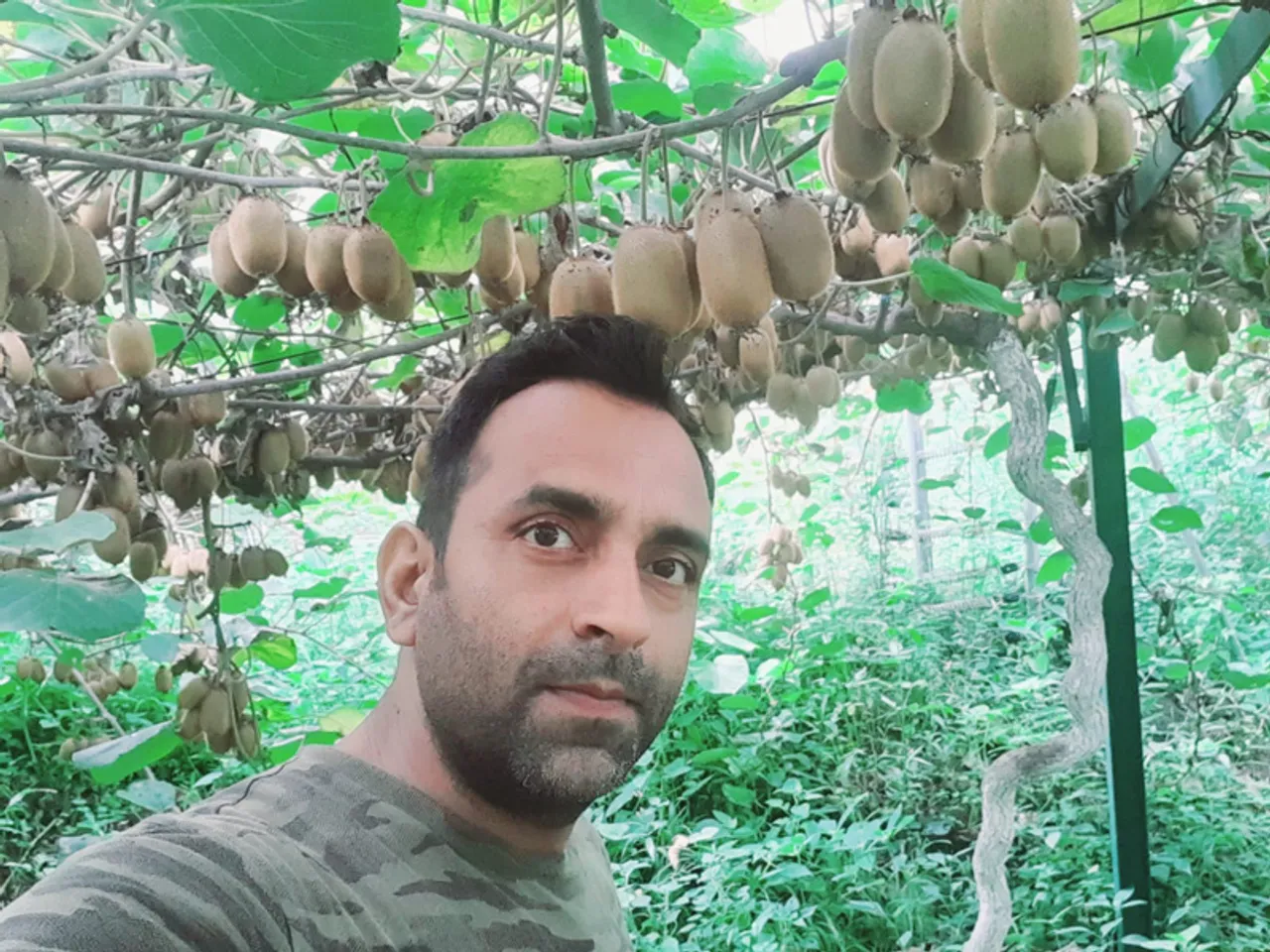 After working for over four years with technology giant Wipro at Gurgaon, Mandeep Verma wanted to return home to Solan in Himachal Pradesh. His wife Suchita, a company secretary, also wished to be closer home so that their children could feel connected to the soil. Not too enthused with the busy city life, Mandeep, a mechanical engineer and MBA, decided to quit his corporate job and moved back to Solan in 2014 to be with his parents. 
Eight years later, the couple is proud of their decision. Mandeep is a successful organic farmer growing kiwi and apples in Shilli, the foothills of the Himalayas.
Natural farming methods have kept costs under check, making Mandeep's Swaastik Farms an inspiring model of organic fruit cultivation without the use of any chemical pesticides or weedicides. 
His annual revenue is about Rs40 lakh, which is set to increase as older plants give higher yields.
Laying the groundwork
Mandeep, however, did not inherit bountiful fields but had to convert his family's 24 bighas (4.8 acres in Himachal Pradesh) of barren land on the outskirts of the village into arable land. 
Also Read: Engineer leaves TCS for organic farming in Jharkhand; builds successful farm-to-table startup Brook N Bees
"We did not start from fertile land. This land in a hilly terrain was uneven. Plus it had not been in use following menace by monkeys who would not let any crop survive," recalls Mandeep.
Due to years of neglect, the land was barren and there was only grass growing on that patch.
So he decided to cultivate a crop that wouldn't be eaten by monkeys and kiwi was a natural choice. "Kiwi is a sour fruit and it has hairs, which deter monkeys from attacking the crop," he says.
Moreover, kiwi fruit has high demand as it is loaded with Vitamins A, B6, B12, E, minerals potassium, calcium, iron and magnesium besides antioxidants.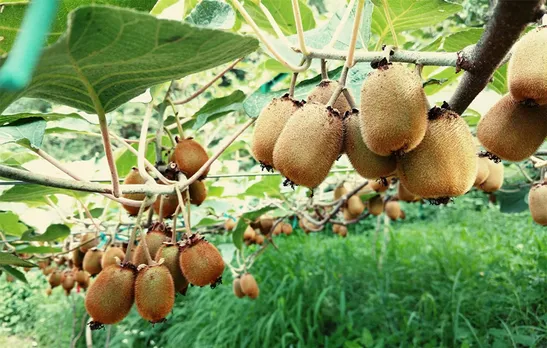 Kiwi plants start bearing fruits from the third year & continue for up to 70-80 years. Pic: Swaastik Farms 
To understand well about kiwi farming, Mandeep read several books and met researchers at the Dr Yashwant Singh Parmar University in Solan. He also met with officials of the local Horticulture Department to learn more about kiwi cultivation.
The work on making the land cultivable continued for some months.
Also Read: Gujarat's MBA farmer Chintan Shah turns infertile land into organic farm of turmeric, ginger & wheat
The land was cleaned up and steep land was contoured into terraces for kiwi plantation.
"After pitting and manuring, the land was ready for plantation by January 2015," says Mandeep, who completed his MBA from IBS, Gurgaon, in 2009.
Mandeep purchased 150 saplings of Alicene and Hayward varieties of kiwi from Kullu and Dr Yashwant Singh Parmar University and planted them. Kiwi plant starts giving fruit in the third year. "Seeing the good growth of these 150 plants within the first year, we decided to plant another 100 saplings in January 2016," he says.
Also Read: Mirzapur man leaves high-paying job at ILO to set up FPO; turnover crosses Rs 2 crore in two years
Fresh water from streams of the Shivalik Hills reaches the fields and is used for irrigation. "We carry the water to plants through sprinkler as well as drip irrigation depending on the need," he says.
The economics of kiwi farming
Kiwi is native to china. In India, kiwifruit is mostly grown in Himachal Pradesh, Uttar Pradesh, Jammu and Kashmir, Sikkim, Meghalaya, Arunachal Pradesh and Kerala. Over 50 percent of the production comes from Arunachal. However, since kiwi has been introduced in India only a few years back, government estimates of area and production are not yet available.
In kiwi farming, saplings are planted at a distance of 6m from each other. The plant is like a grapevine and is not self-supporting. Due to their size and heavy crop load, kiwi plants require permanent support through structures called trellis. 
"The cost of trellis per plant is Rs 3,000 and it is a one-time investment. Once planted, a kiwi plant can continue to give fruits for 70 to 80 and even up to 100 years," says Mandeep.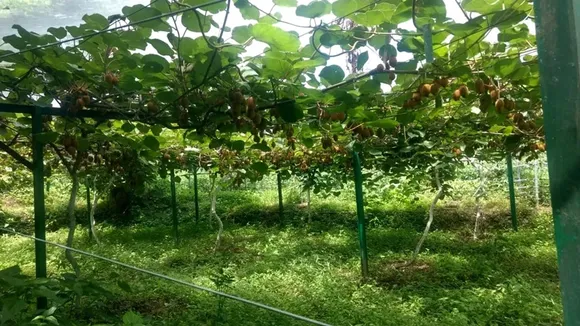 The cost of trellis per kiwi plant is Rs 3,000 and it is a one-time investment. Pic: Swaastik Farms 
By 2017, when the first crop was ready for harvest, Mandeep had readied his website, Swaastik Farms, to sell directly from his orchard to customers in Delhi, Mumbai, Bangalore and Chandigarh. 
"The first harvest was around 200kg and we sold kiwis at Rs 350 per kg, including the charges for packaging and transportation. The next year, our production increased to 380 kg and there was no looking back," he says contentedly.
Also Read: Banker during the week, farmer over the weekend: How Prateek Sharma built Bhopal's Green & Grains organic grocery start-up
ZBNF: Preparing fertilisers, pesticides & nutrients on the farm
Mandeep says the key to good plant growth and rising revenues lies in the use of natural and organic farming methods. He is a follower of Maharashtra's agricultural scientist and Padma Shri awardee Subhash Palekar's zero-budget natural farming or ZBNF. 
Natural farming is based on the premise that soil and cow are complementary to each other. Cow dung from desi (indigenous) breeds is a powerful natural fungicide while cow urine has antibacterial properties. "We have two Gir cows on the farm and use their dung and urine for our plants," says Mandeep.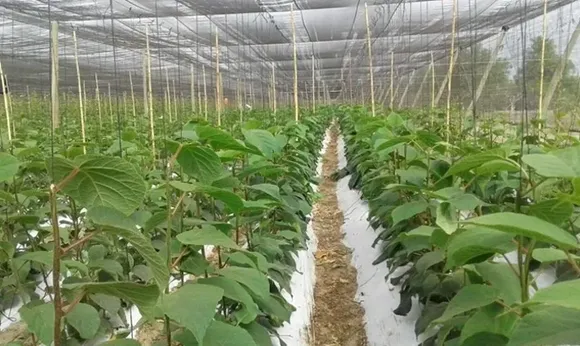 Mandeep uses a combination of drip and sprinkler irrigation using water from the streams of Shivalik Hills. Pic: Swaastik Farms 
The jeevamrit or jeevamrut is made on the farm by mixing water, dung and urine from cows with other ingredients. "We make jeevamrit every 15 days and spray it on leaves as well as roots. This provides nutrition and takes care of diseases. Since no chemicals are used, friendly insects and bees are now part of the orchard which replicates a natural ecosystem," he adds.
Also Read: Engineer leaves high paying job at Microsoft for Gerbera farming; creates jobs in his village
He also uses khatti lassi or fermented buttermilk on the plants. Diluted with water, it is a potent anti-fungal spray.
And if mixed with jeevamrit, it also gets antiviral and antibacterial properties. "We use pure khatti lassi once a month," he says.
Brahmastra or Bhramastra, made using neem leaves and cow urine, is a good pesticide, which Mandeep uses only once a year.
Mandeep makes Sapthadhanyankura Kashayam -- an organic nutrient that increases plant immunity and improves yield. "Seven grains are sprouted, grounded, mixed in water, filtered and sprayed on the leaves," he explains. 
Diversifying into apple cultivation & nursery production
In 2010, Mandeep forayed into apple farming. "We are working on a high-density plantation. Since apple plants are 3 feet apart, there can be more plants per acre. These plants are dwarf, which makes harvesting easier," he says.
Also Read: Why is Kashmir's 800-year-old apple economy in shambles?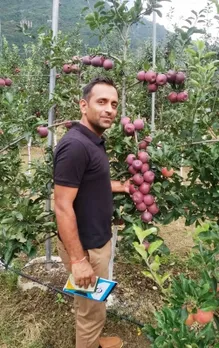 In 2019, Mandeep forayed into apple farming. The plants currently yield 350kg apples annually. Pic: Swaastik Farms 
Mandeep has planted the Gala variety of apples over 6 bighas and the production is good. Apple starts production in the second year and the tree can continue to give fruits for about 20 years. "We have 3.5 tonnes (3,500 kg) production annually from 1200 apple plants right now," he points out.
From his 700 kiwi plants, the annual production is about 9 tonnes or 9,000kg. "We project that after 7 to 8 years, we will reach 40 to 45 tonnes of kiwi per year," he says.
For the kiwi fruits, Mandeep gets an average rate of Rs 220 per kg and Rs280 for apples. These are higher than market rates because the fruits are organic. Currently, kiwi and apple farming brings in annual revenues of about Rs 40 lakh.
Also Read: Krishna McKenzie: Auroville's British musician-farmer with a food forest & organic café
Alongside, he has forayed into the nursery production of kiwi plants. "We are producing about 12,000 kiwi saplings annually and these are supplied in Himachal and Uttarakhand. People come to our farm and buy," he adds. 
Natural farming has replicated the natural ecosystem with bees and friendly insects at the farm. Pic: Swaastik Farms 
The kiwi saplings are prepared through hardwood propagation in the nursery. They sell at between Rs180 and Rs250 per piece depending on the quality and age of the plant, its root diameter etc.
"After pruning is done in winters for kiwi, instead of burning or dumping the waste, we prepare cuttings and follow the process of plantation. These are clones of the mother plant and are healthy," he explains.
Also Read: How this Rajasthan farmer went from zero to millions with organic farming using his own manures & sprays
Since grafting is not done, there is no injury and the growth is good. The older the sapling, the higher is its price.
As for marketing and sales, Mandeep has diversified beyond online sales. "We take the fruits directly to the mandi and since it is an organic farm, visitors also buy from us. Some wholesalers buy on a rate contract basis on a lump sum payment. This way we save on transportation and packaging costs," he says, adding that he is learning along the way.
(Rashmi Pratap is a Mumbai-based journalist specialising in business, financial and socio-economic reporting)
Also Read: Gujarat: This school dropout farmer became a millionaire with organic farming of mango