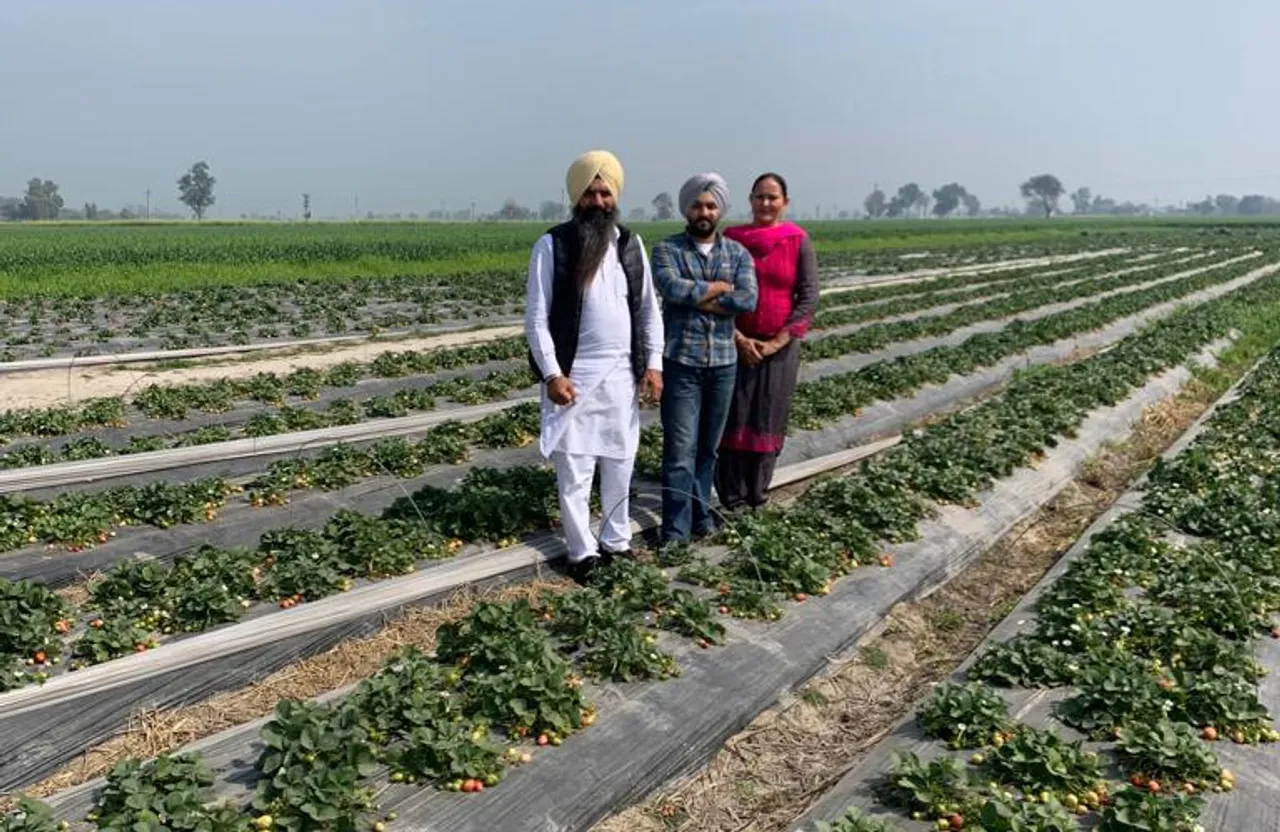 Jaskaran Singh grew up playing in the fields of paddy and cotton in the Kauni village of Punjab's Sri Muktsar Sahib district. Like most other growers in the state, his father too believed it was safest to grow the tried and tested traditional crops with established market linkages. Jaskaran, being the only son, joined his father on the farm after passing class 12th.  
Though he could not pursue studies after school, Jaskaran was determined to do something different in the field of agriculture. In 2014, while travelling to Haryana, he and his friends met some farmers who were cultivating strawberries. The soil there was not very fertile.
"I thought if they can grow strawberries in such conditions, then why we can't do it in Punjab where the soil is much more fertile. I thought we could take that risk," says Jaskaran.
Once back home, he discussed the idea with his father, farmer Baldev Singh, who did not approve of it. After cultivating paddy and cotton for decades, he wasn't convinced that strawberries would flourish in Muktsar where citrus fruits like kinnow, malta and orange top the horticultural produce list. 
Also Read: Engineer leaves TCS for organic farming in Jharkhand; builds successful farm-to-table startup Brook N Bees
Sweet fruits of the experiment
Jaskaran along with his friends, Ravinder Singh and Shani Brar, requested they be given just an acre out of Baldev's 25-acre farm to cultivate strawberries on an experimental basis. "My father agreed. We bought 24,000 strawberry saplings from Hisar in Haryana and planted them over one acre," recollects Jaskaran. 
He also set up drip irrigation on the field using the state government subsidy. "The government gives 80 percent subsidy and for an acre, a farmer has to spend about 30,000 from his pocket. The rest is borne by the government," he says.
Also Read: Banker during the week, farmer over the weekend: How Prateek Sharma built Bhopal's Green & Grains organic grocery start-up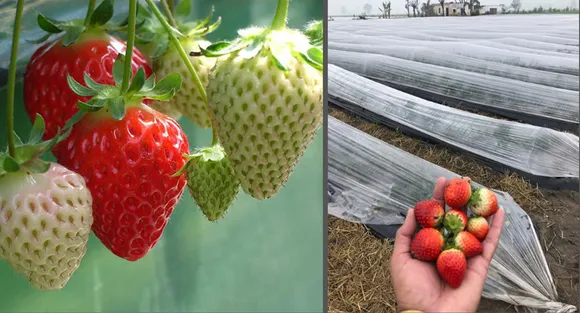 The yield at Jaskaran's farm is about 65 to 70 quintal per acre. Pic: Jaskaran Singh 
The total investment in the first year was about Rs 3 lakh including saplings which cost Rs2 lakh, setting up the irrigation systems, labour, packaging costs etc. By December 2015, when it was time to begin harvesting strawberries, the friends were thrilled to see big-sized berries which sold at over Rs 150 per kg. 
The yield of 65 quintals or 6500 kg was enough to bring crowds to Jaskaran's farm to learn about strawberry farming.
The fruits were aptly sold under the Friend's brand. Even though Jaskaran's friends eventually opted out to pursue their own professional interests, the brand name remains unchanged even today.
Today, Jaskaran has expanded strawberry farming to 5 acres and is a role model for many farmers. He also cultivates vegetables on another 3 acres with organic practices. "I grow ladyfinger, cucumber, bottle gourd and other seasonal vegetables and muskmelon," he says.
Also Read: How organic fruit farming made Rajasthan's Santosh Devi a millionaire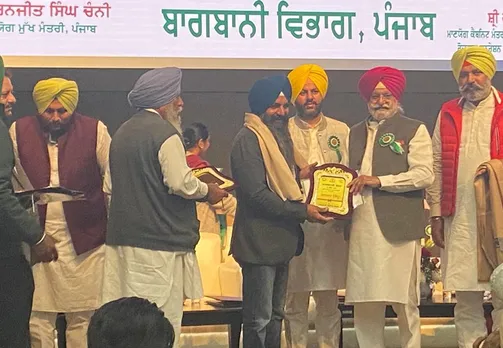 Farmer Jaskaran Singh receiving an award for being a progressive farmer. Pic: Jaskaran Singh 
The vegetables are sold directly from the farm itself while strawberries are transported by trucks throughout Punjab including Ludhiana, Chandigarh, Jalandhar, Amritsar and Rajasthan's Sri Ganganagar. He has not forayed into online marketing as there are bulk buyers for his produce who offer good rates.
The business case for strawberry farming
Strawberry saplings are planted in October and harvesting of fruits starts in December and continues till April. Jaskaran's wife and son also help him on the farm.
Also Read: How Tamil Nadu farmer increased profits & cut costs by 30% through organic farming
His strawberry yield from 5 acres is between 325 and 350 quintals annually (65 to 70 quintals per acre; a quintal is 100 kg). 
"At the beginning of the strawberry season, I sell at Rs 300 per kg (Rs600 per box of 2kg). Then the rate goes down to Rs 200 and finally reaches about Rs100 per kg by February," he says. 
At an average rate of Rs150 per kg of strawberry, the earnings are upwards of Rs 50 lakh for 5 acres (about Rs 10 lakh per acre).
Also Read: MBA-turned-farmer: Sachin Kothari leaves high-paying but stressful job to set up blooming plant nursery business in Dehradun
Jaskaran uses low tunnel technology, in which strawberries are grown on raised beds with plastic mulch. 
Steel hoops are evenly spaced across the length of a bed to support a plastic covering. This is about 2 feet above the raised bed of strawberry plants which are covered with plastic.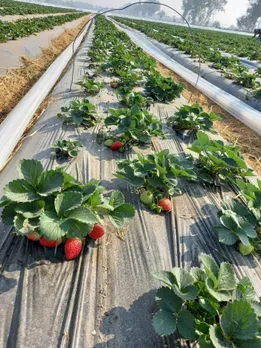 Low tunnel technology where strawberries are grown on raised beds with plastic mulch. Pic: Jaskaran Singh 
Low tunnel technology has many advantages. It protects the plants from rain and cold temperatures and also ensures there is no soil runoff during irrigation. Water is not wasted and the fruit is protected from dust and water as it does not touch the soil. 
Moreover, low tunnel technology protects the plants from ultraviolet light and infrared radiation, which reduces spore germination and heat load on the plants.
Also Read: Gujarat: This school dropout farmer became a millionaire with organic farming of mango
The cost of using low tunnel technology is about Rs 30,000 per acre and the infrastructure has to be changed annually. 
"So this is a recurring cost for farmers," he explains.
Strawberry saplings have to be planted afresh every year. Otherwise, the size of berries in the second year is smaller, which does not fetch good rates.
Each sapling costs Rs 10 or 11 and Jaskaran buys them from nurseries in Pune. He plants about 25,000 saplings on one acre including various varieties like Sweet Charlie, Nabila, Kaamroja and Florida Beauty among others.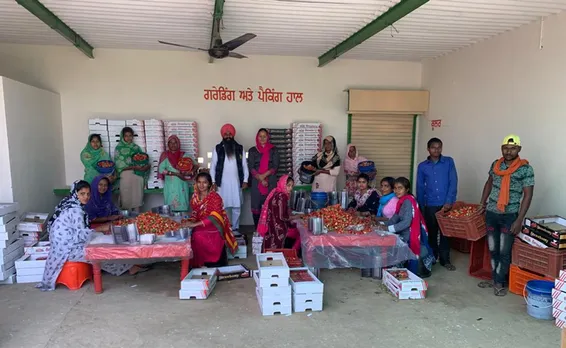 Jaskaran and his wife with farm workers at the packaging unit. Pic: Jaskaran Singh 
The overall cost including saplings, irrigation, mulching, labour, and packaging works out to about Rs 4 lakh per acre annually over revenues of about Rs 9 to Rs10 lakh per acre. 
Also Read: Gujarat: Dentist-turned-farmer reaps rich harvest with organic farming of dates
One can easily make a profit of Rs 4 to 5 lakh per acre after deducting costs, he says.
Watering them right
Jaskaran uses both drip and sprinkler irrigation, which reduces the requirement for water as well as electricity. Through drip irrigation, the water directly reaches the roots of the plant through pipes minimizing wastage. It is used for the routine watering of plants. Sprinklers are helpful in protecting the plants from frost.
He has a permanent staff of 15 people to work on the farm for looking after the plants, harvesting, packaging strawberries etc. He hires other workers on a need basis and during the harvest season, the number goes up to 25 workers. "The majority of our staff comprises women who are experts at harvesting the tender fruits and packaging them," he says. 
Also Read: How this Rajasthan farmer went from zero to millions with organic farming using his own manures & sprays
Jaskaran uses a combination of drip and sprinkler irrigation for strawberry farming. Pic: Jaskaran Singh 
Despite farming for eight years, Jaskaran has not set up his strawberry nursery as yet. "Nursery for strawberry is not feasible here because of high temperature. The cooler climate of Pune and Mahabaleshwar in Maharashtra is conducive for strawberry nurseries," he says. 
Mahabaleshwar, with over 3,000 acres of plantation, accounts for about 85 percent of the strawberry production in India. 
Other major production centres are Nainital and Dehradun in Uttarakhand, Kashmir, Bangalore in Karnataka, and Kalimpong in West Bengal.
Jaskaran says educated youth are now looking to take up farming and they should be encouraged by the government through subsidies. "Fruit cultivation is highly profitable. Today, we have farmers growing dragon fruit in Punjab. There is a lot of scope in horticulture now compared to 20 years back. Young people must make use of it," he adds.
Given the rising number of people visiting his farm, Jaskaran has decided to start offering training in strawberry cultivation. "I now want to spread this knowledge so that others can benefit from it," he says.
(Rashmi Pratap is a Mumbai-based journalist specialising in business, financial and socio-economic reporting)
Also Read: From 4 acres to 18 acres: How profitable organic fruit farming helped Rajasthan's Rajnish Lambha expand rapidly