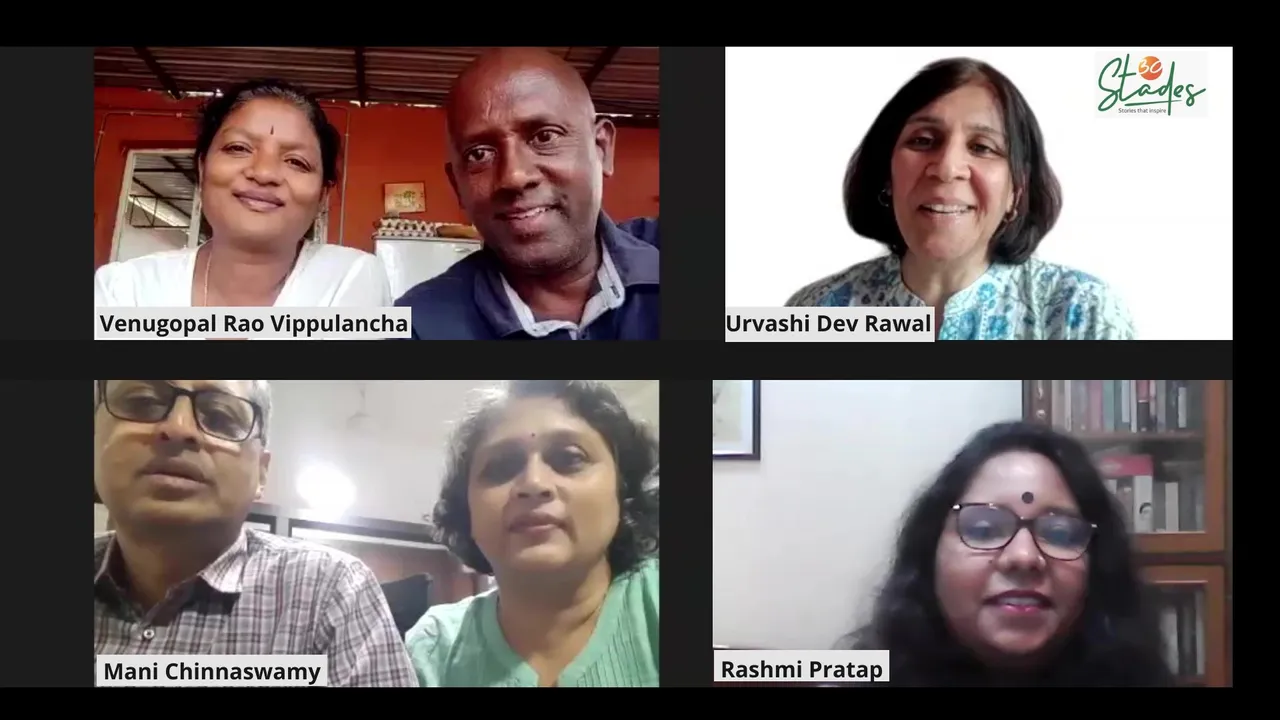 Even the most successful entrepreneurs sometimes fail to separate personal from professional life and when life partners turn business partners, it can become even trickier to strike a balance.
At a webinar hosted by 30 Stades on 'How Entrepreneur Couples Balance Personal with the Professional,' two couples who embarked together on their entrepreneurial journey shared the secrets to achieving work-life balance and commercial success – Ethicus founders Vijayalakshmi Malani Nachiar and Mani Chinnaswamy, and Mandalaa founders Madhavi and Venugopal Rao Vippulancha.
The webinar was moderated by 30 Stades co-founder Urvashi Dev Rawal.
Also Read: The Ethicus Story: How a Pollachi-based couple made sustainable farm-to-fashion viable
Having a clear demarcation between personal and professional life is a challenge when both partners are trying to establish their brand and this stands true for Madhavi and Venugopal, whose Siddipet, Telangana-based social enterprise Mandalaa makes bio-degradable leaf plates, sold globally under the Vistaraku brand.
"Work is with us all the time. We have to set examples for other workers in our factory so we try to be punctual and reach well in time," said Venugopal.
The couple lived in the US for several years but wanted to return to India so their two sons could grow up in their own country and culture.
Also Read: Vistaraku: How Telangana's start-up is taking traditional Indian leaf plates to the world
Mani and his wife Vijayalakshmi are Directors at Appachi Ecologic Cotton Pvt. Ltd. They are based out of Pollachi in Tamil Nadu. The couple founded Ethicus, India's first Organic and Sustainable Farm to fashion brand in 2009.
Resolving differences
Asked how they resolve differences of opinion while taking decisions, the couples said they hear each other out and try to arrive at a consensus. Mani said he and his wife, Vijayalakshmi, co-founder of Ethicus, have marked their territories. "My work is more mechanical as I have to source the cotton, convert it into yarn while Vijayalakshmi's part is more artistic and so we make decisions regarding the work in our areas," said Mani.
"I let Venu make the decisions but ensure that the ideas behind are mine," added Madhavi with a chuckle.
The couples agreed that it is difficult for them to take a vacation together or attend family functions but they have worked their way around it.
On the business environment in India for start-ups, the couples agreed funding remains tough even today. Madhavi suggested that a start-up should establish its product first and then look for financing as lenders have more confidence once a product is in place.
Start-up challenges
Vijayalakshmi said when they launched their business, the couple were unaware of the challenges that lay ahead. "Ignorance was bliss for me. Had we known the tremendous hard work that goes in and the challenges, we might not have ventured into this. But the most difficult part was convincing our families and gaining their confidence to do something different," she said.
Also Read: Bihar-based startup takes the humble sattu to US, UK & Singapore
In the case of a startup, there are often periods of uncertainty and self-doubt, she said. "In such times, I recalled my father's words who said that don't be like a monkey, trying to do everything. If you have to do something, choose one thing and jump in and do it," said Vijayalakshmi.
It's also the case that parents often want their children to shoulder responsibilities and join the family business. The couples said while it would be nice if the kids joined them, they had not put any pressure on their children to carry forward the business. "Our younger son has joined us in our work. He is helping us create sustainable products," said Madhavi.
"Consciously or subconsciously we have involved our children in our work. They are always in the loop and aware of the business. So if we are not around, the children can handle the business very well. Yet, they are free to decide for themselves. Our doors will always be open for them if they want to join us," said Vijayalakshmi.
(Rishika Agarwal is a Patna-based writer specialising in art, culture and human interest stories)
Also Read: Chennai couple's startup Carbon Loops takes urban food waste back to farms