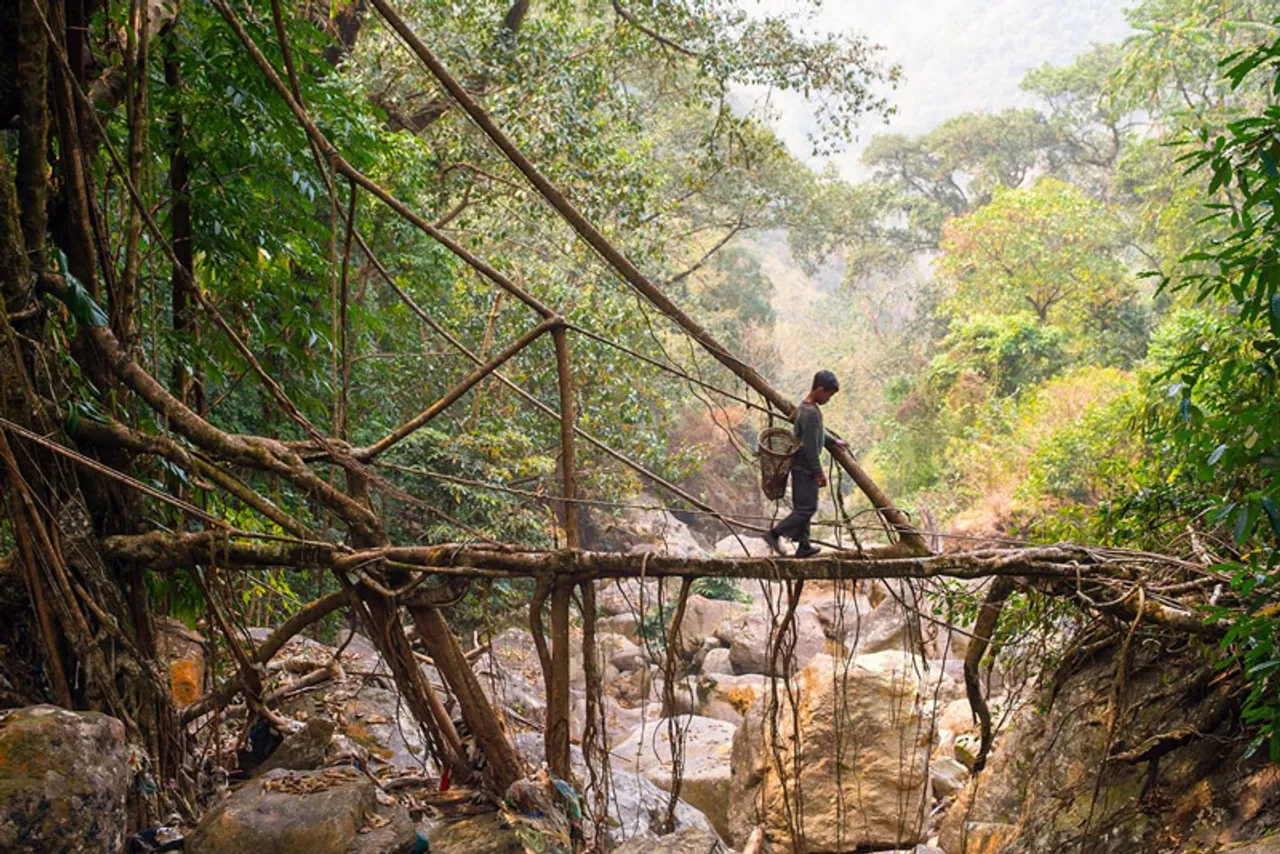 Thick forests of the Khasi and Jaintia hills in Meghalaya are home to centuries-old living root bridges. These unique bridges have been sculpted by the Khasi tribe from the Ficus Elastica or rubber tree.
Many of these ancient structures fell into disuse and disrepair over time. It took an initiative by a school dropout to reintroduce the Khasi community to their ancient heritage. The living root bridges, locally known as Jingkieng Jri, have also been included in the UNESCO's World Heritage Site tentative list.
Morningstar Khongthaw has for the past eight years travelled across the remote villages of Meghalaya, advocating the need to protect this precious heritage. Under his latest initiative called the 'Hands-on Roots Initiatives 2021', he visited about 25 of the over 70 villages to be covered. 
Also Read: Panzath: Kashmir village where a 900-year-old spring cleaning festival has conserved traditional water bodies
Sensing an economic opportunity, he is also linking sustainable tourism to the root bridges that will create employment and generate income for the tribals.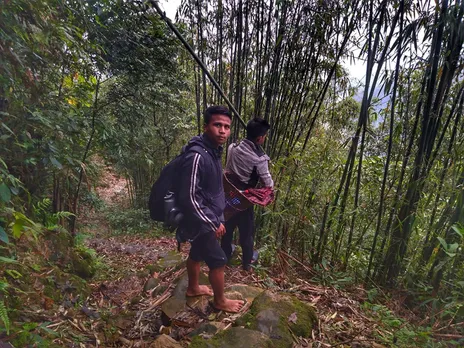 Meghalaya, which means abode of the clouds, receives very heavy rainfall during the monsoon. The state has two of the world's rainiest cities - Mawsynram and Cherrapunjee. With such weather and rivers often in flood, these bridges have been a boon for the locals.
A design movement based on indigenous philosophy to create sustainable technology has taken roots around the world. Experts hope that this living architecture can help modern metros adapt to climate change and live in symbiosis with nature.
Also Read: Bengaluru engineer revives 11 dead lakes, targets to rejuvenate 45 water bodies by 2025
Ancient pathways
In olden times, in absence of roads in the dense jingles, it was these root bridges that served as links for the tribals to travel between villages. The bridges built over large rivers or small streams served as pathways to travel from one place to another, from the village to the farms and to ferry goods. Ladders and steps were also similarly made to facilitate the movement of people.
But with urbanisation, more and more construction activity brought roads and developments deeper into the hinterland and the root bridges fell into disuse.
Then in 2014, Morningstar took it upon himself to launch a campaign for the conservation and restoration of the root bridges.
At the time, 18-year-old Morningstar had dropped out of the government school he attended in Shillong, much to his parents' unhappiness, and was deciding his future course of action.
"I found studies too boring. I was a science student and enjoyed botany but I wanted to learn from experience and not from books," he says.
His village, Rangthylliang, has over 20 living root bridges but many were decayed and in a state of disrepair. The bridges were a tourist attraction and visitors from India and abroad came to see these unique natural structures.
Also Read: Delhi water crisis: 5 historic forts from which India's capital can learn water harvesting & conservation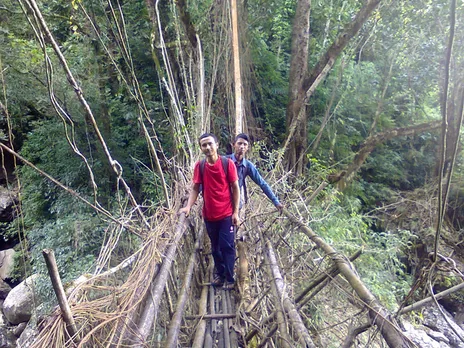 Morningstar's father, a farmer, was involved like other community members in the preservation of the bridges. Initially, Morningstar too got involved with local NGOs in the maintenance of the bridges.
Building natural bridges
Coincidentally, it was an American tourist who shepherded Morningstar onto the path of conserving the bridges. "He appreciated my work and encouraged me to continue it. He also wrote a book in which he mentioned my work," says Morningstar.
After this encounter, Morningstar decided to take up preservation work full time. He travelled across the state, met people in other villages, heard their stories and learned how they were conserving the bridges.
In 2017, he launched Living Bridge Foundation all by himself. The next year he created a Facebook page which generated awareness about his work on social media and aided him in reaching out to youngsters who were keen to help.
In 2021, he undertook the Hands and Roots initiative in collaboration with the state tourism department which provided him with funds of Rs3.8 lakh. Under the tie-up, Morningstar travelled to 25 of 70 villages that have root bridges to create awareness and build new bridges.
Also Read:  Growing green lungs: How Thuvakkam is creating urban forests in Tamil Nadu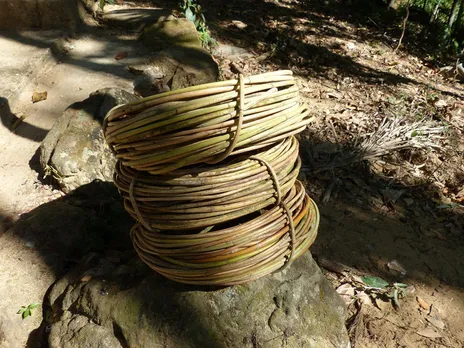 The bridge takes decades to build. First, a sapling of the Ficus or rubber tree that grows abundantly in Meghalaya is planted near a crossing place on both sides of a river. The tree grows for about a decade and then develops aerial roots in the upper branches. These aerial roots have a degree of elasticity and can be joined together to form a stable structure.
The roots keep growing along the framework and create a natural bridge that is then used as a pathway or road. It takes 20 to 30 years for the roots to grow firm on the framework from one end to the other. The bridges can grow 50 to 100 feet.
Once ready, they still require care. It has to be ensured that not too many people get onto the bridge at one time. Also, the bamboo frame needs to be changed every two or three years as the moist and humid conditions cause the bamboo to rot.
Also Read: Snehakunja: Preserving biodiversity through empowerment of tribals in Western Ghats of Karnataka
Economic opportunity
When he is not travelling or building bridges, Morningstar works as a tourist guide from which he earns his livelihood. He says since the area is remote and unexplored, tourist traffic has been slow. Things are getting better now after the pandemic as tourist arrivals are picking up.
Morningstar says he uses 70 percent of the income he earns as a tourist guide for his foundation work. "The income is not much but I'm committed to my work and I go with the flow," he says.
The committee is headed by the Khun Kur Longtrai Lai Kynthei of the Riad Shabong. 
The committee has identified a living root heritage site with five living root bridges that will be promoted as a tourist destination. Work is on at the site to restore and fix old bridges, and create water storage structures and landscaping.
Also Read: Western Ghats: India's natural and cultural diversity hotspot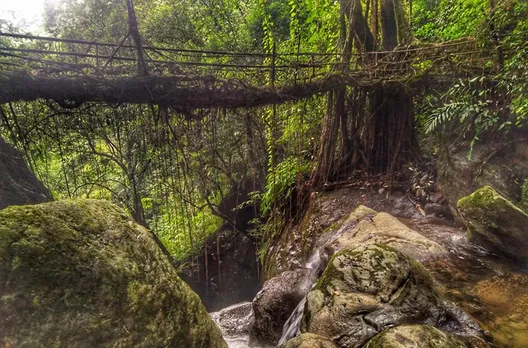 Morningstar says this is a pilot project. "We will create a heritage village where tourists can stay in huts and experience nature and work with us on the bridges," he says. If successful, it will be replicated in other villages and will create employment and income.
Maintaining a heritage
The work on repairing bridges is undertaken during the summer season when the weather is dry. "During winter the cold weather makes the roots brittle and prone to breaking. So, the work to change the bamboo framework and put new roots is done during the summer season," says Morningstar.
During the monsoon, the roots of the trees are fragile and need maintenance. During this period, the LBF volunteers apply rotten leaves and soil near the bark of the tree to provide it with nutrition to grow.
Also Read: 10 Environment warriors fighting to protect our biodiversity
"Initially, it was tough to convince them about my initiative. But they have seen my work and trust me. They actively participate in conservation and have been very supportive," he says.
Help has also come from unexpected quarters such as the Technical University of Munich which has supported his efforts and even presented him with a high-tech camera to carry forward his work.
Morningstar's work is slowly being noticed and some researchers and educational institutions have reached out to him for expertise. In 2019, he was invited by the North-Eastern Hill University in Shillong to give a presentation on the living root bridges at a conference.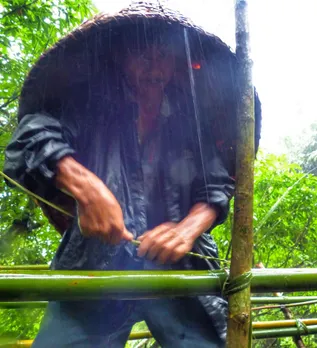 A documentary film has also been made by director Simran Gill on the work being done by Morningstar. It has been shown in several film festivals and won a few awards.
Morningstar has no plans to slow down yet. "These living root bridges are the knowledge of our elders and our heritage. Khasis are known around the world as the living root community. We cannot let this precious knowledge die out. We have to protect and preserve it," he signs off.
(Urvashi Dev Rawal is a Jaipur-based journalist specialising in development, gender, and political reporting)
Also Read: Arunachal: How environmentalist Jibi Pulu is using ecotourism to turn Mishmi tribe conservationists