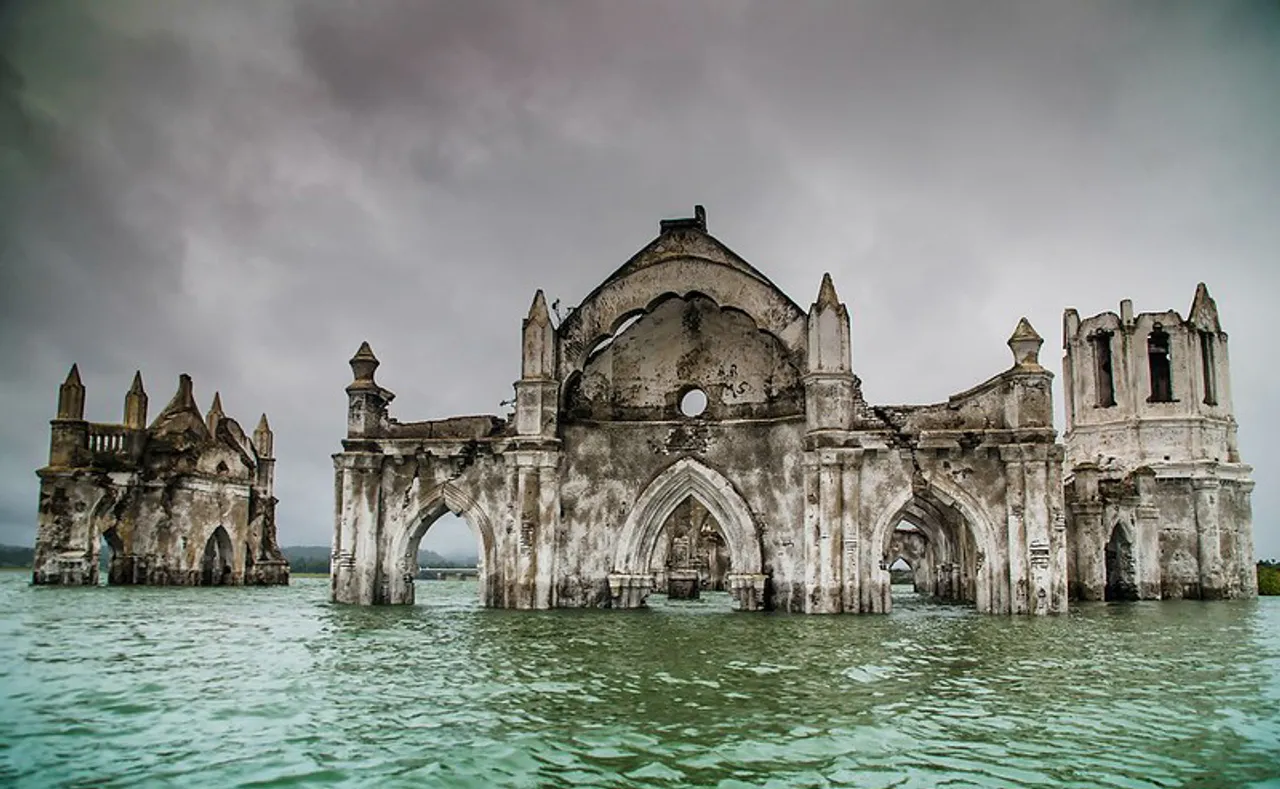 During the monsoons, if you visit Shettihalli in Karnataka's Hassan district, about 200km from Bengaluru, you will find a church floating in the backwaters of the Hemavati River. The 212-year-old Shettihalli Rosary Church has been submerging in water between July and October annually since 1960. Only the top one-third of the structure is visible during the monsoons.
Also known as the floating or submerged church, it was abandoned in 1960 after the construction of Hemavati Dam and Reservoir which redirected the waters of the river and submerged 28 villages in the vicinity.
Built by French missionary Jean-Antoine Dubois (January 1765 – 17 February 1848) in 1810, the church with Gothic architecture was initially a single-storey building with two bells. It was renovated in 1860 when the area was expanded and a lot of decorative items were imported to adorn the church.
Apart from mortar and bricks, a mix of jaggery and eggs was used in its construction.
Both jaggery and eggs have been used in many historical monuments as well as homes across India. Jaggery is believed to be a strong binding agent while eggs give a shine to the walls. The use of eggs is also common in Tamil Nadu's Chettinad architecture where masons use them to give a mirror-like finish to the walls.
The church is an example of Gothic architecture, which was prevalent in Europe from the 12th to the 18th centuries.
Also Read: West Bengal: Restoration efforts resurrect Serampore's Indo-Danish heritage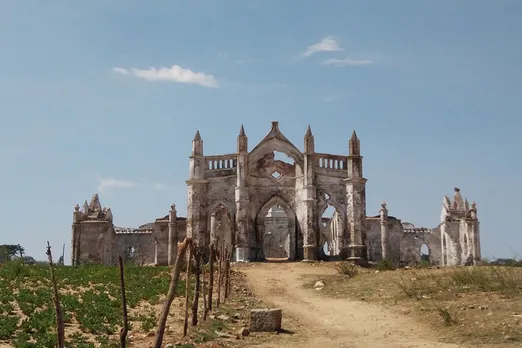 Shettihalli Rosary Church in the summer season. Pic: Wikipedia 
The prominent Gothic features like pointed arches, ribbed vaults and spires can still be seen in the ruins of the church.
But imported stained glass doors, windows and artefacts have all been lost. The structure's entire roof has caved in, unable to withstand the elements of nature, but the altar and the central nave are still standing.
Dubois' church was the worship place for the wealthy British estate owners in Sakleshpur and Alur besides locals from Changaravalli, Shettihalli, and Madanakopplu. While Dubois had come to India to convert the locals to Christianity, and setting up the Shettihalli church was a part of his project, he ended up adopting the Hindu way of life including vegetarianism, local clothing and language.
Also Read: Maharashtra's Sea Forts: A testimony to the rise & fall of kingdoms on India's West Coast
The church was built in 1810, renovated in 1860 and abandoned in 1960. Pic: Flickr 
As a result, the Shettihalli Rosary Church became a place for helping the poor and the needy irrespective of their religion. Dubois left India for France in January 1823 and authored a book of Indology -- Hindu Manners, Customs and Ceremonies.
It is said that many Christian scholars including B L Rice, Rev. F Kittel, and Hermann Moggling stayed at the church during their research work.
Also Read: How Ahmedabad's legendary pols that make it a UNESCO World Heritage Site are changing
The Shettihalli Rosary Church is a much-loved tourist spot and during the rainy season, visitors can see the floating church from the bridge across the dam. More pictures here: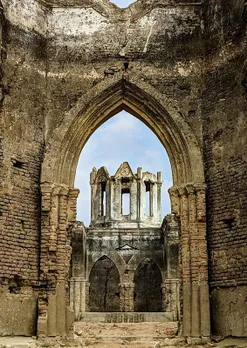 Elements of Gothic architecture like pointed arches, ribbed vaults and spires can be clearly seen in the church. Pic: Flickr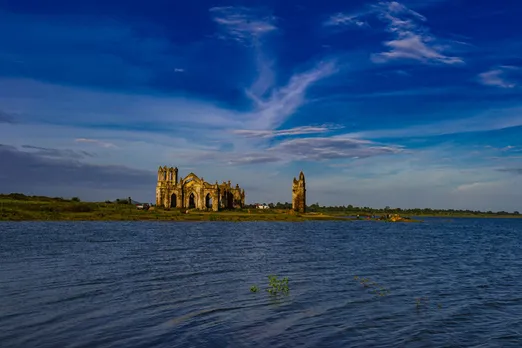 The view of Shettihalli Rosary Church from the Hemavati Reservoir. Pic: Wikipedia 
Also See: In pictures: Lesser-known UNESCO World Heritage sites in India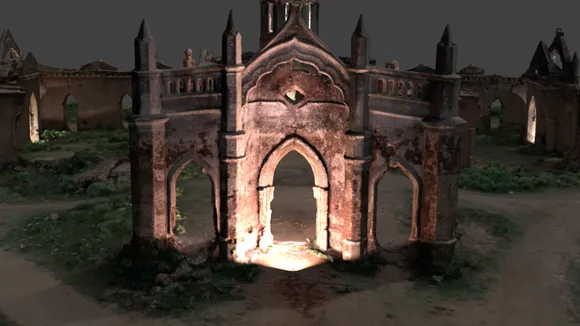 The view of the church at night. Pic: Flickr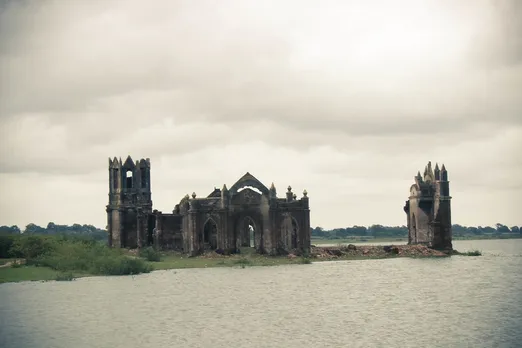 Brick, mortar, jaggery and eggs were used in the construction of the church. Pic: Flickr 
Also Read: Gagron: Rajasthan's unique hill & water fort that is a UNESCO World Heritage Site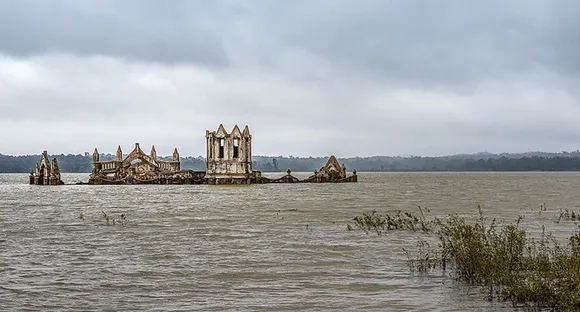 Two-thirds of the church submerges in water during the rainy season. Pic: Flickr 
Also Read: Matheran: Asia's only automobile-free hill station