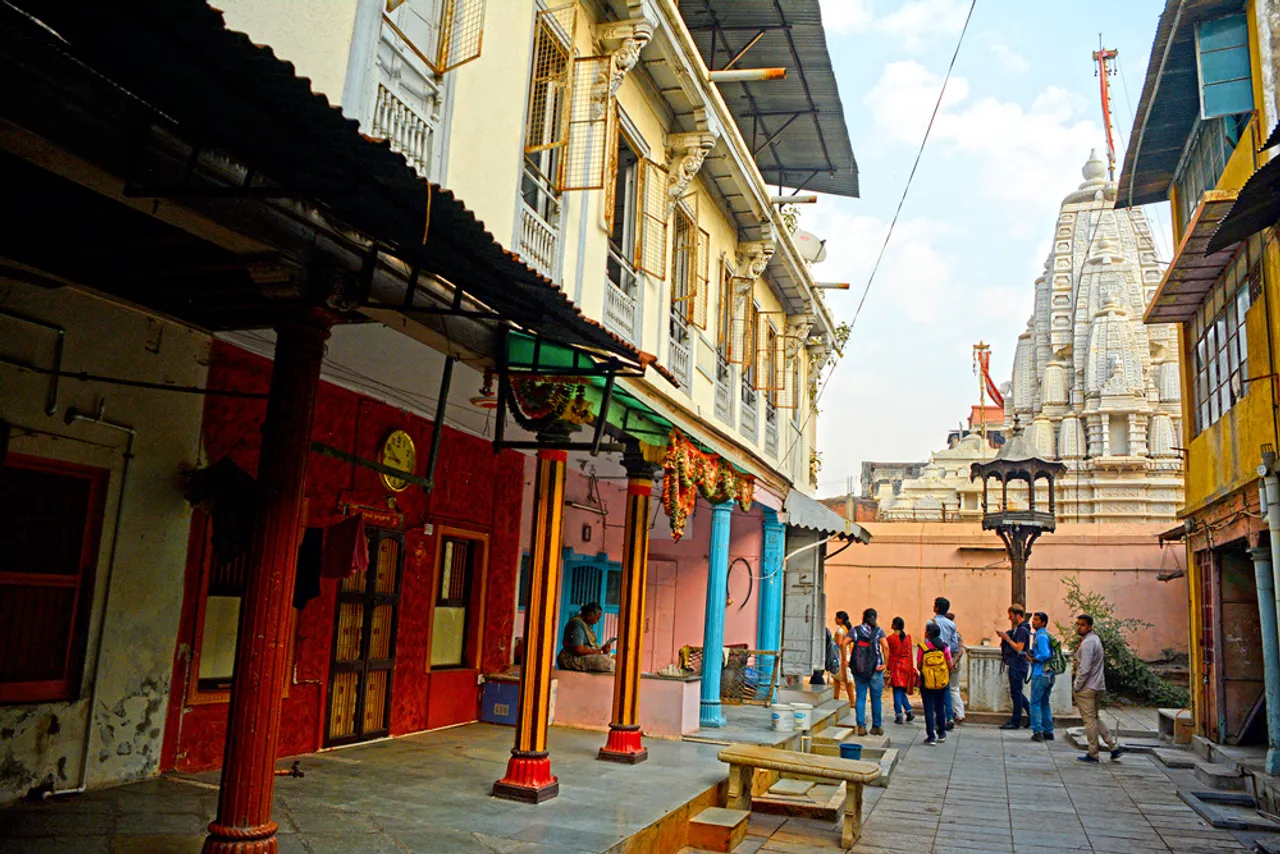 Ahmedabad turned 611 years old on February 26, 2022. One of the most unique architectural and socio-cultural features of the city is its pols.
They are a unique model of community living where the residents share strong social ties.  Pols were formed as housing clusters which comprised many families of a particular group, linked by caste, religion or profession. The word 'pol' is derived from the Sanskrit word 'pratoli' or gate. Hindu and Jain neighbourhoods were called pols while Muslim neighbourhoods were referred to as 'mohallas'.  
According to a research paper titled 'Traditional Pol Houses of Ahmedabad: An Overview', published in 2020 in the journal Civil Engineering and Architecture, the walled city of Ahmedabad has 360 pols over an area of 5.78 sq km. Each pol consists of 45-60 houses.
Also Read: How Nahargarh's 300-year-old water harvesting system beat the desert's water blues  
Contribution to heritage status
As Old Ahmedabad has become connected with comparatively newer parts of the city, and with increasing commercialisation, the pols are losing their original character. However, their historical significance and quaint charm continue to enthuse tourists and experts alike.   
UNESCO has ten criteria for selection. Under criterion v, in relation to Ahmedabad, whc.unesco.org says: "Ahmadabad's settlement patterns of neighbouring close-packed pols provide an outstanding example of human habitation."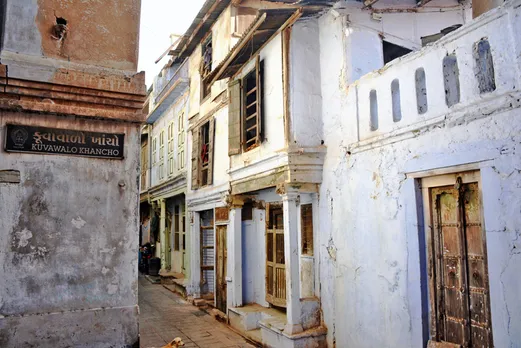 "Pols are not unique to Ahmedabad. They are present in Patan, Vadodara and Khambhat too. However, in Ahmedabad you find the largest, most elaborate, most homogenous, and well- preserved settlement structure of this kind," says Khushi Shah, conservation architect and visiting faculty at CEPT University, Ahmedabad.
Also Read: How a hobby made Patels the last custodians of Ahmedabad's Ashavali sarees
Heritage expert and member secretary of the Heritage Conservation Committee of Ahmedabad Municipal Corporation (AMC), Debashish Nayak concurs. He says: "The unique design of the walled city and its pols played a major role in Ahmedabad getting the status of a World Heritage Site. Ahmedabad's walled city is one of the largest in the world."
Origin of pols
The origin of pols in Ahmedabad is shrouded in some mystery. Historians have several theories. There is a theory that pols were made in Ahmedabad for protection and security during communal riots under the Mughal-Maratha rule (1738-1753).  
However, the most accepted theory is that they originated in the Sultanate period. "The pols in Patan were replicated in Ahmedabad when the capital was shifted from Patan to Ahmedabad in 1411 by Ahmed Shah. People moved as a community from Patan with their village deity and formed a cluster in Ahmedabad," says Nayak.  
The book explains that pols were "gated social and cultural microcosms" and people introduced themselves not only by family or caste but also by the pol they lived in. Mahurat Pol was the first to be established. While many pols were named after a prominent resident, some were named after the primary occupation of the residents. For instance, vessel makers resided in Kansarani Pol, sugar merchants in Khandwalani Pol and silk craftspeople in Kadvasheri Pol.
Also Read: Gagron: Rajasthan's unique hill & water fort that is a UNESCO World Heritage Site
The book goes on to highlight that till the mid-1960s some Muslim residents lit lamps on   Diwali day. Kites made by Muslim craftspeople were flown during Uttarayan. Moreover, Muslims made account books used by Hindu traders on Gujarati New Year's Day.
Key elements
Experts call pols an example of vernacular architecture (a type of local or regional construction, using traditional materials and resources from the area where the building is located). Moreover, the architecture and design is adapted to the social needs of the people.
The houses had shared walls and were built with mostly local materials like bricks, mud mortar and limestone. Only timber was brought from outside. Local materials and local craftsmanship gave the pols a unique touch, says Shah. The roofs were tiled. The buildings were designed to be earthquake resistant.
Some of the other features of pols were:
A gate with a room above for the gatekeeper, who was sometimes a resident of the community.
Near the gate, there would be a blackboard to make announcements to the community.
A religious place – temple, derasar or mosque. If not, there would be a shrine for the deity of the pol or the 'Mohalla Mata', explains Shah.  The religious places were used for marriages and festivities, like Navratri celebrations.  
The houses had a raised platform on the front façade called an 'otlo' which is where neighbours congregated for a chat. Women would clean grains and chop vegetables on the 'otlo'.
At times, pols were subdivided into smaller entities.
Interestingly, pols had secret passages to escape if there was any kind of attack.
Richer residents had havelis with elaborate architecture. Many houses had intricately carved wooden facades with columns, brackets and jharokhas (projecting balconies) overlooking the street. Some houses also had frescoes painted on the ceilings or walls of the courtyard.
The 'pol panch' governed the pol and had great power. The panch would decide who could move into a pol and even approved the marriages of pol residents. It looked after the cleanliness and maintenance of the pol streets, street lighting, public toilets and water taps and organised cultural events.
Eco-friendly ethos              
'Chabutaros' or bird feeders were an eco-friendly element of pols.
This was because large trees were not grown in the pol areas in case their roots weaken the buildings. However, areas like Shahpur and Raikhad had gardens in open spaces.
Also See: In pictures: Lesser-known UNESCO World Heritage sites in India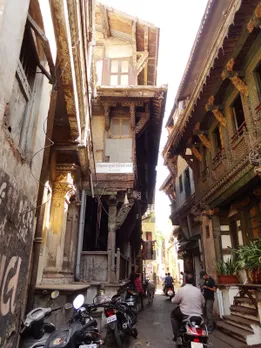 "Pol houses had underground reservoirs or 'tankas' to store harvested rainwater. These days residents depend on municipal water supply so many tankas are in a state of disuse. Some tankas still exist in temples. Apart from tankas, there would be community wells in some pols," says Shah.  
Most houses had an inner courtyard to provide air circulation.
"Feeding of animals was a ritual. Apart from the bird feeders, cows would be fed in an open area called the 'chowk'. There would be a stone plate placed there called a 'chat'. Families would put excess food in the chat for the cows. This was an efficient method of disposing of organic waste," says Nayak.    
Also Read: Heritage walks help rediscover city histories, give fillip to conservation    
Mahatma Gandhi and the Pols
The 2011 book, Gandhi's Ahmedabad: The City That shaped India's soul, highlights Gandhiji's visits and stays in Ahmedabad's pols.  His first visit to Ahmedabad was in 1887 when he was 15.
Today, that house no longer exists. What stands there is a two-storeyed concrete shopping cum residential complex.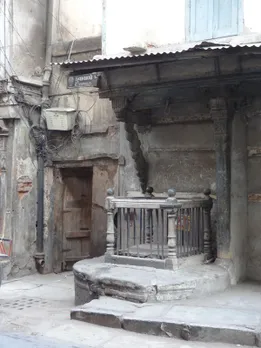 Desai ni Pol in Khadia was where Gandhiji was felicitated on February 2, 1915 on his return from South Africa. Many of the meetings with mill workers were organised near Hinglok Joshi ni Pol in Khadia, says the book. Gandhiji also frequented Haribhakti ni Pol in Sankdi Sheri during the Satyagraha movement.  
Also Read: Masroor: Himachal's exquisite rock-cut temples known as the Himalayan pyramid
Fast-changing scenario   
"Many of the gates have disappeared. Prosperous families have moved out. Migrant families that have moved in because of the cheap rent do not necessarily belong to the dominant community in the pol. In the democratic spirit, you cannot bar any person from living in a particular area anymore," explains Shah.
Moreover, now taxes are paid to AMC which maintains these areas. No longer do the pol authorities have control over development activities or who the houses can be sold or rented to. "The mantra of, for and by the community no longer applies. The extent of commercialisation is so great that in some pols there are no residents, only commercial buildings," she adds.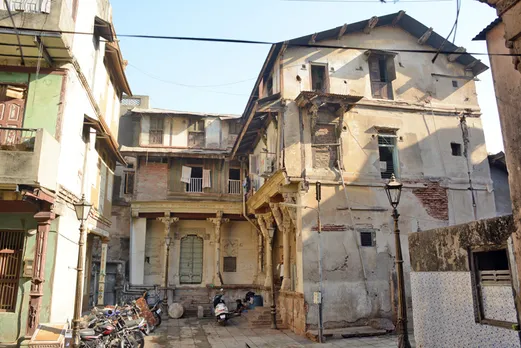 The authors of the paper 'Traditional Pol Houses of Ahmedabad: An Overview', say that with changing lifestyles and social systems, the pol houses are no longer able to fulfil the needs of residents. As a result, people have started migrating from the walled city to new Ahmedabad.
Also Read: Udaigiri caves: A repository of ancient shrines and mythological tales
The authors recommend interventions to conserve the heritage buildings in the pol areas.
Finally, comes the question of conserving the 'living heritage' in the pol areas. "The challenge is to solve the problem of the pol residents. Policy changes have enabled funding for heritage conservation work. There are 3,000 buildings in the protected list for which the owners can seek funds for restoration," says Nayak.
"Moreover, now art galleries, NGO offices and even bed and breakfast options are coming up in pol areas," Nayak adds.
Despite these changes, the pols of Ahmedabad remain an intriguing example of human settlement. And, as we all know, change is the only constant! 
(Lede picture shows a chabutaro and a Jain temple in the background on the route of a heritage walk. Photo by Narendra Otia)
(Aruna Raghuram is a freelance journalist based in Ahmedabad. She writes on parenting, personalities, women's issues, environment, and other social causes.)
Also Read: A walk through Jaipur's Walled City: the UNESCO world heritage site where kings lived