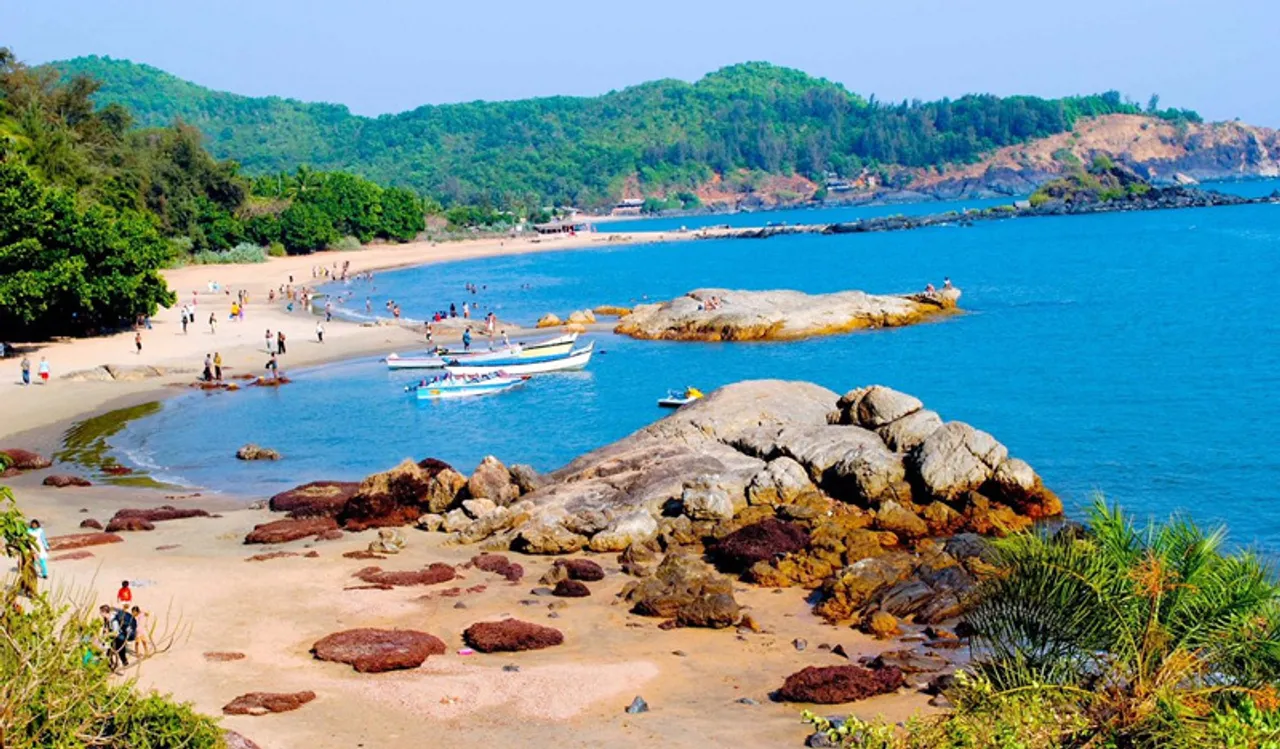 It is not very often that a place is loved equally by spiritual seekers as well as youngsters chasing idyllic beaches and waterfalls. Gokarna in Karnataka's Uttara Kannada district is home to five beaches, waterfalls and around 30 temples and shrines, making it a tourism melting pot.
It is here that Lord Shiva emerged from a cow's ear (Gokarna), which gave the temple town its name. About 483 km from Bengaluru, Gokarna is located near the estuary of the Aghanashini River and is one of the seven sacred sites for Hindu devotees. Its rising popularity among the youth has put the small town on the global tourism map.
Also Read: Five organic farmstays providing offbeat travel experience
Adventure sports, beach trekking and an old fort, Mirjan, add to the list of attractions that make Gokarna a new-age tourist destination which is less crowded and commercialized than Goa.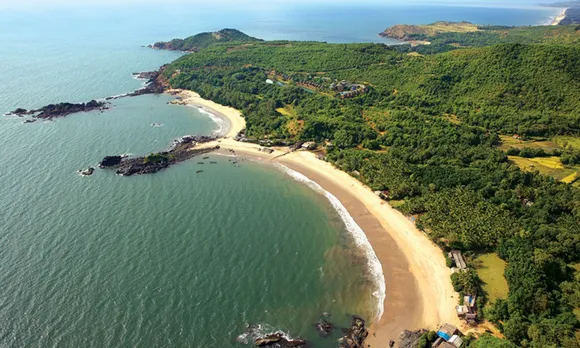 With two crescents, Om beach at Gokarna resembles the Sanskrit word Om. Pic: Karnataka Tourism 
Its beaches stand out for their natural beauty, cleanliness and white and golden sand. Om beach at Gokarna is named so because it is shaped like the Sanskrit symbol of Om. One can go for any adventure sport like surfing and speed boating here. There are many activities for adventure-loving tourists here. The beach is lined with shacks offering accommodation and small restaurants with global cuisines.
Also Read: Mainpat: The Shimla of Chhatisgarh where water flows upwards
However, topping the popularity charts is the Kudle or Kudlee beach with white sand. Lined with palm trees, small huts and eateries, it is about a 20-minutes walking distance from Gokarna. Paradise beach and Half Moon beach are less frequented but beautiful stretches of sea and sand.
The largest of the five beaches is the Gokarna Beach which is about 5km-long. Pilgrims take a bath on this beach before heading to the temples to pay obeisance to Lord Shiva, Lord Ganesha and other deities.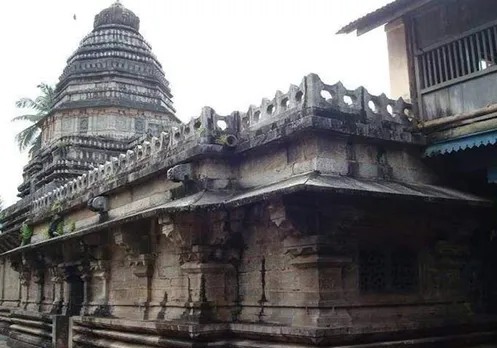 The 4th-century Mahabaleshwar Temple at Gokarna. Pic: Wikipedia 
The oldest temple here, going back almost 1700 years, is Mahabaleshwar, enshrined with Atma Linga, said to be the soul of Lord Shiva.
Legend has it that Lord Shiva gave Atma Linga to demon king Ravana as a boon after he performed rigorous penance. Lord Shiva instructed Ravana to carry it home walking and that it should never be placed on the earth failing which the Linga would be eternally embedded at the place.
Also Read: Chennakeshava Temple: A 900-year-old Hoysala marvel in soapstone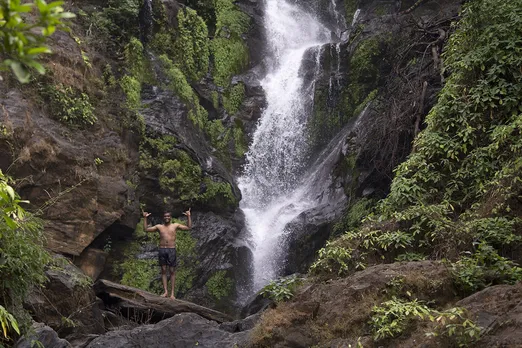 A waterfall at Gokarna. Pic: Flickr 
Knowing that Ravana would become all-powerful by worshipping the Atma Linga, Lord Vishnu decided to trick him. He made the sun disappear and sent Lord Ganesha disguised as a boy, where Ravana was about to perform his evening prayers. As Ravana went to perform the rites, he asked the boy to hold the Linga. Lord Ganesh said he would call for Ravana three times if the weight became too heavy to hold on.
Soon after Ravana left, Ganesha called him three times and then put the Linga on the ground, where it remains embedded to this day at Gokarna's Mahabaleshwar temple.
Also Read: Lambasingi: South India's only hill station where it snows