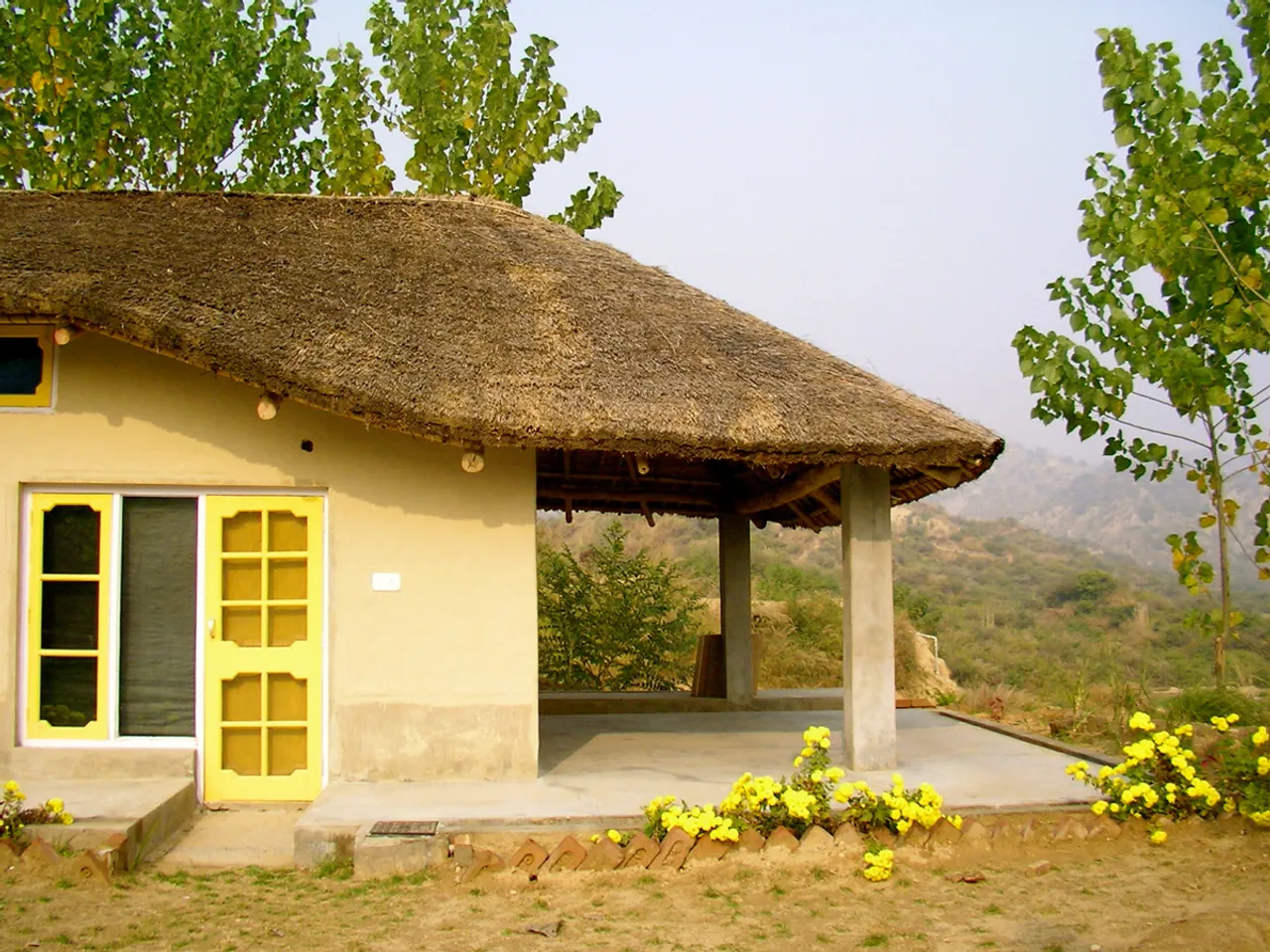 Agritourism or agrotourism has become a popular holiday choice for people who want to get away from the fast-paced city life. It's a holiday with a difference as people stay on a farm and take part in farming, feeding animals, collecting milk, cooking, hiking or trekking and boating or fishing.
Most of the farms offering agritourism also arrange for educational talks and other activities for guests like making local handicrafts and processing the produce grown on the farm. So farmstays provide a local flavour to the trip and guests learn about the art and culture of the place besides unwinding in the lap of nature.
Moreover, the cost of food and accommodation at farmstays is more reasonable than at five-star hotels because they are owner-managed with limited staff that cuts down operating expenses. Besides, they customise the experience for visitors based on their personal preferences. 
Also Read: Mainpat: The Shimla of Chhatisgarh where water flows upwards
Also called organic farm holidays, these destinations provide a stress-free environment for the health-conscious urban population. This makes farmstays a win-win for both the tourists and the farm owners.
India, where organic farming is catching on rapidly, is also home to many interesting farmstays in the lap of nature. Here are five farmstays from different corners of the country that can offer you a mix of relaxation and adventure: 
1. Farm of Happiness : 'Farm of Happiness' or 'Aanandache Shet' is an organic farmstay in Ratnagiri. Spread over 20 acres of lush greenery, the facility offers peaceful living in harmony with nature among mango trees, cashew trees, seasonal crops and vegetables and a host of wild tree varieties.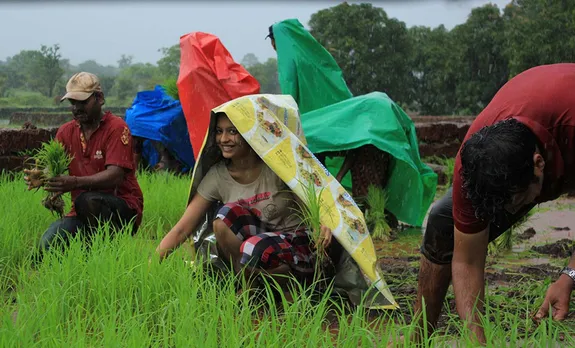 Visitors can stay in a traditionally-designed Konkani house and take part in several farming activities. Or one can enjoy a nature walk, an early morning trail of the wilds to listen to some rare bird songs, sleep in an open 'Machaan' on a star-studded night or chill in a hammock under the trees. It also offers trekking, fishing and rides.
Also Read: Matheran: Asia's only automobile-free hill station
The farm invites artists regularly and guests can watch performances and interact with musicians, dancers, painters and authors.
2. The Hermitage Guest House: Thisfarmstay is located in the Khanapur taluka of Belgaum district in Karnataka. The facility has done away with modern technology such as electricity, television and other creature comforts. But there is plenty of flora and fauna, local wildlife and thick rainforest to luxuriate in.
There are only three cottages that are made of bamboo, thatch, and hand-made village tiles. The rooms are simple and rustic. If you like to rough it out, this place is for you. Machan is an 11-feet high wood and bamboo cottage, Kadaba is a local village-style accommodation and Gota is a traditional rural cottage made from red clay tiles.
Also Read: Lambasingi: South India's only hill station where it snows
The food is delicious and cooked fresh. Guests can help pick the ingredients from the organic farm at the homestay. Nature walks and interactions with the locals add to the experience at the Hermitage.
3. Spice Village: It is situated in the cool highlands of Periyar in Kerala. The facility is modelled on the traditional dwellings of the local Mannan tribe, built with local materials, native artisans, and traditional wisdom. The facility puts sustainability first and is solar-powered.
The thatched roof of the cottages is made from elephant grass made by local community members, the furnishings are recycled and the restaurant menus are made from the paper provided by a local paper-making centre.
Also Read: Maharashtra's Sea Forts: A testimony to the rise & fall of kingdoms on India's West Coast
The cottages also reflect the simple and sustainable ethos. There are coir mats on the floors, modern interiors and toilets that use natural materials and local woodcraft. The rooms don't have ACs and are naturally lit and cooled.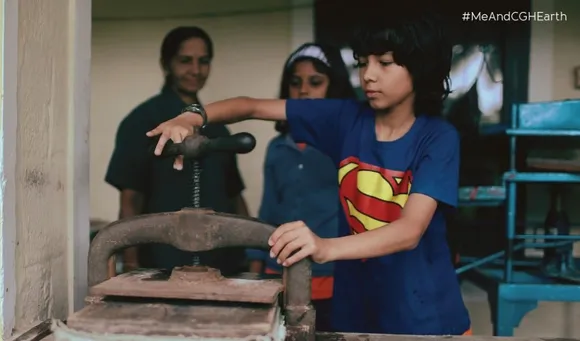 The food is fresh and nutritious and all the ingredients are sourced locally. Some stuff is sourced from local farmers while some are grown in-house while the fish comes from the rivers nearby.
The facility offers a host of experiences for guests such as nature walks, cooking classes, paper making at the local paper-making centre, a visit to a spice plantation nearby and guided treks through the Periyar Tiger Reserve.
4. Tathagata Farm: Tathagata Farm is located in a certified organic village in Darjeeling, West Bengal. The property is surrounded by greenery and offers some stunning views of the mountains. There is a lush garden and BBQ facility. Guests can also enjoy a dip in the outdoor swimming pool.
The accommodations are simple and very comfortable. The farmstay offers delicious freshly-cooked meals that are made from organic ingredients grown on the farm or sourced from the village. The farm grows teas, cardamom, ginger, vegetables, oranges and other crops.
Also Read: Kochi's Jew Town: The treasure trove of Jewish culture & history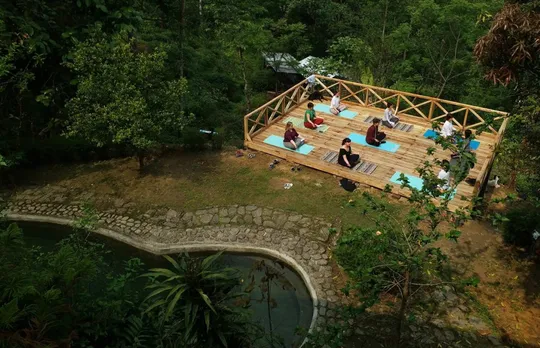 Apart from the gorgeous scenery, guests can indulge in walks, treks, nature trails, tea garden visits or go mountain biking and interact with the local villagers.
5. Jor Ki Dhani: The Jor Ki Dhani farm is located in Sikar, about 110 km north of Jaipur. The property spread over 15 acres offers a glimpse into farm life. There are quaint huts made from mud bricks with a coating of cow dung to finish off.
The place is popular with tourists for the sumptuous yet healthy Rajasthani meals its offers. You can have rotis made from traditional millets, wheat and barley with white butter, pulses, vegetables, and jaggery, besides fresh milk, buttermilk, curd, white butter and ghee.
Also Read: Western Ghats: India's natural and cultural diversity hotspot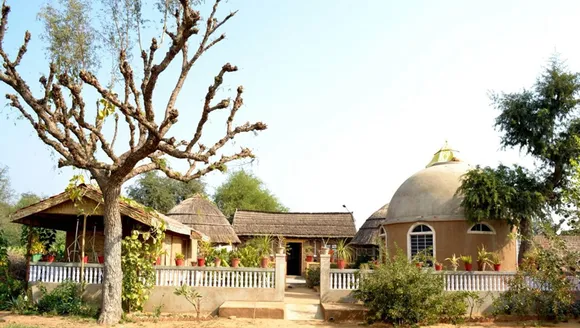 The farm is organic and all cultivation is done using natural ingredients. Tourists can enjoy a tour of the property and get to know the cows and horses or visit brick kilns and shops making lac bangles. There are also ruins of ancient Buddhist temples nearby that provide an enriching experience.
Also Read: In pictures: India's 7 lesser-known tourist destinations