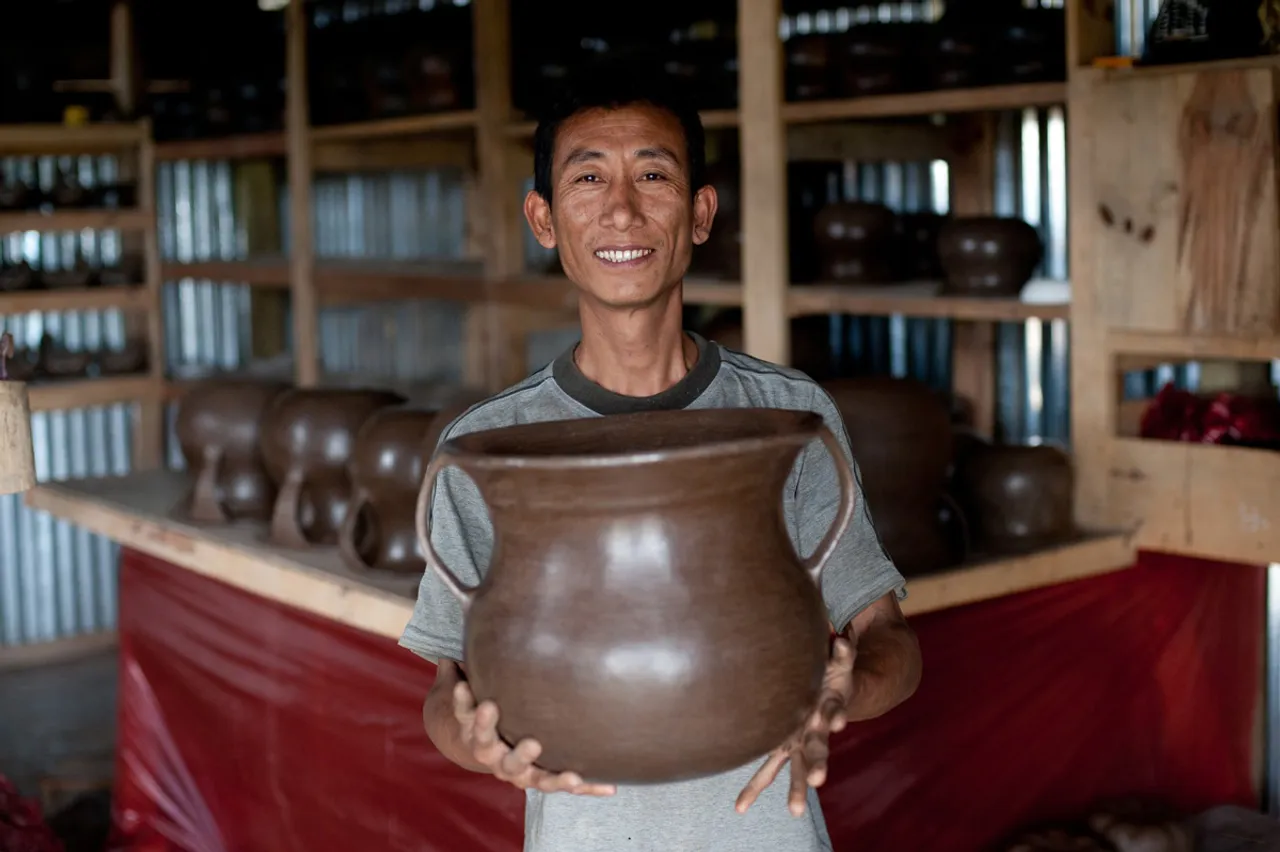 The Tangkhul Nagas of Nungbi Khullen village in Manipur have been hand-making pottery for many centuries. Longpi pottery, also known as Nungbi pottery, is believed to have been in practice since the Neolithic period (10,000 BC).
The Nungbi village in the Ukhrul district has 400 houses and around 200 artisans are practising the craft today. Machihan Sasa, master potter and National Award recipient, belongs to the Tangkhul tribe and his work has brought global recognition to this pottery.
The Nungbi or Longpi pottery has two unique features – one, it is crafted without a potter's wheel and two, it is made by using clay and black rock (serpentinite stone) found in the nearby hills. 
Pottery with stone may seem unbelievable because if clay is mixed with stone to make a pot, it will burst when heated in a fire. However, the Tangkhuls have perfected this craft as Longpi pots can be safely used for storage as well as cooking at high temperatures. 
Pottery with a difference
The manually shaped pots are polished, sun-dried and then fired in a bonfire, acquiring a black or brown colour and metal-like look. Traditionally, the handmade pottery was used locally and also by some other communities like Meitei, Mao Naga, Kom, Paomei etc. It is now well sought after outside Manipur as food cooked in Longpi utensils is said to be tastier. In Nungbi, they are still used for brewing rice beer, storing spices, water and cooking, especially meat.
The craft is also called Longpi pottery because earlier, it was practised in two villages -- Nungbi and Longpi Kajui. Today, Nungbi Khullen is the only surviving potter village. 
Both men and women make the pottery, though male artisans outnumber the women potters.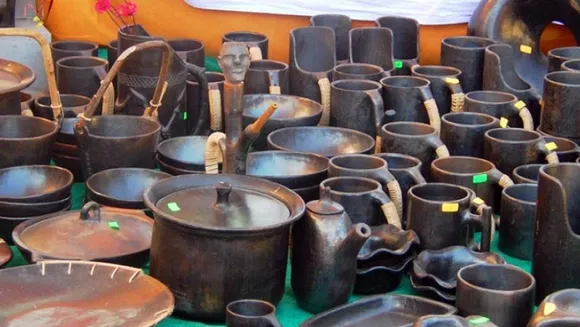 Longpi craft was originally called "Loree Hamlei" meaning royal pottery because only the rich could afford it. The process is laborious and the work is spread over many months as artisans work according to the local climatic conditions.
The process of making Nungbi or Longpi pottery
The clay for the whole year is collected during the dry months from November to April. This clay is found only in and around Sala Hill bordering Nungbi Khullen, about 45 minutes' walk from the village. The dugout clay is dried for a week to reduce volume and make transportation easier. The potters, both men and women, carry clay on their backs in baskets. 
The area from where the clay is collected gets naturally refilled with soil deposition over two to three years. 
Also Read: Molela: Rajasthan's terracotta plaque art patronised by Bhil, Mina & Garasiya tribal communities
After drying the clay for three days, it is ground into a fine powder using mortar and pestle and then sieved with a bamboo sieve.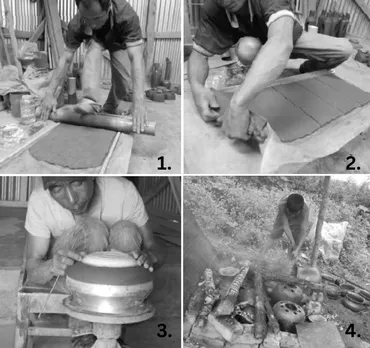 Serpentinite stone, the other key ingredient, is locally called 'leshonlung'. Rich in magnesium, it is bluish-black in colour. This stone is quarried from the Kaphungrim hill, which is about 30 minutes' walk from the village. While potters can collect it throughout the year, they prefer the dry season as it is easier to carry and clean during that time. 
Serpentinite is a soft stone and potters use hammers to break large chunks. Wooden pestles and mortars are then used to make a fine powder, which is also sieved with a bamboo sieve.
The sieved clay powder, stone powder and water are mixed in a fixed proportion (stone powder outweighing the clay) and any deviation from it may result in fragile pots. The mixture is kneaded, resulting in a stiff dough. This dough is kneaded until soft and pliable and then rolled out into thick flat sheets. These sheets are cut into strips using a bamboo sliver and potters then use moulds, slabs and other different tools to get the basic model of the pot.
Also Read: Blue Tales of Pink City: How Jaipur's GI-tagged Blue Pottery moved from palaces & tombs to living rooms across the world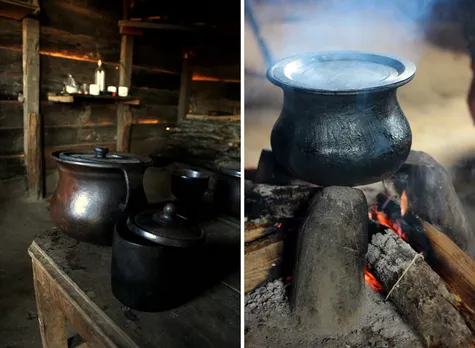 On the next day, it is shaped with hands using a bamboo paddle and thread while levelling is done with the help of a bamboo wand. Finally, it is retouched until the desired shape is achieved after which the outer surface is scraped with a bamboo wand and smoothened. The pots are dried for two to three days during which they harden. 
Later, smooth solid stones or animal bones are used to polish the pots. 
After this, they are dried further under the sun or near a fire and polished again with the same tools. The more the polishing, the shinier and smoother is the product. Firing is done in an open area in a shallow pit, within a one-km radius of the house. Potters mostly come together and fire their pots in one go as it is more economical than baking them on their own. The pots remain in the fire at 1200 degree Celsius for about five to seven hours.
After being taken out of the fire, when the pots are still warm, they are cleaned and polished with the fresh leaves of the machi thing (Chirona tree). The colour of the pot, either black or brown, is determined naturally while firing and polishing with the leaf.
This is the final stage after which the pots are ready for use.
Earlier, Nungbi pottery was an essential part of the barter system. Today, it is a collector's item loved by art connoisseurs across the world. Some more images of the craft here: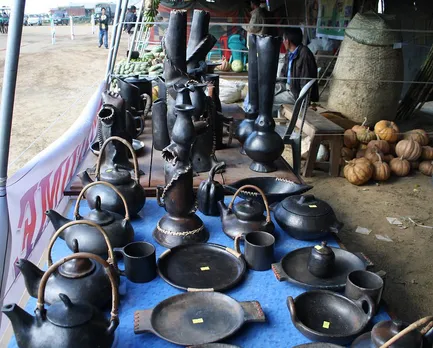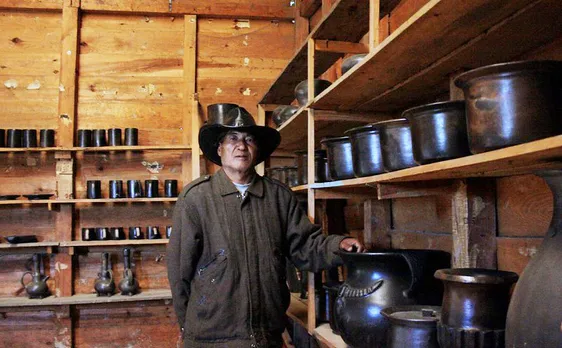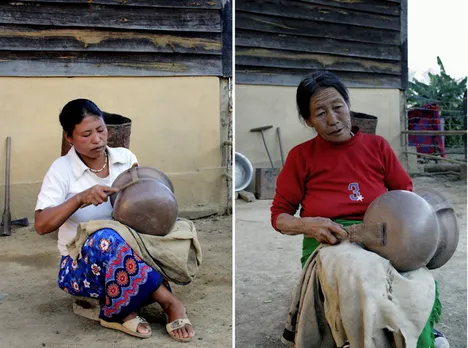 Also Read: Andro: Manipur's ancient village where only married women make pottery