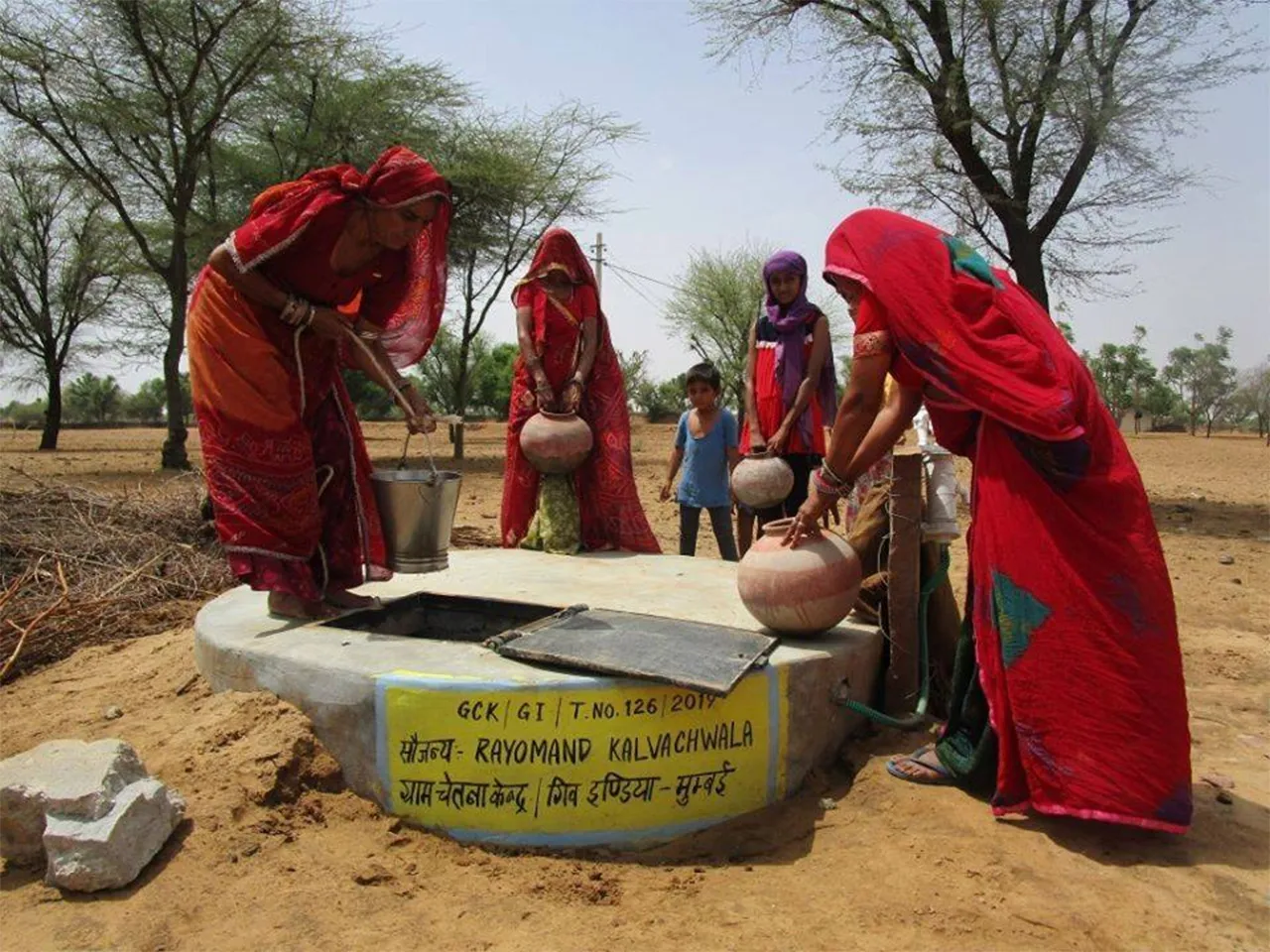 Three years back, Santosh Gora from Bhagwatpura village in the Jaipur district of Rajasthan had no clue about organic farming or animal husbandry. Today, she practices organic farming on her eight bighas (around 5 acres) of land and sells milk from cattle.
"My husband is a labourer. His earnings fluctuated depending on what work he got. I would work under MGNREGS (Mahatma Gandhi National Rural Employment Guarantee Scheme) or sew clothes to earn more money. But I was not able to save even Rs5," says Santosh.
She then attended a meeting for women by an NGO, Gram Chetna Kendra, in her village. The NGO team told them about organic farming and purchasing cattle to supplement the family income.
Santosh registered for the project. She was given a few weeks of training by team members of Gram Chetna, officials from the agriculture college, Jobner, and the animal husbandry department. "I learnt a lot. They told us about the benefits of organic farming, how to plant crops, making vermicompost, rearing cattle and taking care of them. I started phasing out the use of urea and other chemicals and the soil in my farm has improved, resulting in better produce," she says.
Santosh and her family now eat a more balanced diet, eating fruits and vegetables she grows on her farm. She earns around Rs10,000-12,000 from selling milk to Saras Dairy apart from sewing clothes.
Santosh is not the only one who benefitted from the association with Gram Chetna Kendra. Around 1,000 women from 110 SHGs in 15 villages are doing organic farming, recharging groundwater and conserving water by constructing farm ponds on their land and earning regular income by selling milk.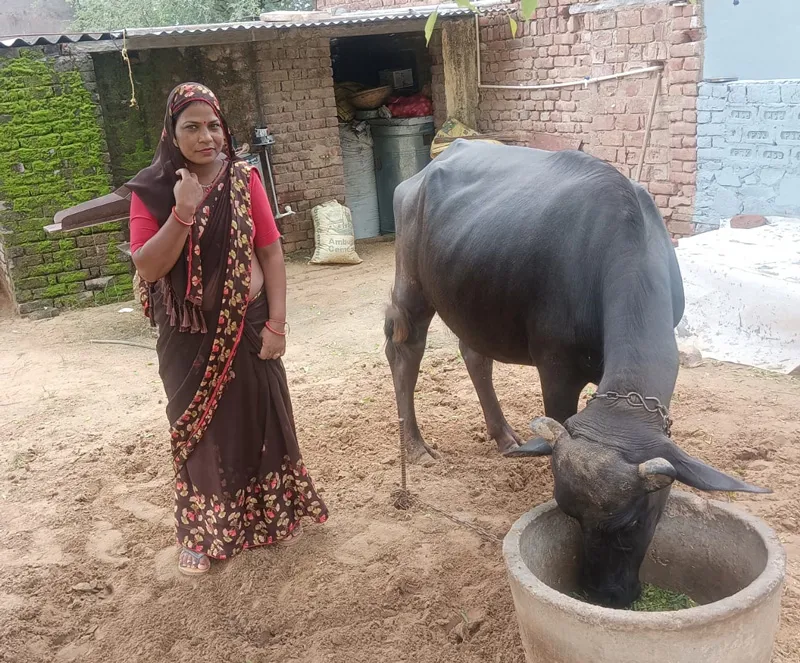 Gram Chetna provided them with handholding to make them self-sufficient. "We did the capacity building, trained the women and helped them avail loans for buying agriculture equipment or cattle. Now they are self-sufficient," says Om Prakash Sharma, founder of Gram Chetna Kendra.
Also Read: Water literacy: Communities in Rajasthan's Bhilwara district are playing games to learn about water conservation
The NGO is running the livelihood project on two components – agriculture and animal husbandry - with Rs60 lakh funding from the Royal Rajasthan Foundation.
The organisation has worked in 11 districts of Rajasthan in the last three decades and has a 40-member team. One of their field staff, Gayatri Yadav, received the President's Award in March 2023 for her work with women in organic farming, water conservation and cattle rearing.
A salty problem
The work for water conservation becomes more important in villages where Gram Chetna is working as they are all around Sambhar Lake.
The Sambhar Lake, near Jaipur, is India's largest salt lake. Spread over 90 sq km, the lake is a designated Ramsar site because  the wetland is home to birds such as flamingos, swans, geese and ducks, black-winged silts and redshanks that migrate from north Asia and Siberia during the winter.
The lake also has certain algae and bacteria that provide not only its striking colours but also support the lake's ecology. In the vicinity of the lake are hundreds of salt pans where salt has been farmed for hundreds of years.
While this has been a major part of Sambhar's economy, for the people living in villages around the lake, water availability was a problem. 
There is a high incidence of disability and respiratory diseases among the local population around Sambhar Lake because of drinking saline water, says Sharma.
According to a Central Ground Water Board (CGWB) report, fluoride concentration in groundwater in some villages around Sambhar Lake is worrisome, being as high as 16.4 mg/litre as against the permissible limit of 1mg/l. In Sambhar Lake, the fluoride concentration is 2.41 mg/l.
Locals are still dependent on old wells or borings for water, says Sharma. Pipelines have been laid in some areas but there is no regular water supply by the government.
Also Read: The class 10 dropout from Rajasthan who won the Padma Shri for his Chauka system of water harvesting
Ensuring livelihoods
"Due to the salty water, the farmers are able to get only one crop during the monsoons. We began working with the women to make farm ponds to store rainwater which they use for farming now," says 54-year-old Sharma. 
"The women dug ponds measuring 65ft x 65ft or 80ft x 80ft and 10 to 14 feet deep on their farms to store water. Today, farmers in these villages are able to get two crops, one during the monsoon and one in winter," Sharma points out.
Earlier, the farmers used to grow only bajra and guar. Now they grow mustard, wheat and chana in addition to the other corps. The women earlier practised chemical-based farming and used chemical inputs which drove up their cost and also made the land fallow but now they have switched to organic farming.
"With organic farming, their productivity has increased and input costs have reduced. We have prepared soil beds in the villages and given worms to women farmers who are making vermicompost. Each woman saves around Rs4000 which they earlier spend on fertilisers and other inputs," he says. Their nutrition has also improved.
The NGO also spoke to the villagers about water conservation. "We told them that in the olden days,  Rajasthan has a tradition of storing water in water harvesting structures and we should revive that tradition. We urged them to build small tanks in their homes where they could store water," says Sharma.
Slowly over the past three years, 400 tankas or tanks have been built by villagers in their homes and more are joining in the initiative as they realise its value.
Food value
The organisation has also distributed 35,000 native plants like Khejdi and ber, besides pomegranate and lemon saplings to 560 families in the 15 villages.
"These plants are beneficial for the environment. Khejdi helps in nitrogen fixation and helps keep the soil moist. The women can also sell the fruits from the trees," he says.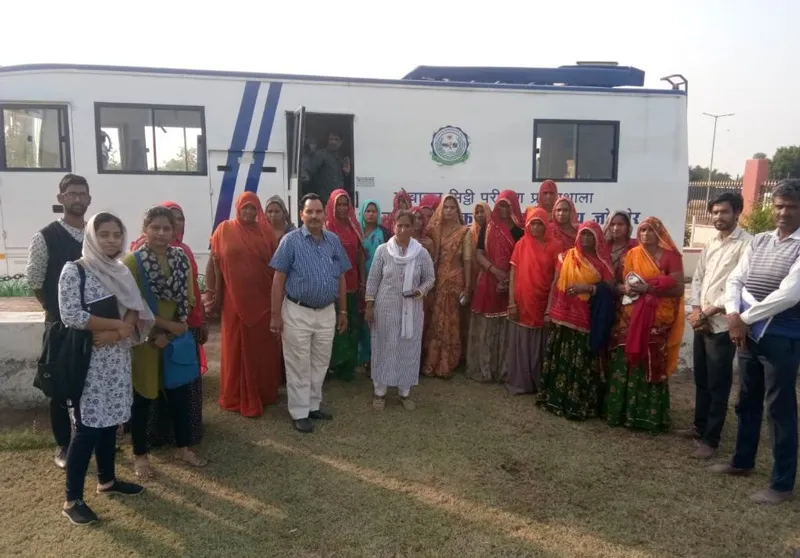 Annually, a lemon tree will yield 1 quintal of produce, a pomegranate tree will yield 300 kg and a ber tree will give 60-80 kg. The women also use the leaves from the trees to make fertiliser and for fodder for animals.
Sharma says the NGO has helped 550 women linked to the animal husbandry project get bank loans worth Rs2.92 crore to buy cows or buffalos. 
They are rearing the animals and selling milk for which Gram Chetna has tied up with the Saras Dairy.
Dipika Verma of Bhagwatpura village used to work as a labourer, earning a meagre living. Two years back, she got associated with Gram Chetna and learnt about cattle rearing. She then got a loan of Rs50,000 to buy a buffalo and Rs30,000 to buy a cow. She sells six litres of milk daily and keeps some for her children. The milk is sold for Rs60-70 per litre.
"I have benefitted a lot through Gram Chetna. Now I get a good amount of money. I can use it to buy things for my home and my children. I can also give milk to my children," she says.
Starting out
Sharma grew up in Khedi Milak village in Phulera tehsil of Jaipur district. After completing his studies in 1986, he worked as a procurement officer with Saras Dairy. It was during this time that he interacted with the men and women who came to sell milk and learnt about their problems.
"At the time, migration was very high. Men, women and children would go to work in brick kilns in Delhi, Haryana and Madhya Pradesh. The contractors would pay some advance money and exploit the labourers, not paying them, and making them work as bonded labour," he says.
Quitting his job, Sharma started a small bhajan group which would go from village to village, singing bhajans but also talking on the issues of health, education and employment.
The team helped some people in two villages, Laxmipura and Khirwa, get their land deeds and pension problems sorted out with the help of government officials. "This instilled some confidence in people. They felt we could help them," he says.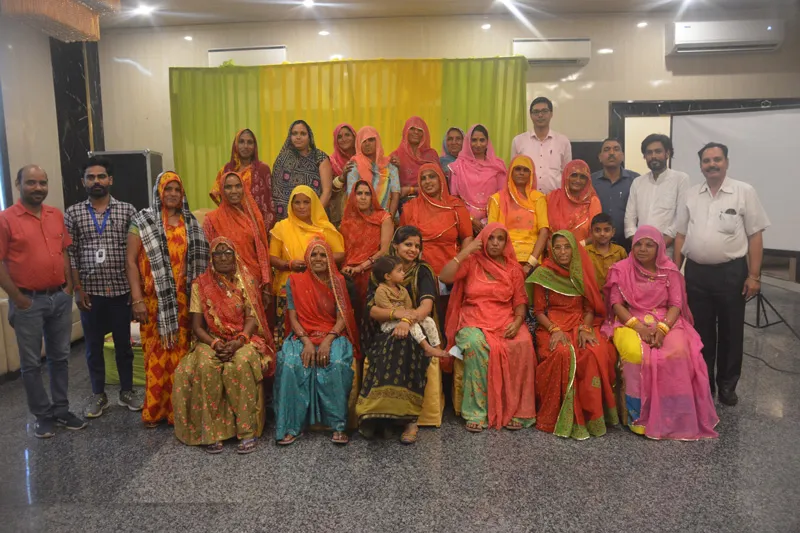 To try and prevent migration, Sharma started a food-for-work scheme in the area. He approached CASA, an NGO in Udaipur, which provided two trucks of wheat. Sharma started the initiative in Mundoti village where migration was very high. He told women they had to dig a pond and they would get 5 kg wheat in lieu of the work.
"The work was completed successfully. When villagers got food and work, the families were not forced to migrate. One person would go outside to work while the rest stayed back in the village," says Sharma.
Getting an education
The other aspect that Gram Chetna touched upon was education. There was a government school for older children but many did not enrol as they worked.
There were no anganwadis at the time for kids up to 6 years. With funding of Rs 40 lakh per year from Child Fund India, the Gram Vikas Chetna team set up balwadis in 12 villages where 5,000 children were provided nutritious food and engaged in educational activities.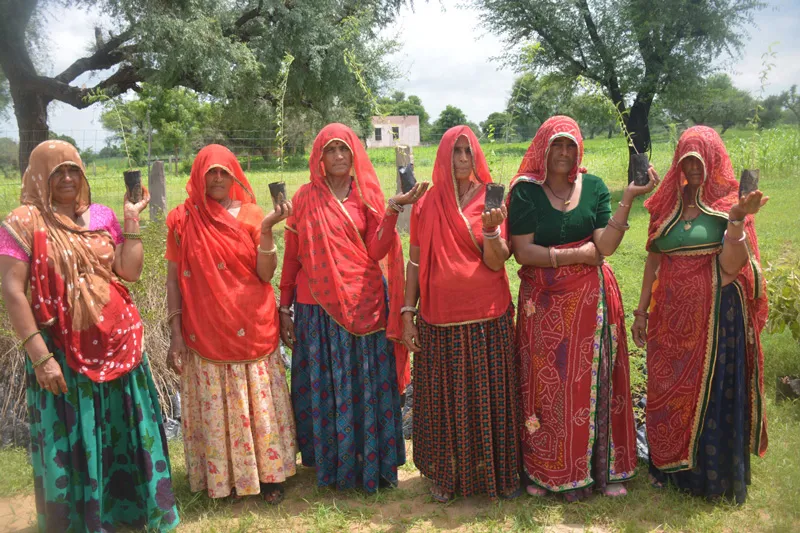 Women from the village were hired and trained by the NGO to manage the balwadis. In 2016, the NGO handed over the balwadis to the government after anganwadis were set up in the villages.
With over three decades of social service behind him, Sharma says he succeeded because he worked in a transparent manner and always involved the local community.
"We made village development committees, women's groups, children's groups. We would discuss works to be taken up with the villagers. We would tell them the funding we had and ask them to arrange funds. If there was a shortfall, they would chip in and complete the work. We built a trust, a relationship with them," he says.
Sharma says he has initiated the process of registering an FPO for the women so they can continue the work and remain self-sufficient.
(Urvashi Dev Rawal is a Jaipur-based journalist specialising in development, gender, and political reporting)
Also Read: Rajasthan: Women turn entrepreneurs and earn in lakhs thanks to microcredit