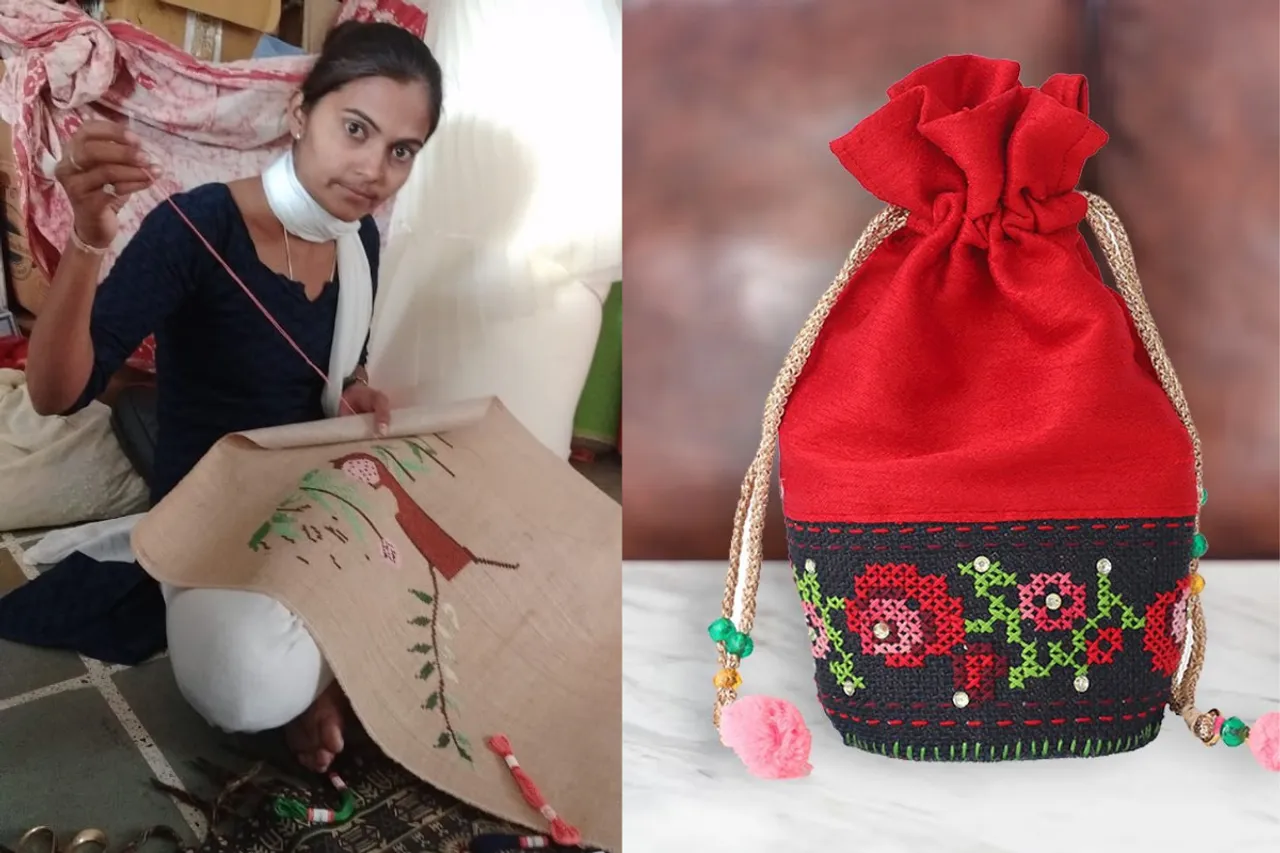 Twenty-three-year-old Richa Kherwada has completed her BEd despite living in a remote tribal village on the southern edge of the Aravalli hills in Rajasthan. A resident of Khanmin village in Kherwara tehsil of Udaipur district, Richa self-funded her higher education as her family could not support her financially. 
Her father developed a skin disease while working in the green marble stone mines of Kherwada, rendering him unemployable and her mother is a housewife. The youngest of five siblings, she was determined to study to ensure a better future for herself.
Around the time Richa completed her class 12th in 2017, she heard about a group of women earning a living by embroidering bags, pouches, dining mats and other products. In villages like Khanmin, which continue to battle illiteracy, poverty and antiquated social norms, it is a dream for girls and women to discover any income-earning opportunity.
Those women were working for Kamli Tribes, the brand name of Namrata Primary Women's Multi-Purpose Cooperative Society, which empowers tribal women in Udaipur and surrounding areas by training them to make high-quality embroidered handicrafts. Kamli means 'to beautify' and true to its name, it has made life more beautiful for hundreds of tribal women through economic empowerment.
"I began working with Kamli in 2017 and was able to complete my higher studies through the income I earned. I have accumulated savings and I am now preparing for Teacher Eligibility Test (TET)," says 23-year-old Richa, who belongs to the Damor tribal community.
She is a group leader for Kamli and 12 women work with her. Richa collects raw materials and designs from the organisation's workshop in Udaipur and other women gather at her home. "I explain the designs and distribute the work to artisans who embroider at their homes during their free time," she says.
Empowering tribal women in remote villages
Once the work is completed, Richa prepares the vouchers, takes the products to the Kamli workshop in Udaipur and collects the money for all the group members. "Six girls currently working in our group are studying and self-funding their education. They work during free time," says Richa, who earns around Rs 5,000 per month.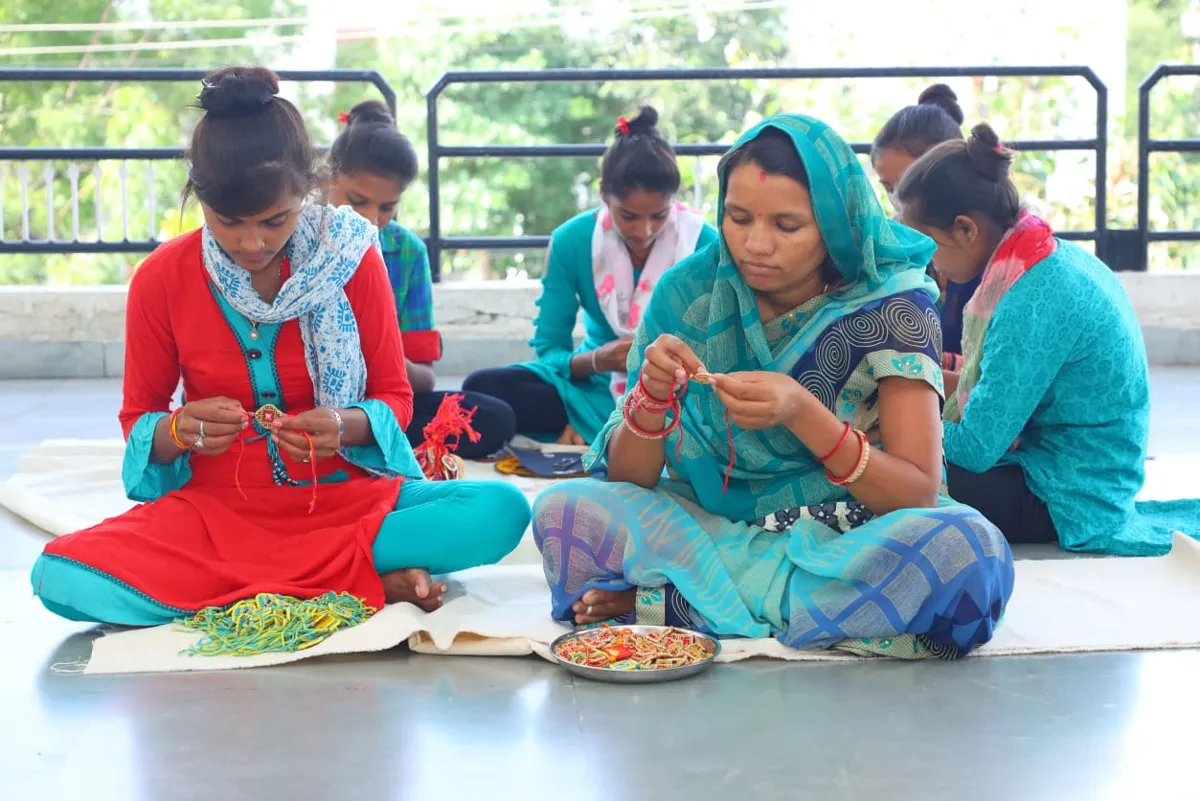 Kamli has positively impacted the lives of over 600 tribal women from Bhil, Saharia, Meena, Garasiyas, Damor and other communities in remote villages around Udaipur since it started work in 2015. 
Also Read:  Anitha N Reddy: How this art historian is reviving Siddi quilts
It trains the women to handcraft board games, bags, stationery items, accessories, jewellery and other utility items using eco-friendly materials like jute, cotton and wood.
Kamli is an initiative of the NGO Rajasthan Vanvasi Kalyan Parishad (RVKP), which has been providing education and medical services and undertaking community development works in and around Udaipur's tribal belt since 1978. 
Sarla Moondra, a social worker with RVKP for over three decades, is spearheading the Kamli Tribes initiative. With a Master of Fine Arts, Sarla is also the chief designer at Kamli. She is part of the cooperative's 12-member board and the executive team comprises Dr Radhika Ladha, Kranti Mathur, Kusum Bordia, Shyamla Verdia, Vimla Mundra and Saroj Bapna. The board members work on a voluntary basis and do not receive remuneration for their services.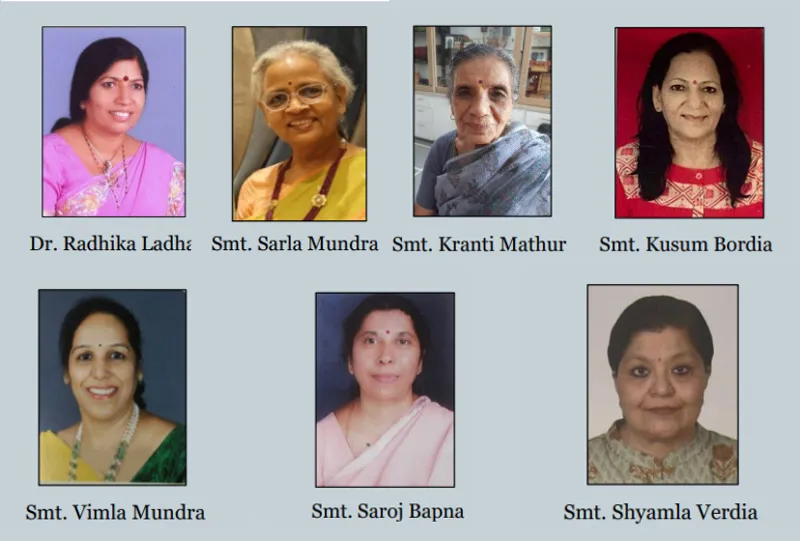 Their work covers Jhadol, Kherwara, Dungarpur, Baghpur, Salumbar, and Gogunda areas among others. "After working for 25 years in Udaipur's tribal belt, we, at RVKP, decided to develop a craft through which the women could earn a living. In the tribal community, mostly it is boys who get an education and men migrate to cities for work, leaving the burden of household on women," she says.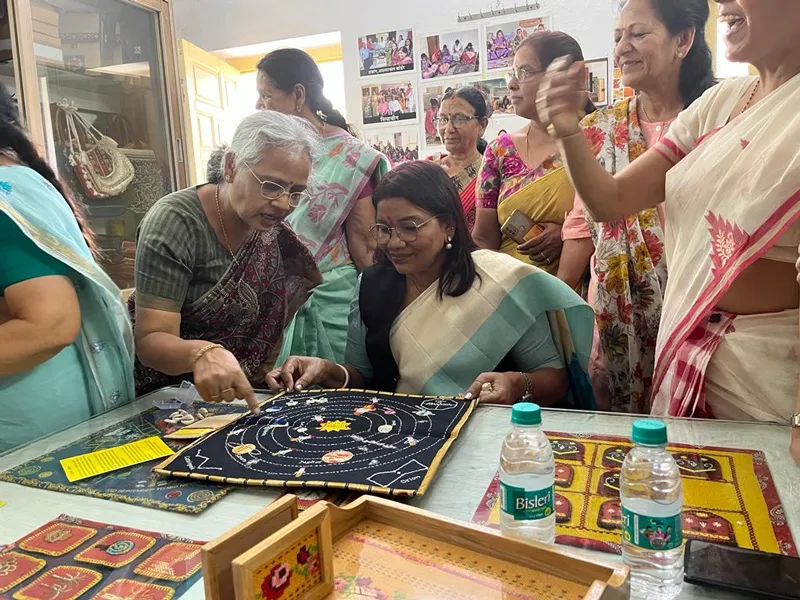 "We experimented with paper mache, pottery painting, mask-making, hand block printing and making envelopes. We trained the women and then allowed them to make products. But neither could they source raw materials nor could they market their products due to lack of confidence. We then decided to train them in embroidery and took over raw material sourcing and marketing as well," Sarla says.
Kamli provides residential training to women at its Udaipur workshop and has trained around 650 women in Kantha and cross-stitch embroideries so far. 
"After the training, they work from home. Our group leaders, around 15 right now, distribute the raw materials, designs and patterns in their surrounding areas. The group leaders are also given incentives for their work," she says.
"We tried to train the women in other forms of embroidery, but they were comfortable only with Kantha and cross stitch," Sarla points out.
Also Read: Gujarat's Pabiben Rabari: from a daily wager to a millionaire entrepreneur
The handcrafted business 
Kamli currently makes 65 types of products including fridge magnets, many types of bags and pouches, trays, tissue boxes, notebooks, wall hangings, belts, table mats and coasters.
For trays, tissue boxes, coasters and other items, the artisans use wood in which a hole is made using laser and then embroidery is done. "We provide them with the cutting and pattern of embroidery, all the raw materials and transportation charges," Sarla says.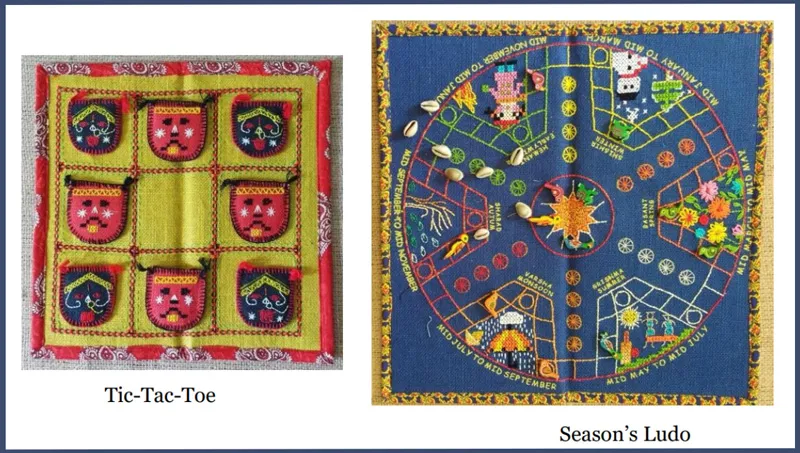 Women are paid for on a per-piece basis. "About 20 to 25 percent of our product cost is the payment made for embroidery. So for a product with a price of say Rs1000, the artisan would have earned Rs200 to Rs250 depending on the complexity of design," she adds.
Most women embroider for a few hours after finishing their household work. It has given them financial independence and confidence. 
Purnima, who belongs to the Garasiya tribe and lives in Jhadol village, is a case in point. A group leader, she works with eight other women. She says her in-laws and husband would never give her money to meet her personal expenses. 
"Life was tough when I was not earning. Now, I earn around Rs3500 per month and don't have to ask anyone for money. Moreover, I can meet my children's stationery and other small expenses. The biggest benefit has been the increase in my confidence level," the 38-year-old says with a chuckle. Her children study in classes 5 and 10. 
Also Read: Niyati Kukadia: The engineer taking tribal beadwork jewellery from the Rann of Kutch to the world
Initially, the products made by women like envelopes or painted pottery were not up to the mark. So RVKP used them at their centres and other institutions. As the women honed their skills, the cooperative began selling them at exhibitions.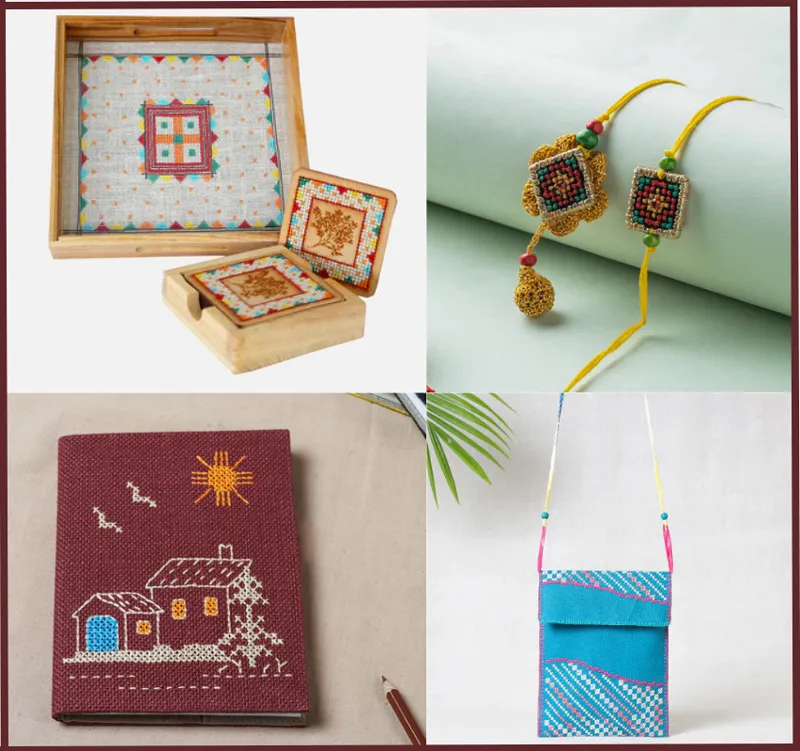 "We are now also selling online through Okhai, iTokri, Reliance, Flourish and other platforms. Many hotels, resorts and institutions give us bulk orders," says Sarla.
A Kamli jute passport cover is priced at Rs600, rakhis start at Rs40 per piece and an embroidered tray is for Rs 900. Kamli Tribes' annual turnover now is Rs40 lakh.
Last year, Kamli Tribes received the Craftmark certification, designed by AIACA (All India Artisans and Craftworkers Welfare Association) and given to genuine Indian handmade craft products. 
The organization also works with designers from NIFT and other design institutions which update the artisans with the latest patterns and designs. With women becoming highly skilled at their craft, Kamli's name is spreading rapidly for its handmade products. It is now also providing internships to design and textile students.
But its biggest contribution remains women empowerment in some of the remotest villages of India. "We plan to train as many tribal women as possible because handmade items are the means to their economic empowerment," Sarla says.
(Rashmi Pratap is a Mumbai-based journalist specialising in business, financial and socio-economic reporting)
Also Read: Thousands of Rajasthan's rural women empowered through up-skilling in embroidery