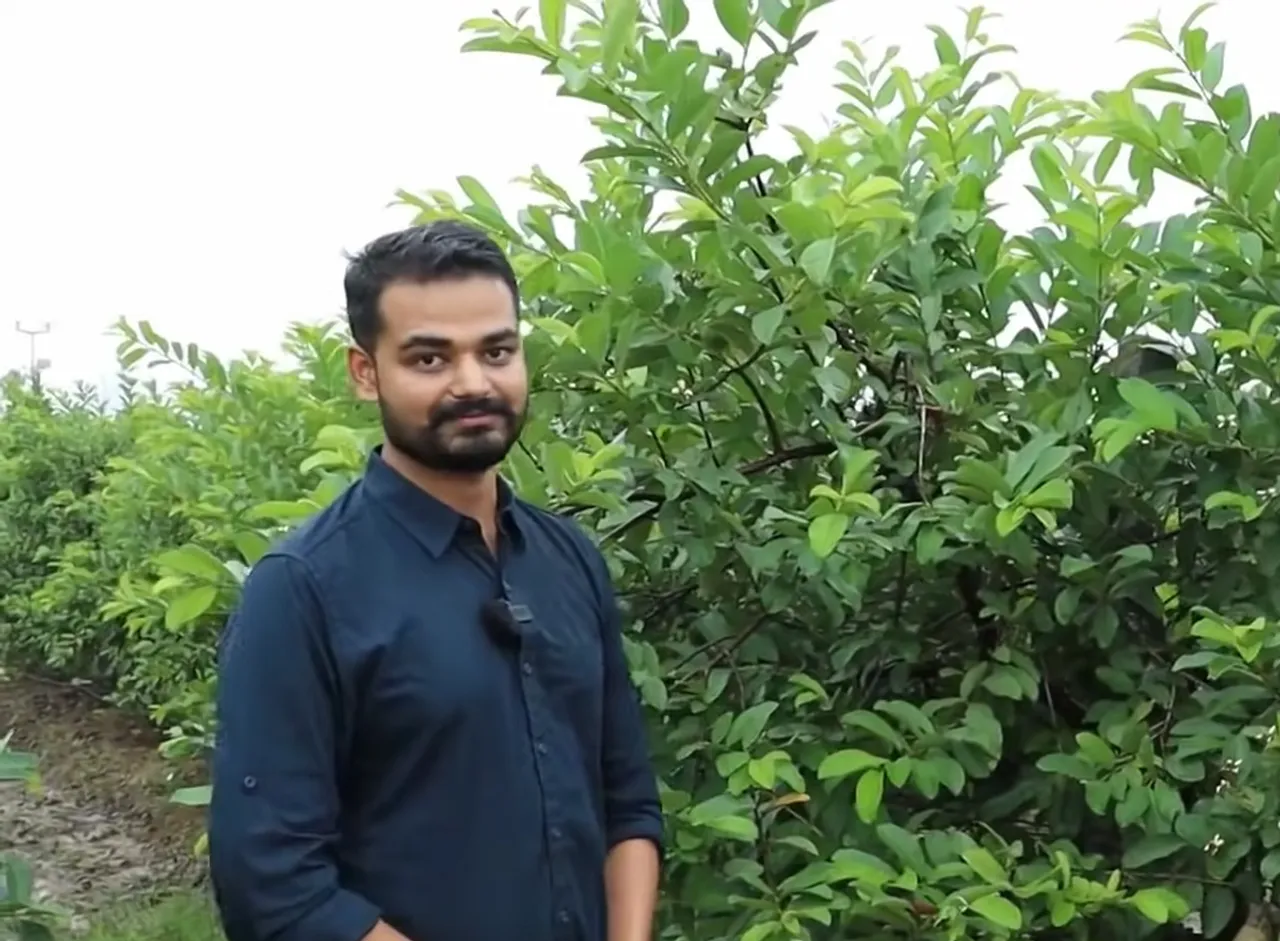 When Kabir Chandrakar returned from London in 2014 after completing his MBA in Corporate Finance, he had two options. He could join the corporate world or get involved in his family's occupation of farming. For generations, his family had been growing paddy and vegetables at their farm in Mujgahan Village in the Raipur district of Chhattisgarh.
"I observed that my father incurred high input costs in farming operations. We cultivated paddy on most of the 45-acre land we owned. In 2011-12, my father planted the VNR Bihi variety guava on six acres. This variety starts fruiting in the third year. Once the fruits attain the size of a small lemon, we have to go for three-layer bagging to protect them from various biotic and abiotic stresses," says Kabir.
The three-layer bagging involves covering the fruits with a foam net, anti-fog polythene bags, and paper respectively. At that time, his father was procuring the foam net at Rs2.5 per piece from a trader in Gujarat. "I found out that we could import it at 60 paise per piece. I imported them in bulk and also sold them to others at a decent profit," says Kabir, who completed his MBA from the University of Chester in England in 2014.
This experience gave him good insights into guava farming, its packaging and eventually sale. "My family and friends suggested that it was good to focus on farming and I was also keen to stay with my parents at my native place. So I decided to bring more area under guava cultivation," he says.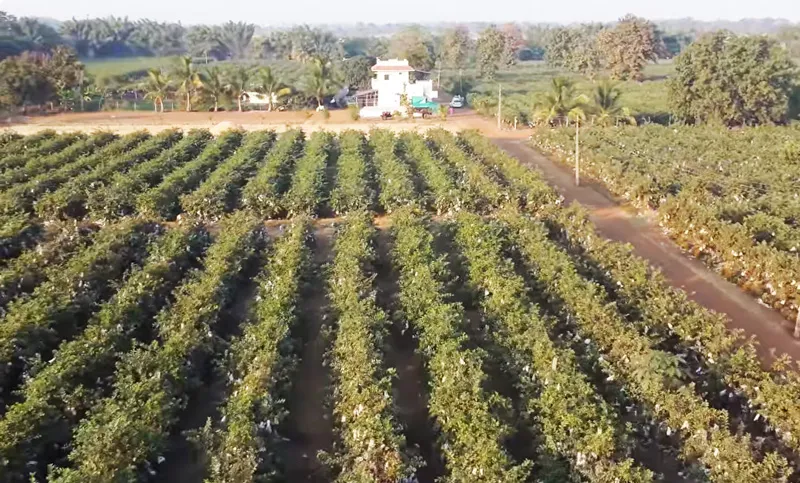 Today, he has expanded the area under guava farming to 110 acres (including his family's land) in three locations in Chhattisgarh by taking land on lease. Plants in around 70 acres are yet to reach full fruiting stage. From the guava plantation over 40 acres, Kabir earned Rs 2.50 crore last year or about Rs 6 lakh per acre.
Also Read: Punjab: MBA farmer turns millionaire with profit of Rs6 lakh per acre from guava farming
"With trees planted in the year 2020 now ready for production, we expect this year's output to be around 1,000 tonnes which will take our turnover to about Rs3 crore," says Kabir, now 32.
But this success is the result of the hard work he put in beginning in 2014. 
Getting to guava 
In 2015, Kabir expanded the land under guava cultivation from six acres to 10 acres on his ancestral land. "I took a loan and availed of subsidy from the National Horticulture Board (NHB)," he says. 
For fruit and vegetable farming, NHB offers back-ended subsidy, which means the subsidy amount is given on the completion of the project. However, interest on the subsidy component is not charged on the bank loan amount.
Kabir procured guava saplings from VNR Nursery in Raipur where they provide rootstocks. In rootstocks, the root zone is well formed, enabling faster growth and giving the plant a good hold in the soil. Rootstocks also require less pruning than grafted varieties. 
"I bought plants at Rs 120 per sapling. I planted 440 saplings over an acre with a row-to-row spacing of 12 feet and plant-to-plant spacing of 8 feet," Kabir points out. 
The initial land development cost including drainage, ridge, approach road and basic inputs works out to around Rs50,000 per acre. Other input costs include labour, irrigation, and application of nutrients and fertilisers.
Also Read: How this farmer earns Rs 6 lakh per acre from organic farming of dates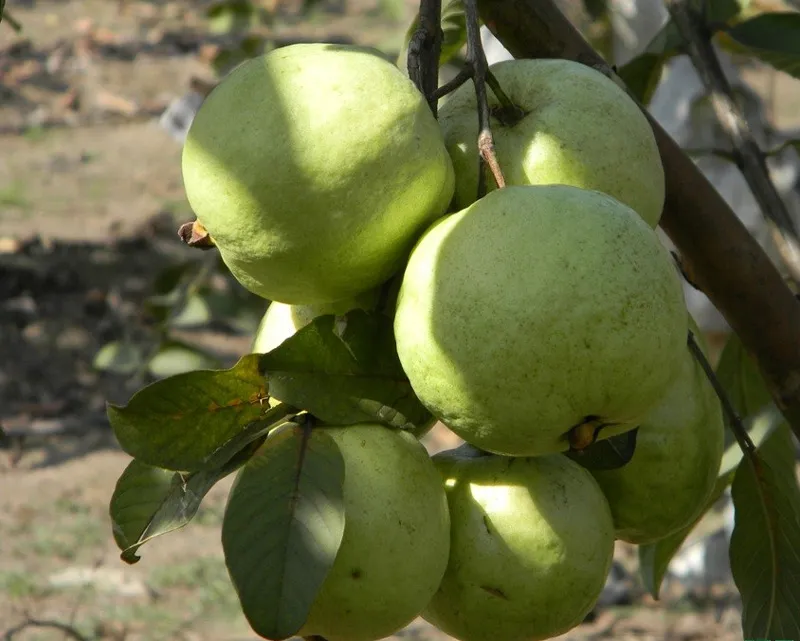 "I planned plantation over 4 acres with appropriate spacing and opted for drip irrigation to minimise water wastage," says the young agri entrepreneur.
Drip irrigation is necessary in fruit orchards as it ensures that the optimum amount of water and nutrients reaches the root of the plant directly. It is important to get a good yield, he says. 
Drip irrigation costs around Rs 40,000 to Rs 50,000 per acre and state governments provide subsidies at varying rates for the same.
Kabir practices residue-free farming, where pesticide and fungicide usage is below the level that can cause harm to humans. This is done by maintaining a gap between spraying and harvesting. Every pesticide has a specific pre-harvest interval (PHI), which is the wait time between a pesticide application and when a crop can be harvested. 
He uses products which have a PHI of only 3 to 5 days. "We use only green-label products which are expensive but totally safe to use. Still, we maintain the required gap between spray and harvest," Kabir points out.
Also Read: How this Punjab farmer became a flower millionaire
Along with organic farming, residue-free farming is gaining popularity in India because of the availability of products with low PHI, high nutrition content in produce and its ability to give good yields without adversely impacting soil quality.
Once the guava trees started fruiting in 2018, Kabir sold the produce at an average of Rs45 per kg. "The rate can go up to Rs100 to Rs120 per kg and can be down to Rs30 as well depending on climatic condition, overall production and other factors," he says.
The business beyond farming
The VNR Bihi is a high-yielding guava variety. Developed by VNR Nursery, can be grown in all types of soil. It allows for staggered harvesting as the fruit can stay up for up to 10 days in the plant. With a long shelf life of 15 days in normal conditions and 30 days under refrigeration, this variety is suitable for long-distance transport.
The plant gives yield for 25 years after which the production declines. In the third to fourth year, the annual yield is around 15 to 20 kg per tree and can go up to 25kg in the fourth year.
"I did not go with my produce to the mandi (wholesale market). Instead, wholesalers came and bought the guava directly from us since my father had already been cultivating guavas on six acres earlier," he says. Having tasted success with 10 acres, Kabir decided to focus more on fruit cultivation given the rising demand for this guava variety in India. 
Also Read: Kerala couple turns barren land into organic paddy farm, sells native rice at up to Rs225 per kg
In 2018, he planted guava over 40 acres of the family land, leaving an acre for his research, a pond over three acres and a sorting, grading and packaging facility over another acre. 
He also experimented with the Pink Taiwan variety which was first planted in Jangareddigudem in Andhra Pradesh about seven to eight years back. "We planted the Pink Taiwan variety in 2018 for trial and the result was very good The family branded the produce as AVM Guava and gave their contact details on the boxes. This helped in rapid growth in sales as their name became familiar among wholesalers across India.  
"The comfort of being able to track down the farmer gave a fillip to our product. Anyone who saw our cartons could contact us directly for purchase or share their feedback instantly," Kabir says.
Today, AVM Guava is sold across India and even in some neighbouring countries. "In the North East, we have gone up to the Siliguri market, from where, our guava goes to Nepal and Bhutan besides Agartala, Sikkim and other places. From Bihar, and Uttar Pradesh in the north to the whole of South India and Odisha, we dispatch our guavas across the country," Kabir says.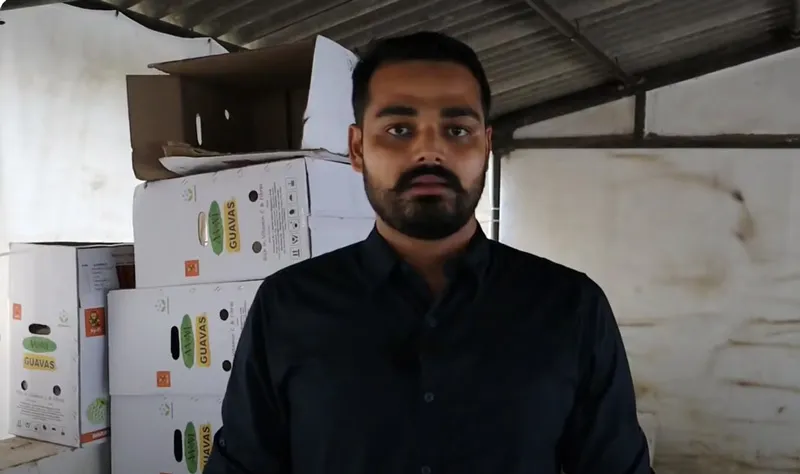 Enthused by his success, in 2020, Kabir took around 55 acres of land on lease in Patewa Village of Mahasamund District in Chhattisgarh. "I have planted guava over 40 acres and vegetables over 15 acres. This plantation will begin fruiting from this year," he says.
Kabir's friend Alok Shivhare, also an MBA in Marketing, has been helping him in marketing the guavas. "He owns 16 acres of land in Dalli Rajhara, a town in the Balod district (Chhattisgarh). We have plated guava over 15 acres there as well," Kabir says.
The young farmer is now also offering consultation services to other growers interested in the farming of guava and other fruits. "Today, information about agriculture is easily available and the governments are giving many subsidies and facilities to farmers. It is a good time to be a farmer in India and contribute to the country's food basket," he says.
(Rashmi Pratap is a Mumbai-based journalist specialising in business, financial and socio-economic reporting)
Also Read: 65-year-old woman turns barren land into organic farm of medicinal plants, earns Rs50 lakh annually