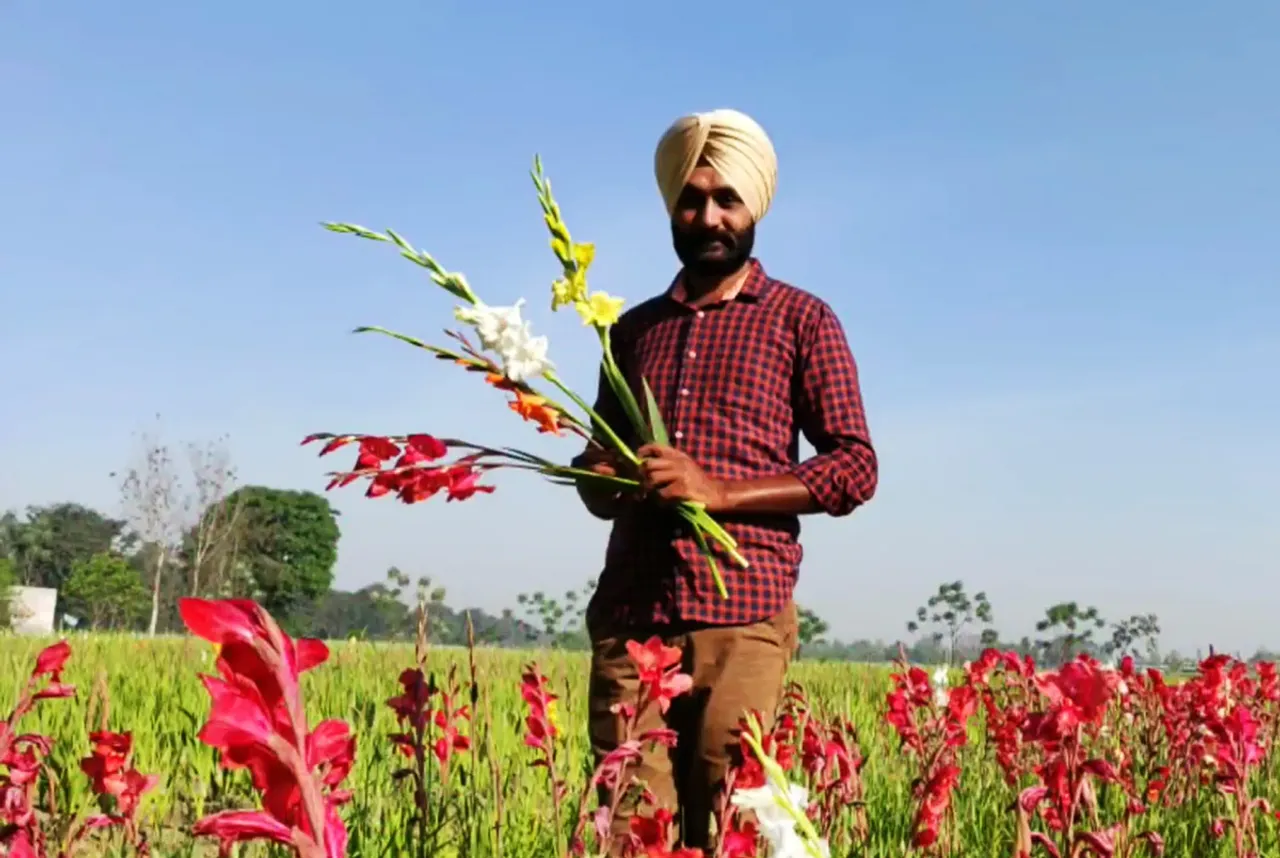 After failing in multiple businesses, from selling sweets to customizing swanky jeeps, Gurwinder Singh Sohi had few options left to earn a living. He had discontinued studies after class 12th when he failed in Punjab JET (Joint Entrance Test) for admission to the state's polytechnic institutes. His uncles, cousins and most members of the extended family had moved to Canada but Gurwinder wanted to stay in India.
He realised that the only option for him now was to join his father in farming on their ancestral land in the Nanowal village of Fatehgarh Sahib district in Punjab. "That was in 2008. I had failed in so many businesses that my father had given up on me," he says laughingly.
While Gurwinder zeroed in on farming, he was sure he did not want to cultivate paddy and wheat like his father. "Mono-cropping strips the soil of necessary nutrients, and the returns are minuscule," he says.
The net profit from wheat cultivation in Punjab, Uttar Pradesh and Haryana is just about Rs20,000 from one acre after deducting costs for urea, pesticides, zinc, watering and harvesting (assuming that electricity is free), and Gurwinder wanted to earn better.
The flowering of an idea
At the same time, in 2008, he learned that the Punjab Horticulture Department was subsidising seeds of Holland gladiolus flowers. "I thought of trying out flower farming. My father, knowing my track record, said he would not get involved. He allowed me to experiment on two kanals (about 0.25 acres) of land," he says.
Also Read: Punjab's engineer-farmer earns profit of Rs4 lakh per acre with organic farming of dragon fruit
Gladiolus are propagated by corms -- the flower's underground organs similar to onions that are often wrongly referred to as bulbs. Gurwinder procured them and planted Gladiolus in October 2008.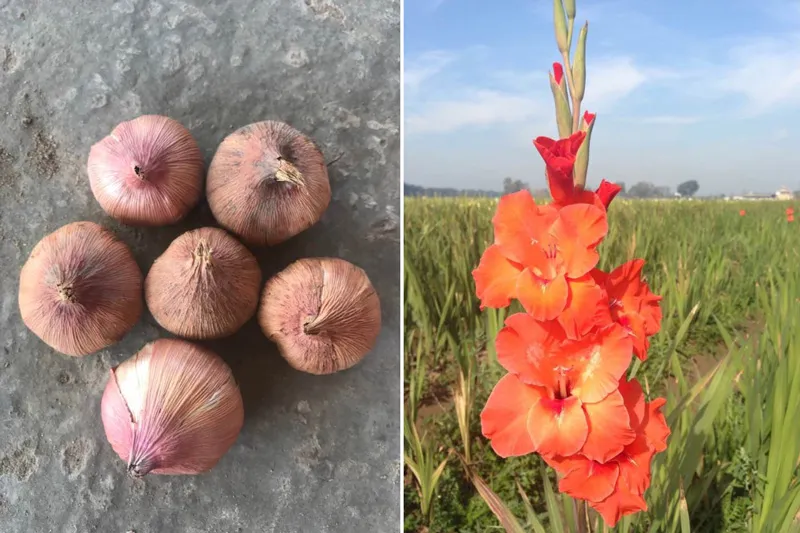 Punjab's climate in winter is similar to European summer, providing good conditions for flower cultivation or floriculture. Karnataka, Tamil Nadu, Andhra Pradesh, West Bengal, Maharashtra, Rajasthan, Delhi and Haryana have also emerged as major floriculture centres in the last few years.
India ranks 18th in global floriculture trade with only a 0.6 percent share, which shows the potential for growth of floriculture in the country.
The possible floriculture options for farmers in India include the cultivation of cut flowers (harvested with a long stem like gladiolus), loose flowers (like marigolds, harvested without stem), seed production of flowering plants, and setting up ornamental nurseries among others.
Gladiolus starts flowering after 90 days and the duration lasts about a month. "After a month, we take out the corm and collect the seed. It is cleaned, graded and put in cold storage for use next year," Gurwinder says.
Also Read: Flowers turn into a big blooming business in Kashmir
He sold the first harvest in the local markets and earned around Rs3 per stick or spike of gladiolus. The returns encouraged him and his father allowed him to expand the area under flower cultivation. He procured seeds of ranunculus (buttercups) from Israel and planted them as well.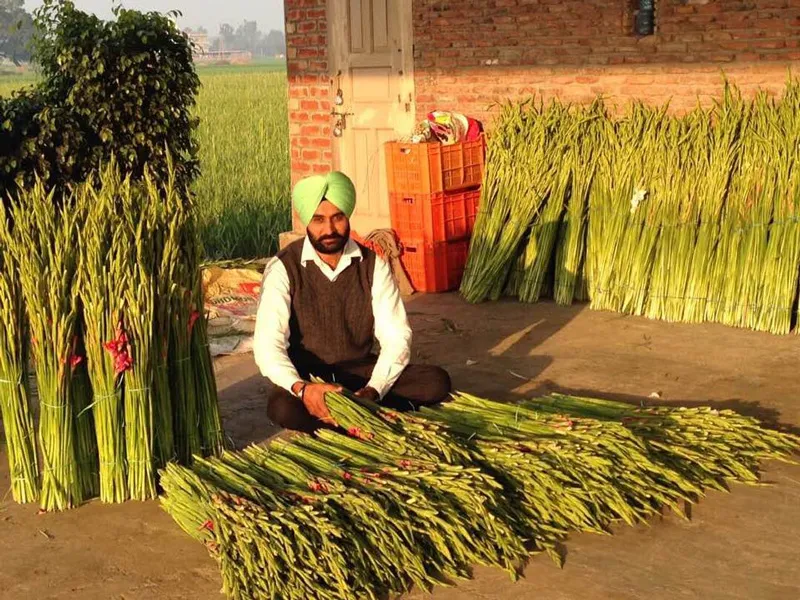 Today, Gurwinder grows gladiolus, ranunculus and marigold over 3 acres of land and has named his farm RTS Flowers. He sells the flowers in the markets of Ludhiana, Chandigarh and Delhi.
The average market rate for gladiolus is Rs 4 to Rs 5 per stick and one acre yields about 60,000 flower sticks. At the lower end, a farmer can earn Rs 2.4 lakh per acre (Rs 3.2 lakh at the upper end) through gladiolus farming, Gurwinder points out. 
After harvesting gladiolus around April, Gurwinder plants paddy on the land, earning about Rs50,000 per acre. In this way, he is earning around Rs 3 lakh per acre annually from his farm. After deducting costs of manpower and other resources, he is still able to make a profit of around Rs 1.5 lakh to Rs 2 lakh per acre on average.
Also Read: Engineer leaves high paying job at Microsoft for Gerbera farming; creates jobs in his village
The business of flower seed production
However, during the Covid pandemic, Gurwinder suffered a loss as the markets were closed and there was no demand for flowers. But it turned out to be a blessing in disguise. "During Covid, we did not harvest the flowers or took out the corms and the production was wasted," he says.
At the same time, many people across India were getting interested in planting flowers in their balconies and gardens, increasing the demand for flower seeds. Moreover, the nursery business has been growing manifold in the last few years amid rising awareness towards greener surroundings and environmental conservation.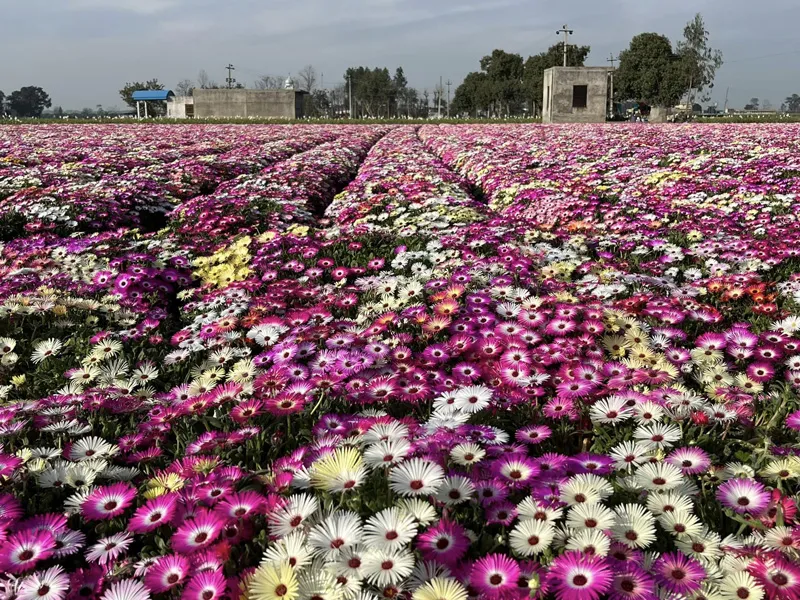 "Realising the rising demand for flower plants, I ventured into seed production of 'annuals'," he says,
Annuals are plants that are grown for only one season. An annual completes its life cycle in a single year, sprouting from seeds, blooming throughout summer, and giving seeds to ensure future generations. 
Annuals are a good option for those interested in the flower seed production business. "We started cultivating 25 varieties of annuals like rose, marigold, calendula, alyssum, chrysanthemum, aster, daisy, delphinium, lupin, salvia and others. I began to prepare seeds and supply them to buyers," he says.
The flower seeds are sold to traders, exporters and to over 100 nurseries across India.
For starting seed production, he bought seeds from the market and procured some from Europe, where flowers are a big business. He also travelled to the Netherlands, Israel and other countries to learn floriculture best practices.
Also see: How this Maharashtra engineer became a hydroponics fodder millionaire
Gurwinder now cultivates flowers for sale and seed production on a total of 25 acres of which his father owns 9 acres. The rest of the land is on lease. While 3 acres are used to grow flowers sold in the market, he cultivates flowers for seed production over 22 acres.
Growth through collaboration
Apart from this, he has also trained 20 farmers in the village on flower cultivation and buys back seeds from them, grown on around 20 acres. "They earn three times more than wheat farming. These farmers have to only sow the seeds and harvest. I undertake other processes like sorting, grading, storing and packaging work," he says.
In all, he sells flowers and seeds produced over 45 acres of land.
"For preparing seed, I take orders for the next season in advance, which helps me to forecast the demand. Accordingly, I undertake production – planting flowers as per their seed demand. Once the seeds are ready, they are cleaned, graded and packed and supplied to buyers," he says.
Also Read: Karnataka's MBA farmer turns barren land into a profitable natural farm; earns Rs 40 lakh annually
"A single gladiolus corm or seed sells for Rs2.50 per piece. One acre of land gives 200kg of calendula sees, which sell for Rs 1500 per kg. That translates into an earning of Rs 3 lakh from one acre," he points out.
For alyssum flowers, the seeds are sold at Rs2,000 per kg and an acre of land yields about 70kg of seeds (earning of 1.40 lakh). For nasturtium, an acre gives 400 kg of seeds which sell for Rs450 per kg, resulting in an income of Rs1.80 lakh.
"This is many times more than the earning from wheat or paddy cultivation. Labour costs are, however, higher. I spend around 30,000 per acre on labour since machines are mostly not used in floriculture. Flowers need tender care during growth and harvest, requiring manual labour," he says.
"Yet, it is profitable farming and the returns are at least three to four times more than wheat farming," Gurwinder adds.
Right now, he is focused on increasing the area under cultivation by roping in more farmers to grow flowers for seed production. "Though requiring more work, floriculture is a great farming business option because the returns are good and since production is demand-based, your risks are much lower," he adds.
(Rashmi Pratap is a Mumbai-based journalist specialising in business, financial and socio-economic reporting)
Also Read: How Maharashtra's MBA farmer built an organic food supermarket