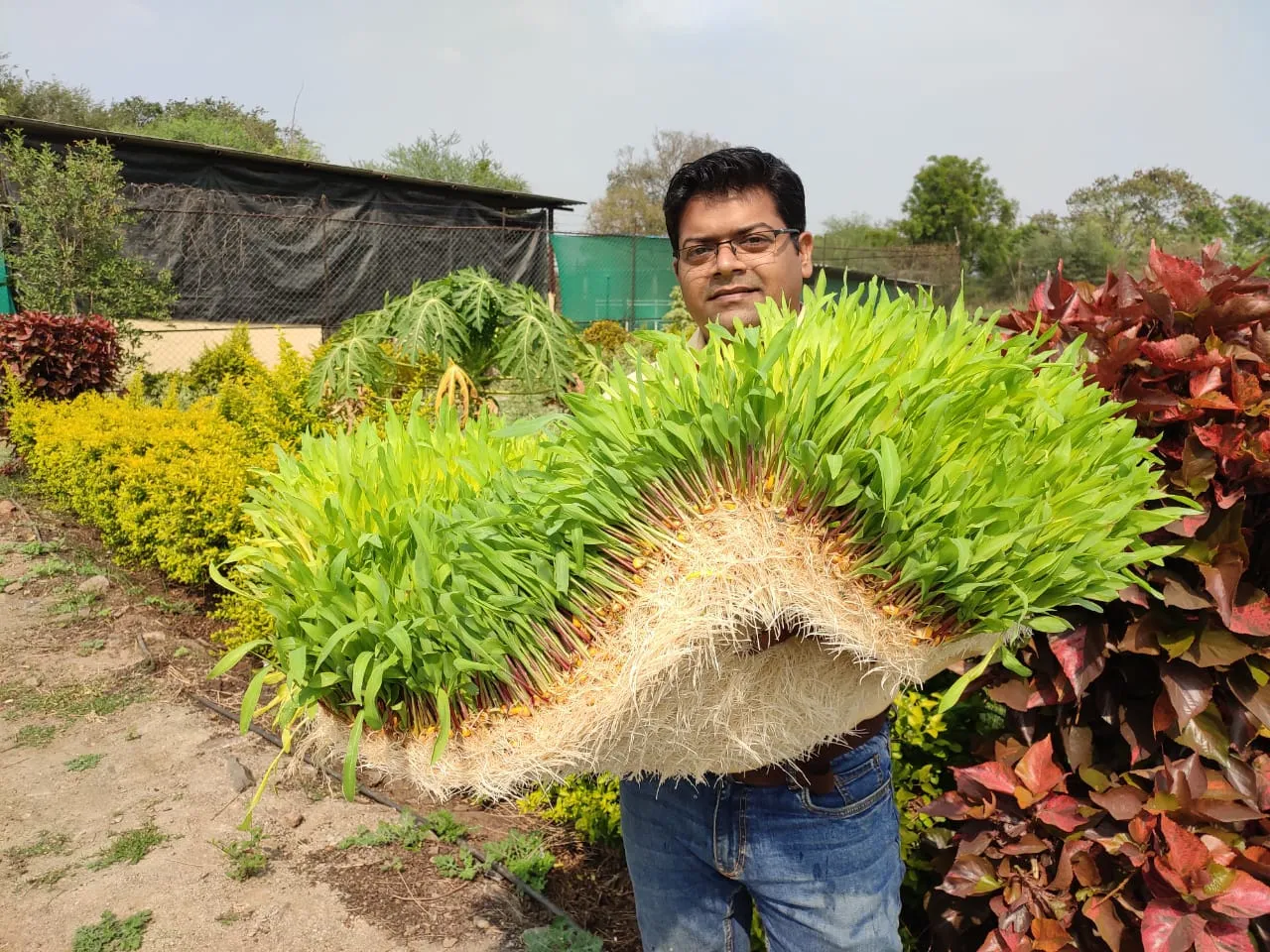 After completing his Mechanical Engineering from Mumbai University, Ashwin Sawant landed a job with a company in Dubai in 2009. One of the clients his company was servicing owned a goat and camel farm with over 2,000 animals. The farm owner was feeding hydroponic and dry fodder to the cattle, which were healthy and exhibited good growth.
The year was 2010 and it was the first time that Ashwin had seen a hydroponic fodder growing facility. 
He was intrigued as to how nutritious fodder could be grown in water in a limited space in just a week while it took two months and 90 percent more water to grow it in soil!
"I was so drawn to the hydroponic farming system that I quit my job in 2011 and came back to Mumbai. Back then, people here were not using hydroponics and there were no videos or tutorials on this farming technique in India," says Ashwin, Founder of Scientific Hydroponics.
His family owned 2 acres of land in Hapus Baug village of Junnar tehsil in Pune, Maharashtra. There, Ashwin began his experiments with hydroponics – a technique where crops or medicinal plants are grown without soil in water enriched with mineral nutrients. The roots of plants grown in soil have to search for the necessary nutrition but they are directly exposed to nutrition in hydroponics, saving plant energy to sustain itself. This results in faster growth.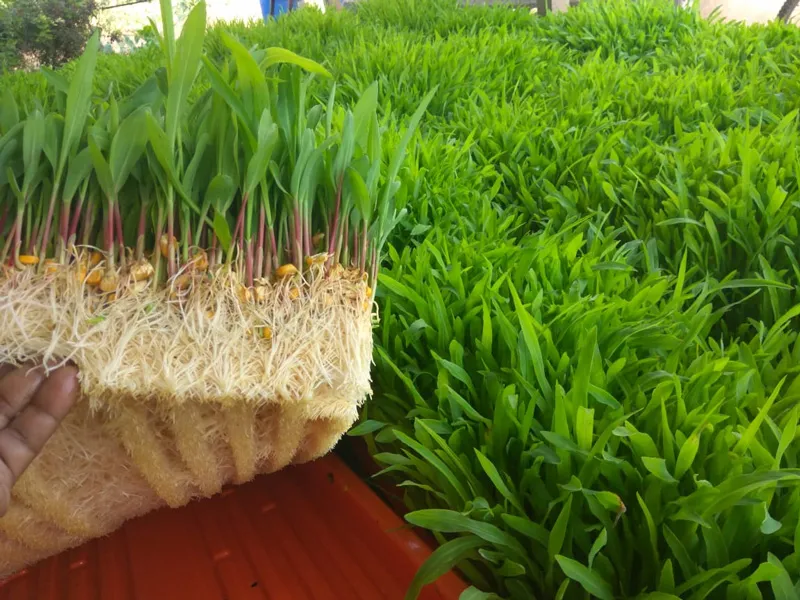 Ashwin was interested in growing fodder because there is a huge demand for nutritious fodder from dairies and other stakeholders in the animal husbandry sector. Nutrient-rich fodder improves both milk and meat yield in animals as the minerals and vitamins are absorbed better and quicker through food than as supplements.
Also Read: Punjab's engineer-farmer earns profit of Rs4 lakh per acre with organic farming of dragon fruit
Low-cost hydroponics farming model
"I had seen the hydroponics system closely in Dubai and I knew how to control temperature, humidity and hygiene at the facility. Being an engineer, I also understood the technical procedures. I tried to implement the same here. But while everything was automated in Dubai, like chillers, ozonators (a device to produce ozone), and air conditioners, here we had challenges of electricity interruptions, fluctuating voltage, unavailability of equipment etc.," Ashwin says.
And these challenges led him to create a low-cost model of hydroponics fodder farming that could be replicated across geographies in India. The testing ground was his Hapus Bagh site, which is now called the Hydroponic Fodder Research Centre.
Temperature and humidity control are key to a successful hydroponics setup. The optimal temperature range for most plants to thrive is between 18°C to 27°C.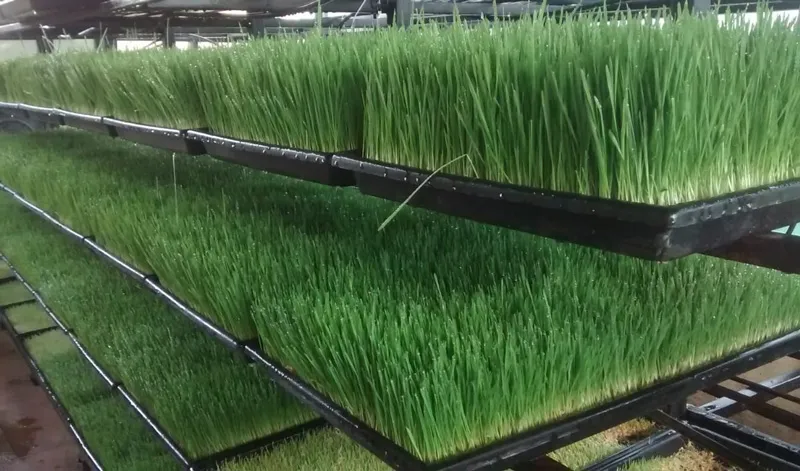 For temperature control, Ashwin opted for a 'fan and pad' system which uses exhaust fans to pull air through evaporative cooling pads. As the air is pulled through the pad, water evaporates and cools it. He learned about a company in Pune which was importing pads.
"I made my own fan and pad system to maintain a temperature below 25 degrees in Pune, where it fluctuates from 45 degrees in summer to 6 degrees in winter. We also put heaters for temperature management," he says.
Optimal humidity in hydroponics ranges for most crops between 50 and 80 percent and reduces as plants grow. Improper humidity management can cause fungus and mould growth.
"I put up dehumidifiers and we worked on ventilation and air circulation using exhaust fans and circulation fans. This helped maintain uniformity in humidity levels," he says. 
Water used in hydroponics should have a pH between 5 and 6 for optimal growth (regular drinking water has a ph of 7). "I put up filters to address the hardness of water," he says. Alongside he put up inverters, stabilizers and other equipment to create the optimal hydroponics infrastructure.
Also Read: Karnataka's MBA farmer turns barren land into a profitable natural farm; earns Rs 40 lakh annually
Investments and returns in hydroponics fodder farming
Ashwin set up his facility only over 7,000 sq ft out of his 2-acre land parcel. It served as a research centre as well as a source of fodder for 150 goats and cows he purchased in 2011. "In 2011, I began goat farming with an aim to check the impact of hydroponics fodder on cattle. The results were good and I understood that the model was working well," he says.
In hydroponics, plants can be stacked vertically, allowing for the growth of more plants in the same space.
As a thumb rule, says Ashwin, a hydroponic fodder unit with an output of 500 kg per day can be set up over just 500 sq ft of area. More compact versions can give 1,000 kg fodder daily from a space of just 700 sq ft.
As the word spread, people from Gujarat, Maharashtra and Karnataka began visiting Junnar every weekend to learn about hydroponics from Ashwin. "I have trained around 8,000 people so far, many of whom have set up their own units," he says.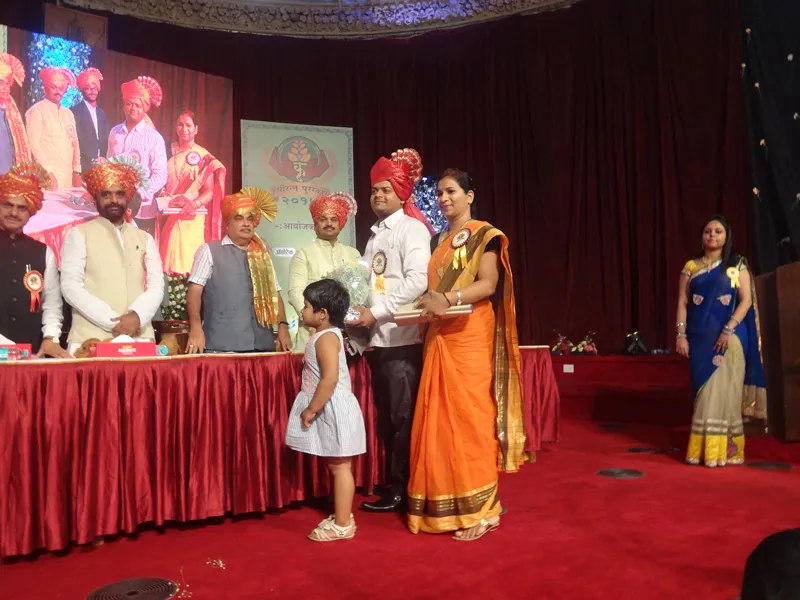 In 2015, he was awarded the Krishi Ratna Puruskar by the Maharashtra government for his work. In 2020, he discontinued goat farming to focus fully on consultation and installation of hydroponics systems in India and Gulf countries. He now offers consultation and Installation of total turnkey projects besides training people on setting up hydroponic fodder systems.
Being profitable, it is witnessing good demand from the animal husbandry sector.
"I have executed 60 projects so far. About 60 to 70 percent of my clients are dairy farmers who need 4 to 5 tonnes of fodder per day," he says.
Explaining the economics, Ashwin points out that the installation of a fully automated set-up for fodder output of 1000 kg per day requires an investment of Rs12 lakh to Rs15 lakh. The initial investment goes down with a rise in installation capacity. So a 3 tonnes (3,000 kg) per day plant can be set up for Rs25 lakh.
Also Read: How this Goa family earns Rs 42 lakh per acre from organic coconut farming
"Once the facility is functional, one kg seed (priced at Rs 15-16 per kg) can yield 6 to 7kg maize fodder and 7 to 8 kg of barley and wheat fodder. The production cost is Rs3 to Rs3.5 per kg and it is sold at anywhere between Rs5 and Rs8 per kg," he says.
So if someone puts up a one-tonne unit, he or she will save Rs3 to Rs4 per kg, a profit of Rs3,000 per day at the lower end from the one-tonne daily output. The monthly profit will be Rs 90,000 or about Rs 10 lakh to Rs 11 lakh annually.
At this rate, the costs of setting up a hydroponic fodder farm can be recovered in about 1.5 years to two years, which is much quicker and more profitable than cultivation on land. 
"If you grow 1 kg of fodder by the conventional method, it takes around two months to reach maturity level and it will guzzle 400 to 500 litres of water. About 90 percent of the water percolates or evaporates. In hydroponics, there is a closed loop system and we use sprinklers, which require only 1 to 1.5 kg water for a kg of fodder," Ashwin points out.
Also Read: Shifting from cotton to mushroom farming increases Haryana farmer's profit ten times
Most fodder growers supply in bulk to cowsheds and dairies. The system is also viable for large dairy owners who need tonnes of fodder every day. "For small farmers, we have suggested to the government to make clusters, give them subsidies and then install hydroponics for fodder. It is a fool-proof system of income generation throughout the year," Ashwin says.
Scientific Hydroponics, Ashwin's firm, gets its own equipment and machines manufactured on contract in Maharashtra. "From trays to the cooling systems, we get all equipment made at Chakan on a customized basis. We are heavily focused on after-sales service, which is crucial for the success of every hydroponics system," he says.
Right now, Ashwin is busy installing large-sized projects in Maharashtra, Haryana, Karnataka and other areas. His aim is to take the hydroponics technique to as many farmers as possible.
(Riya Singh is a Ranchi-based journalist who writes on environment, sustainability, education & women empowerment)
Also Read: How Maharashtra's MBA farmer built an organic food supermarket
FAQs Hydroponics
Hydroponics is an agriculture technique where crops or medicinal plants are grown without soil in water enriched with mineral nutrients.
What are the benefits or advantages of hydroponic farming for farmers?
It does not need soil, uses 90 percent less water than conventional farming, can be done even in 500 sq feet facility as vertical layering is adopted, crop grows at a very fast rate, yields are higher and labour required is very low.
How much time it takes to grow hydroponics fodder?
What is the investment required for setting up a hydroponic fodder facility with one tonne daily output?
About Rs 12 lakh to Rs 15 lakh
How long does it take to recover investments in hydroponics fodder facility?
About 1.5 years to 2 years