In 2006, the cotton crop in a large number of farms in the Jind district of Haryana was damaged by pests, leaving farmers in huge losses. The next year too, the crop was destroyed by pests. While farmers were lamenting their fate, the calamity prompted farmer Ashok Kumar Vashist to look for a viable alternative. 
Ashok hails from a farming family in Igra village of Jind district. Like others, he grew cotton and wheat and earned an annual profit of Rs1 lakh to Rs1.5 lakh. But in 2007, he switched to mushroom farming.
Today, he earns a profit of around Rs2 lakh every month, thanks to mushroom farming, which does not require much manual labour, investment or time. Mushrooms have a short growth cycle compared to other crops and can be processed to make a variety of products. 
"I have 4.5 acres of farmland. In Jind, most farmers cultivate only two crops - cotton and wheat. I also grew them. In addition, I had about 10 cattle. I would make about Rs1 lakh annually by selling their milk to dairies. We were making enough money to run the family," says Ashok who lives with his parents, wife and two sons. 
However, after the setback in 2006 and 2007, Ashok had to think of an alternative to traditional farming. "When the farm was affected in the first year, we thought we could do better in the second year. But the next year's loss affected our finances terribly. Fortunately, I could make a living by selling milk. But, I realised that I had to shift to a better crop," says Ashok.
The switch to mushrooms
While searching for profitable farming ideas, Ashok learnt about mushroom farming. However, there was a problem. "Mushrooms grow naturally after monsoons. But they grow on waste. So many people in my village considered it unfit for consumption. Moreover, many vegetarians consider mushrooms as non-vegetarian since they don't have leaves or roots and don't need light to grow," says Ashok.
But Ashok went ahead and attended a training programme on mushroom farming from the HAIC Agro Research and Development Centre in Sonipat. He also took training from scientist RD Pawar at the Krishi Vigyan Kendra, Jind. 
Ashok says the chief scientist at the research centre, Dr Ajay Singh Yadav, gave detailed sessions on mushroom farming, its health benefits and profitability.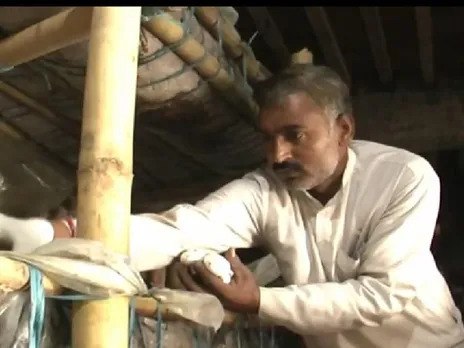 "The more I learnt about mushroom farming, the more I got interested in it. The training also proved to be a myth buster about mushrooms being unhygienic or non-vegetarian," says Ashok.
In May 2007, Ashok began organic mushroom farming despite the fact that it usually grows in winter. 
He started with oyster and white button mushrooms with an investment of Rs 1 lakh.
"Scientists and farming experts say mushrooms can be grown successfully between September and February. However, I wanted to challenge this belief so I started in summers as well," he says.
Also Read: From juveniles in correctional centres to landless labourers, how Pushpa Jha is helping create mushroom entrepreneurs in Bihar
Ashok used his abandoned mud house, which was about 1700 sq ft, for mushroom farming. He covered the structure with wheat and paddy straw and bamboo. He also created racks for growing mushrooms. 
Since he did not want to spend money on air conditioners, Ashok used an indigenous technique to make the temperature suitable for mushroom farming.
"If you drape a gunny bag around a bottle and keep the bag wet, the water in the bottle will stay cool even in summer. That is what I applied in my mushroom hut. I draped the hut with gunny bags and paddy straws and made sure it was wet all the time. I also installed four exhaust fans to pull out hot air and pull in cool air into the hut," says Ashok who has studied up to class 10.
Process of button mushroom farming
Ashok says he then prepared compost using straws of wheat, millet and paddy and cattle dung and allowed it to rest on the racks for about a month. "Once the compost was ready, I sowed the mushroom seeds or spawn. Initially, I bought one tonne of seeds for which I used about 8 tonnes of compost," he says.
The entire process from making the compost to the harvest of the mushroom takes about three months.
Mushrooms need different temperatures at different stages of the growth process. "A temperature of 24-28 degrees Celsius is needed for making the compost, 21-22 degrees Celsius when mushroom roots are visible and 18-20 degrees Celsius when the seed starts fruiting," he says. 
The mushroom yield obtained is correlated with the compost filling weight used. 
"On average, mushroom yield is 18 percent to 25 percent of the compost used (like 1.44 tonnes to 2 tonnes mushroom from 8 tonnes compost). I got 23 percent (1.84 tonnes mushroom) from the 8 tonnes of compost I used," he explains.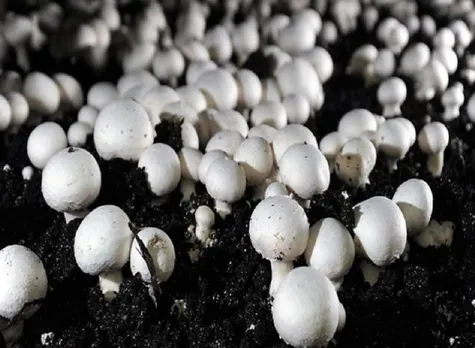 Some farmers get 50 percent of mushrooms from the compost weight. However, it requires higher investment and more precision while farming. Button mushrooms retail at Rs 30 per 250 gm or about 120 per kg. 
Ashok prepares mushroom spawns using wheat grains. 
The grains are washed, soaked in water and then put in small plastic packets and sterilized. Once they are sterilized, some spawns are added to the packets and closed again. They are then kept in the dark at room temperature for a week. "Within a week, the spawns are ready to sow. While packing the wheat grains in the small packets, I put cotton on top for ventilation," explains Ashok.
Also Read: Roja Reddy: Karnataka techie-turned-agripreneur's pioneering organic farming effort makes her a millionaire
Mushrooms have been used as a source of food and medicines for thousands of years. They are low in fat and contain proteins, vitamins, minerals and antioxidants. Studies show that mushrooms can help lower cholesterol, decrease the risk of cancer, and protect brain health.
As per the National Horticulture Board, Bihar is the top mushroom-producing state in India. At a production of over 28,000 tonnes in 2021-22, it accounts for 10.82 percent of the total mushrooms produced in the country. Bihar is followed by Maharashtra, Odisha, Haryana, and Punjab.
Processing mushrooms for profits
Initially, Ashok began selling mushrooms in local markets in Haryana. But people were not too keen on buying because of the myths associated with mushrooms.
Ashok then sought out markets in other states. "I began selling them in Rajasthan, Uttar Pradesh and Delhi and got a good response," he says. In 2010, he set up his firm, Maharishi Vashist Mushroom.
Ashok's income saw a sharp increase compared with traditional farming. "I began to make double the profit that I was making from cotton and wheat farming annually. Initially, I made about Rs3 lakh profit annually," says Ashok.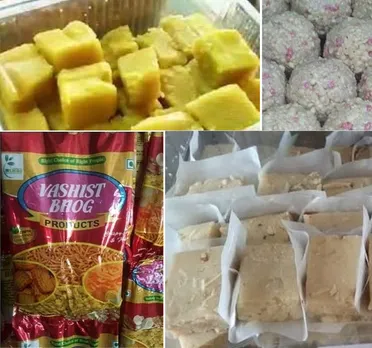 Looking at the profit of mushroom farming, he set up four more mud houses. Today, his mushroom farming operations are spread over 1 acre out of the 4.5-acre land he owns.
Also Read: How this Maharashtra engineer-farmer earns Rs 3.6 lakh per acre through organic sugarcane farming
Although he was selling mushrooms in different states, Ashok also wanted to have more customers in Haryana. He then began making value-added products at home in which his wife assisted him.
"I started with pickles and now I have about 91 varieties of mushroom products such as mushroom chutney, mushroom bhujia, mushroom laddoo, mushroom biscuits and more," says Ashok. He sells the products under the brand name Vashist Bhog.
Ashok says sweets made from mushrooms are safe for consumption by diabetics as he adds stevia powder to sweeten the product.
"I add black salt in pickles to prolong their shelf life. It can last three to four years. I don't use any chemicals or preservatives in my value-added products. All are organic," says Ashok. 
He now employs 15 people to work on the farm and prepare other products.
Organic growth 
Ashok has been selling value-added products since 2010. But the demand for his products grew gradually. "Earlier I would receive orders from my friends and acquaintances in Haryana. The number of products was few," he says. 
"Before the pandemic, the monthly revenue would cross Rs 1 lakh. But now, the sales have gone up to Rs3-4 lakh per month," says Ashok.
Also Read: How this Goa family earns Rs 42 lakh per acre from organic coconut farming
Ashok's investment to earn this revenue is around Rs 1-1.5 lakh per month including expenses on compost, spawning, raw materials for making pickles, laddus etc, resulting in a monthly profit of nearly Rs 2 lakh.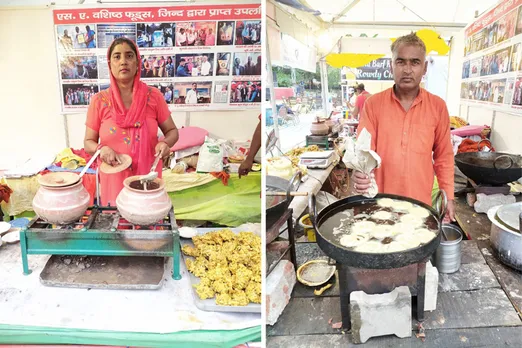 For making laddus, he uses pureed mushrooms, along with ghee, millet and stevia powder. The shelf life of mushroom laddus and other sweets is about 180 days while jalebi can last for a month. Mushroom biscuits last for a year. 
The laddus are priced between Rs 400 and Rs 700 depending upon the millet and other ingredients used like ghee or oil. Jalebi is priced at Rs 400 per kg. "For pickles, the process is the same as other pickles like mango and chilli. However, I use black salt instead of regular salt," says Ashok. The pickles are priced at Rs 400 per kg.
Also Read:  Punjab: Farmer turns barren land into organic farm of wheat, fruits and vegetables 
He receives orders by phone and delivers through couriers. He also sells the products through exhibitions across India and is now working to export his products.
Apart from mushroom farming, Ashok also cultivates wheat and rice which adds to his annual income. He sells milk from his six Murrah breed buffaloes to dairies and earns around Rs 300-400 per day.
Ashok and his wife have also won awards for their products. They won first prize in the 'Agri Leadership Summit' held in Surajkund in 2017. They were also honoured at the Krishi Mela organised by the Haryana Golden Utsav. 
(Bilal Khan is a Mumbai-based independent journalist. He covers grassroot issues, LGBTQ community and loves to write positive and inspiring stories.)
Also Read: From truck driver to millet millionaire, how this Telangana farmer built a successful food business