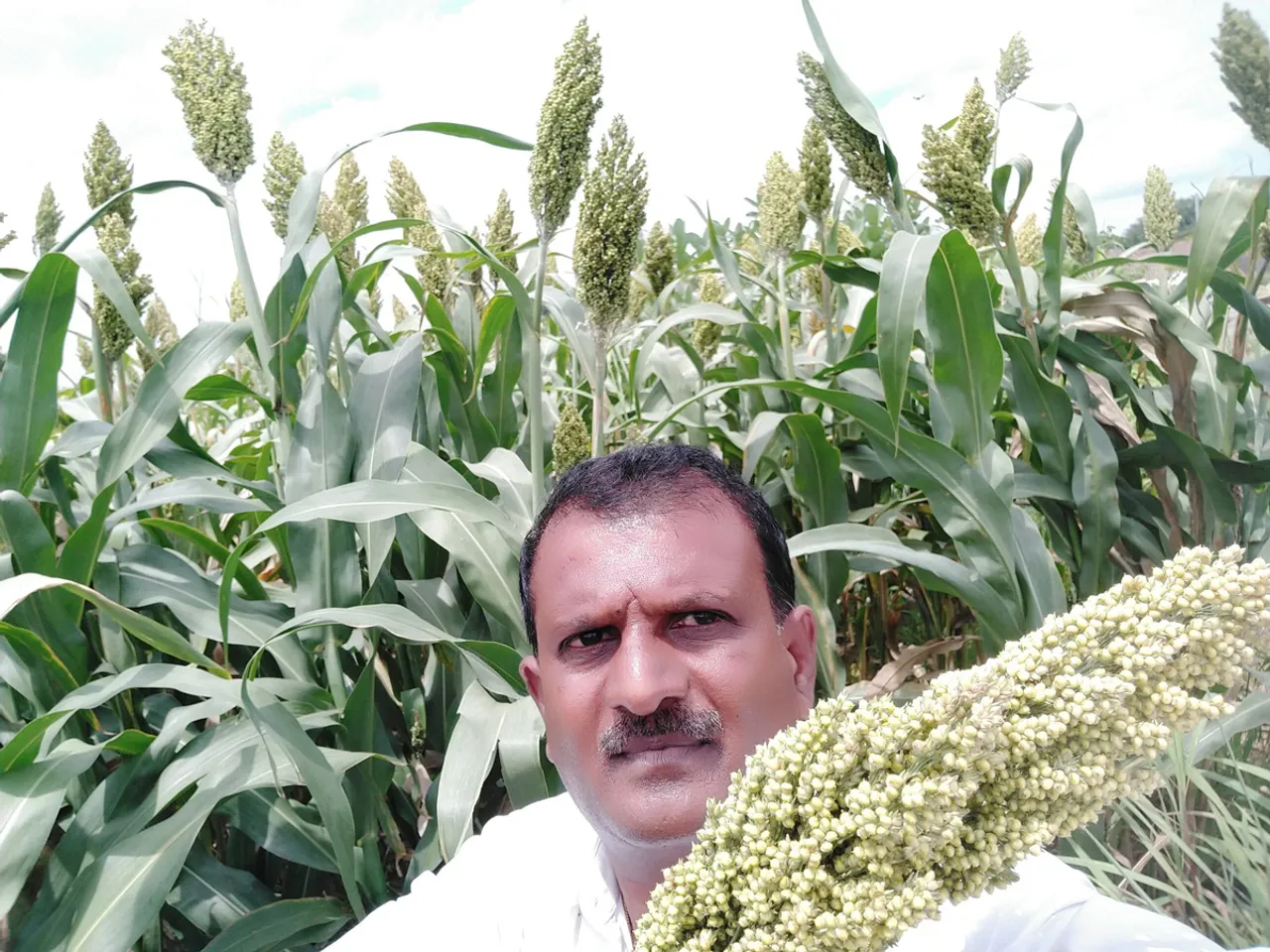 It was during a trip to Beed in Maharashtra in 2009 that Biradhar Veer Shetty hit upon the idea of millet farming and making snacks from millets. The class 9 pass out from Telangana who once drove a truck to earn a living has today created a successful business with an annual turnover of Rs1 crore and supported thousands of farmers.
During a project executed by International Crops Research Institute for the Semi-Arid Tropics (ICRISAT) for promoting jowar (sorghum) farming among farmers, Shetty had to travel to Beed. 
The aim of the ICRISAT project was to encourage jowar farming and introduce new varieties to increase production and help farmers double their income. But it gave a new direction to Shetty's life as well. 
"During the trip, I often went hungry because I could not adjust to the Maharashtrian food. I also saw considerable poverty in western Maharashtra. It set me thinking about two things – one, helping farmers overcome poverty and two, manufacturing ready-to-eat foods," says Shetty.
Getting ahead
Now 50, Shetty spent his childhood in Gangapur village in Sangareddy district of Telangana. Belonging to an agricultural family, he had an interest in farming. However, his family wanted him to get a good job. So, Shetty trekked 10 km to and from school daily.
The school in the village was only till class 9 and children had to go 25 km away to study in higher classes. Shetty had no interest in studying further. So, in 1990, he dropped out of school and became a helper to a truck driver.
Eventually, he became a truck driver and worked in a transport company till 1997. "Even when I was a driver, I used to think that I should do something on my own. But I didn't know what to do," says Shetty.
In 2006, he got a job in Hyderabad with the International Crops Research Institute for the Semi-Arid Tropics as a driver-cum-general assistant. He worked under Dr CH Ravindra Reddy and Dr Ashok Alur, both scientists at the institute.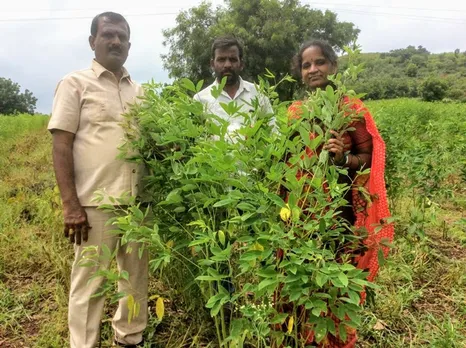 Ever enterprising, Shetty studied for and passed his class 10 exam and then did graduation alongside his job. "My bosses appreciated my efforts and the department paid for computer and photography courses that I did," he says proudly. 
Starting on the millet journey
After returning from his trip to Maharashtra, Shetty told his boss Dr Reddy that he wanted to start a business. "I sought his support and requested him to give me Rs20,000 to which he agreed."
With the money, Shetty opened a small shop in 2009 where he sold jowar rotis.
"When I opened my first outlet in Hyderabad, people mocked me saying no one would eat jowar rotis. Today I have five outlets in different cities with long waiting lines to get the rotis," he says.
Shetty says he zeroed in on the idea of jowar rotis because he had done extensive research on jowar while working at ICRISAT. "I knew about its varieties, their nutritional value, mineral content and other qualities. So, I developed the jowar roti -- flat, hard bread with a shelf life of six months," says Shetty.
Also Read: Millet mompreneur: Banker turns entrepreneur to give the best to her baby; sets up zero-preservative healthy food business
Mentoring farmers
In 2016, Shetty started an NGO by the name of Swayam Shakti Agri Foundation with the aim to support farmers. 
"I had seen farmers facing difficulties in agriculture. They are dependent on rain for crops, do not get the right price for their produce, are not familiar with technology, and do not know about adding value or marketing their produce," says Shetty.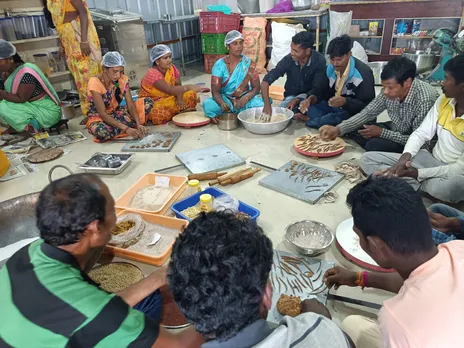 Shetty got a project from the Indian Institute of Millet Research (IIMR), Hyderabad in 2016 to promote jowar farming. Shetty implemented the project through his NGO in three blocks of Sangareddy district with 1,000 farmers.
IMRI gave free jowar seeds to the farmers and put up a processing unit on their premises. Initially, farmers grew jowar but later they started growing eight varieties of millets – three major millets which are Jowar, Bajra and Ragi and five minor millets – Barnyard, Kodo, Foxtail, Brown Top and Little millet.
Through his NGO, Shetty gives seeds to farmers that have a 100 percent germination rate and are resistant to diseases. 
 I teach them how to plant the jowar crop, the spacing, watering, and its transplantation. I also train them about harvest, post-harvest processing, value addition to crop, and packaging and marketing the products to realise better prices," he says.
Shetty has also put up a processing unit in Gangapur in Sangareddy district, Telangana, where he teaches farmers how to process millets.
Also Read: Katul: The millet-based craft beer of Odisha's Kutia Kondh tribe
With support from Shetty, farmers have doubled their incomes. 
From one acre, a farmer can earn Rs30,000 per season. Since farmers grow two crops, Rabi and Kharif, their annual income is Rs 60,000. "And if they do value addition, they can earn three to four times the amount," he says.
He also provides millet seeds to farmers in Maharashtra, Odisha, Rajasthan, Andhra Pradesh, and Tamil Nadu. A 2-kg packet of seeds costs Rs100.
Adding value
Shetty is also implementing a central government-funded Rurban project in three districts of Telangana – Warangal, Mehboobnagar and Sangareddy.
Under the project, three self-help groups (SHGs) with 30 women members and 500 farmers have been created. The produce of the farmers is procured by the women who process it to make eatables and market them.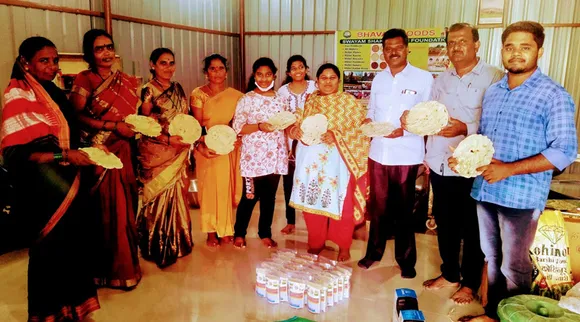 "I train the women at my processing unit in Gangapur on making dry roti with jowar, bajra and ragi flour, multigrain ladoos, savouries, multigrain chikki, ragi snacks and biscuits, millet kheer and biryani.
With the training, the women have started their own businesses, selling the products to local stores, highway dhabas and through stalls at toll plazas. 
The government has put up processing units in Warangal, Mehboobnagar and Sangareddy districts where the women can make the products. Processing involves removing the husk on the millet grain by putting it in a mechanized dehuller. After that, the grain is ground into flour and used for making various food items.
The women earn between Rs12,000 and Rs15,000 per month selling products made from millets.
Growing the business
Shetty practises natural farming which is good for the environment and for health. Moreover, natural farming is well suited for dryland areas of western Telangana and bordering districts of Karnataka.
Also Read: Roja Reddy: Karnataka techie-turned-agripreneur's pioneering organic farming effort makes her a millionaire
Shetty and his relatives cultivate millets on his 15-acre land in Gangapur. They have set up a processing unit. The products are sold under the Millovit brand through Bhavani Foods, the company he set up in 2008 for marketing the food items. He set up another company, Agro Foods, in 2016 which buys millets from farmers and processes them to make the products.
Shetty has opened five outlets, one each in Delhi, Hyderabad, Warangal, Mehboobnagar and Sadashivpeth where he sells millet-based products. 
With 40 employees, the turnover from his millet business is over Rs1 crore annually. 
Shetty says going ahead, he wants to work with 1 lakh farmers and provide jobs to 200 people.
The millet man's efforts have been recognised and he has won several awards including the Best Farmer Award from MS Swaminathan Research Foundation in 2017, Best Millet Misharayya Award from Indian Institute of Millet Research (IIMR) Hyderabad in 2017 and Best Innovative Farmer award from the Agriculture Ministry in 2020-21. 
He also travels across the country holding workshops and training in various agriculture institutions for Farmer Producer Organisations (FPOs) and women self-help groups on millet farming, processing and adding value to crops.
Benefits of millets
Millets are hardy and drought-tolerant cereals which are easy to grow as they require little water, fertilisers or pesticides. They are nutritious and rich in protein, vitamins and minerals like iron, zinc and calcium. Millets are gluten-free and have a low glycemic index which makes them ideal for those who have celiac disease or diabetes. 
Also Read: Karnataka's MA, LLB woman trains 2,000 farmers in organic farming; helps schools to set up kitchen gardens for mid-day meals
Moreover, millets are dual-purpose and can be used as food as well as fodder. 
They also have a lower carbon footprint because it takes around 1.8 kg CO2 equivalent to produce 1 kg of millets while the number for rice is 2.5 kg CO2e because it requires more water and paddy fields release methane gas.
Millets convert more carbon dioxide to oxygen, helping check climate change. 
On India's initiative, the United Nations has declared 2023 as the International Year of Millets and efforts are on to increase awareness around and production of millets as it can enhance food security, especially in poor countries.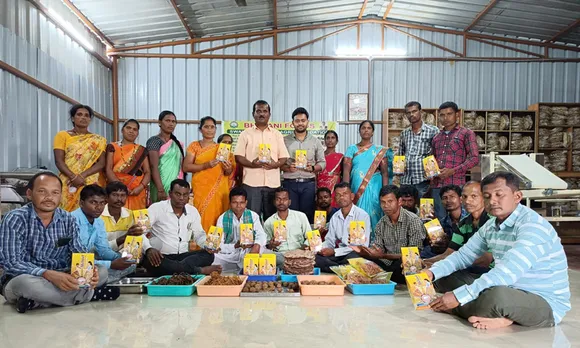 India is one of the leading producers of millets in the world with an estimated share of around 40 percent in global production. India produced about 120 lakh tonnes of millets of the total 304.8 lakh tonnes produced globally in 2022, according to Food and Agriculture Organisation (FAO).
The top five millet-producing states are Rajasthan, Maharashtra, Karnataka, Gujarat and Madhya Pradesh. India is also among the top five exporters of millets in the world, having exported millets worth 64.28 million dollars in 2021-22, as per government data.  
(Urvashi Dev Rawal is a Jaipur-based journalist specialising in development, gender, and political reporting)
Also Read: Andhra farmer sets up multi-crore millet business; helps 1500 growers earn more