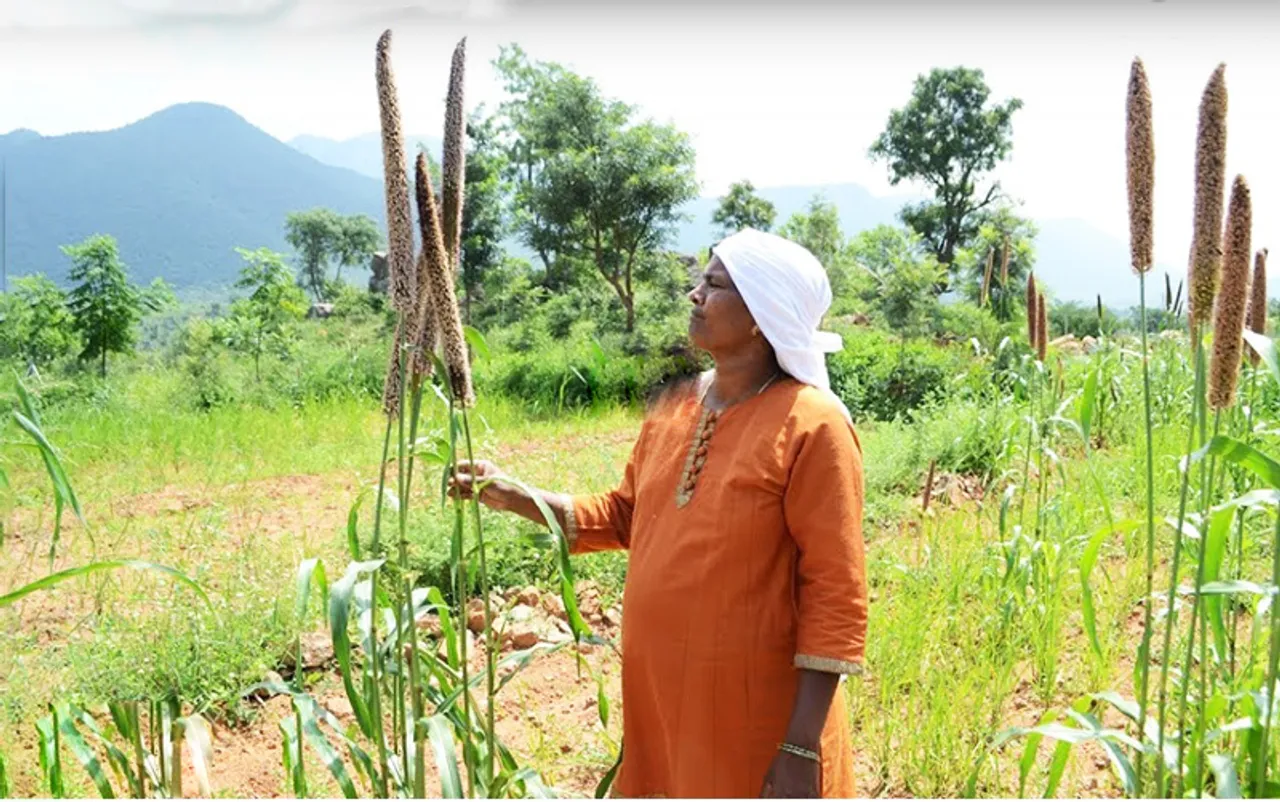 When Valliammal Rajan Palniyappan visited her husband's village Nallur in Karnataka's Chamarajanagar district in 2004, she saw vast stretches of land lying vacant. Her husband Rajan told her that there once stood fields of chillies, gourds, millets and many other crops. But farmers had given up agriculture due to declining soil productivity and mounting losses. To Valli, as Valliammal is popularly known, the story seemed familiar.
Before marriage, when she was pursuing her LLB in 1994 from the Visveswarapura College of Law, Bengaluru, she had also set up her NGO Anisha to work with street children. The parents of these children had migrated from villages due to a lack of profitability in farming and were now working as hawkers and rag pickers in the city.
"I realised that the same story was being repeated everywhere. And the solution was to go back to organic farming practised by our grandparents," she says.
After completing her law, Valli worked with the Institute for Cultural Research and Action, which promotes sustainable agricultural practices in the rainfed regions of Karnataka. And this gave her the knowledge needed to promote organic farming in the drought-prone Chamarajanagar district.
Also Read: Chhattisgarh: 3,000 farmers in violence-hit Dantewada overcome poverty through collective power of Bhoomgaadi
The district is a rainfed area, which means it is dependent on monsoon for irrigation and has low agricultural productivity.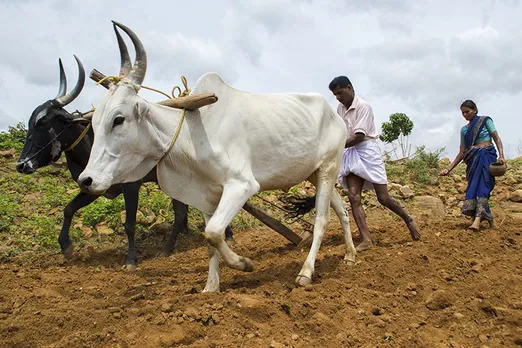 Farmer Nagraj shifted to organic cultivation after attending Anisha's training session. Pic: Anisha 
Rainfed agriculture accounts for about 51 percent of India's net sown area and brings in 40 percent of the total food production, as per the Ministry of Agriculture & Farmers' Welfare.
Rainfed areas, scientists believe, have the potential to contribute a larger share of food production compared to irrigated areas which have reached a plateau.
Sowing the seeds of organic farming in rainfed areas
In 2006, Valli started work in 21-22 villages under the Martalli Panchayat of Kollegal Taluka in Chamarajanagar. "My husband had studied in Martalli, about 12 km from his village Nallur, and had a lot of friends there. People were willing to go for new farming methods given the lack of profitability in chemicals-based agriculture," she says.
Also Read: How tribal women farmers are conserving native seeds & ensuring nutritional security
Valli, along with her friend Srinivasan, began to conduct farmer training sessions at the village level. At that time, both Valli and her husband were working in Bengaluru and would divide their time between the two places.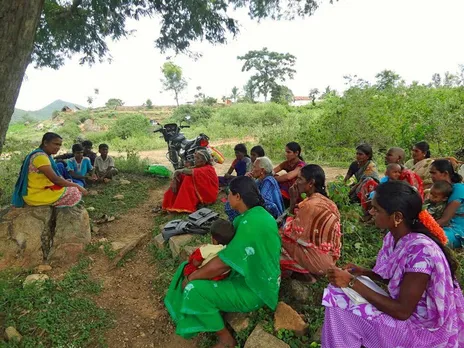 Valliammal Rajan Palniyappan, founder of Anisha, addressing women farmers at a village in Martalli. Pic: Anisha 
They visited each village and hamlet in Martalli and trained the farmers in organic farming methods.
"Srinivasan and I would explain the impact of and difference between organic farming and chemical farming and how it affects our health and the soil," she says.
The training involved making bio-pesticides and organic fertilizers using inputs available on the farm, their use and the timing of their application. "Farmers sourced the inputs and we showed them how to make the sprays and manures and when to use them," Valli says.
Also Read: Aamon: Tribal women in violence-hit Bengal province triple incomes with organic rice; revive traditional varieties
Panchagavya, organic fertilizer and pesticide, can be made on the farm using cow dung, urine, milk and other inputs and can be stored for six months. "It works for the growth of crops and helps in pest and disease management. If farmers cannot spend money on making it, they can opt for Trimurti tonic made using cow dung, urine, jaggery and water. It can be prepared in just 24 hours," she says.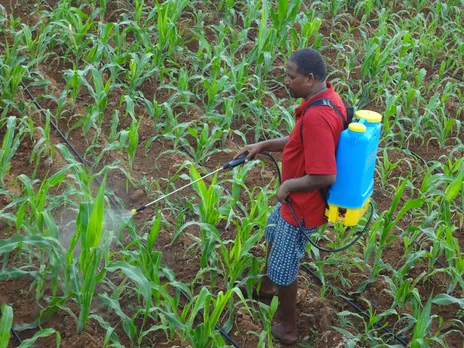 Rajan, Valli's husband, spraying biopesticide at their farm in Martalli. Pic: Anisha 
Another input that farmers can make requires mixing cow urine with crushed milky leaves, sour leaves and bitter leaves in equal proportions and leaving the mixture to ferment for 15-20 days. It is then filtered and one litre of the extract is mixed with 10 litres of water. "This spray works for pest control and can be stored for several months. We train farmers to prepare it themselves," she says.
The farmers, who were convinced with the training, would give Valli and Srinivasan a patch of their land for organic farming. "We would do organic farming next to chemical farming and the farmers could see the difference," she says.
Also Read: How this Rajasthan farmer went from zero to millions with organic farming using his own manures & sprays
Since 2006, Valli's NGO Anisha has trained over 2,000 farmers in organic farming and set up 410 kitchen gardens in 20 villages in the Martalli region of the drought-prone Chamarajanagar district.
Her work has improved the livelihoods of small-scale farmers and landless labourers and also increased the nutrition levels in their families through the consumption of a wider variety of foods including millets and vegetables.
The impact of change
Nagraj, a young farmer with 4 acres of land, says he learned from Anisha's training sessions how to make manure using farm waste like hay and leaves and also vermi-compost, which he had not heard of before.
"Chemical farming came here during my father's time. Gradually, the production went down and soil lost its fertility. It had become so hard that it was difficult to plough. With organic manures, the soil is now loose and smooth. I don't have to spend on pesticides and fertilisers and my production has gone up too," Nagraj says.
Also Read: Jayant Barve: Maharashtra's organic farmer who became manure millionaire
John Joseph, another farmer says, "With time, expenses for chemicals became higher than our farming incomes."
That's when Anisha's training sessions gave a new ray of hope to John, who shifted to organic farming.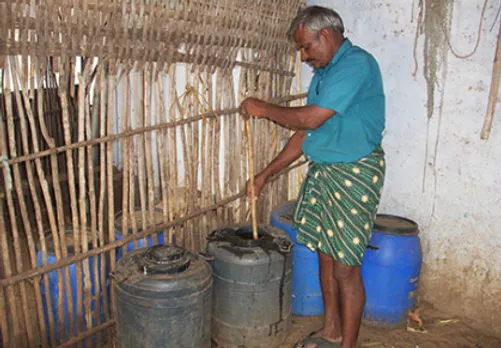 John Joseph inspecting his biofertilisers and pesticides. Pic: Anisha 
"A couple of years back, my brother and I both grew millets. He sprayed chemical pesticides while I used only organic buttermilk spray. My output was 600 kg, and my brother's was 385 kg. On the same land, I got much higher yield with extremely low costs," he points out.
Valli says Anisha also trained women to set up kitchen gardens for growing vegetables in small patches of land around their homes. "The consumption of vegetables was restricted between July and December after which they consumed only lentils, adversely affecting their nutrition levels," she says.
"Apart from rajgira (Amaranth), we introduced radish, okra, different types of bottle gourds and other vegetables in these kitchen gardens, which not only improved health but also saved money spent on buying from the market," Valli says.
Native seed collection & conservation
In 2006 itself, the NGO also started collecting native seeds from senior farmers and remote villages in the area. "We collected them, multiplied them by cultivating on our land in Martalli and began giving the seeds to farmers for free," Valli says.
Madevi, a woman farmer from Huchapanadoddi village, began using native seeds for her kitchen garden about seven years back and has not bought vegetables since then. "From gourds to okra and tomatoes to chilies, I grow everything in my kitchen garden using native seeds. It has improved my family's health at almost no cost," she says.
Also Read: Seed conservation: This Madhya Pradesh farmer grows 115 native varieties of rice over just 2 acres; gives seeds free to other farmers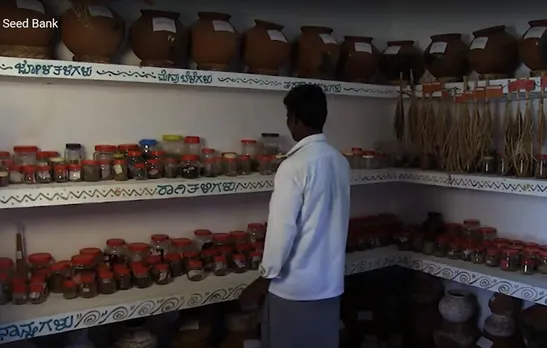 A farmer at Anisha's native seed bank in Martalli. Pic: Anisha 
Farmers need to go to the market to buy seeds, pesticides and fertilizers. "We want to avoid these three situations so that the farmers can be independent of markets and be self-reliant," Valli says.
Native seeds bring down farming costs drastically as they can be used year after year, unlike hybrid seeds which cannot be reused after harvest. Moreover, native seeds thrive well naturally in the environment, reducing the expenditure on irrigation, fertilisers and pesticides.
Also Read: How Tamil Nadu's aeronautical engineer-turned-farmer is creating native seed bank to promote organic farming
"Farmers take the seed from our bank free of cost. After cultivation, they can collect good seeds from their crop and save them for the next year. They return double the number of seeds to the bank after harvesting their crop," Valli says.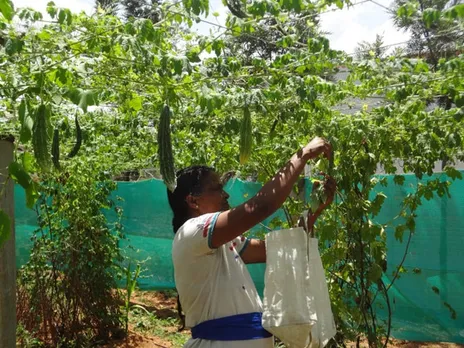 Kitchen gardens have diversified the diets and provided nutritional security to families. Pic: Anisha 
Anisha's seed bank currently has over 300 varieties of native seeds including millets, vegetables, pulses etc.
They include seven varieties of okra, 20 types of bottle gourds, more than 20 varieties of eggplant, 62 varieties of Ragi and many others.
"Every season, all these vegetables and millets are grown on our rainfed land for multiplying the seeds. Farmer can call and visit Anisha centre for seeds or advice any time," she says.
Kitchen garden in schools
In 2014, the NGO began working with school children to set up organic kitchen gardens in schools. "From 2016 to 2020, we worked in 23 schools with the participation of more than 1400 students. We do orientation and demonstration at schools and keep assisting them as required," she says.
Also Read: Odisha women fight malnutrition through organic nutrition gardens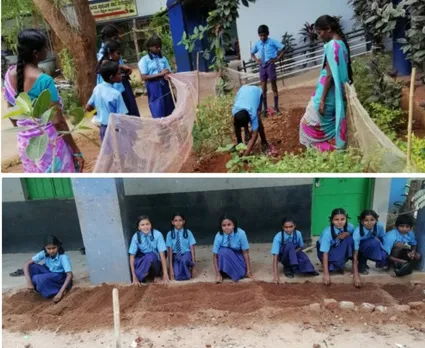 Children working at their kitchen garden at a school in Martalli. Pic: Anisha 
Children are eager to plant vegetables, see them grow and then harvest them.
"Right now we are working with 30 schools in 17 panchayats in the Hanur Taluk of Karnataka. The Education Department supports us," she says.
Anisha believes in catching them young. If today's children learn the importance of organic farming, the earth will be saved from harmful chemicals and humans will benefit from healthy food in the future. "We want to reduce the cost of cultivation and get chemical-free food for all," Valli signs off.
(Rashmi Pratap is a Mumbai-based journalist specialising in financial, business and socio-economic reporting)
Also Read: Aamon: Tribal women in violence-hit Bengal province triple incomes with organic rice; revive traditional varieties