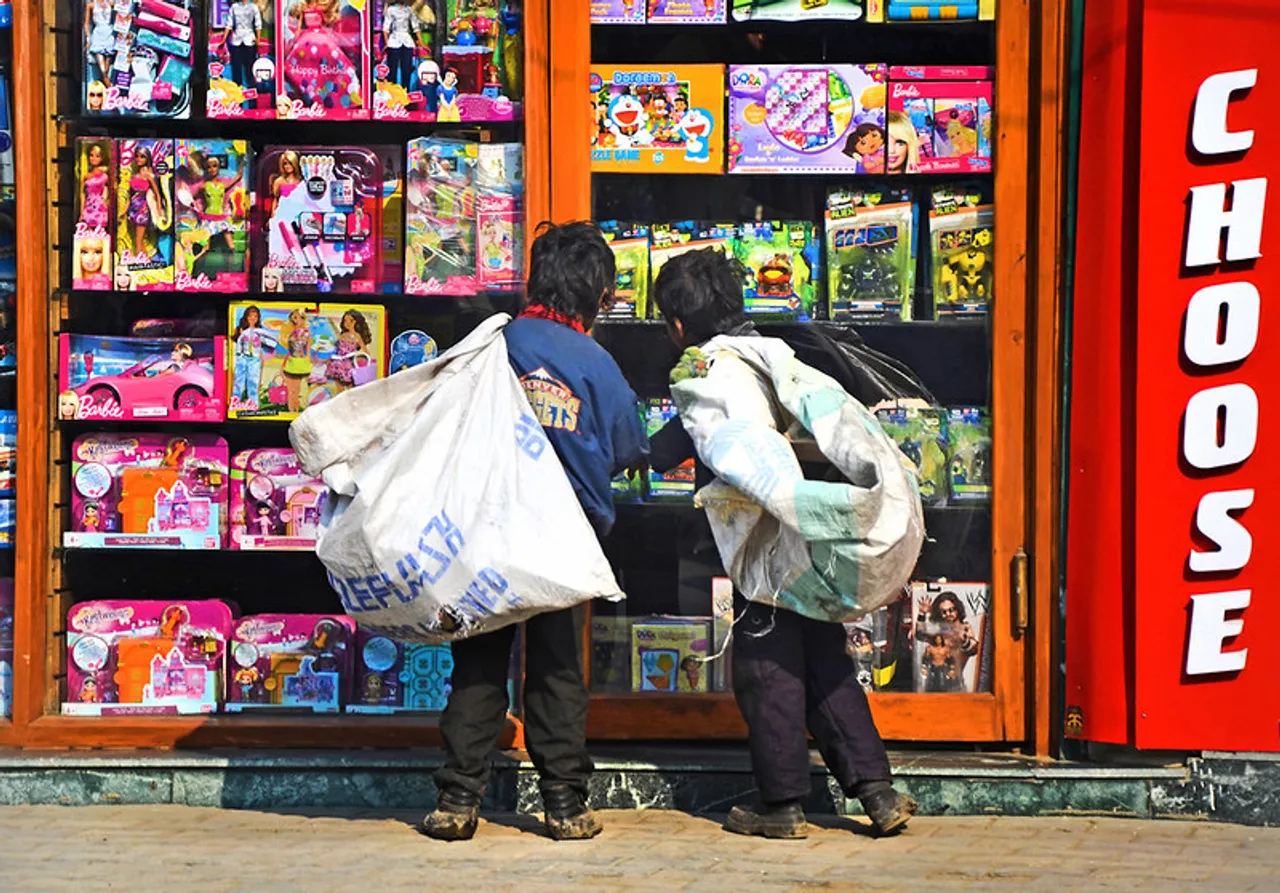 India is home to 10.1 million child labourers in the age group of 5 to 14 years, as per the 2011 Census. Of this, 5.6 million are boys and 4.5 million are girls. Over half of the country's total child labour population works in the five states of Bihar, Uttar Pradesh, Rajasthan, Madhya Pradesh and Maharashtra.
Child labour persists in the country despite several laws against it including the Child Labour (Prohibition and Regulation) Act. 1986. India has also ratified ILO Convention 182 (Worst Forms of Child Labour) and Convention 138 (Minimum Age of Employment), which make it obligatory to ensure the abolition of child labour.
Yet, children are found to be working in households, hotels, roadside eateries and other industries including agriculture, garment manufacturing, mining and construction, gems and jewellery, brick making, and carpet weaving.
Also Read: In pics: Covid lockdown through children's lens
A large number of children working in Rajasthan are trafficked from Bengal, Bihar, Jharkhand, and Odisha. Many of them also work as rag pickers but they are unaccounted for. Rag-picking is the most widespread form of child labour.
The Child Labour (Prohibition and Regulation) Act, 1986 mentions hazardous employment where children below 14 years cannot be employed.
Also See: COVID-19: Dharavi & Mumbai's other slums in pictures
Globally, World Day Against Child Labour is observed on June 12. The government has also enacted the Unorganised Workers' Social Security Act, 2008 which is for the welfare of unorganised sector workers. However, the lax enforcement of the laws denies children the protection and rights that are rightfully theirs.
Also Read: Rescuing mortgaged kids, giving tribals a voice in decision-making, how Vaagdhara is bringing change from ground up
Across the world, the number of children in child labour has risen to 160 million, an increase of 8.4 million in the last four years, with millions more at risk following the COVID-19 pandemic, according to a report by the International Labour Organization (ILO) and UNICEF.
The report, Child Labour: Global estimates 2020, warns that progress to end child labour has stalled for the first time in 20 years, reversing the previous downward trend that saw child labour fall by 94 million between 2000 and 2016.
(Urvashi Dev Rawal is a Jaipur-based journalist specialising in development, gender, and political reporting) )
Also Read: Gulmeher: Delhi's social enterprise turns women ragpickers into artisans; sells ecofriendly products globally