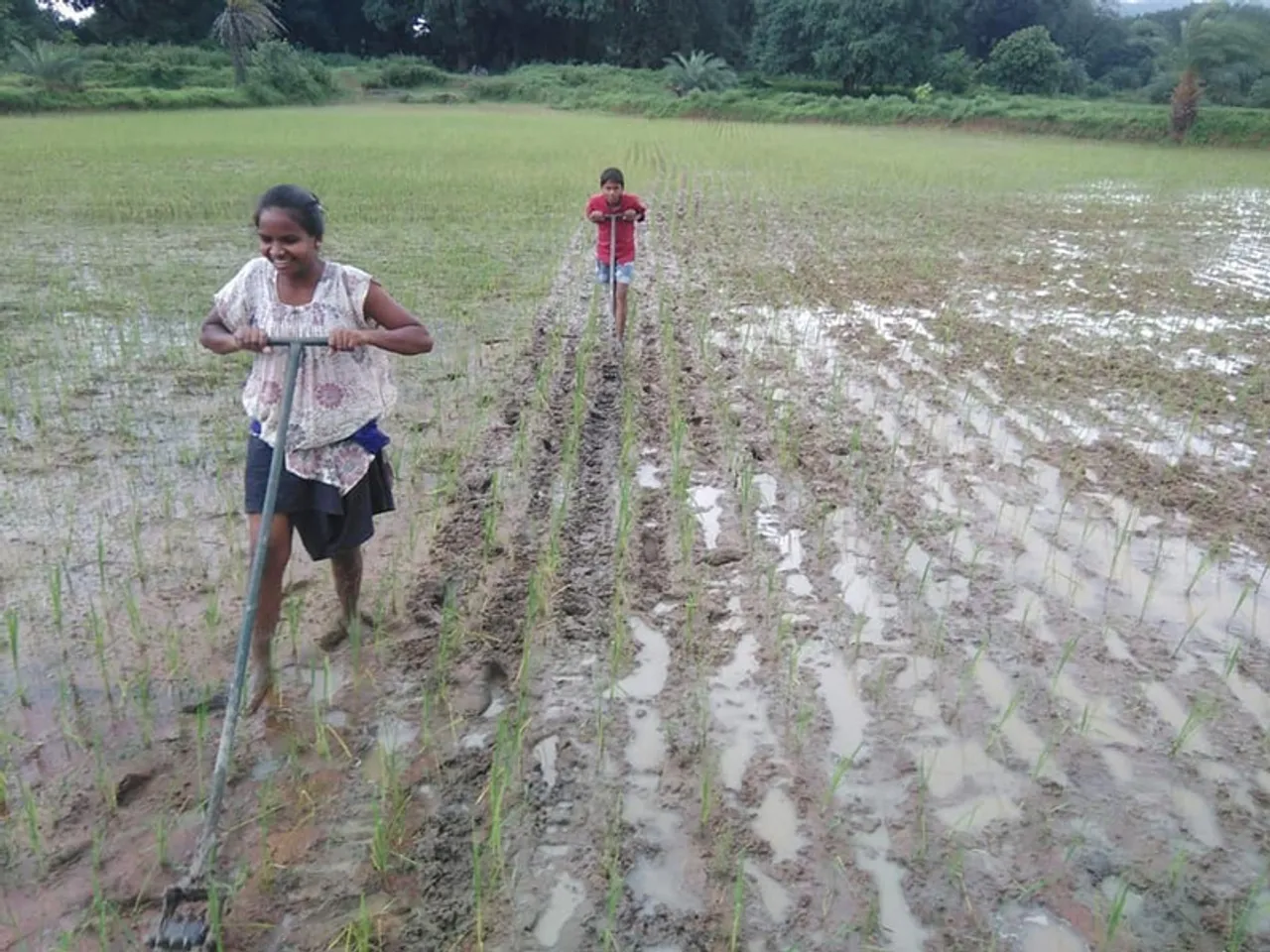 Phulobai, 35, lives in Bade Kameli village in the Dantewada district of Chhattisgarh. Like other women in her village, Phulobai would make traditional liquor from Mahua flowers and sell it in the local haat (market) to support the family income.
While the district is resource-rich with dense forest cover, minerals and rivers, almost 40 percent of the population lives below the poverty line as per the Planning Commission estimates.
Phulobai's husband Chamru is a daily wage worker in a brick kiln and earns 5,000-6,000 per month. Chamru and his brother have 8 acres of scattered land. Phulobai worked on the land, growing some paddy and millet and getting a yield of only 2 quintals per acre.
Since Phulobai and her husband did not hold any land title, they were unable to sell paddy to the government MSP procurement centres. Traders would give only Rs10-12 per kg for the produce.
Also Read: Tribal women turn entrepreneurs with Tasar silk farming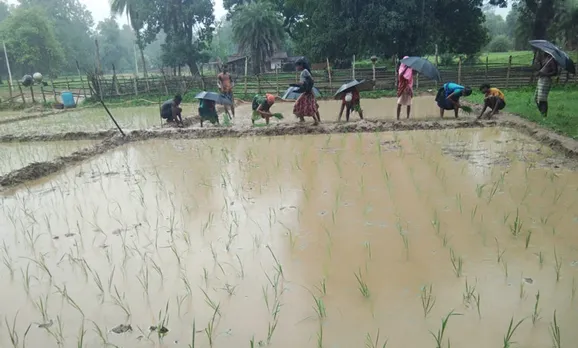 Then in 2018, Phulobai came in contact with Kavita, field staff of the NGO, Nirmaan. Kavita encouraged her to become a member of the Bhoomgaadi Organic Farmers Producer Organization, set up with the help of Nirmaan in Dantewada in 2016.
"For the first time I got fair rates for my produce," says Phulobai who is illiterate. Her three daughters are studying in a government school.
Phulobai says Kavita also taught her to cultivate Finger Millet (Ragi) with the SRI (intensification) method on a small patch of land. She got a yield of 8.5 quintals per acre as against the earlier yield of 2 quintals per acre.
Also Read: Udaipur's Jovaki empowers tribal women by processing wild fruits & vegetable
Phulobai gradually began cultivating more vegetables on her farm, growing tomato, radish, coriander, pumpkin, brinjal, okra, chillies and ridge gourd. "I learnt better techniques of cultivation, proper spacing between the plants, mulching with dried leaves and use of bio-manure such as Jeevamrit in the field, she says."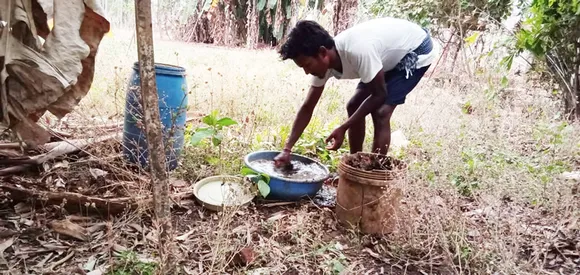 "I cultivate vegetables in both the Rabi and Kharif seasons and with the increased production, I can make an additional Rs20,000 between January and June from the sale of vegetables," she says.
She adds that the family is also consuming more vegetables in their diet which is providing them with better nutrition. "I don't make liquor now. And many other women who are associated with Bhoomgaadi are also giving it up," she says.
Also Read: In shortage of vets, Pashu Sakhis support cattle & poultry farmers in Jharkhand's tribal hinterland
The challenge of underdevelopment
Bhoomgaadi is named after a traditional post-harvest festival of the tribals celebrated in January or February where the local deity is worshipped in thanksgiving for the harvest.
Bhoomgaadi FPC works on registered membership. Around 3,000 tribal farmers and women groups from 110 villages of Dantewada are registered with it.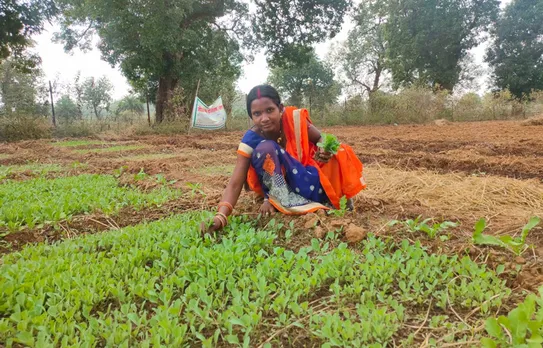 Akash Badave, CEO of Bhoomgaadi, says the objective of the farmer producer company (FPC) is three-fold – to create food security for the farmers, to provide them nutritional security and help them sell the excess produce so they can earn additional income.
Besides registered members, Bhoomgaadi also works with other farmers, guiding them to move to organic farming.
Also Read: Rasika Phatak: Maharashtra's 23-year-old millionaire farmer & agriculture consultant
Bhoomgaadi is working in the remaining 100 villages to encourage them to make the shift. When that happens, Dantewada will be Chhattisgarh's first district to be fully organic certified.
However, currently, the district has less than encouraging social and economic indicators.
The literacy rate of the district is just 42.27 percent. Malnutrition among women and children is high. Over 53 percent of children under 5 years are underweight while 43 percent of women are underweight, as per the NFHS-4 figures. Anaemia is even more prevalent with 71 percent of children under 5 years and almost 75 percent of women being anaemic, as per the NFHS-4 figures.
Also Read: Millet farming brings nutrition, financial security for women farmers in Bihar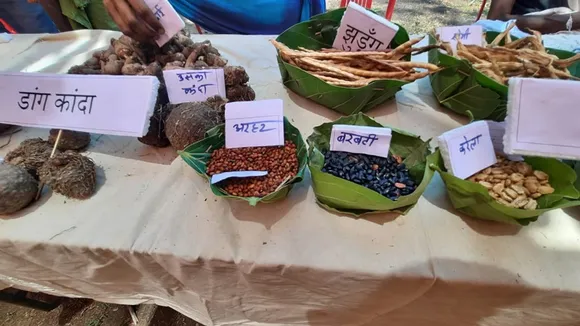 Creating new markets, conserving old varieties
In this rather daunting scenario, Bhoomgaadi is trying to handhold farmers and build their capacities so they can get access to new markets, earn additional income and also diversify their diet.
Badave says the locals had no market linkages or formal channels to sell the produce. They would sell to the local market or the government.
Besides, the crop has also diversified as farmers are encouraged to grow six to seven varieties of indigenous paddy. Besides growing brown, black and red rice, they also cultivate millets, pulses, oilseeds and spices.
Also Read: ANANDI: Changing the face of rural Gujarat by mentoring women to take up leadership roles

Some farmers now also grow vegetables through which they earn additional income of Rs60,000-1,00,000 per annum, he says.
"The farmers have an average landholding of 3 to 5 acres but productivity is not very high as the soil is not too fertile and farming is mostly rain-fed," says Badave, who is a BITS Pilani alumni. He worked in Dantewada from 2012 under the PM Rural Development Fellowship Scheme and later continued the work here.
Also Read: How tribal women farmers are conserving native seeds & ensuring nutritional security
The tribals began shifting from traditional crops to paddy after the government started procuring it under MSP. "Over time, the agriculture practices and food habits changed. Earlier, they ate millets and indigenous rice varieties that are more nutritious. But now they mostly eat rice. They did not grow or eat pulses or vegetables and that made their diet deficient," he says.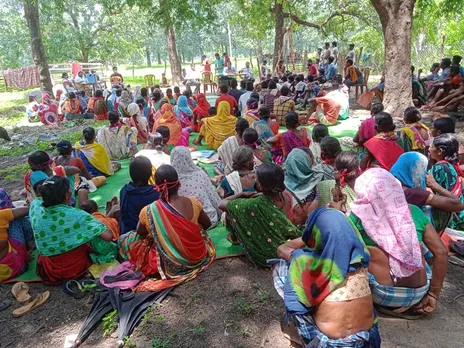 The groundwork
For a year before the FPO was set up, resource persons and field staff from Nirmaan engaged with the villagers. Meetings were held in villages and a district-level meeting was held once a month. During these deliberations, the staff explained to the villagers the benefits of organic farming and the power of the collective. The issues troubling farmers were identified and solutions were found.
Now, a team of 30 people at the district level and 100 community resource persons in villages impart training to farmers.
The field staff guides them about efficient agriculture practices, capacity building, and scientific methods to increase yield, helps them with organic certification, provides seeds and connects them with government welfare schemes.
Also Read: Snehakunja: Preserving biodiversity through empowerment of tribals in Western Ghats of Karnataka
Badave says the farmers were trained in techniques that increased productivity. "They gave up the use of chemicals and pesticides after associating with us."
Bhoomgaadi has trained them to adopt organic techniques of cultivation, better planting, distancing of crops, waste management, and production of organic inputs.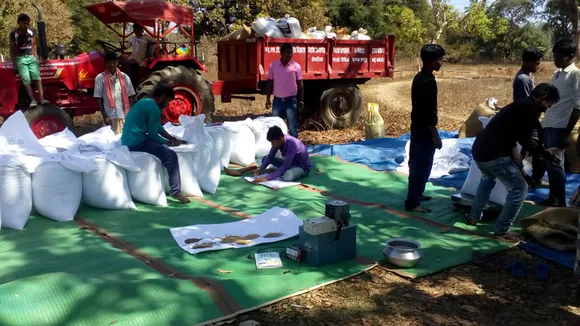 "Farmers were receptive to the idea of organic farming as there was not much chemical-based farming here nor was the land exploited and rendered infertile due to chemicals. In the meetings, the elders would recall that 30 to 40 years back there was more crop diversity which had been lost. We would tell them we wanted to revive those old, environment-friendly practices and that resonated with the villagers," says Badave.
The farmers pointed out that they needed linkages to the market and branding for the organic and indigenous produce of Dantewada.
The power of the collective
Bhoomgaadi tried to address these gaps by organizing women and small and marginal farmers from remote villages to gain collective bargaining power and scale in the market.
"This has helped in aggregating the produce at the village level; transporting it out from the villages, and achieving a scale in processing, value addition and marketing," says Badave.
Also Read: Mirzapur man leaves high-paying job at ILO to set up FPO; turnover crosses Rs 2 crore in two years
This includes indigenous varieties of paddy, millets, pulses, oilseeds, spices and some quantities of forest produce. The rates are decided through consultation with farmers, keeping in mind the market trends.
"There is a differentiation in the procurement price kept between various varieties of paddy based on their unique characteristics such as fineness, aroma and nutritious value," says Badave.
The higher prices and market linkages have given an incentive to farmers to conserve and grow an array of traditional varieties of paddy and other indigenous crops.
The procurement is done by Bhoomgaadi at the village level with the support of the local farmers. "This has helped farmers from remote areas of the district, those without land titles in their names and those who have no means of transportation to give the produce to Bhoomgaadi," says Badave.
Also Read: Engineer leaves TCS for organic farming in Jharkhand; builds successful farm-to-table startup Brook N Bees
They are not selling online yet due to logistical challenges such as poor network connectivity and lack of courier and transportation facilities. The FPO has an arrangement with transport companies that carry the produce.
"Since our location is remote, we take minimum orders of 50 kg and go up to 500-1000 kg," says Badave.
This is then processed in a small processing unit in Dantewada. The unit was set up by the state government in 2018 for Rs40 lakh.
In the unit, rice is milled and millets are dehusked. The cereals are cleaned, sorted, graded and packed for marketing. They also make poha (beaten rice flakes) from brown, red and black rice.
Similarly, turmeric is washed, cleaned, dried and ground into powder before packaging for sale. Badave says youth and women from the village are employed to do these jobs. They are paid Rs250-300 per day.
Bhoomgaadi is slowly but surely taking farmers on the path to a better future.
 EO
(Urvashi Dev Rawal is a Jaipur-based journalist specialising in development, gender, and political reporting)
Also Read: Aamon: Tribal women in violence-hit Bengal province triple incomes with organic rice; revive traditional varieties