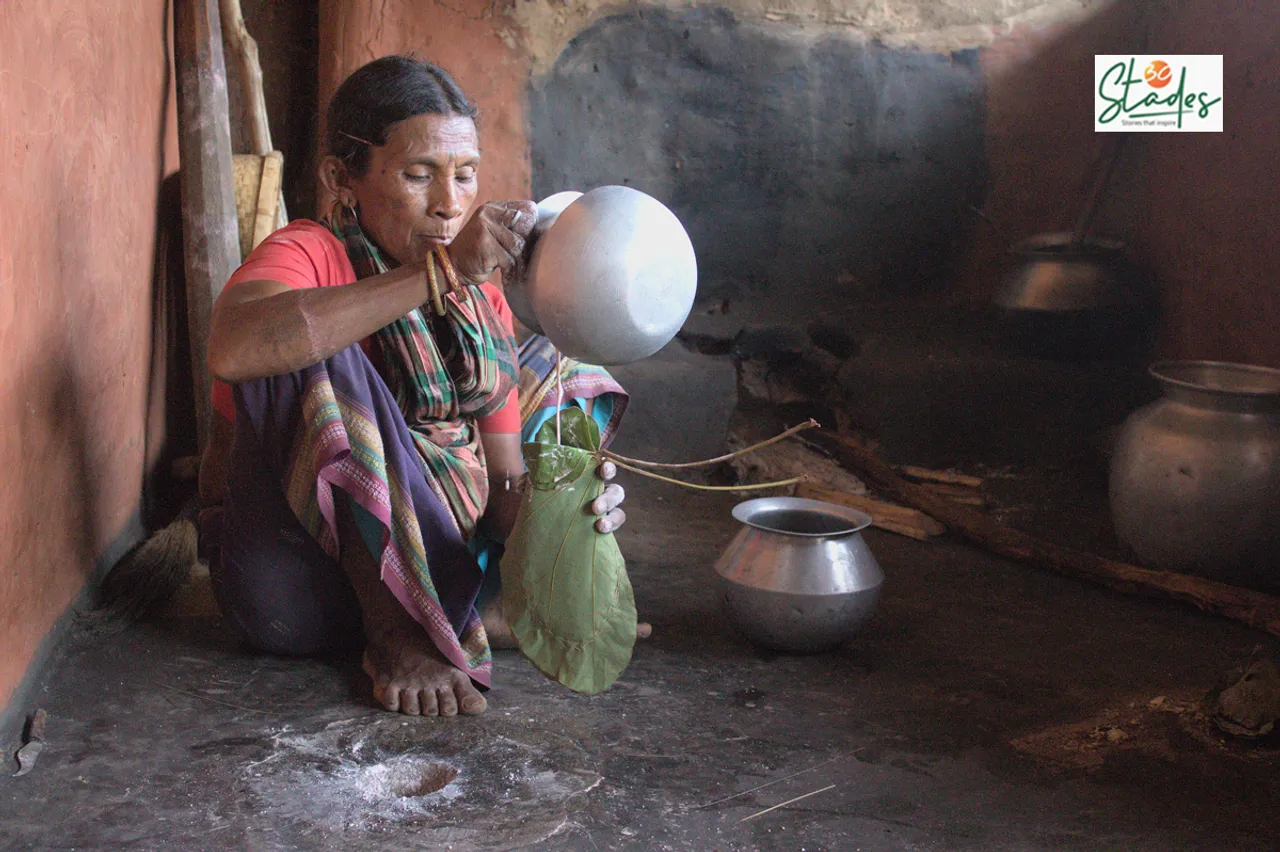 Tidipadar village in the Tumudibandh block of Odisha's Kandhamal district is home to Kutia Kondh, one of the Particularly Vulnerable Tribal Groups (PVTG) in the state. The community primarily depends on rainfed agriculture cultivating millets, maize, tubers, cereals and turmeric on the hill slopes. Besides, they also supplement their household income from a range of minor forest produce such as sal and siali leaves, wild berries, fruits, mushrooms, tubers, honey, herbs and firewood.  
For over two decades, Sukanti Jani has been brewing a traditional beer locally known as katul, made from little millet. "During marriage and festivals, katul is the main beverage of our community," she says while showing dhinki (traditional rice mill or husk lever) in front of her two-room mud house. 
Every house in Tidipadar has a dhinki made from a wooden log with a metal cup at one end that threshes millet and rice. "Without the dhinki, it is not possible to brew katul," she adds. 
Katul is brewed during 'Podho Jatara' celebrated in March or April every year ahead of the Kharif season. In this Jatara, the tribal community offers katul to their God, praying for good rains and a bumper harvest. People from the neighbouring village visit the host village on the second day of the festival. A community feast is organised by the host village where apart from food, katul is also served to the guests.
Katul is also consumed during several rituals, family gatherings and social events among the Kutia Kondh. However, brewing katul entails meticulous processes and steps. The traditional wisdom of Kutia Kondh women that has been passed on for generations to prepare this traditional beer has played an instrumental role in preserving the local food culture. 
Also Read: Tribal youth handcraft livelihood opportunities with bamboo toys in Odisha's Lamtaput
Conservationists working in the tribal areas firmly believe that traditional recipes like katul, which are intrinsically linked with their rituals and festivals, have substantially helped to conserve millets, the crops almost forgotten amid the Green Revolution.
The process of making katul here: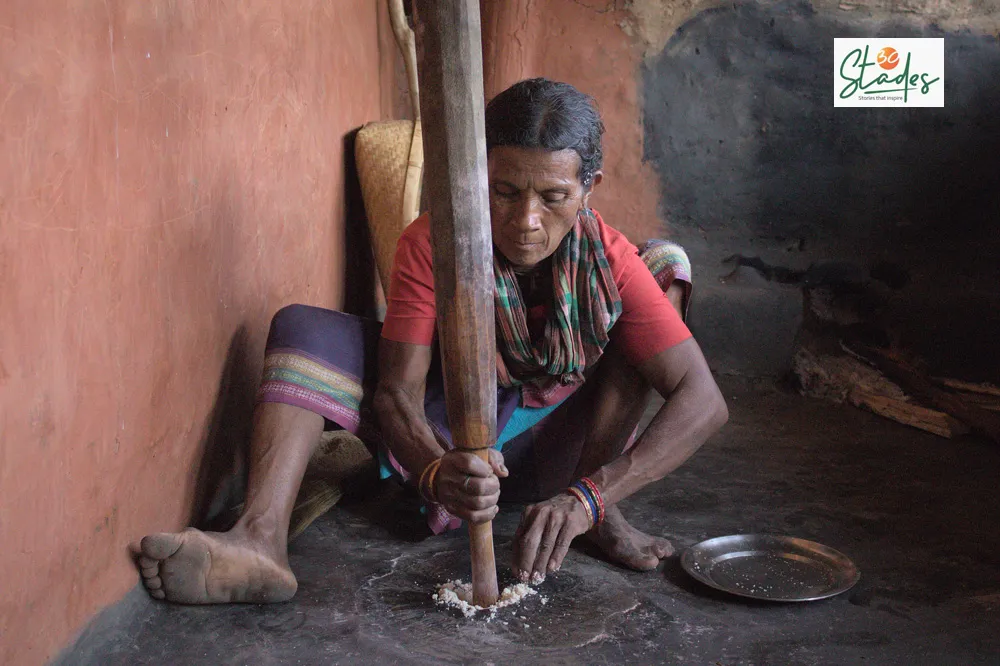 Sukanti Jani hand pounding little millet rice on the dhinki, one of the main ingredients for brewing katul. Photograph by Abhijit Mohanty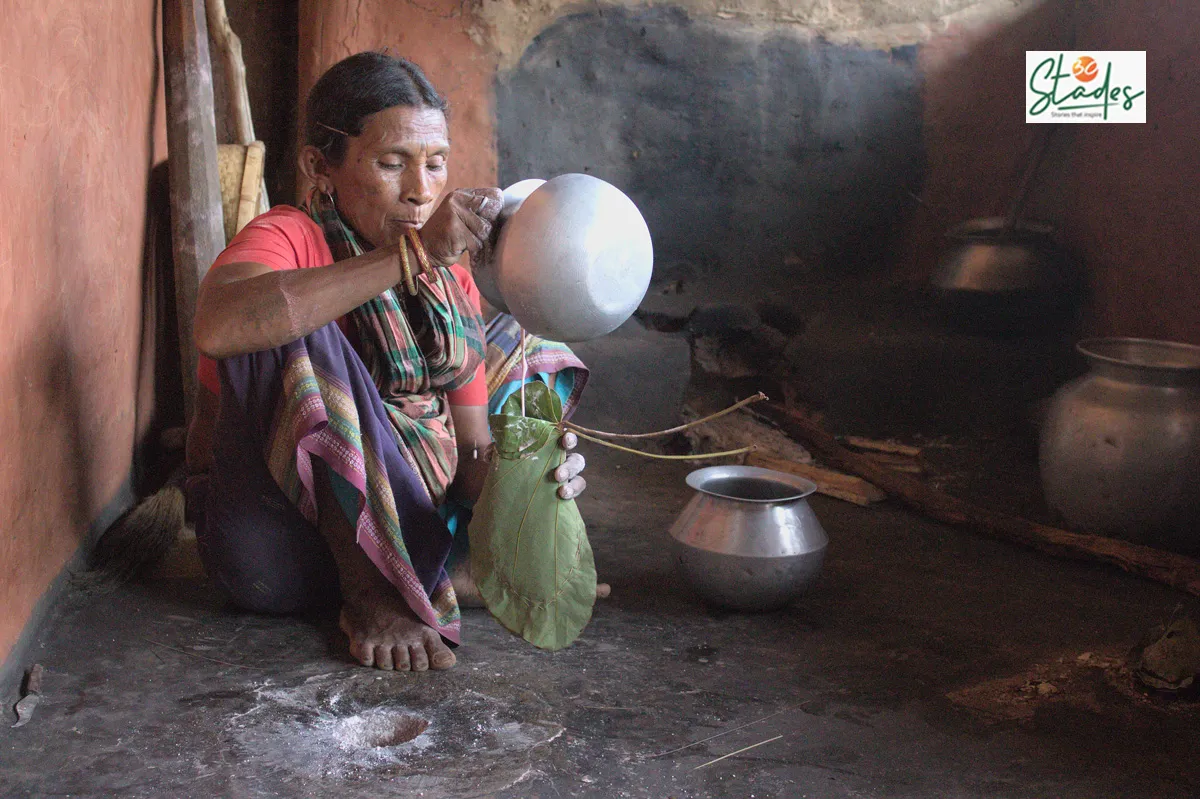 After pounding the little millet rice, the flour is mixed with water and made into a dough which is kept inside a siali leave packet locally known as 'kena'. The packet is closed tightly and hanged on the roof under shade for one month. Photograph by Abhijit Mohanty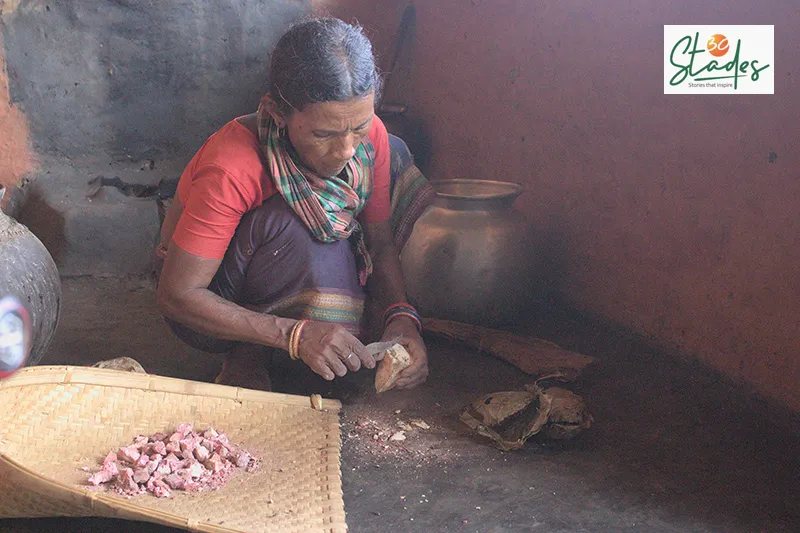 After a month, the dough that was preserved in kena become solid cake with pink colour. This cake is unwrapped from siali leaves and cut into tiny pieces with a knife. Photograph by Abhijit Mohanty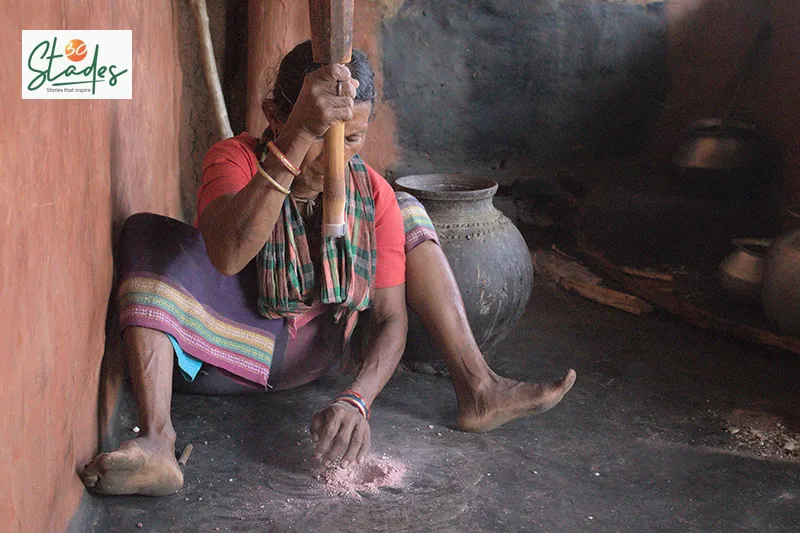 The small pieces of dough are then pounded into fine flour. Photograph by Abhijit Mohanty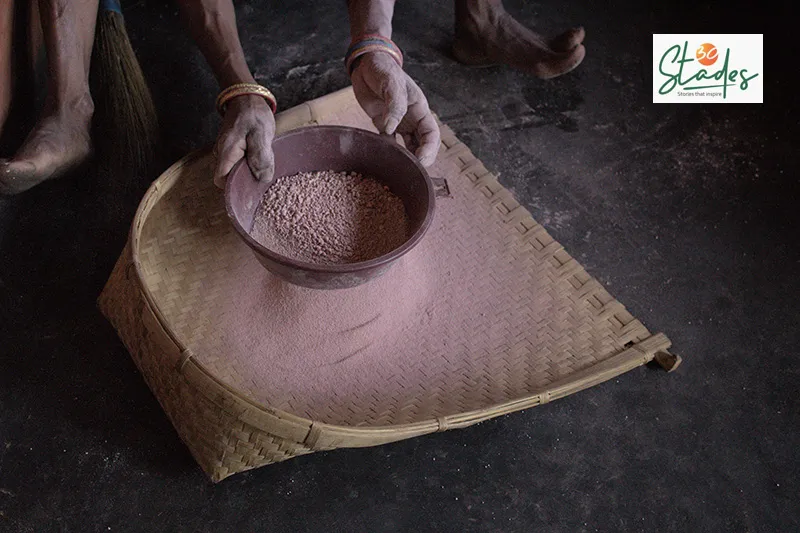 After hand pounding, the flour is meticulously filtered to extract fine powder and uncrushed particles are removed. Photograph by Abhijit Mohanty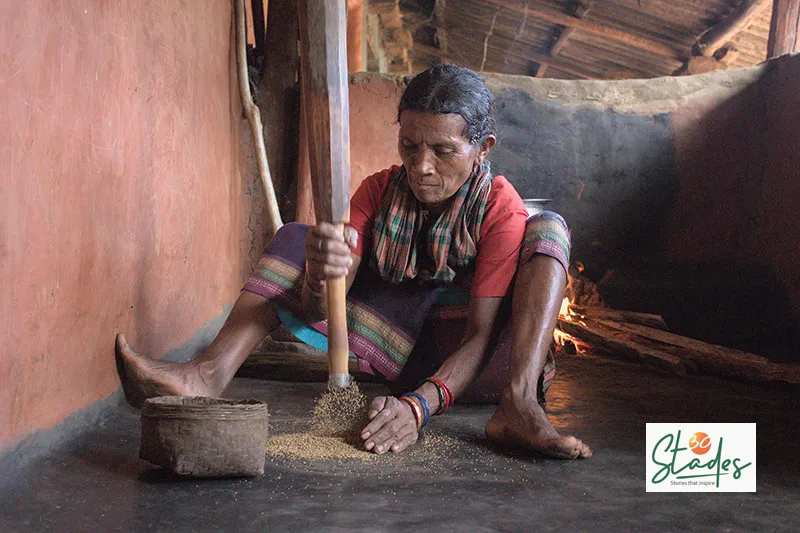 Sukanti hand pounding little millet to de-husk the grain. Photograph by Abhijit Mohanty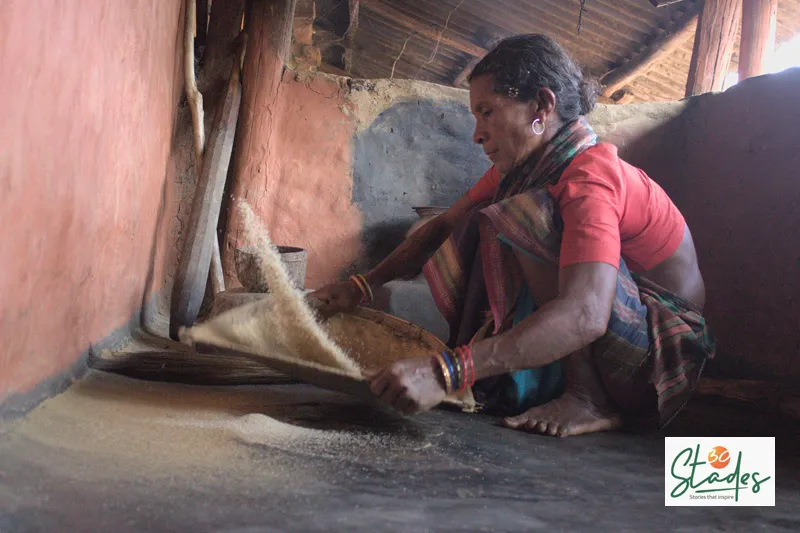 The de-husked little millet rice is thoroughly threshed to separate stone particles and other dirt from the grain. Photograph by Abhijit Mohanty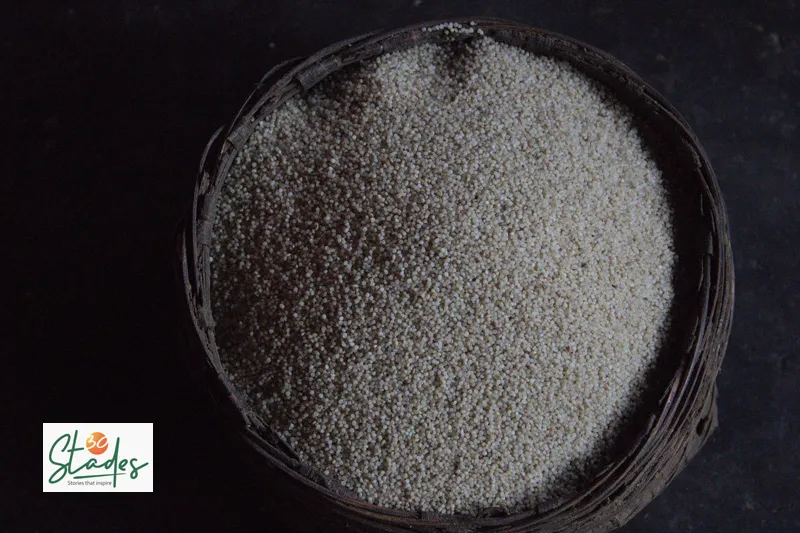 Little millet rice is ready to be boiled. Photograph by Abhijit Mohanty  
Also See: Ever heard of these summer drinks from India?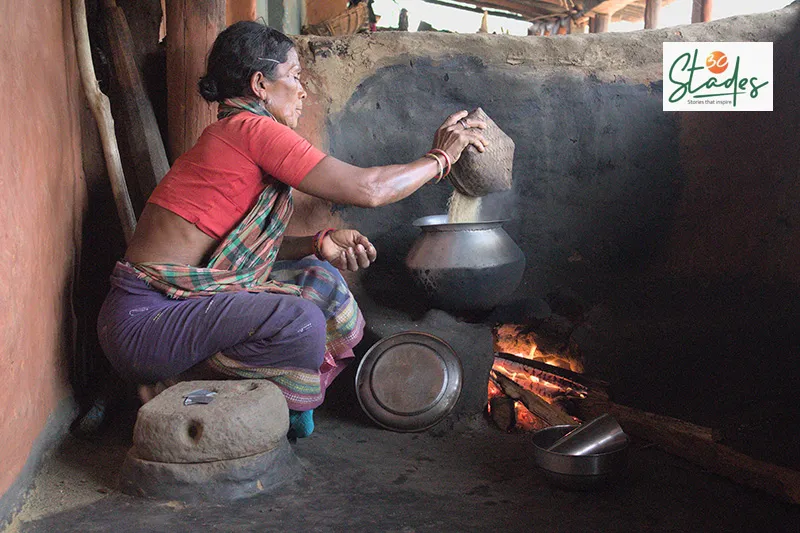 The cleaned little millet rice is put into the bubbling hot water in the earthen pot. Photograph by Abhijit Mohanty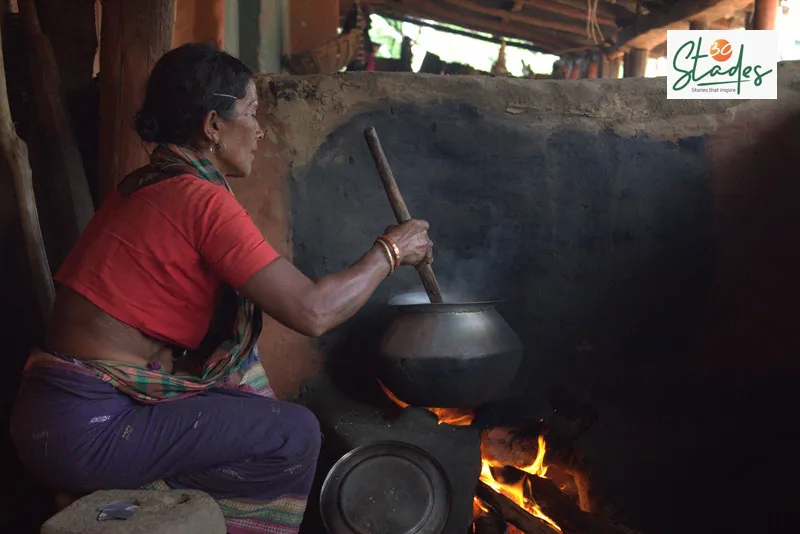 Sukanti stirs little millet rice in the pot. It takes around half an hour to boil the rice well. Photograph by Abhijit Mohanty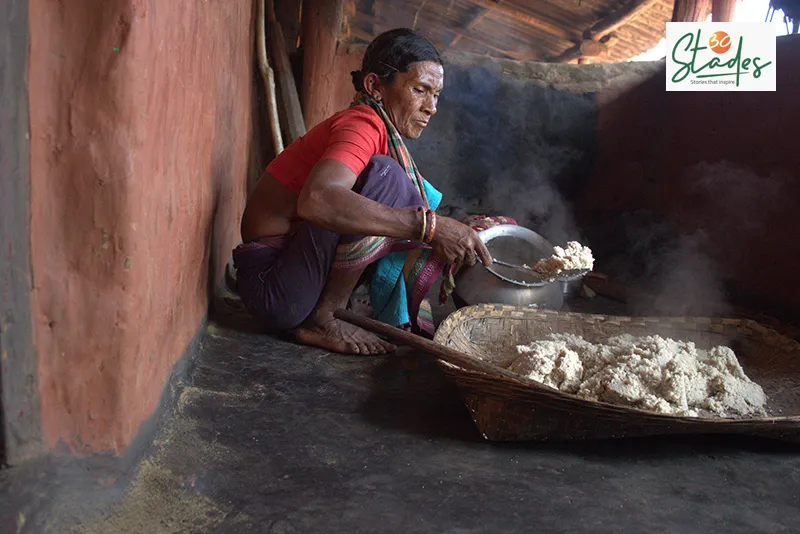 Little millet rice is kept on a large bamboo tray. Photograph by Abhijit Mohanty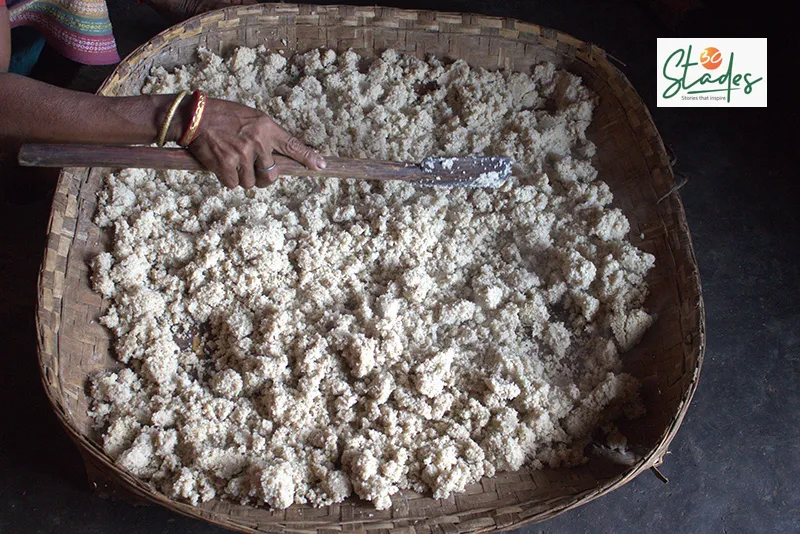 To quickly cool down the millet, it needs to be constantly divided into smaller portions, spreading out on a clean shallow bamboo tray. Photograph by Abhijit Mohanty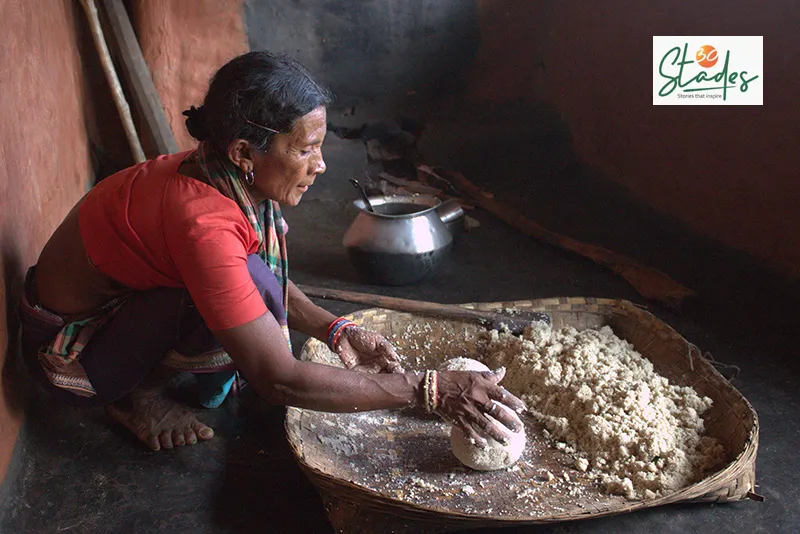 Once the rice is cooled down, it needs to be rolled into medium sized balls with hands. Photograph by Abhijit Mohanty
Also Read: From ragi momos to snails, how tribal food is becoming the ambassador for Jharkhand's indigenous culture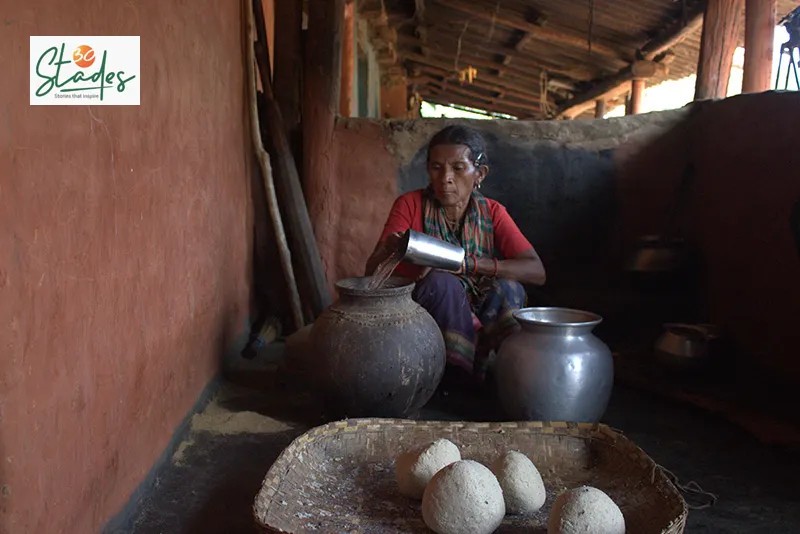 Water is poured into an old earthen pot as it does not absorb much water and helps in quicker fermentation. Photograph by Abhijit Mohanty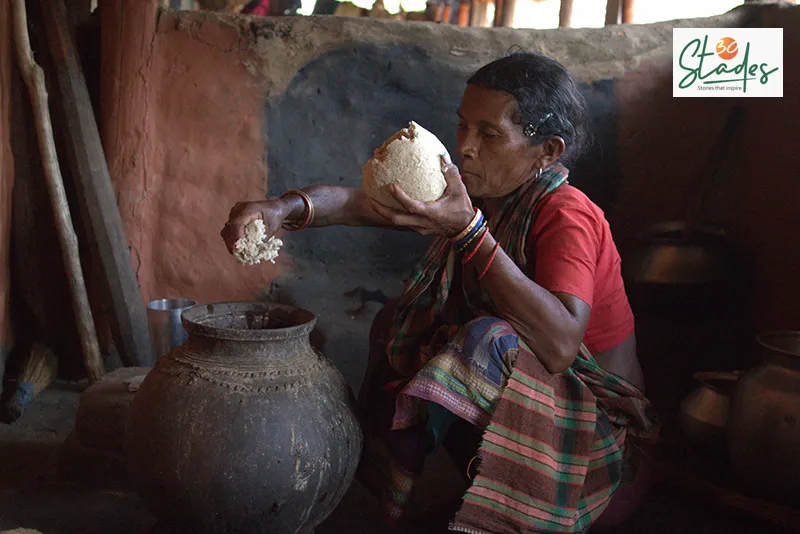 Little millet rice balls are then broken into smaller pieces and put into the earthen pot. Photograph by Abhijit Mohanty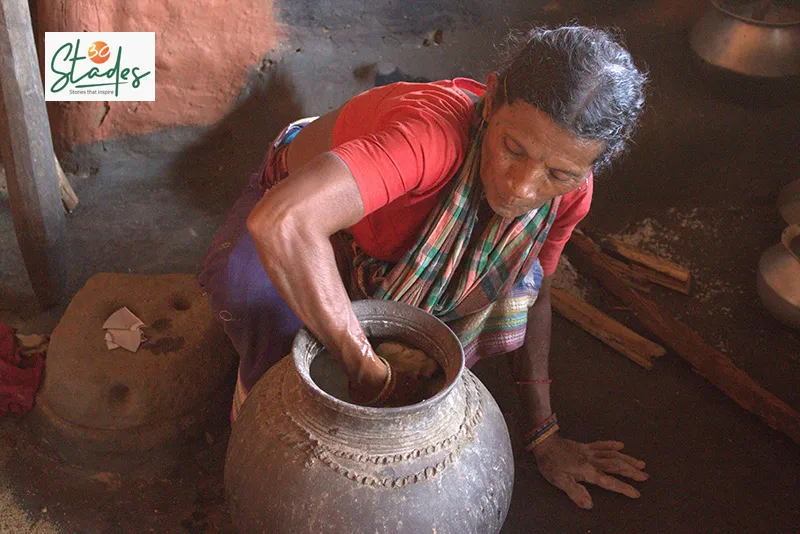 The crushed little millet rice is kneaded within the earthen pot. After that, the hand pounded dried little millet rice flour stored in the kena is put inside as it adds pinkish colour and increases fermentation. Photograph by Abhijit Mohanty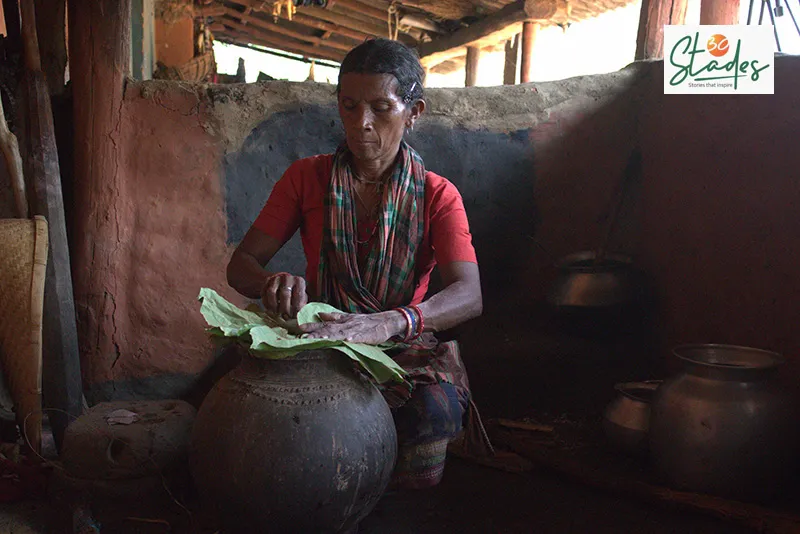 The earthen pot is sealed with siali leaves and kept for the next three-four days in a dark area of the house. Photograph by Abhijit Mohanty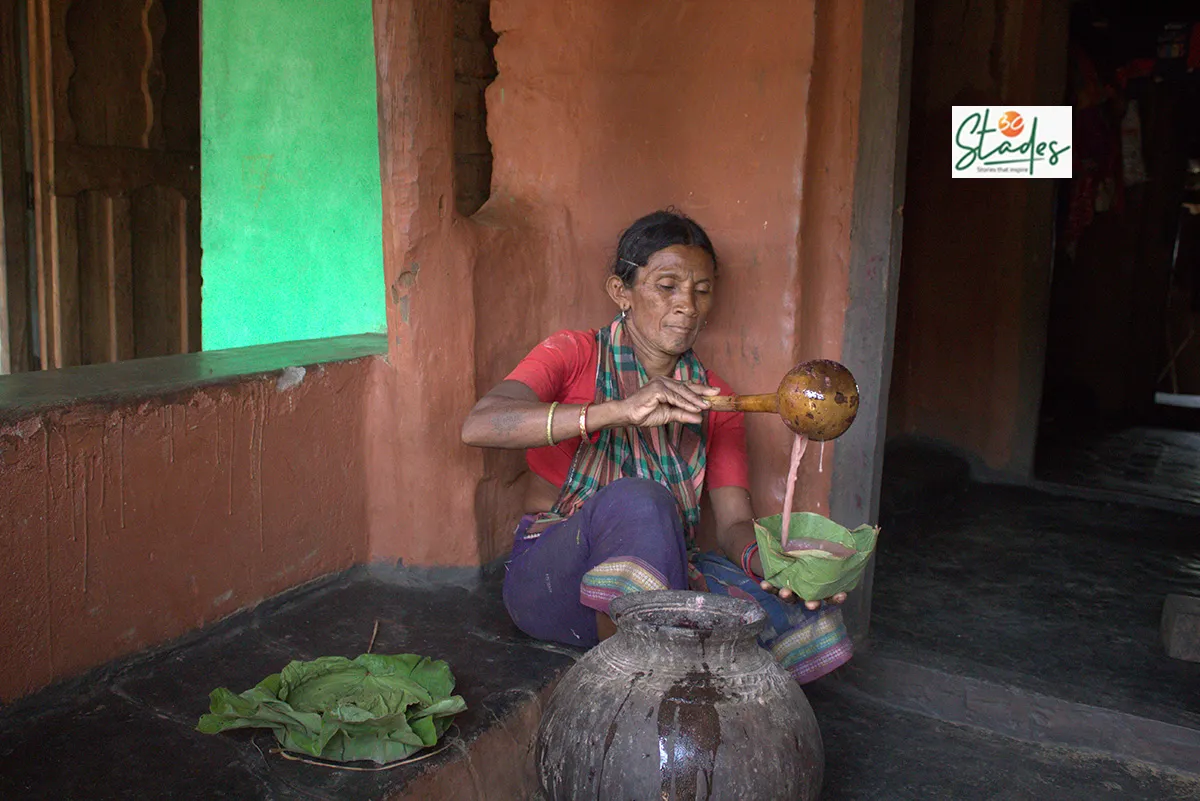 After three-four days of fermentation, the earthen pot is opened for extraction of the beer. Photograph by Abhijit Mohanty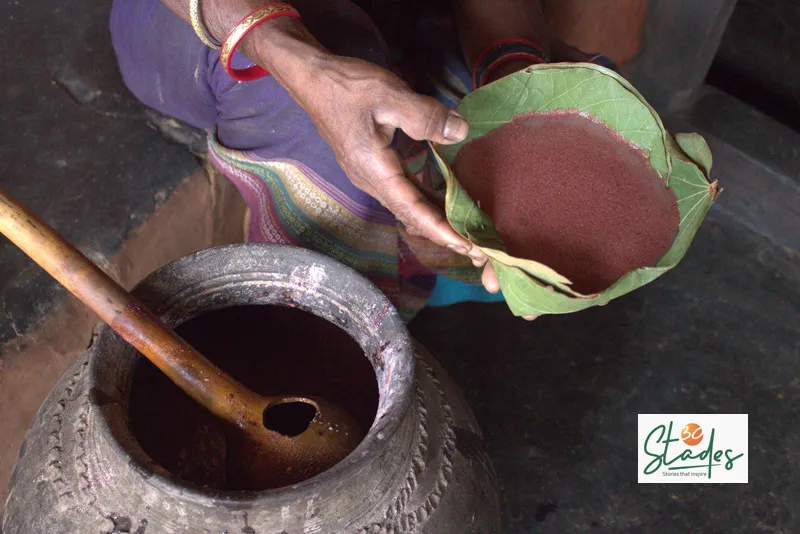 The brew is then strained and often served in siali leave bowls among the community. Photograph by Abhijit Mohanty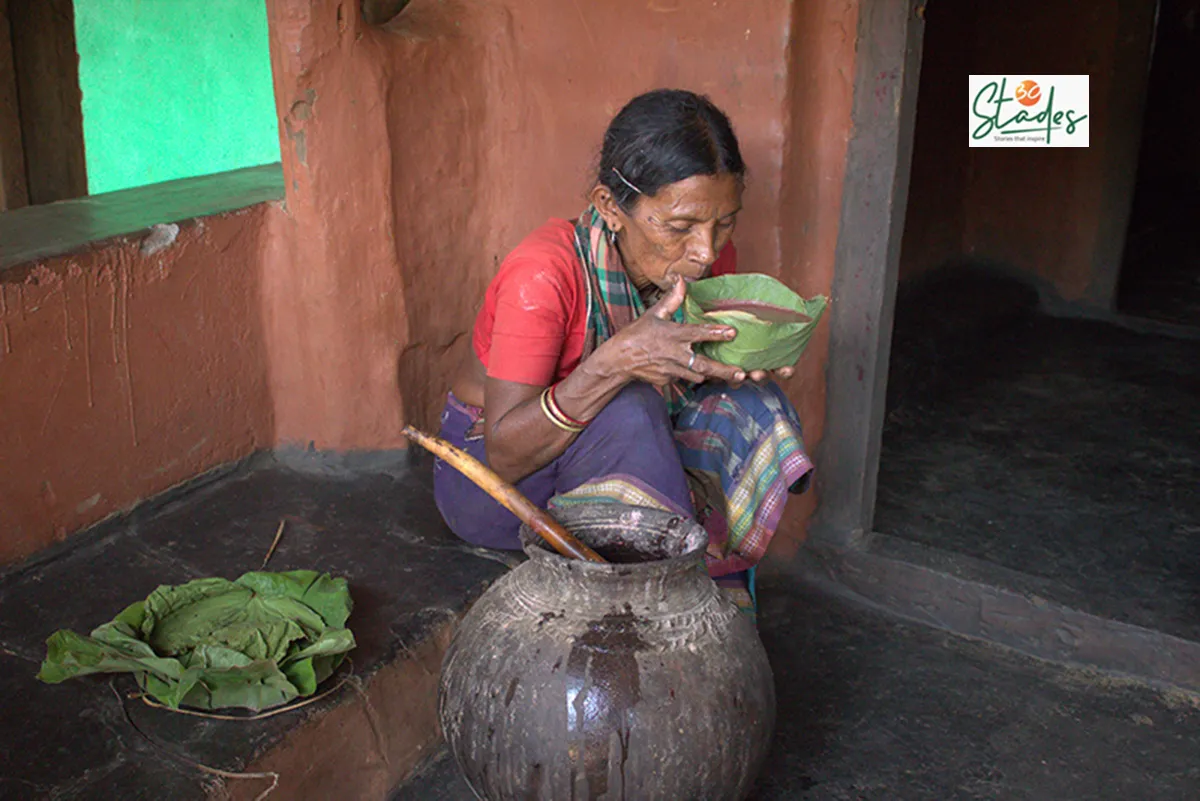 Sukanti is savoring a bowl of katul. Photograph by Abhijit Mohanty
(Abhijit Mohanty is a development professional and a freelance journalist based in Bhubaneswar. He has worked with indigenous communities in India and Cameroon, especially on issues of land, forest and water.) 
Also Read: Jharkhand's tribal women take indigenous cuisine to urban plates