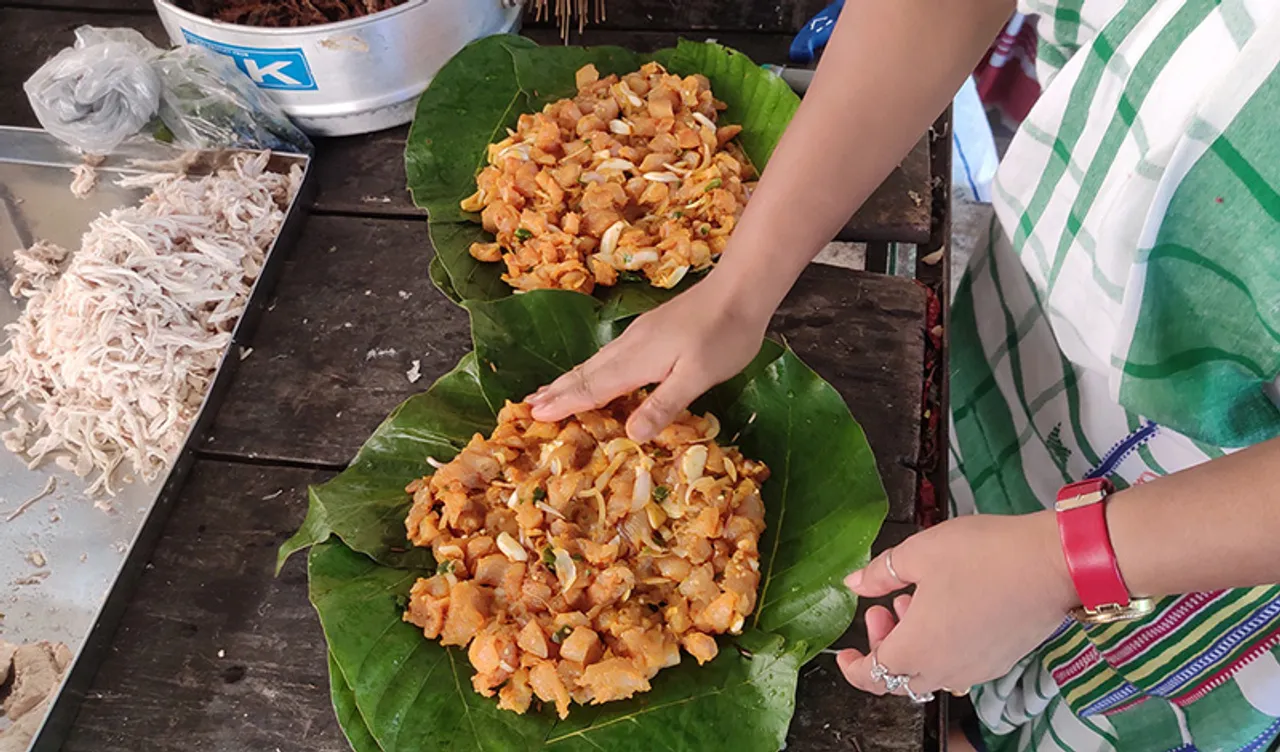 Bonga Murmu, a Santhali tribal woman from Karandih village in the Purbi Singhbum district, couldn't hide her excitement while preparing jil pitha, a dish unique to the rural community of Jharkhand.
"We make this dish during the paddy harvest and on festivals like Diwali," she says.
Mixing cooked chicken and rice flour, she patted some of it on a sal leaf plate and covered it with another plate. After griddling it for about 20 minutes, she served the hot jil pitha with chutney. Murmu was excited because she was not serving it to her family but to visitors at a venue far from home. 
She was one of the tribal 'home chefs' showcasing her unique traditional dishes at the Aatithya (meaning hospitality) tribal festival in the city of Jamshedpur that highlights the tribal cuisines of Jharkhand. 
Celebration of tribal foods 
The tribal dishes, many with quirky names, included khu re khu, which is buckwheat pancakes stuffed with paneer and green chilly, and jill ladd, chicken wrapped in sal leaves and griddled.
The tribes have their own version of creamy tomato soup, tempered with mustard seeds, called kara kani. 
Also See: In pictures: Bihari food beyond litti chokha
Their desserts mahua kheer and dumbu – a steamed dumpling filled with jaggery and grated coconut – were crowd pullers.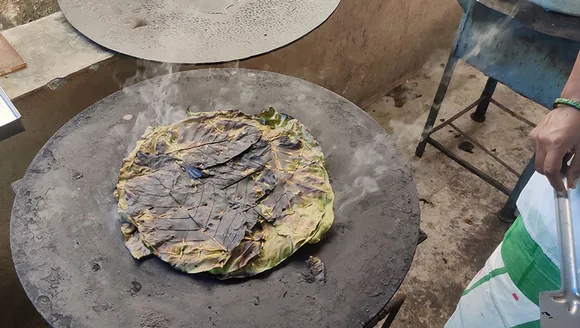 "People living in cities make kheer with rice, milk and sugar. But we make it with mahua flowers," says Laxmi Hansda, while separating the mahua petals for the sweet dish.
"We also replace sugar with jaggery as it is good for health and increases blood circulation," she tells Village Square.
Cooking for the contemporary palate
The women have started tweaking their recipes to align with the dishes that are in demand nowadays among the youth. Amrita Ekka of Bisra village makes millet momos that are quite different from the ones made with refined flour (maida) in restaurants. 
"The aim is to attract urban youth. Several franchisees are offering just dumplings in their urban outlets and minting money. But the ingredients used are often not healthy," says Ekka.
Also Read: Kashmir's street food: Lotus stem & fish fritters, chickpea tacos, sweet snowballs & more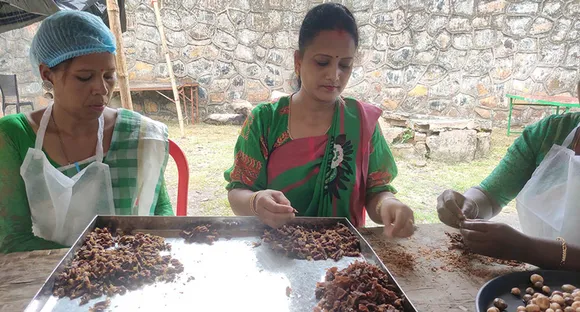 She replaces refined flour with ragi (finger millet) which is good for health. "We use vegetables grown in home gardens and we make our own condiments to offer people a healthy alternative. We call them madwa momos," she says.
Lip-smacking tribal cuisine
Ekka served her ragi aka madhwa momos at Aatithya. Those who tasted the momos and the other tribal cuisines praised the women's culinary skills. "We've tasted food in star hotels and high-end restaurants but have never come across such lip-smacking delicacies. The food is delicious. We've been living in Jharkhand for ages but have never heard of such rural food," says Satyendra Singh, a Jamshedpur-based businessman.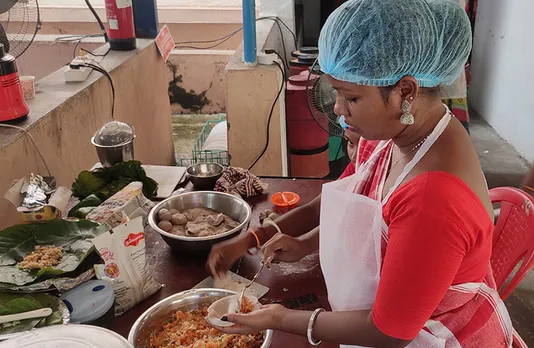 Many visitors like Vijay Prasad, a local youth, felt that such indigenous food mirrors the rich tribal heritage and needs to be preserved. It is one of the reasons that Tata Steel Foundation organised the Aatithya food festival. It's a run-up to Samvaad, a tribal conclave that has been held every November since 2014.
"Aatithya was introduced in 2017 as we found that most of the food in tribal kitchens was slowly disappearing because people were consuming contemporary food items. We wanted to revive the tribal food," Shuvra R of Tata Steel Foundation, told Village Square.
A new livelihood for tribal women
The event also aims to create livelihood opportunities for the tribal women, says Shuvra. "Our cuisine can help us earn while offering healthy food to people," says Maya Soren, one of the home chefs.
Also See: Uttarakhand: Garhwali & Kumaoni food in pictures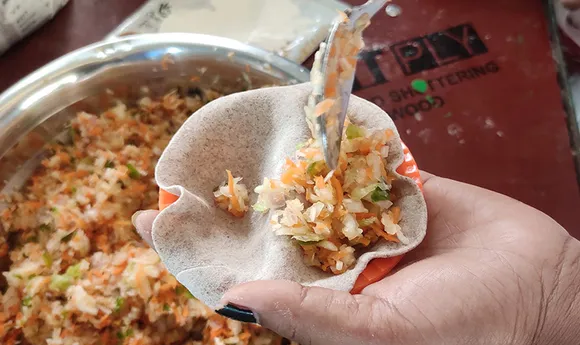 Ekka works in a small eatery on the outskirts of Rourkela where she prepares ragi dumplings. According to Vijay Prasad, tribal food could be the best way to generate rural tourism. "Hotels, like the Taj Group, are supporting these women by letting them cook tribal food in their kitchens," says Shuvra.
Popularising tribal cuisine
The tribal women as well as visitors expressed the need to popularise this cuisine. "We aim to organise 15 such tribal food events across the country to generate awareness," says Shuvra.
According to Maya Soren and Bonga Murmu, events such as Aatithya not only boosted their confidence but also gave them a chance to serve urbanites authentic tribal food.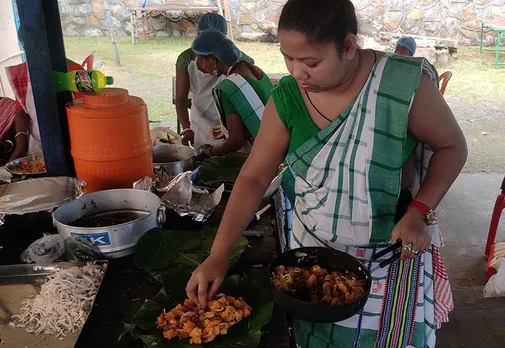 Food bloggers also advocate showcasing tribal cuisines through such events frequently. "There are several tribes but we don't know much about them or their food. It's important to organise such festivals regularly so that their food gets recognition and becomes a source of livelihood for them," says Indrajit Lahiri, a well-known food blogger in Kolkata. 
Satyendra Singh suggested that the government should step in to promote tribal food festivals.
The lead image at the top of this page shows Bonga Murmu preparing the ingredients on sal leaf plates to make griddled jil pitha; Photo by Gurvinder Singh
(Gurvinder Singh is a journalist based in Kolkata) 
This story first appeared in Village Square.
Also Read: From ragi momos to snails, how tribal food is becoming the ambassador for Jharkhand's indigenous culture