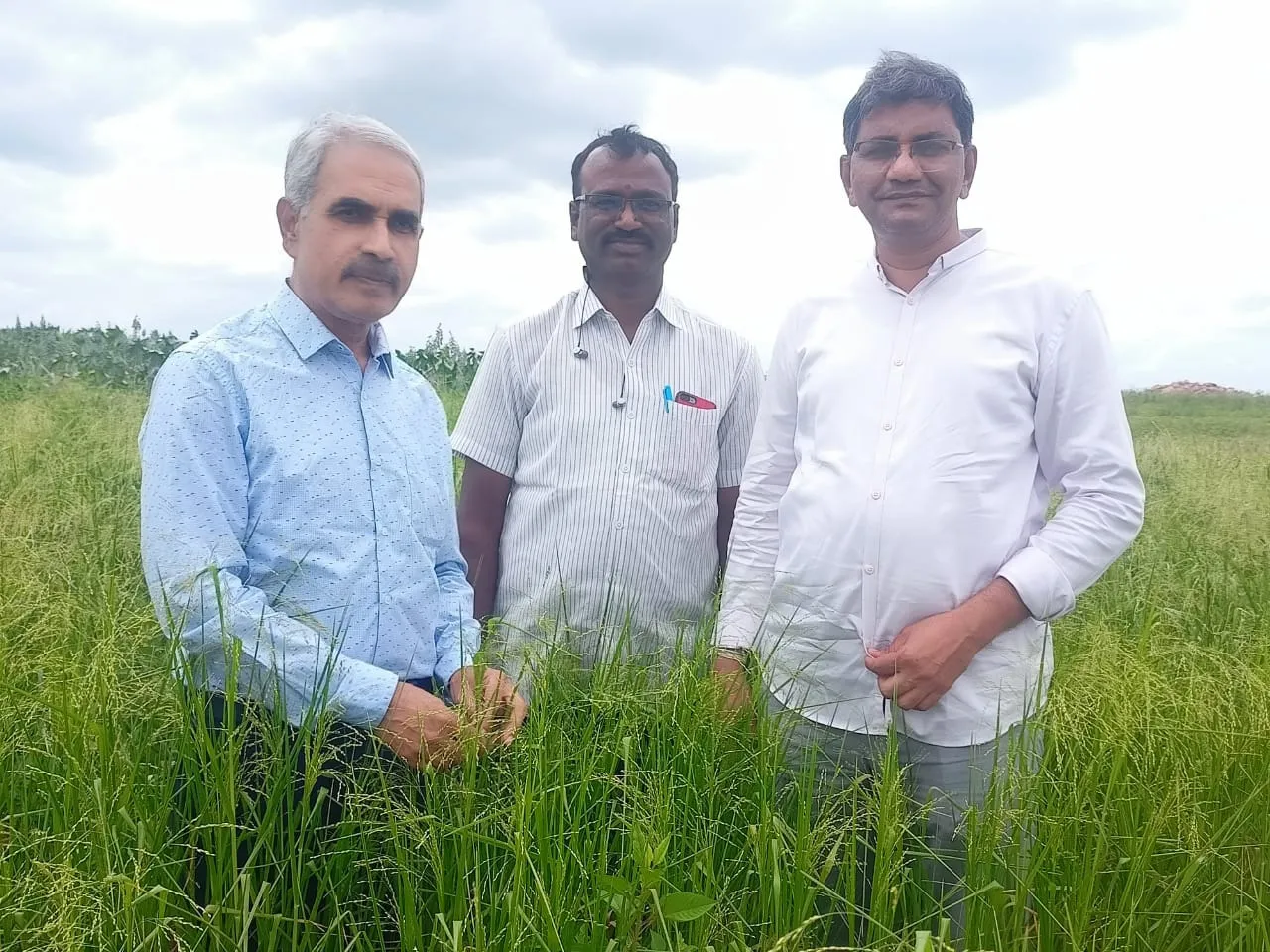 After three decades in a very successful corporate career, it was the nostalgic memories of his mother's millet-based dishes that pulled K V Rama Subba Reddy back from Delhi to his village in Andhra Pradesh.
Once back in Nandyal town, 15 km from his village Jillella where he was born, Reddy turned his memories into a thriving business that has an annual turnover of over Rs 3 crore today.
He also established an agro company called Sattva Millets and Food Products that he founded with his brothers and a friend, Prithviraj. The company makes valued added products from millets.
Also Read: Bengaluru techie-turned-farmer creates profitable ecospace with 350 forgotten foods and herbs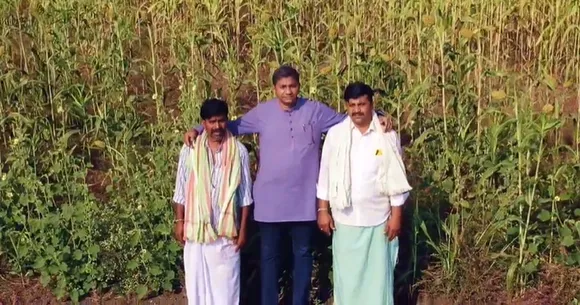 Reddy has aided 1500 farmers in and around Nandyal to switch to organic farming and cultivate millets which he buys from them at 40 percent more than the market rate.
Reddy says since he belongs to a farming family, he did nurse a dream to return home and take up agriculture. "I wanted to work with farmers and do something for society," he says.
Trial and error
Reddy was born in Jillella village in the Nandyal district of Andhra Pradesh. While his two brothers decided to take up their ancestral farming, a young Reddy was keen to get a taste of urban life. After completing his ICWA course, he worked in Hyderabad before moving to Delhi where he worked in the power sector.
From 2004 to 2017 he worked in Delhi, drawing a salary of Rs60 lakh per annum. In 2012, Reddy bought 20 acres of land in Nandyal and in 2014, when he moved back, he started doing horticulture. He invested about Rs50 lakh to buy equipment, drip irrigation and other equipment for farming.
Also Read: Roja Reddy: Karnataka techie-turned-agripreneur's pioneering organic farming effort makes her a millionaire
"I did organic farming in horticulture which was challenging. A lot of pests attack the crops. The crops don't look as good as the crops which are grown using chemicals. And there was no ready market for them. I had to dispose of the entire harvest in a week and had to depend on middlemen who gave me only 50 percent of the market price," says Reddy.
After this disappointing experience, Reddy decided to turn to millets.
In 2018, he attended a lecture by Dr Khader Vali in Nandyal. Dr Vali is known as the millet man of India and has been working for the last 20 years to revive millets.
"I had memories of eating various dishes which my mother made from millets. They were not only nutritious but also hardy and resistant to pests. They do not require pesticides and need only a little water and grow naturally," says Reddy.
Getting farmers on board
In 2019, Reddy decided to grow millets on his farm and set up a processing plant for value addition. He established Sattva Millets and Food Products which has been incubated at the Institute of Millet Research, Hyderabad.
Reddy and his brothers cultivated millets on 60 of their 80 acres. Since he needed more raw materials for his plant, he thought of procuring millets from other farmers. He approached farmers in nearby areas and motivated them to grow millets.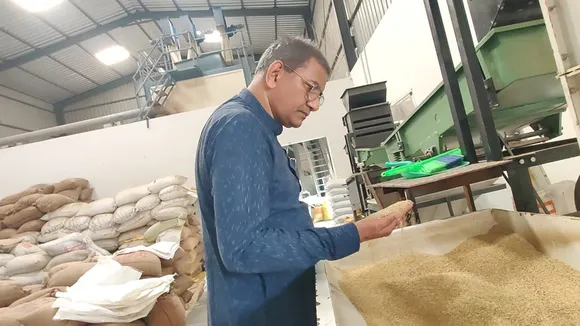 "We went to scores of villages in Andhra and interacted with farmers. We told them about the benefits of millets and that they were easy to grow and would lessen the production cost," says Reddy 
Initially, the farmers were hesitant because they were used to growing wheat and paddy. They were not sure about the demand or the market for millets. "I told them I would procure their crop so they need not worry about marketing," says Reddy.
Also Read: How an NGO has been revolutionising the lives of 42,000 small farmers
Slowly, the farmers came around. The company signed agreements with two FPOs with 750 farmers each to supply millets. They distributed millets seeds to about 1500 farmers for sowing over 4000 acres of land.
"We decided on the price at the time of the agreement," he says. 
The government gives an MSP of Rs2500 per quintal. The company fixed Rs3500 per quintal for certain millets and eventually bought it for Rs4000 per quintal.
Reddy and his business partners have invested Rs2.5 crore to set up the 1500-tonne processing plant which came up on an acre of land on Reddy's farm.
"By the time we were ready to start the plant in March 2020, the Covid pandemic hit so we shut down for six months," he says. Work slowly picked up from the end of 2020 though the competition was tough.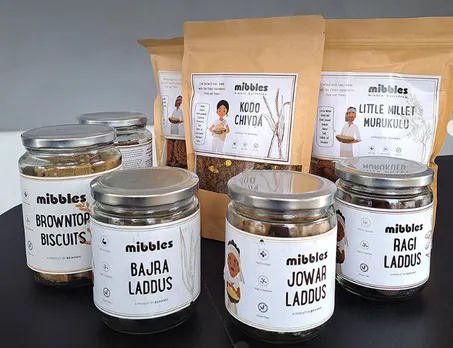 "Our USP is unpolished millets. Polished millets lose most of their nutrition because their husk is removed mechanically by a polisher which takes away the nutrients too. Our process is to remove the husk with dehuller through impactors. This leaves the nutrients intact," he says.
Also Read: Mirzapur man leaves high-paying job at ILO to set up FPO; turnover crosses Rs 2 crore in two years
Reddy decided to sell whole grains as well as ready-to-eat foods made from jowar, bajra, fox millet, brown top millet, barnyard millet and Kodo. His company has a range of products like idli, dosa, upma, poha, and cookies, all made from millets.
Reddy's wife has created the recipes while his daughter has done the product design.
Millets – the superfood
Millets were once an integral part of our diet but with wheat and paddy being pushed under the Green Revolution, millets disappeared from our diet. 
However, with the rise in lifestyle diseases like diabetes, and obesity, millets have staged a comeback. 
There are about 6,000 varieties of millet throughout the world. They are divided into major millets and minor millets.
Millets are a great source of energy and protein. Millets are rich in fibre, which helps lower blood glucose levels. They also contain vitamins, minerals such as calcium, iron and zinc and essential amino acids.
Also Read: Millet mompreneur: Banker turns entrepreneur to give the best to her baby; sets up zero-preservative healthy food business
Other benefits are that they are gluten-free, alkaline and non-allergenic which makes them easy to digest. Millets have a low glycemic index which makes them good for cholesterol, diabetes and weight loss.
Moreover, they are easy to grow as they do not require much fertiliser or water and grow in semi-arid and arid regions.
"One kg of rice requires 5,000 litres of water while one kg of millets requires 200 litres of water," says Reddy.
Capturing markets
Sattva follows the B2B (business-to-business) model and supplies products in bulk to companies, which re-sell them under their brand name. They supply about 400 tonnes annually. The products can also be bought online through the company's website www.mibbles.in and on other e-commerce sites.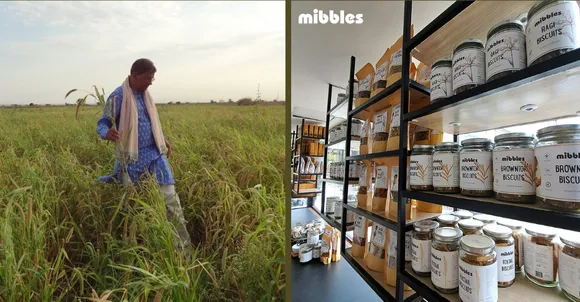 The ready-to-eat products include millet ladoos, cookies, poha and chikki. These are sold in urban areas under the premium Mibbles brand. There are two outlets – one in Hyderabad and one in Nandyal.
Also Read: Karnataka's MA, LLB woman trains 2,000 farmers in organic farming; helps schools to set up kitchen gardens for mid-day meals
The other brand is Renadu which is for sale in rural areas. "I want millets to be available at affordable prices. Under the Renadu brand, we supply flour, idli, upma, and rava (semolina)," he says.
Reddy recently started exporting a few products to the Netherlands and the US and is getting inquiries from Australia, Europe and the Middle East.
He is also supplying millets to Apollo Hospitals in Hyderabad for the last one year, where millet meals are being served to the patients.
Reddy says millets will be back in a big way, especially as the UN has declared 2023 as the year of millets and the Indian government is working on mission mode to popularise the production and use of millets. "India can capitalise on the production of millets and emerge as a major exporter," he says.
(Urvashi Dev Rawal is a Jaipur-based journalist specialising in development, gender, and political reporting)
Also Read: Bhopal's Math teacher turned farmer-entrepreneur earns in crores through organic farming, helps 1400 farmers double their incomes