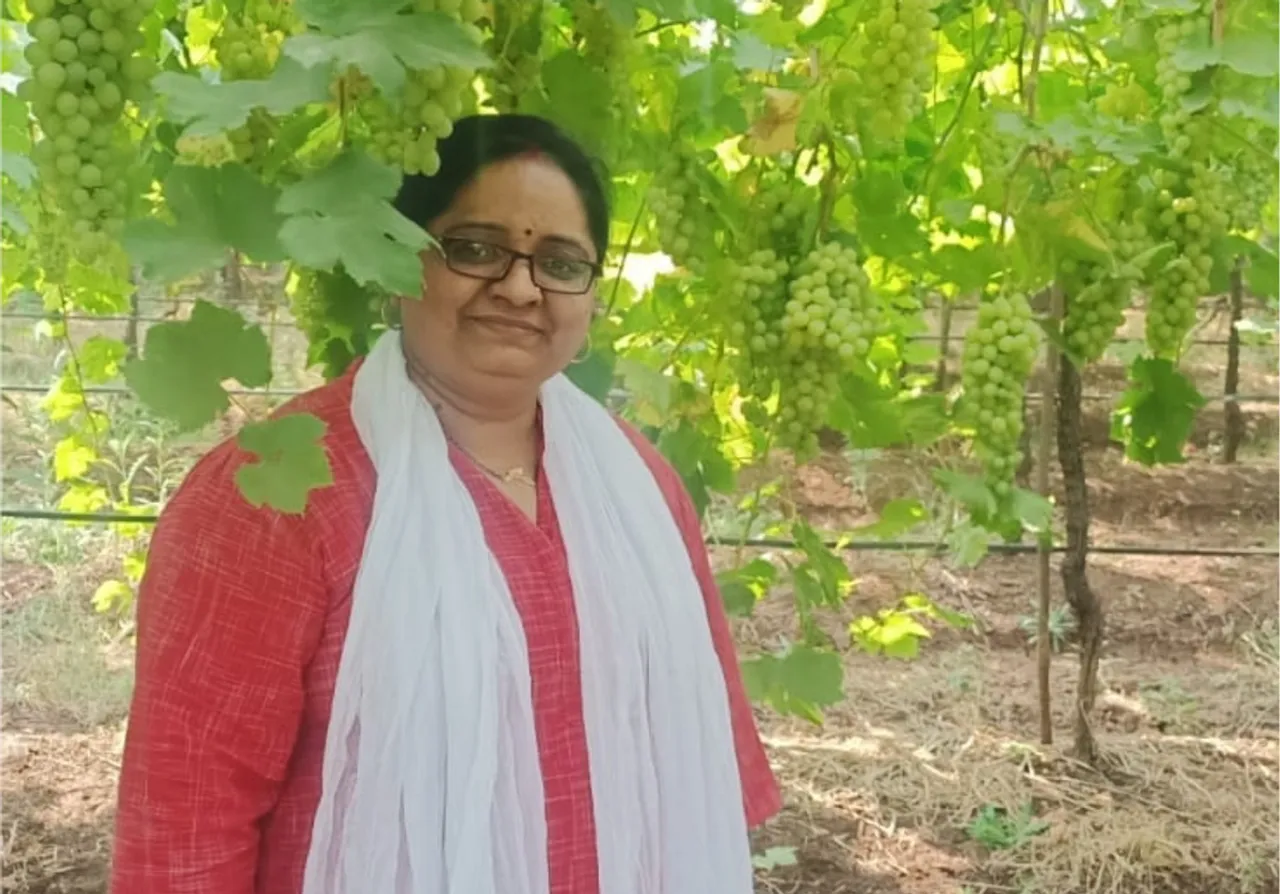 With a mathematics degree under her belt and years of teaching experience in schools in Bhopal, few would have thought Pratibha Tiwari would build up a highly profitable agriculture business running into crores of rupees and assist almost 1400 farmers to double their incomes from organic farming.
After her marriage, Pratibha settled with her husband in Bhopal and both worked there. However, her husband's family-owned 50 acres of land in Harda, 150 km from Bhopal.
When Pratibha would visit Harda, she would see farmers using chemicals to grow crops on most of their land and doing organic farming in a small area.
When she asked farmers the reason behind growing organic crops on a small patch of land, the farmers told her those crops were for their own consumption while those grown using chemicals were for sale in the market.
"I was troubled by the fact that farmers used so many chemicals in their crops. I felt that people should be able to eat healthy food," says Pratibha.
Also Read: Roja Reddy: Karnataka techie-turned-agripreneur's pioneering organic farming effort makes her a millionaire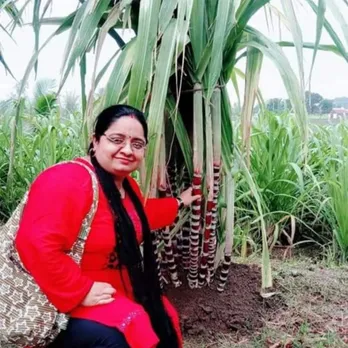 She began attending workshops and seminars on organic farming organised by the state government's agriculture department. She also enrolled on a course on organic farming in Delhi.
Pratibha decided to lead by example. She motivated her husband and his family to shift to organic farming. 
They were hesitant and so Pratibha suggested they start by doing organic farming in a small area. So, in 2016, she started growing wheat on a small part of the land.
To shift from conventional farming to organic farming takes about three to five years as the land has to be rid of toxic chemicals and the soil fertility has to be revived and improved by using organic inputs.
"All over India, soil's organic carbon has dropped drastically. This is making the soil infertile… we need to take immediate corrective measures." 
Soil Organic Carbon is the main component of the organic matter and gives soil its water-retention capacity, structure, and fertility. In India, the Soil Organic Carbon (SOC) content has fallen from 1 percent to 0.3 percent in the past 70 years due to intensive cultivation without providing proper fertiliser to the soil and lowering its productivity.
Also Read: How Tamil Nadu farmer increased profits & cut costs by 30% through organic farming
During the conversion, farmers typically experience a drop in their yield. Pratibha used organic matter such as cow dung, organic fertiliser like jeevamrit and mulching to improve soil fertility.
Pratibha says the wheat yield in the land where organic farming was being done fell from 18 quintals per acre to about 10 quintals per acre. She also tried to grow green gram on some parts of the land but that entire crop was destroyed by pests. "It was disheartening but I did not let this setback deter me," she says.
While moving to organic production, Pratibha simultaneously launched her organic product brand 'Bhumisha'.
She started her store 'Bhumisha Organics' in 2016 in Bhopal where 70 types of organic food products are sold including wheat, rice, pulses, spices, pickles, herbs, flour, edible seeds like quinoa, flax and chia, and cold pressed oils.
She has a dedicated customer base of around 400 people in Bhopal, Delhi, and Mumbai.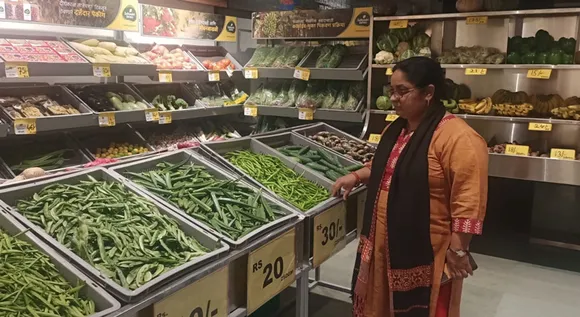 During the conversion period of the land, Pratibha says she reduced the amount of chemicals used and sold produce marking them as 'conversion' so that customers were aware.
By 2019, Pratibha converted her entire land to organic and got certification from the government. She grows wheat, and legumes like horse gram, split chickpeas, and pigeon peas. She has also planted medicinal plants such as rosella, moringa, hibiscus and aloe vera.
Also Read: How an NGO has been revolutionising the lives of 42,000 small farmers
Her yield slowly improved as the soil became enriched with organic matter. The crop production under organic farming was equal to that of conventional farming.
Today, her annual turnover from farming and agriculture-related activities is over Rs one crore.
Doubling farmer incomes
Pratibha tried to reach out to farmers in Harda to try organic farming. She held meetings with farmers and told them about the harmful effects of chemical-based farming and the benefits of organic farming.
She cited her own example and how she had not experienced any loss in yield due to organic farming.
"It was difficult to convince the farmers. Since most of them in the area had small tracts of land, they were afraid with organic farming their production and income would fall."
"I explained to them that the yield would eventually pick up and they would save majorly on input costs. I also told them that during the conversion period, they should use chemicals judiciously so their production did not fall drastically and they went into losses. This product is labelled as conversion so customers are aware," she says.
lso Read: Mirzapur man leaves high-paying job at ILO to set up FPO; turnover crosses Rs 2 crore in two years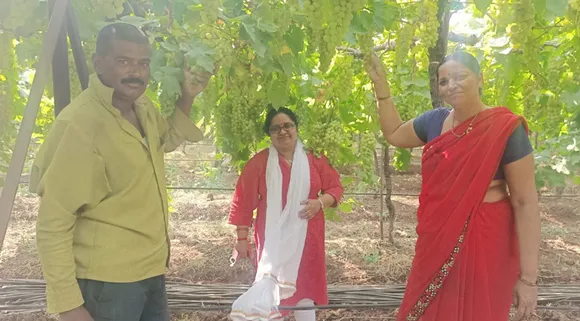 "After three years, we help farmers register their land for organic certification. Once they get the certification, we tell them to totally stop the use of chemicals and go for organic inputs such as vermicompost, and jeevamrit which we provide them. We also encourage them to make their own inputs and share among themselves"
With much effort, Pratibha persuaded five to six farmers to take up organic farming. "I assured them that I would not only provide them all help during the farming stage but also help market their produce," she says.
Dadam Chand, a farmer from Sardarpur village near Ratlam, has been associated with Pratibha for the last six years. "Didi had come to our village for a training programme. She informed us about the hazards caused to health and the soil by using chemicals in farming. She urged us to try organic farming on a part of our land," he says.
Also Read: Gau Organics: Engineer-turned-dairy farmer sets up Rs 8 crore organic business in Kota; helps increase incomes of other farmers
Dadam Chand, 54, was convinced and decided to give it a try. He grew wheat on one acre of his three acres of land. "The production fell to half, from 13 quintals in one acre, I got only 6 quintals. I was very worried. I thought I could not continue this. But didi told me to persist," he says.
The next year his yield increased to 9 quintals and to 13 quintals in the following year.
Dadam Chand says earlier his earnings would be around 70,000 but his expenditure would touch Rs30,000. Now his expenditure on inputs is Rs7,000-8,000 while his income is over Rs one lakh.
"When we sold in the mandi, we got a price of Rs20 per kg. But didi buys from us at Rs35-36 per kg," he says.
Seeing his success, around 70 farmers in Sardarpura, Ratlam, and Neemuch have become associated with Bhumisha where they can sell their produce and get the right price.
After a few of the farmers who associated with Pratibha were able to do well, others were willing to join her. "We tell farmers to try organic farming on 1.5 acres of land for three years. If they benefit and see their incomes increase, they should join us."
Today, around 1350 farmers in Madhya Pradesh, Rajasthan, Chhattisgarh and Maharashtra are associated with Pratibha. She sources produce from farmers and sells it under her brand. 
She has also tied up with other stores and retail outlets where farmers can sell their produce directly. She aids the farmers in cultivation, providing them with training and guidance, seeds, and helping them adopt the right farming practices and marketing of their produce.
Also Read: How Bangalore's retail chain Humus is taking fresh fruits & veggies from farms to urban homes
"The farmers have seen their incomes double," says Pratibha. "And their input costs have reduced considerably."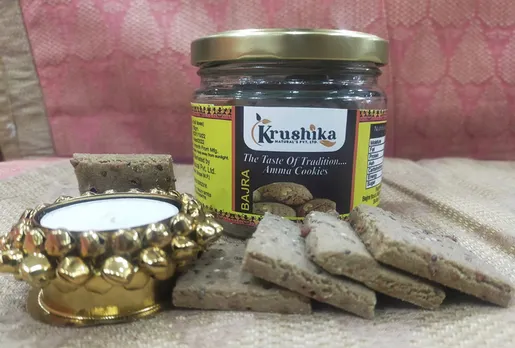 "If a farmer grows wheat on an acre of land using chemicals, he will spend Rs30,000 to 35,000 as input cost while it would be Rs7,00-8,000 for organic farming."
Pratibha encourages farmers to put medicinal plants on the borders of their farms as this gets them 10 percent extra income. She also explains to them the benefits of intercropping.
The farmers' collective
During her interactions with farmers, Pratibha realised that one of the major problems they faced was a lack of marketing and not getting a good price for their produce.
To strengthen the bargaining power of farmers and create marketing channels, she has helped the farmers organise themselves in three Farmers Producers Organisations (FPOs).
FPOs provide end-to-end support and services to small farmers, covering technical services, marketing, processing, and other aspects of agriculture inputs. The FPO acts as an aggregator for member farmers and sells products which bring in economies of scale and improves the bargaining power of members.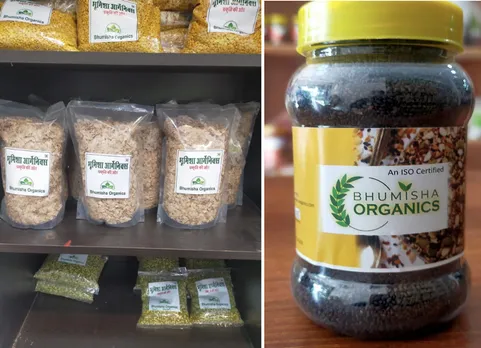 Pratibha has invested about Rs50 lakh so far in setting up processing units in Bhopal where cereals such as wheat and millet are ground into flour. There is a small processing unit for lentils. Currently, a unit for processing millets is being set up at a cost of Rs 15 lakh.
Also Read: Rapid Organic: Rajasthan farmer's venture helps 12,000 organic growers find global market⁠⁠⁠⁠⁠⁠⁠
Expanding horizons
Pratibha is not one to relax on her laurels. She is working to expand her business. New organic stores are being planned in Surat.
With 2023 being celebrated as the International Year of Millets, Pratibha has set up a new company last year, Krishika Naturals Pvt. Ltd., to produce and market millet-based products.
She has recently signed a deal with two Indonesian firms to export millet products. "We will supply 11 products which include three types of puffs, three types of cookies, three types of cereals, a roasted mixture and protein bars."
Pratibha may be a first-generation business woman but she has built up a successful business and helped others in the process.
"My motivation to start agriculture was to end harmful practices. Chemicals are harming the environment, the farmer and the consumer. Eating healthy is everyone's right. I want to help farmers get a good price but I also want to make organic food available at an affordable price. And leave a healthy environment for our future generations," she says.
(Urvashi Dev Rawal is a Jaipur-based journalist specialising in development, gender, and political reporting)
Also Read: Bengaluru techie-turned-farmer creates profitable ecospace with 350 forgotten foods and herbs