In 2016, Kota-based Amanpreet Singh put cow dung cakes for sale on the e-commerce platform Amazon. People laughed at it but Amanpreet knew the potential of cows and cow dung. The very next year, his startup Gau Organics won the Best Dairy Farming award from the Rajasthan government. 
And, today, with an annual turnover of Rs 8 crore, it is Amanpreet who is having the last laugh.
"When we started selling dung cakes online, people ridiculed us. But actually, it helped spread the word around our brand. While many people laughed, some praised the idea and that got us recognition by the state government," says Amanpreet, 31, an engineer by education who followed his heart to set up an organic dairy business in Kota, Rajasthan.
Gau Organics sells organic A2 milk, ghee, cottage cheese (paneer), jaggery, honey and other products, which are processed on its 100-acre farm.
Also Read: Jharkhand: Tech graduate duo's dairy venture Puresh tastes success amid COVID-19
With 300 cows now, the startup employs 50 people. Gau Organics also procures milk and cow dung manure from 55 local farmers, providing them with a stable source of income.
Not luck but sheer hard work
Amanpreet's joint family has a business in the engineering space and they expected him to take it forward. So he completed B. Tech from Rajasthan Technical University in 2012. 
"I was interested in agriculture and dairy farming from a very young age but did not know where to start. That is why I pursued what my parents and family members suggested," says Amanpreet.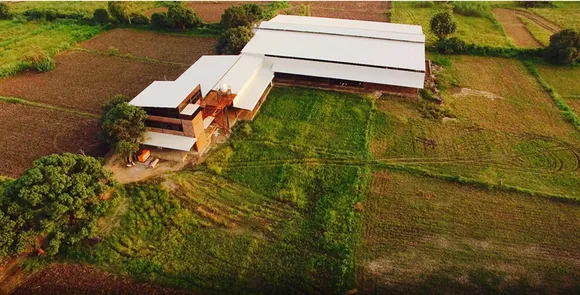 Aerial view of the Gau Organics farm at Kota. Pic: Gau Organics 
But after B. Tech, he decided to do a post-graduate course in dairy farming at The National Dairy Research Institute, Karnal, Haryana. On its completion, he went to Israel to get hands-on experience in the dairy business for about nine months. This was followed by stints in renowned companies Nestle and Amul (the brand of Gujarat Cooperative Milk Marketing Federation).
Also Read: Käse Cheese: Chennai's all-women artisan cheese startup empowers people with hearing impairment; expands operations to Gujarat & Rajasthan
"I was supervising the packaging department, earning Rs15,000 a month at Nestle. While the salary was less, I learned a lot working in both organisations. I did not join there thinking that I would leave the job in some years. But given my interest in dairy entrepreneurship, I decided to pursue my passion," says Amanpreet.
After leaving his job at Nestle, Amanpreet started building his farming business along with his brothers Gagan and Uttam. To begin with, they bought 27 cows and in 2015, they branded their business GAU Organics which has the initials of the names of the three brothers.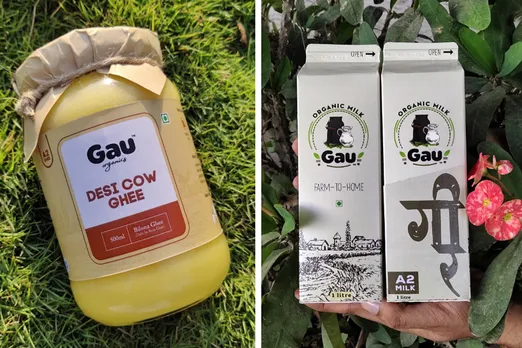 Gau Organics sells its products both offline and online. Bilona (handchurned) ghee is its most in-demand item. Pic: Gau Organics 
The sustainable model
"Initially, I began processing wheat to sell flour in stores in Kota. However, I wanted to create a sustainable model with long term benefits," he says.
Also Read: Engineer leaves TCS for organic farming in Jharkhand; builds successful farm-to-table startup Brook N Bees
To create this sustainable farm model, Amanpreet invested about Rs8 crore over the next few years towards buying more cows and setting up machinery for fodder processing, temperature-controlled cowshed, and storage units etc. 
"For the first three years we did not get good returns as we were still building out a dairy model that took a lot of effort and investment," he says.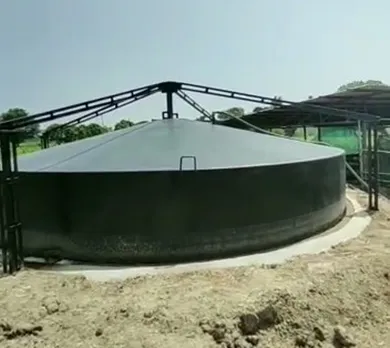 Gau Organics has set up 2 biogas plants of 40 kilowatts each on the farm, saving Rs2lakh per month on electricity bill. Pic: Gau Organics
Soon, Gau Organics started selling cow milk and other products such as ghee and paneer. It then began growing organic fodder for the cows to ensure self-sufficiency on the farm.
With time, there was enough cow dung to make manure and vermicompost for own use and to sell to nurseries in the city. With the rising number of cows, Amanpreet decided to make biogas from dung, which reduced the electricity bill. 
Also Read: Mirzapur man leaves high-paying job at ILO to set up FPO; turnover crosses Rs 2 crore in two years
Biogas is a renewable fuel produced when bacteria break down biological materials in the absence of oxygen. The dung and urine at Gau Organics cow shed are mechanically transported to the digester of the two biogas plants of 40 kilowatts each. The gas is piped out and the slurry, which is rich in natural nutrients, is used as manure for the plants (See Video).
The use of biogas saves about Rs 2 lakh per month on electricity at Gau Organics. 
The electricity is used for the milking machines, foggers, some robotic systems and other electrical appliances, he says.
"Money saved is also money earned. If I can produce sustainable electricity then why should I use high-cost electricity?" reasons Amanpreet. 
He has a jaggery unit, milk processing units, biogas plants, cowsheds and facilities for manufacturing 40 other products including cow ghee, jaggery, honey, organic manure and flour.
Also Read: Banker during the week, farmer over the weekend: How Prateek Sharma built Bhopal's Green & Grains organic grocery start-up
The annual recurring costs at the farm stand at about Rs2 crore.
Asked about the most popular products, Amanpreet says, "Ghee is our most popular product." Gau Organics offers bilona (hand-churned) ghee prepared using the traditional method at Rs899 for a bottle of 500gm. 
Empowering farmers
The Gau Organics dairy products are made from milk sourced from other farmers in Kota. The 55 farmer families who have tied up with the startup have seen a rise in income. Amanpreet says small farmers with just four to five cows are earning better because apart from selling milk, they are trained in making cow dung manure for sale. 
Also Read: How Bangalore's retail chain Humus is taking fresh fruits & veggies from farms to urban homes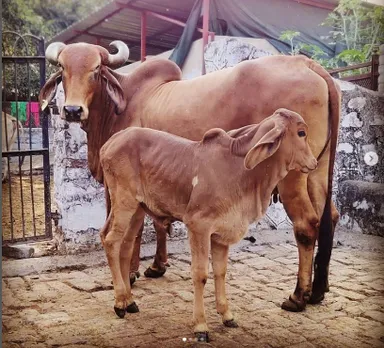 Gau Organics has 300 indigenous or desi cows which give A2 milk. Pic: Gau Organics 
"If they sold one trolley of cow dung for Rs700 earlier, they sell the same manure for around Rs35,000 now due to market linkages created by us," he explains.
Moreover, Amanpreet is helping small farmers build a biogas plant on their farms so that they can also save money on electricity.      
Also Read: Intel to IITs, biogas is the new fuel in institutional kitchens
There is a procedure to be followed by farmers who wish to partner with Gau Organics. "They must start feeding their animals with organic fodder which we provide at a very low cost of Rs10 per kg. After 15 days we analyze the animal's milk and if it meets our criteria, then we tie-up with them," says Amanpreet. Gau Organics also provides free or very low-cost medical facilities for the farmers' cows.     
Ajay Kumar is associated with Gau Organics. He says his income has grown and he also gets better health and medical support for his cattle from the startup.
Ajay has five cows and was earlier selling milk in the city. "I would get Rs 35 per litre but delivering to individuals on my bike led to high petrol costs. Moreover, cow fodder would cost Rs 20-24 per kg. The overall expenses led to low profits," says Ajay.
Also Read: How Madhya Pradesh homemaker Lalita Mukati became millionaire organic farmer
Amanpreet Singh at a training session at his farm. Pic: Gau Organics 
"I now sell all the milk to Gau Organics without going door to door. And I get low-cost fodder. Apart from this, I get regular tips for improving cows' health. The fodder from Gau Organics has increased the quantity and quality of milk because it is organic and nutritious."
He says he has also received training for making vermicompost using cow dung and he is planning to sell it to earn extra income. 
As for Amanpreet, the future course of action is clear. Gau Organics has three stores in Rajasthan. "About 40 percent of our sales are online and 60 percent are offline. We now want to sell more online as it offers a global market," he says.
(Bilal Khan is a Mumbai-based independent journalist. He covers grassroot issues, LGBTQ community and loves to write positive and inspiring stories.)
Also Read: Gujarat: How this lawyer-turned-organic farmer made her family's dairy business profitable