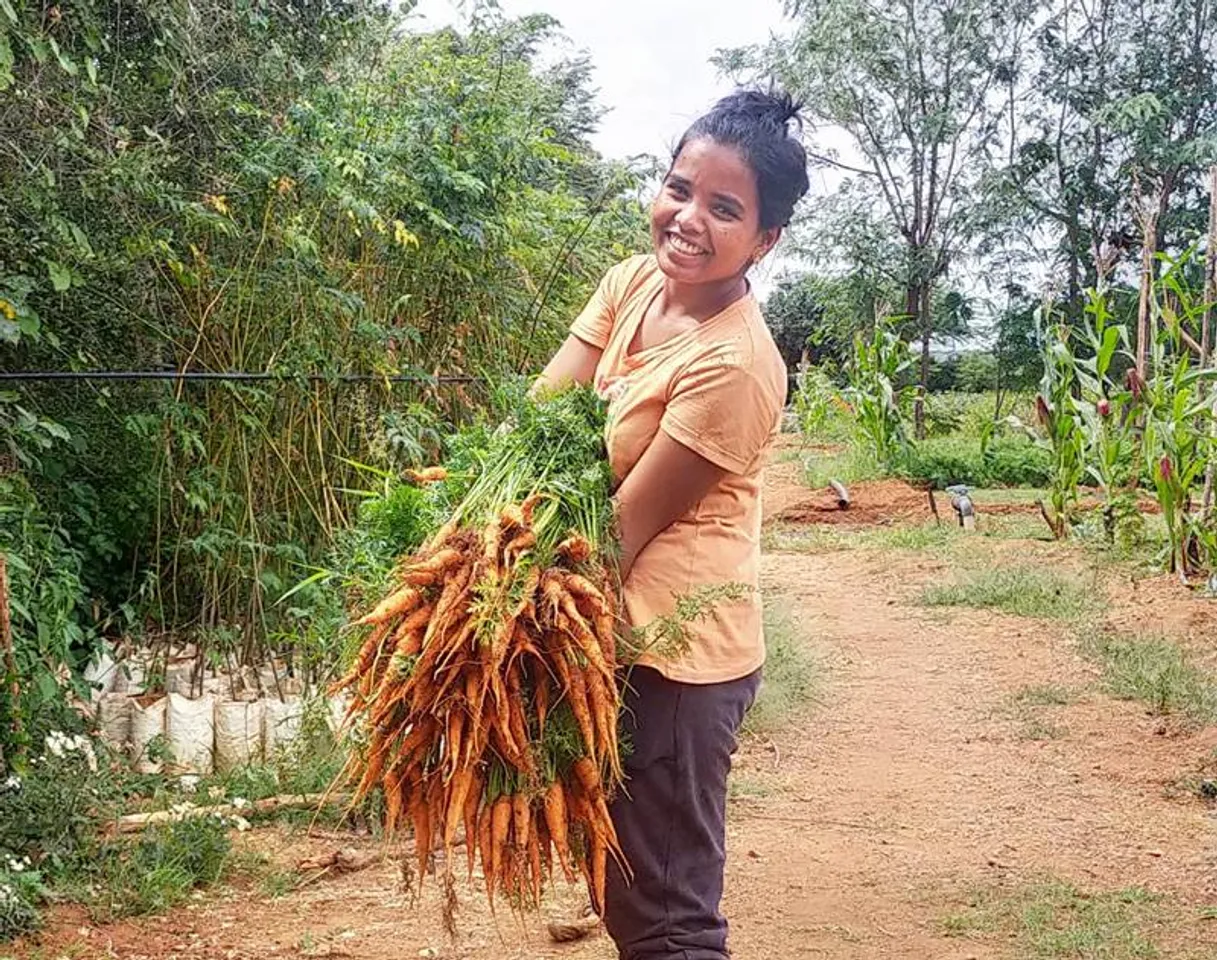 In 2018, Roja Reddy was working in Bengaluru with technology giant IBM. While many may see it as a dream job, Roja was looking for something more. That summer, on a trip home to Donnehalli village in Karnataka, Roja learnt that her father and brother, fed up with heavy losses in agriculture, were planning to sell the farm.
Roja, who had an interest in farming, decided to quit her job and took up the challenge to revive the family farm. Within three years, a determined Roja was earning crores of rupees from the farmland. 
She is the pioneer of organic farming in her village. The family had 20 acres of land but only half was being used to grow pomegranates and tomatoes. Chemical farming had stripped the soil of its nutrients and production was falling. Water scarcity only made things worse.
"I had seen my grandfather do organic farming. But my father and brother used chemicals and the soil quality deteriorated. Production was falling and they did not have proper channels for marketing the produce. They were ready to sell the land and move to the city to find jobs."
However, Roja took it upon herself to revive the family farm and fortunes and her gamble has paid off handsomely.
The pioneering effort that faced ridicule
When Roja decided to take up organic farming, she was dissuaded and ridiculed. Her father and brother strongly opposed her decision and villagers laughed at her.
Also Read: From 4 acres to 18 acres: How profitable organic fruit farming helped Rajasthan's Rajnish Lambha expand rapidly
"My family and people in the village told me farming was a loss-making proposition and had no future. No one trusted organic farming. They told me to stick to my stable job," says the 26-year-old.
Even the agriculture department officials did not take her seriously. "I went to the department to learn about organic farming but they turned me away saying why do you want to get into this."
However, Roja had made up her mind. She requested her father to let her do organic farming on the unused 10 acres of land. She read up on organic farming and pulled out a list of organic farmers in her area and called them up to learn from them. Some farmers were very helpful and guided her on farming.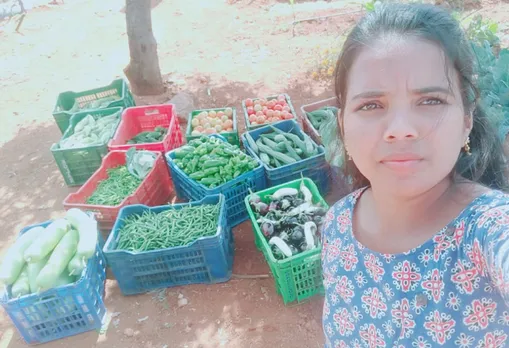 Roja Reddy with her organic farm produce. Pic: Courtesy Roja Reddy 
She prepared the soil, procured good quality seeds from Maharashtra and planted 40 varieties of vegetables including capsicum, broccoli, zucchini, tomato, brinjal, beans, carrots, beetroot, bottle gourd, bitter gourd, fenugreek, asparagus, celery, radish, chilli, amaranthus, spinach, cauliflower, cabbage and mint as she realised the demand for such produce was growing in larger cities.
Also Read: How Madhya Pradesh homemaker Lalita Mukati became millionaire organic farmer
Her first crop brought her 200 kg of vegetables for which she had no market. "I gave free samples to people and also took the produce to Mangaluru, Udupi and Manipal to find some customers," she says.
Within one year, Roja became an expert farmer and a savvy businesswoman. Seeing her success, those farmers who had mocked her, came to her to learn and started practising organic farming. She says even government officials came to see her farm and sent other farmers to acquire knowledge from her.
The local administration also awarded her with the best woman farmer award in 2021.
Beating the odds
Donnehalli village is in Challakere taluka of Chitradurga district, which is one of the driest districts in the country. 
Also Read: Doctor in the morning, farmer in the evening: How Hyderabad's Dr SR Madhavaram earns crores from organic farming of dragon fruit; helps other growers improve incomes
As per the district's agriculture department, the rocky region had 59 droughts between 1901 and 2000. All the five talukas in the district – Challakere, Chitradurga, Hiriyur, Holalkere and Hosadurga— fall under the 'over-exploited' category for groundwater.
However, little effort has been made towards water harvesting and reviving traditional water bodies, recharging structures and afforestation.
Roja acknowledges that the groundwater has fallen drastically in the region. "All farmers use borewells and spend large amounts of money on them. They have to dig almost 1000 feet to get water. I also have three borewells," she says.
She has also made three ponds in her farmland to store rainwater. Seeing her initiative, other farmers have followed and are slowly building water storage structures.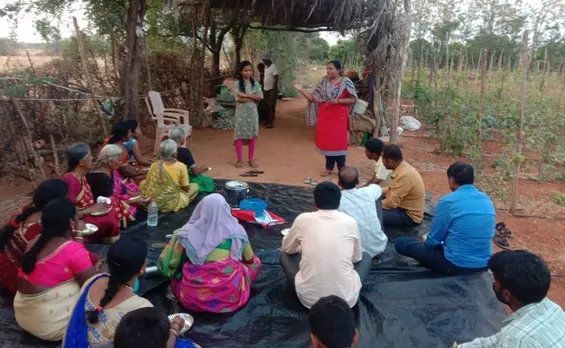 Roja (standing, left) is helping other farmers shift to organic farming. Pic: Courtesy Roja Reddy 
She says farmers in the region have not shown much enterprise. "They continue to farm in the traditional ways, pumping in money and chemicals and getting declining returns. No one had acquainted them with technology or advancements. Their input costs are high; they don't have any channels to market their produce, so they sell to middlemen who give them a poor price."
Leading by example, Roja has gained the trust and admiration of other farmers. Within three years, Roja transformed her farm, investing about Rs5 lakh. 
Also See: Rasika Phatak: Maharashtra's 23-year-old millionaire farmer & agriculture consultant
She converted the remaining 10 acres of land into organic and got organic certification in 2021. She set up a drip irrigation system on her farm to use water efficiently.
She bought six cows so she could use the cow dung and cow urine to prepare jeevamrit, an organic fertiliser, and organic pesticides such as neemastra and agniastra for the crops.
She does inter-cropping and mulching between the crop seasons to keep the soil healthy. With organic farming, her water use has also come down as crops need to be watered once in 2-3 days.
Apart from vegetables, she began growing fruits such as guava, banana, and pomegranate.
Roja's clients grew not only locally but also in Mangaluru, Manipal, Udupi and Bengaluru. She bought a small van to deliver the vegetables and took two other vehicles on contract. She, her brother, and other farmers deliver the produce to clients.
Also Read: Engineer leaves TCS for organic farming in Jharkhand; builds successful farm-to-table startup Brook N Bees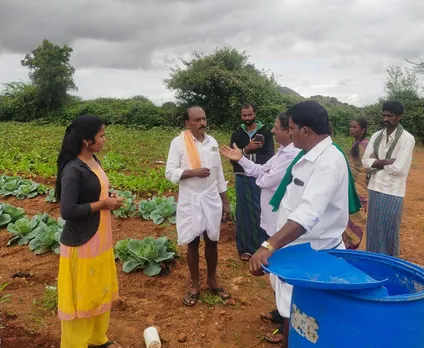 Other farmers and even government officials come to see Roja's organic farm now. Pic: Courtesy Roja Reddy 
In 2021, she established her own brand, Nisarga Native Farms under which she sells her produce. She had hired 20 people to help her with harvesting, cleaning, sorting and packaging the produce.
She harvests between 800 and 1,000 kg of vegetables daily but says it does not meet the demand. 
So, she asked farmers to associate with her and provide her with their produce which she sells and gives them a good return. Around 20 farmers are associated with her and are earning handsomely. "Farmers tell me that earlier they spent on chemicals and seeds, they gave a commission to middlemen to sell their produce as they had no access to markets and they got meagre returns and never had any savings," says Roja.
"Now, farmers can sell directly to customers and have cut out middlemen and lowered input costs to almost zero. So, they make between Rs3 and Rs5 lakh from one crop," she adds.
Roja currently grows 10 varieties of vegetables, five types of fruits and five types of greens. "I have learnt from experience that some vegetables do not grow well due to climatic conditions and water requirements. So I have narrowed down to those varieties that grow well here."
Also Read: Banker during the week, farmer over the weekend: How Prateek Sharma built Bhopal's Green & Grains organic grocery start-up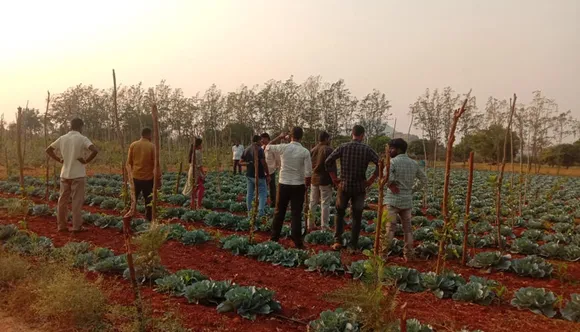 The daily output of around 1,000 kg at Nisarga Native Farm is not enough to meet customer demands. Pic: Courtesy Roja Reddy 
She has also developed an app on which her customers can place orders and the produce is delivered. She has around 500 customers and the base is growing. Last year, she tied up with three retail outlets in Mangaluru and Bengaluru which source 1500 kg of vegetables from her three to four times a week.
Within a year from 2021-2022, her income touched Rs1 crore. On her to-do list is to create a farmers' cooperative so that she can encourage other farmers to switch to organic farming and reap the benefits.
Roja, who still puts in around eight hours of work on her farm every day, is happy with her decision to quit her job and switch to organic farming. "It was a lot of effort and I did not receive much help. But I feel satisfied with what I have been able to create. I am happy I could provide jobs to 20 people and am providing healthy food to so many people," she says.
(Urvashi Dev Rawal is a Jaipur-based journalist specialising in development, gender, and political reporting)
Also Read: Telangana techie-turned-farmer earns millions from organic farming