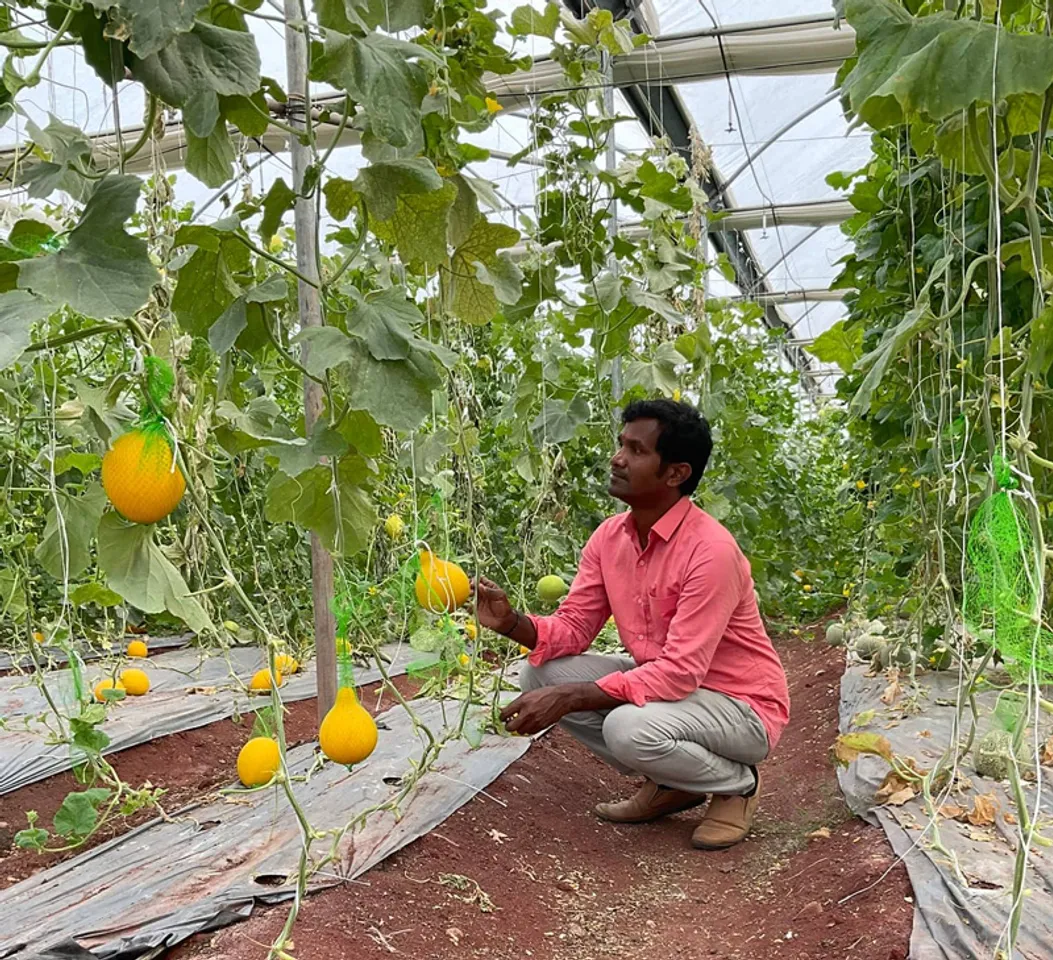 The death of a friend's six-year-old daughter from cancer in 2014 was a rude jolt for Mavuram Mallikarjun Reddy. Around the same time, people from his village were falling sick frequently. The reason behind both was the overuse of chemicals in farming. The software engineer, who then worked in Hyderabad, quit his corporate job and took up organic farming in his village in the Karimnagar district of Telangana.
"The death of my friend's daughter was a big shock for me. I realised that the growing number of diseases were caused by chemicals in the soil that was introducing toxins into our bodies," says Reddy, 41, who hails from Peddakurmapally village in Telangana.
Reddy and his wife, both software engineers, quit their jobs and returned to their village where the family had 14 acres of land.
He started cultivating paddy with the semi-organic method. He did not use pesticides or fertilisers but only micronutrients to improve soil health and productivity. He tried different methods such as drip irrigation, hybrid farming and a system of rice intensification to increase his yield. Eventually, he settled for the direct method. He subsequently took 53 acres of land on lease to expand his farm.
Also Read: Punjab: MBA farmer turns millionaire with profit of Rs6 lakh per acre from guava farming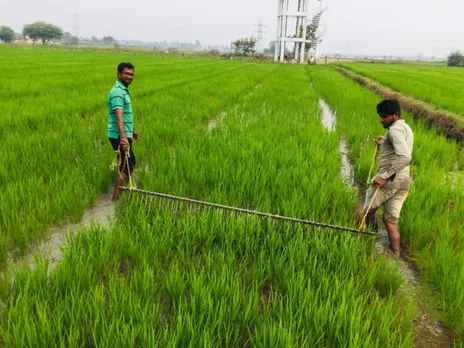 Reddy (left) cultivates rice using the direct sowing method. Pic: M M Reddy 
Today, Reddy grows 26 varieties of crops over 65 acres. He has also formed an FPO with 156 farmers to directly market the produce and cut out middlemen for getting a better price.
The organic path
Reddy says when he decided to start organic farming in 2014, he faced criticism all around. "People were asking me why I quit my job and wanted to take up farming which has no returns. But I did not want my family to eat toxin-laden food. I wanted to live in a healthy environment," he says.
Reddy went to the Krishi Vigyan Kendra in Karimnagar where he learnt about integrated farming from the scientists. He started with growing indigenous varieties of paddy on his land like brown, black and red rice.
Also Read: From 4 acres to 18 acres: How profitable organic fruit farming helped Rajasthan's Rajnish Lambha expand rapidly
Reddy uses the direct sowing method instead of transplanting because labour is very expensive. So he directly sows seeds in the soil instead of planting paddy saplings. "If I do transplantation, I would require 12 labourers for one-acre land. But in the direct sowing method, I can manage an acre by myself."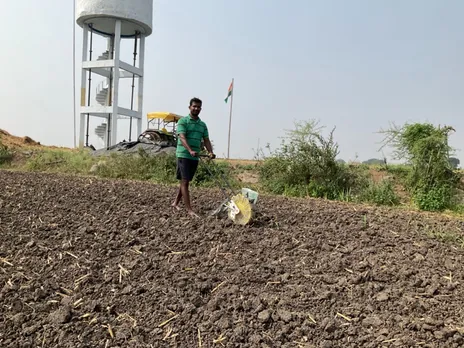 Reddy using seed machine for sowing. He does not transplant paddy and sows seeds instead. Pic: M M Reddy 
Reddy says the crop yield with the direct sowing method is the same as transplantation while crop duration is 15 days less than with transplantation. He grows 18 varieties of paddy over 12 acres of land and the yield is 28 to 30 quintals per acre.
"With conventional farming, a farmer has to invest Rs18,000-25,000 per acre per season for growing paddy. Through organic farming and direct sowing method, this amount is reduced to just Rs12,000-Rs15,000."

- Mavuram Mallikarjun Reddy
After success with paddy, Reddy took 53 acres of land on lease to grow pulses, oil seeds and ginger. He now grows 26 types of crops on his farm.
Also Read: Engineer leaves high paying job at Microsoft for Gerbera farming; creates jobs in his village
He created ponds and open wells for rainwater harvesting which has led to a 20-feet rise in the groundwater. 
His efforts to spread awareness and train other farmers on the misuse of pesticides and stubble management have also won praise.
Reddy uses a waste decomposer to break down and dissolve the stubble.
Value addition and integrated farming
Reddy sells the produce after value addition. The pulses are cleaned, sorted and packaged and sold for Rs65 per kg. He has a small wooden mill for taking out oil from oilseeds. The oil is sold for Rs350 per litre while ginger is sold in the open market at Rs35 per kg.
Reddy grows red gram on half an acre from which he gets 6 quintal yield and green gram on half an acre which yields 2 quintals per season.
Also Read: Uttar Pradesh: This CAPF officer quit job for organic farming of sandalwood; creates employment in his village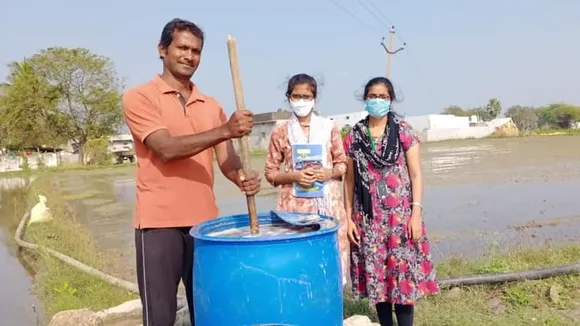 Reddy makes jeevamrit on the farm and sprays it every 15 days on crops. Pic: M M Reddy 
He grows sunflower and ginger on one acre each while sesame and groundnut are grown over half an acre each. Reddy does not use fertiliser or manure but makes jeevamrit, organic manure with cow urine, animal dung, neem leaves and jaggery. He sprays this on the crops every 15 days.
With organic farming, he has raised the organic carbon level in his soil from 0.5 percent to 1.5 percent in nine years. 
Soil organic carbon is the organic matter in soil that provides fertility, helps in nutrient retention, improves soil structure, and moisture retention and helps in the degradation of pollutants and carbon sequestration.
Reddy's organic farming practices, to get more output with less investment, have been much appreciated and followed by other farmers. With his methods, he has reduced costs and doubled his income as well as that of other farmers. 
Also Read: How this Punjab farmer makes a profit of Rs 5 lakh per acre from strawberry farming
"Regular farming requires Rs50,000 for 60 quintals of paddy. But I invest only Rs25,000 to get the same output and I earn almost Rs12 lakh per annum. Earlier, I was earning about Rs6 lakh."

- Mavuram Mallikarjun Reddy
Reddy went in for integrated farming to increase his income. Apart from crops, Reddy owns four desi cows, 40 goats, 50 hens and fishes. The goats give birth three times a year. He sells one kid for Rs1.8 lakh.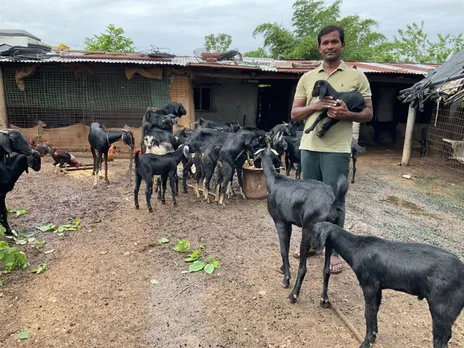 Reddy sells a goat kid for Rs 1.8 lakh. Pic: M M Reddy 
Instead of selling milk, he sells ghee for Rs3500 per litre. The hens lay 20 brown eggs daily which are sold for Rs10 per egg.
The farmers' collective
Reddy's practices have won him appreciation from many quarters.
He has won 16 state and national level awards for his progressive agriculture practices.
 He won the Indian Council of AAgricluture Research award in 2021 for cultivating various indigenous paddy varieties through organic farming. Farmers, agriculture students, scientists and researchers from the Krishi Vigyan Kendra as well as trainee IAS officers visit his to study and learn better farming techniques.
Also Read: Engineer leaves TCS for organic farming in Jharkhand; builds successful farm-to-table startup Brook N Bees
In May 2022, he launched the Deshvali Farmer Producer Organisation with 156 farmers from 16 villages. The FPO will give bargaining power to the farmers and help them get better prices for the produce as it will cut out all middlemen.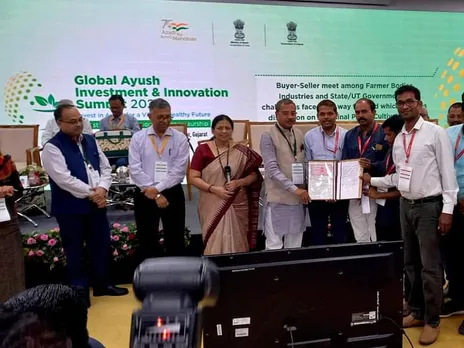 Reddy (extreme right) at the Global Ayush Investment and Innovation Summit in March 2022 in Gujarat. Pic: M M Reddy 
Reddy is the CEO of the FPO which has 12 farmers on the board of directors. The FPO will help farmers sell their produce, do value addition and realise a better price, he says.
The FPO is putting up a warehouse and processing units for rice, pulses, oil seeds and other products. The total investment will be about Rs1.5 crore but the government gives a 60 percent subsidy to farmer groups so the farmers will not have to shell out all the money themselves.
He is also setting up a website for the FPO and talks are on with transport companies for the delivery of products.
Foray into medicinal plants
The techie farmer has now started growing medicinal plants on a part of his farm. This move came after he attended the Global Ayush Investment and Innovation Summit in March 2022 in Gujarat.
Also Read: Gujarat: Dentist-turned-farmer reaps rich harvest with organic farming of dates
Here he has signed an agreement with Venkateshwara medicinal herbs company for growing medicinal plants on 100 acres of land.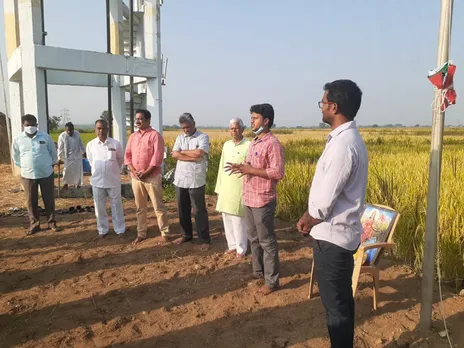 Reddy currently grows 26 varieties of crops over 65 acres. Pic: M M Reddy 
The medicinal plants will be acquired by the firm. Initially, Reddy will grow eight varieties of medicinal plants like ashwagandha, sarpagandha, nannari, vasukomu on 17 acres of land. The price for each variety is different.
Reddy is a happy man today. His hard work, vision and entrepreneurial skills have made him a successful and respected farmer. "Studies show that in India each person eats 350-400 mg of toxins in their food daily. In the US, this figure is 7 mg per day. I wanted to provide a healthy alternative to people. I am happy I can provide that through organic farming," he says.
(Urvashi Dev Rawal is a Jaipur-based journalist specialising in development, gender, and political reporting)
Also Read: Doctor in the morning, farmer in the evening: How Hyderabad's Dr SR Madhavaram earns crores from organic farming of dragon fruit; helps other growers improve incomes