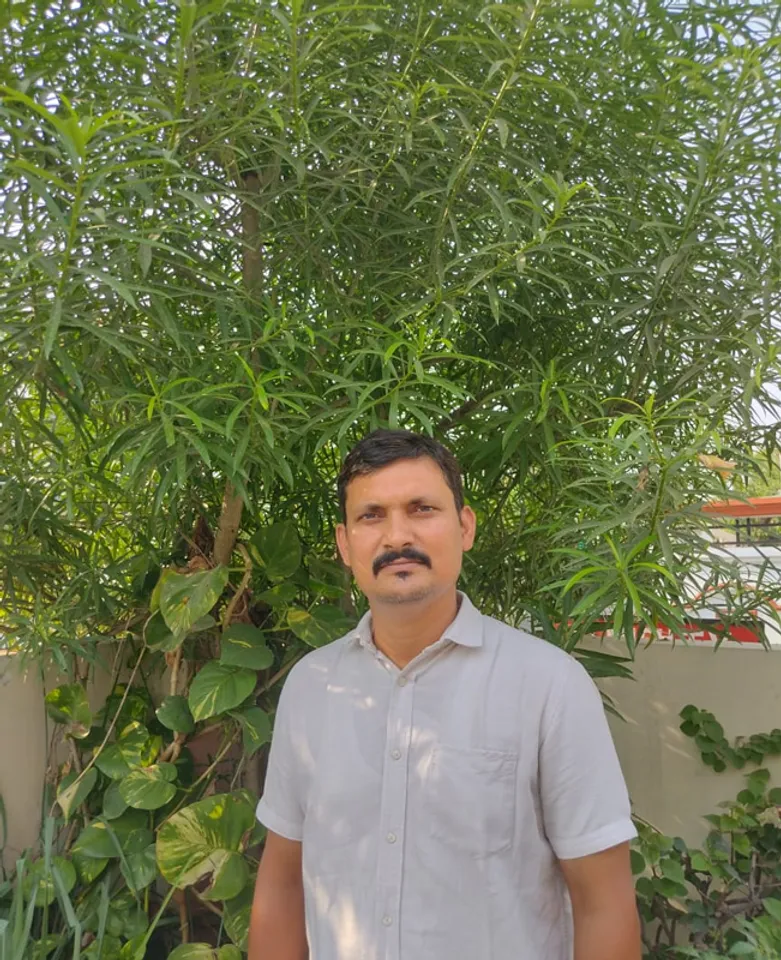 Utkrisht Pandey was posted as an assistant commandant after clearing the Central Armed Police Forces (CAPF) exam in 2008. The young officer spent the next ten years working in Bihar, Jharkhand, Assam and some other states.  
"My father was a farmer, but he always struggled to make ends meet. That is why he wanted his children to study well and secure a government job for a stable life," says Utkrisht.  
But the farmer in Utkrisht wanted to go back to his village Bhadauna in Pratapgarh, about 200km from the capital Lucknow, and make farming viable by opting for sustainable practices. When Utkrisht told his family about his plans to quit the job to take up farming, his family did not approve of it.
"I had been thinking about it for years. So I went ahead," he says, adding that soon his family members were convinced too.
Also Read: Engineer leaves TCS for organic farming in Jharkhand; builds successful farm-to-table startup Brook N Bees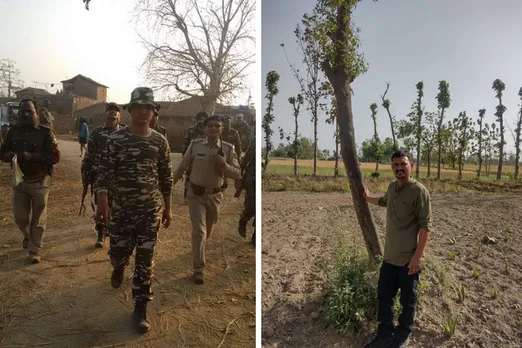 In 2018, the officer opted for Voluntary Retirement Scheme (VRS) and began to research the possibilities of sustainable agriculture on his 4-acre parental farm. He visited agriculture universities and met farmers to understand natural farming.
The fragrance of sandalwood
Utkrisht then completed a course at Bangalore's Institute of Wood Science and Technology (IWST), which is recognized as a Centre of Excellence for Sandalwood Research and Wood Science.
"I found that in Uttar Pradesh sandalwood trees are scarce. But the tree has a lot of economic value after 12 to 14 years of plantation. So I started with sandalwood cultivation," he says.
White sandalwood is indigenous to peninsular India and over 80 percent of its supply comes from Karnataka, Tamil Nadu and Kerala. Utkrisht bought seeds from IWST as well as from some private plantations in Southern India and sowed them on this farm. 
"People got to know slowly by word of mouth and they began approaching me to understand its value and also bought sandalwood saplings from me," says Utkrisht.  
Also Read: Mirzapur man leaves high-paying job at ILO to set up FPO; turnover crosses Rs 2 crore in two years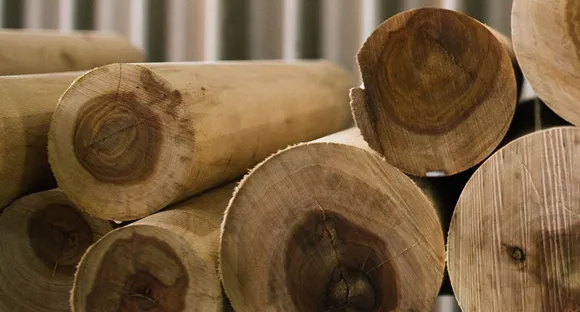 A sandalwood tree's heartwood starts to form from the eighth year onwards and it is ready for harvest after 12 to 15 years from planting.
While sandalwood plantations have largely been confined to peninsular India, the tree can be grown in any type of soil and climate except in sandy and snowy areas. White sandalwood, which Utkrisht plants, requires a soil pH of 6 to 8.  
Also Read: Engineer leaves high paying job at Microsoft for Gerbera farming; creates jobs in his village
"Farmers can ensure availability of finances for big-ticket future expenses like children's education or marriage etc. by planting now and harvesting later," he says.
Agroforestry and organic farming
For organic cultivation of sandalwood, farmers can use organic cow dung manure or vermicompost which can be made on the farm itself. Any pests or diseases that arise can be controlled with biopesticides made from chitrakmool, neem, dhatura and cow urine.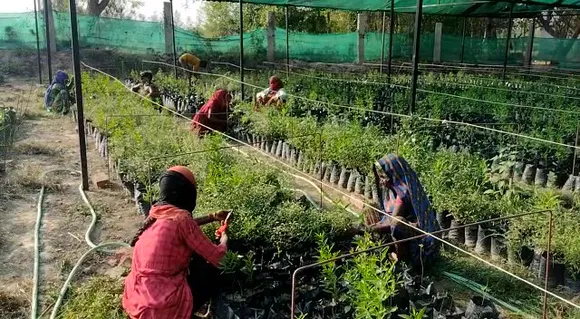 Utkrisht has planted sandalwood over 2 acres of his land and follows inter-cropping with black turmeric, which also has high demand in the market due to its medicinal properties.
"I planted sandalwood over one acre in 2018 and on another acre this year," says Utrkrisht, who harvested 18 quintals (1800kg) of black turmeric last year. Black turmeric fetches anywhere between Rs250 to 1500 per kg depending on its quality, age and buyer. He sold his produce at Rs500 per kg.
Given the production and demand, Utkrisht is planning to expand area under black turmeric cultivation by taking more land on lease this year. 
Also Read: From 4 acres to 18 acres: How profitable organic fruit farming helped Rajasthan's Rajnish Lambha expand rapidly
Utkrisht has tried his hands at the cultivation of Kalanamak rice, also known as the scented black pearl of Uttar Pradesh due to its aroma and black husk. It is grown widely in the Tarai region of Uttar Pradesh, especially in Siddharth Nagar, Gonda, and Gorakhpur districts. "We cultivated Kalanamak rice on a trial basis and it has done well for us. We will now do it on a large scale," he says.
He expects to earn Rs50 lakh a year from his agroforestry and organic farming model and also plans to make his 5-acre farmland a destination to experience rural life. 
To promote sandalwood agroforestry, Utkrisht has set up Marcelone Agrofarms. He sells sandalwood saplings at between Rs130 to Rs180 depending on their age and height. "Farmers just have to maintain the right amount of water level in well-drained soil. A temperature of 25 degrees Celsius works well for growth," he says.
"Till last year, we were making saplings from seeds only for our own use. Now, we are also selling them to interested farmers. Of the one lakh saplings we prepared, 60,000 are ready for use," he says.
Also Read: Gujarat: This school dropout farmer became a millionaire with organic farming of mango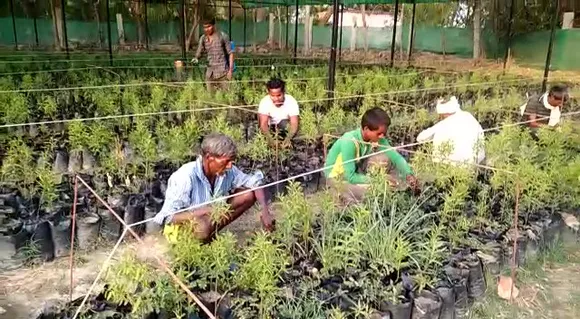 Sandalwood is forest produce and falls in the Concurrent List where the rules of the Centre as well as the State governments apply. As of now, the Uttar Pradesh Forest Act does not have any specific policy on sandalwood. It lists 29 plants that require prior permission for cultivation and/or felling but excludes sandalwood. 
The Central government is working towards a policy to bring uniformity in sandalwood cultivation and felling of its trees. Some states like Maharashtra have completely removed restrictions on the cultivation and felling of sandalwood trees.
Also Read: Punjab: MBA farmer turns millionaire with profit of Rs6 lakh per acre from guava farming
Utkrisht has also installed a 5-kilowatt solar plant to minimise the carbon footprint. "I benefitted from the government subsidy on the solar plant. I use solar power for irrigation and other works on the farm," he says.
Growing with others
He has eight regular employees on the farm, earning between Rs 7000 and Rs9000 per month. About 15 more people work at Rs300 a day.
Utkrisht wants to empower as many farmers through the adoption of low-cost and environment-friendly organic farming. "I want to make villages Aatma nirbhar (self-reliant)," he says.
Haridesh Yadav is one of the farmers who have benefitted through association with Utkrisht. He had been cultivating rice, wheat, potato, and peas on about three acres of farmland, earning about Rs 1.25 lakh annually.
Also Read: Punjab: MBA farmer turns millionaire with profit of Rs6 lakh per acre from guava farming
He shifted to organic farming two years back and his costs have come down as he uses organic farm manure instead of expensive chemical fertilisers. He has also planted about 50 sandalwood saplings and looks forward to good earnings from them soon.
Chandrabhushan Awasthi, another farmer from Banda, Uttar Pradesh, says: "For one crop one needs to spend around Rs 3500 on urea and pesticides and four crops in a year mean spending Rs14,000 annually per acre." 
"However, in organic farming, we use cow dung and urine, which costs only about Rs1,000 per acre annually," he says, adding that he shifted to organic farming two years back. Organic produce also gets 10-15 percent higher market prices, he points out.
(Bilal Khan is a Mumbai-based independent journalist. He covers grassroot issues, LGBTQ community and loves to write positive and inspiring stories.)
Also Read: Gau Organics: Engineer-turned-dairy farmer sets up Rs 8 crore organic business in Kota; helps increase incomes of other farmers