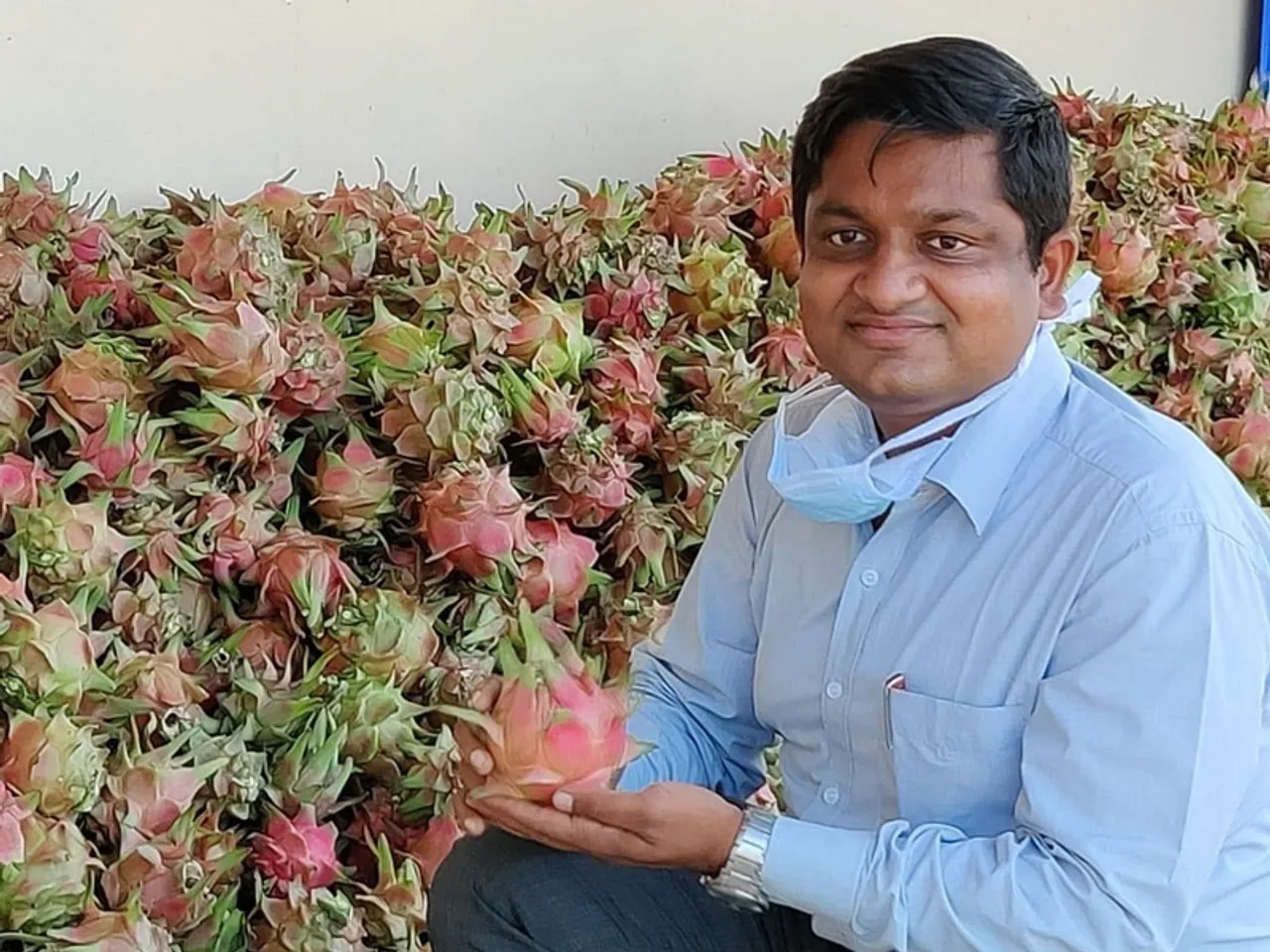 It was in 2016 that Dr Srinivasa Rao Madhavaram first tasted dragon fruit. He did not particularly like it but the fruit intrigued him. The quest to learn more about dragon fruit eventually led him to a whole new journey that made the doctor a successful farmer as well.
"I did not like the taste of the dragon fruit back then and also found it to be expensive. So I began to research about it and found out that the fruit I had eaten did not taste good because it was imported and was not fresh," says Hyderabad-based Srinivas.
He started watching YouTube videos to learn ways to cultivate it locally. "That is how my interest in dragon fruit farming developed."
Being a doctor-farmer
As a child, Srinivas enjoyed spending time with his father at his family-owned farm in Sangareddy, Telangana. Alongside, he focused on his studies to become a doctor. Both medicine and farming continue to enthral him even today. 
"I love my medical profession and I am also passionate about agriculture," says the 36-year-old, who works in a hospital in the morning and then heads to work on his farm.
Also Read: Gau Organics: Engineer-turned-dairy farmer sets up Rs 8 crore organic business in Kota; helps increase incomes of other farmers 
"I zeroed in on organic farming of dragon fruit because it is not a popular crop with farmers in India as yet."
"This provides a lot of scope for promoting its cultivation," says Srinivas.
Dragon fruit is low in calories, high in fibre and provides several vitamins and minerals. It is rich in antioxidants like flavonoids which protect cells and help strengthen the immune system.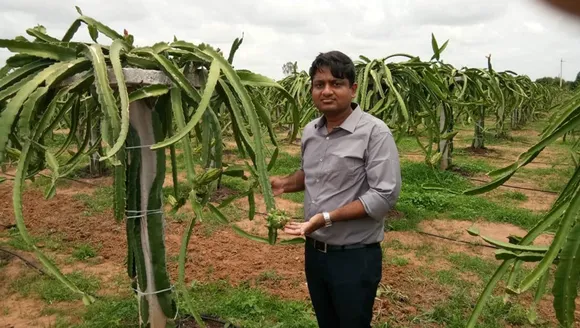 Dr Srinivas produces 100 tonnes of dragon fruit annually at his farm. The plants have a gap of 2 metres from each other and need a pole for support. Pic: Deccan Exotics 
In 2016, Srinivas, who was then working as an assistant professor in a medical college in Hyderabad, brought 1000 saplings from farmers in Maharashtra, West Bengal and other states and planted them. The experiment failed but that only made him more determined to cultivate the exotic fruit.
Also Read: How organic fruit farming made Rajasthan's Santosh Devi a millionaire
Srinivas met a lot of farmers and visited various agricultural institutes in India to gain knowledge about dragon fruit farming. "I observed that India has little expertise in this fruit's farming. So, I travelled to countries where it is grown to get in-depth knowledge."
Planting it right
He visited 13 countries over four years including Vietnam, the Philippines, Taiwan and Israel to understand the methodology of dragon fruit farming. "I felt that if those countries with less fertile soil could grow dragon fruit then it could be grown better in India," says Srinivas.
Dragon Fruit which has bright red skin with green scales is a tropical fruit native to Mexico and South America. The French bought it to Southeast Asia where it is now widely cultivated. It is also grown in the US, the Caribbean and other tropical regions.
Also Read: Punjab: MBA farmer turns millionaire with profit of Rs6 lakh per acre from guava farming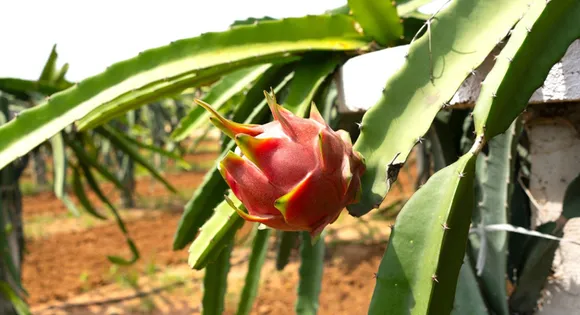 With bright red skin and green scales, dragon fruit is native to Mexico and South America. India's annual production is 12,000 tonnes. Pic: Deccan Exotics 
In SouthEast Asia, Vietnam is the highest cultivator with 65,000 hectares of land under dragon fruit cultivation, followed by China at 40,000 hectares. 
In India, dragon fruit is grown over 3,000-4,000 hectares, according to a 2021 estimate by the ICAR-National Institute of Abiotic Stress Management. The country's annual production is about 12,000 tonnes.
After acquiring knowledge about dragon fruit farming, Srinivasa again planted saplings on a patch of his farm and was successful. 
He now has 30,000 plants of 27 varieties spread over 13 acres of his 20-acre farm. The annual dragon fruit yield is 100 tonnes (one lakh kg). 
The rest of the seven acres is used for research and training on exotic fruit farming.
Srinivas explains that dragon fruit can be propagated by seeds but they take about five years to reach the fruiting stage. A faster method is to use saplings or cuttings which typically start flowering in about a year. 
It takes 30 days for a bud to become a flower and another month to become a fruit. Harvesting is done five-six times a year, he says.
Also Read: Punjab: MBA farmer turns millionaire with profit of Rs6 lakh per acre from guava farming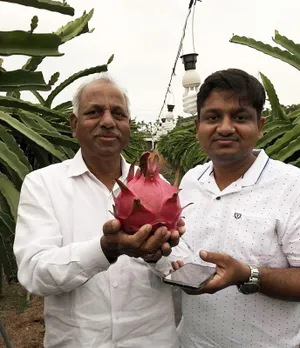 Dr Srinivas with his father. His farm has 27 varieties of dragon fruit. Pic: Deccan Exotics 
About the process of dragon fruit farming, Srinivas says farmers have to prepare the land and use organic manure to make the soil fertile. The space between two plants should be at least two metres and the plants need to be supported by concrete or wooden pillars for optimum growth. "We grow four dragon plants with one pillar," he says.
The farm requires organic manures and a good irrigation system. "Dragon fruit requires less maintenance and even heavy rain does not affect the plants," adds Srinivas.
Seeding the market
He recalls that after his first crop, he was struggling to sell it. "There was little awareness and people were sceptical about the variety of dragon fruit I was growing. It is red from the inside as well as outside. Other dragon fruits that are imported are white on the inside. Initially, I was able to sell only 40kg a day."
Also Read: From 4 acres to 18 acres: How profitable organic fruit farming helped Rajasthan's Rajnish Lambha expand rapidly
Slowly he created awareness about the fruit by conducting farmer and student visits to his farm and gradually, sales increased.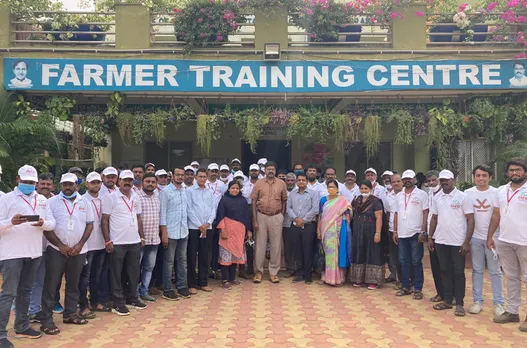 Training centre for farmers where about 5,000 growers have received training in dragon fruit farming so far. Pic: Deccan Exotics 
Initially, he started selling to supermarkets and fruit stores in Hyderabad. 
He now sells online and gets orders from all across India, earning about Rs 1.5 crore annually.
The fruits are transported by road and also airlifted. He also cultivates ten varieties of custard apple and avocado on the farm. 
Training farmers
In 2017, Srinivas started a Farmer Producer Organisation called Deccan Exotics to encourage farmers to grow dragon fruit and earn better. He holds free training sessions for farmers and also provides them assistance through audio and video calls.
Also Read: Engineer leaves high paying job at Microsoft for Gerbera farming; creates jobs in his village
Deccan Exotics provides seedlings, farming consultancy, post-harvest management to farmers and also the buyback of their produce, which saves them from the hassles of marketing.
He says he has trained about 5,000 farmers across India so far. Of these, around 1,000 are practising dragon fruit farming. 
Jamini Krishna, a farmer from West Bengal who took training from Srinivas, is happy with the experience. His family was growing tea on 35 acres of farmland. However, it was not profitable and they were looking to switch to some other crop. Krishna came across Dr Srinivas's videos and enrolled for his training in 2021.

Dr Srinivas addressing visitors at his farm. Pic: Deccan Exotics 
He then invested Rs16 lakh in preparing the soil, installing pillars and buying 2000 saplings. 
"With a single pillar, you can achieve a yield of 10kg. I used 2.5 acres of land for dragon farming and installed 500 poles," says Krishna.
The first harvest in May 2022 yielded 2 quintals of dragon fruits. "I sold the fruit for Rs 300 per kg in the city market," he says.
Farmer Namal Singh from Assam took training from Deccan Exotics in 2019 and began growing dragon fruit on 4 bighas of his 16 bigha tea garden. He has planted 12,000 saplings and harvested 6 tonnes so far.
"I sell the fruit for Rs 250kg per kg. I keep getting tips from Dr Srinivas through phone calls and video calls now and then," says Namal. He now plans to start manufacturing value-added products in tie-up with the state government.
(Bilal Khan is a Mumbai-based independent journalist. He covers grassroot issues, LGBTQ community and loves to write positive and inspiring stories.)
Also Read: Uttar Pradesh: This CAPF officer quit job for organic farming of sandalwood; creates employment in his village