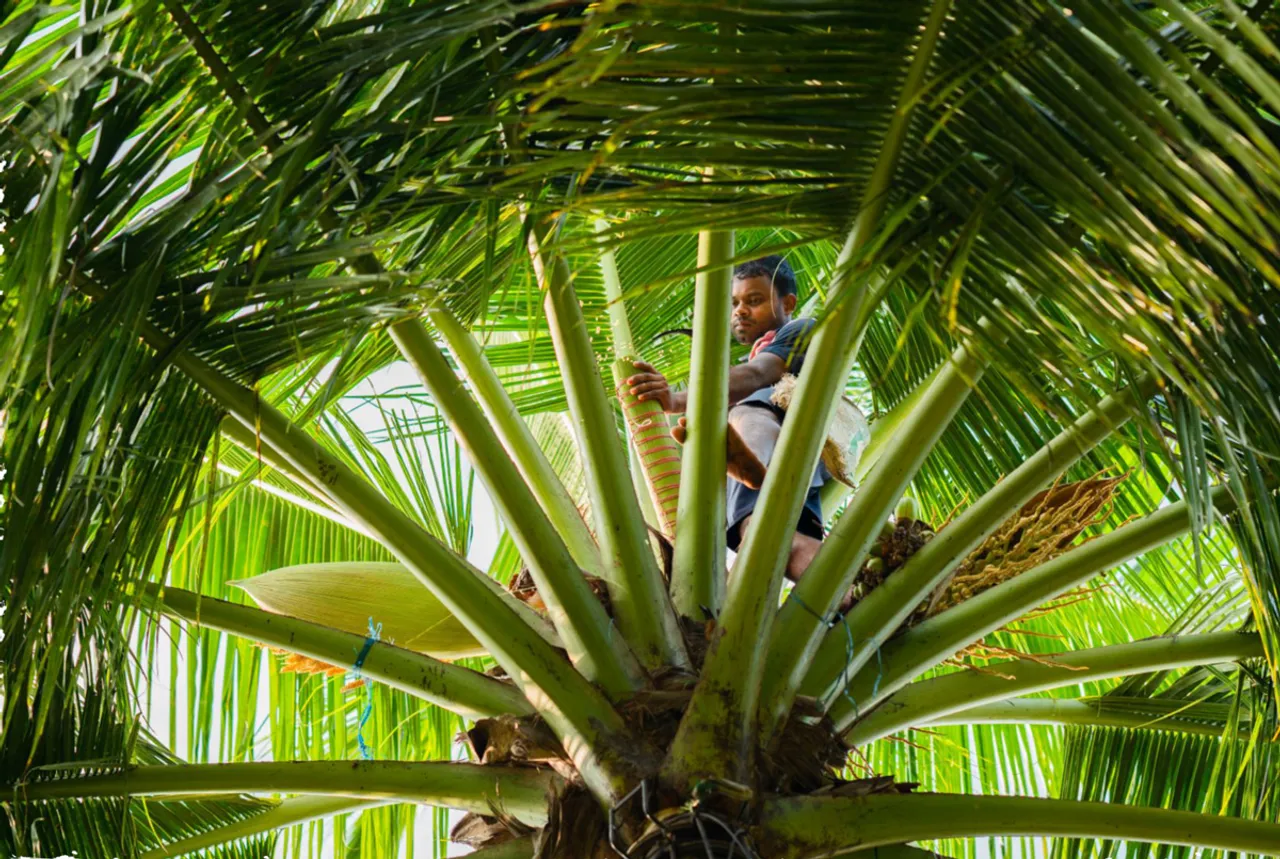 On the foothills of the Western Ghats in Goa, the Naik family has been practising organic cultivation of coconut, areca nut, fruits and spices for over three decades. They produce around 80 products on their Nanu Farms by processing the farm output. But the most interesting aspect of Nanu Farms is the per acre revenue from organic coconut farming – Rs 42 lakh per year!
This staggering revenue, however, was not achieved in a day. The family went through trials and tribulations before reaching this stage. The family patriarch, Krishna Naik, now 100 years old, started farming in the 1960s and earned well. 
However, by the late 1980s, he realised that the use of chemical sprays and fertilisers had eroded the fertility of the soil and the yield from coconut trees and other fruit-bearing plants was dwindling. He and his three sons -- Pravas Naik, Narayan Naik and Sandesh Naik – decided to switch to organic farming.
Organic farming – the solution for farmers' problems
"We shifted to organic farming in 1992. Before that, we were using chemicals. We all decided that we should go back to the old farming methods which were used when there were no chemicals," says Pravas Naik, Chairman of Krishna Plantations, the company which owns Nanu Farms.
Instead of dividing the 250-acre farmland between his sons, Krishna Naik set up the plantation company, in which all three sons own a stake. His grandsons, Niresh, Naval and Sankalp, are also directors of the company.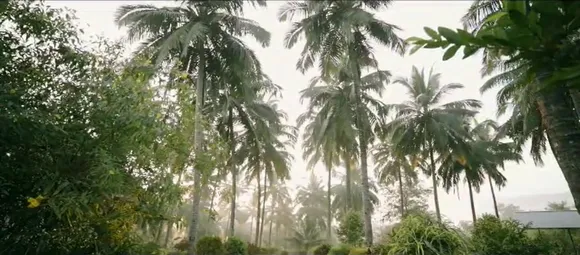 Nanu Farms uses organic manure, made with coco peat (coir fibre from coconut husk), dried cow dung, vermicompost and activated carbon or charcoal powder, which is rich in nitrogen and rhizobium. The farm received organic certification from Lacon India Ltd in 2017.
Of the total farmland, coconut is cultivated on 100 acres while the rest is used for growing spices, fruits, areca nuts and other produce.
Also Read: How this teacher-turned-farmer created a profitable food forest in Shamli
Naik says the price of coconut has been around Rs 25 per piece for many years. In fact, farmers get only about Rs 6 per piece without government support. "Processing coconut on the farm to create value-added products like coconut sugar, jaggery and oil is necessary to earn more from the produce," he says.
But most importantly, to make coconut farming profitable, farmers should sell the inflorescence sap (Kalparasa) collected from the immature coconut flower head, says Naik. 
This unfermented coconut sap is rich in proteins, minerals, antioxidants and vitamins and has a low glycemic index between 35 and 40. The presence of lauric acid and monolaurin found only in human milk, makes it a good health drink. This natural energy booster sells at Rs 100 to Rs 130 per litre.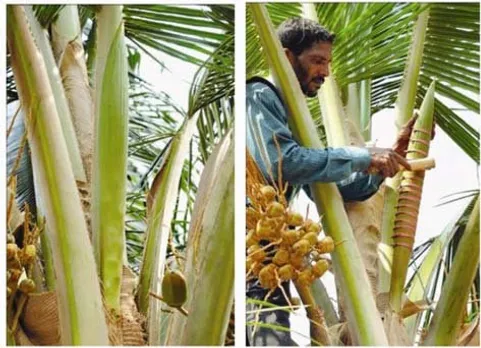 The sap, Kalparasa, is often confused with 'neera' which refers to the fermented sap or toddy in Karnataka, north Maharashtra and Kerala. In Tamil Nadu, the fresh sap is also called 'neera'.
Economics of Rs 42 lakh revenue per acre
Abhijeet, who manages the farm's operations and marketing, says farmers cannot make more than Rs 5 lakh or Rs 6 lakh per acre by selling only coconuts but the fresh coconut sap can increase their income manifold. 
However, Kalparasa extraction and preservation is a very scientific process. "Plus, when you extract sap from the flower, you lose the coconut," he says.
The fresh sap starts fermenting 20 minutes after extraction and is spoilt in 45 minutes. "If you try pasteurisation, the taste changes and it is no longer sweet," Abhijeet says.
Also Read: Bhopal's Math teacher turned farmer-entrepreneur earns in crores through organic farming, helps 1400 farmers double their incomes
So at Nanu Farms, the cut on the flower is made and the sap is collected in a steel vessel of a specific grade, which is placed inside an ice box. The first cut is made by farm workers, who climb the tree, at 3 am. After 7-8 hours, more than one-litre sap is collected," he says.
"At 2 pm, they remove the box, make another cut in the same spadix and collect more sap," he says. 
"We sell Kalparasa directly. It is bottled, frozen and sold in ice state. Preserved at minus 2 degrees, it can last 15 days and has to be consumed within minutes after opening," Abhijeet adds.
From one tree, one spadix can give 2.5 litres to 3 litres of sap in one day. Even at an average rate of Rs 100 per litre, one coconut tree will generate Rs 250 per day.
In one acre, it is a standard practice to plant 70 to 75 trees with a space of 6.5 m X 6.5 m between them. "From 70 plants, even if you extract 2 litres per day, you get 140 litres of fresh coconut sap daily. At an average rate of Rs 100 per litre, the daily income is Rs 14,000 from plants on an acre," Abhijeet explains.

Now assuming, the farmer extracts sap only 300 days in a year, the annual income will still be Rs 42 lakh from one acre of coconut plantation, he adds.
After deducting labour and operational costs, a farmer can make a neat profit of at least Rs 25 lakh to Rs 28 lakh from an acre.
But at Nanu Farms, revenues don't stop at just the sap. "If you make other value-added products, the income can go up to even Rs 60 lakh per acre," he says.
Making the most out of coconut
The Naiks have put a machine, which cost them Rs 4 lakh, to make coconut sugar. The fresh sap is turned into sugar by heating the liquid until water evaporates to make sugar granules. "About 100 litres of sap yields 15 kg of coconut sugar," Abhijeet says.
This sugar is sold in bulk by Nanu Farms at around Rs 1,000 per kg. Resellers, however, sell it at anywhere between Rs 1300 to Rs 3,500 per kg. "Apart from sugar, we also make coconut vinegar. The sap is stored naturally for four months to make coconut sap vinegar," he says.
Coconut sap vinegar is a traditional Portuguese item (Portuguese ruled Goa from 1510 to 1961) and is sold for Rs 100 per litre in bulk. It is loaded with probiotics and has no expiry date.
"We market our products through our store and other outlets in Goa under the Nanu Farms brand. However, we are more focused on farming operations and most of the products are bought in bulk by vendors who resell them under their brand," Abhijeet explains.
Virgin coconut oil is also extracted from fresh coconut milk obtained from mature organic coconuts. The shredded pieces are put in a milk extractor after which the milk oozes out. "We use the cold press method to extract virgin coconut oil from this milk," Abhijeet explains.
Also Read: Mirzapur man leaves high-paying job at ILO to set up FPO; turnover crosses Rs 2 crore in two years
Apart from this, Nanu Farms uses coconuts, which are more than 12 months old, to extract oil. Unlike virgin coconut oil, this oil is extracted from dried coconut kernel, also called 'copra'. After extraction, the outer cover is shredded to make coco peat, which is added to manure and the fibre is sold to the fibre industry.
Coco peat has a high water retention capacity, doesn't decompose and also increases soil fertility. 
It is bought by farmers from western and southern India from areas where the soil has poor percolation ability. 
Nanu Farms is also home to 70 cows, which provide not only milk but also cow dung, which is used to make the manure sold under the Nanu Farms brand. This manure is sold in bags of 400 kgs, each priced at Rs 600 (Rs 15 per kg). 
Seedlings at Nanu Nursery
The farm also has a nursery, which sells coconut seedlings at Rs 550 per plant. Naik says, "Through cross-pollination, we have developed TxD, a hybrid coconut variety, which is a very profitable option for farmers."
Unlike other varieties, which mostly give fruits after 7-8 years, TxD starts fruiting in the fourth year and gives over 250 coconuts annually after five years. The coconut water content is around 500 ml per piece. 
Though the coconut size is medium, the yield is much higher than India's national average of 150 coconuts per tree annually. And the tree gives around 3 litres of sap every day.
Naik adds that the tree has a life span of over 60 years, unlike other varieties which last 30 to 35 years. The Nanu Nursery also sells coconut seedlings of Malaysian Yellow Dwarf and Pure Benaulim varieties apart from areca nut, cashew nut and pepper. 
Also Read: Bengaluru techie-turned-farmer creates profitable ecospace with 350 forgotten foods and herbs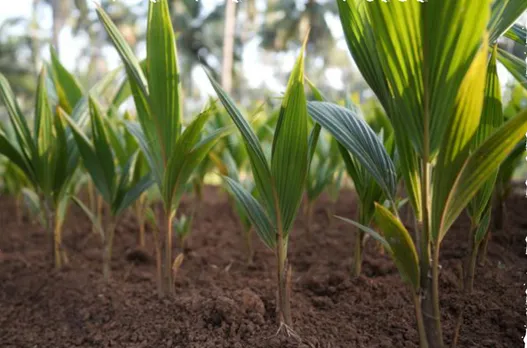 "We give manure to farmers who buy coconut seedlings from us. We sell a minimum of 110 seedlings (to make farming viable with scale) and provide training to farmers who buy from us. We also send our farm workers to work with them for a better understanding of best organic farming practices," says Abhijeet.
Nanu Farms sells around 80 to 90 tonnes of manure during the six months when it can dry the cow dung. The rest of the time, moisture or rain makes it difficult to prepare the manure.
The farm uses sprinkler and drip irrigation methods to make optimal use of water. Apart from coconut, papaya, bananas, pineapple, vanilla, pepper, cinnamon and nutmeg are also grown at Nanu Farms.
"We have not taken any subsidy and are self-funded. We employ around 120 people, including locals and those from outside Goa. We provide them with housing facilities as well," Naik says.
(Rashmi Pratap is a Mumbai-based journalist specialising in business, financial and socio-economic reporting)
Also Read: Punjab: Farmer turns barren land into organic farm of wheat, fruits and vegetables