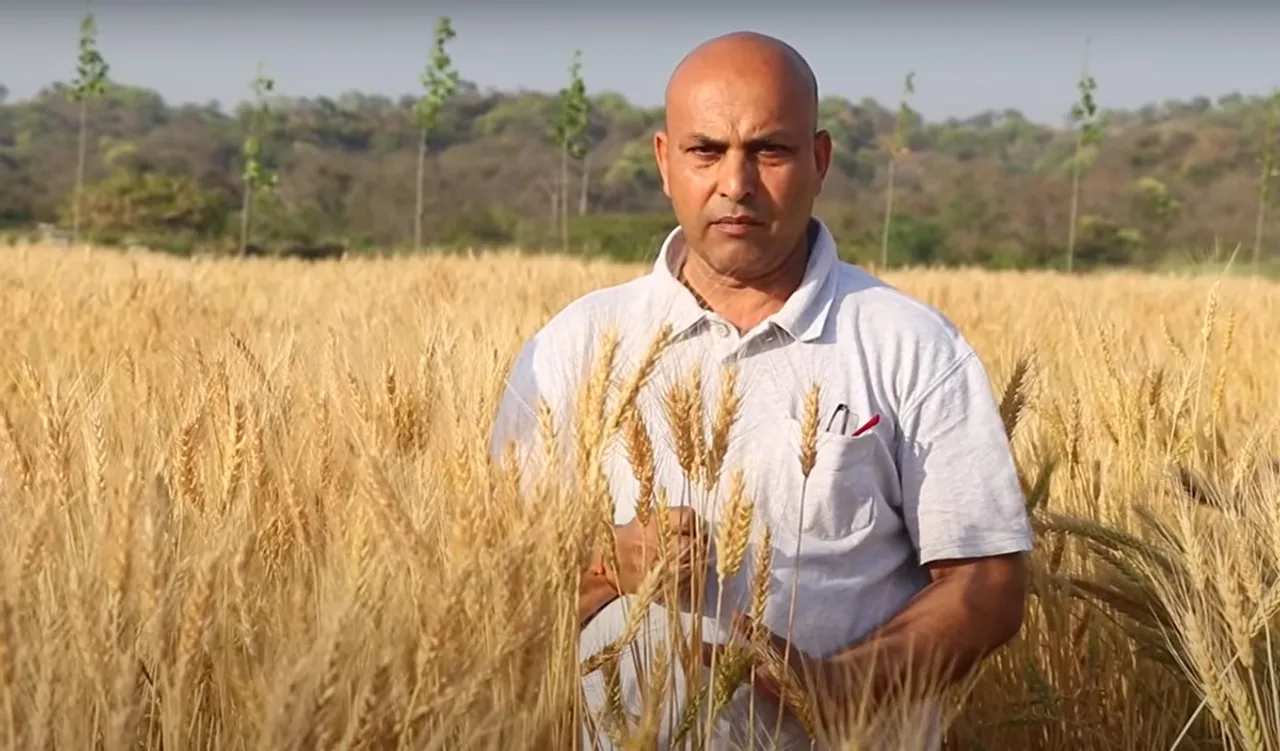 Umed Singh, who owned a stone-crushing business in Haryana, went to Delhi in 2008 to get his car repaired. Some of the car parts to be replaced were not available locally and Umed had a lot of free time on hand when the work was being done at a workshop on Roshanara Road in Northeast Delhi.
While taking a walk around the area, he saw a small shop around 600 metres away from the workshop. The shopkeeper there was selling organic manure and saplings and seeds of vegetables and flowers.
"Belonging to a farmers' family, I have always loved farming and gardening. The moment I saw the shop, I bought saplings of cucumber, bottle gourd, bitter gourd, pumpkin and some other plants. It was summer, and the perfect time for growing these vegetables," Umed says.
Also Read: Bengaluru techie-turned-farmer creates profitable ecospace with 350 forgotten foods and herbs
Once back home in Bhiwani, Haryana, he planted the saplings in old drums, buckets and pots on his terrace. He used only soil and cow dung manure and the results were good. "The plants did very well, giving us good produce for household consumption.  Gradually, I started increasing the area under my terrace gardening," says Umed, who is known for harvesting a single cauliflower of 4 kg and a tomato of 750 gm from his terrace garden.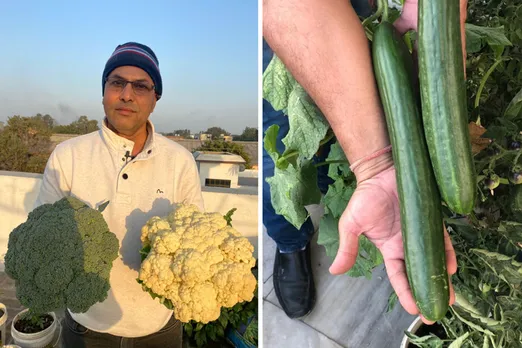 As the word spread about his organic terrace gardening, people began asking him for advice. He also started a YouTube channel to promote organic gardening methods, which are low-cost and provide chemical-free food for the household.
From terrace gardening to farming
Thanks to his extensive experience in organic gardening, Umed is now developing a barren land in Bachhohi, Hoshiarpur, Punjab, into an organic farm. And he is not using any chemical inputs.
Umed's organic farming in Punjab is in sharp contrast to the overall trend in the state, which tops the chart in per hectare consumption of chemical fertilisers in the country. For 2021-22, the consumption of fertilisers in Punjab stood at 253.94 kg per hectare against the national average of 146.7 kg per hectare.
But Umed says they not only render the soil infertile but also play havoc with human health. "We began work here in November 2020 and that 400-acre land is now a lush green farm where not a drop of pesticide has ever been used," says Umed. 
Out of the 400 acres, he is currently cultivating organic wheat on 100 acres. 
On another 100 acres, he is growing fruits and vegetables including mango, guava, lemon, kinnu, sweet lime, apple, peach, broccoli, coriander, spinach, turnip, cauliflower, cabbage and other items.
Also Read: How this management graduate made organic lemon farming profitable in Raebareli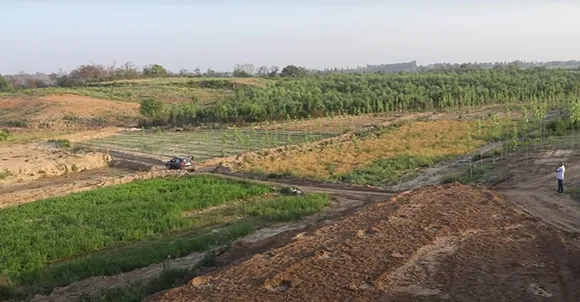 The land has an uneven topography where some parts are raised while others are a few feet below the ground level. "It had some shrubs but no trees. Though the land was uneven, I did not try to even it out as I wanted it to be as natural as possible." Umed says.
"We spent six months just clearing the land of wild growth and making it cultivable. We bought about 600 trolleys of cow dung manure to make the soil fertile," he says.
By the time the initial cow dung manure was added to the land, Umed set up a cow shed because cow dung and urine are essential components of organic farming. It is more economical to own cows than buy outside inputs because the milk can also be sold besides preparing value-added products like ghee and cottage cheese (paneer).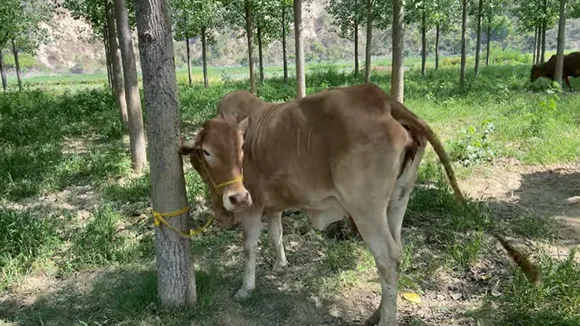 "Now we have 20 desi (indigenous) cows on the farm," says Umed. He spent the next few months strengthening the soil's fertility by adding jeevamrit -- a liquid manure made using ghee, cow dung, cow urine, lemon, jaggery, turmeric powder and gram flour. It is a natural source of nitrogen, potassium, phosphorous and other nutrients required for crops.
"I now make 'advance jeevamrit', which contains other ingredients as well including moringa (drumstick) leaves, beetroot, ash gourd etc. We are spraying it every day even now," he says.
Umed makes a batch of 80,000 litres of liquid manure at a time and uses around 5,000 litres per day on the farm. 
Also Read: How Madhya Pradesh homemaker Lalita Mukati became millionaire organic farmer
Farming roots
His family also owns 22.5 acres of land in Jhajjar, Haryana, which is currently being cultivated by his younger brother. Umed spent three years, from 1988 to 1991, working on his family farm before setting up a brick kiln and then moving on to the stone crusher business in 1998.
Since childhood, and later while working on the farm for three years, he also observed other farmers nearby. Most of them are making losses due to heavy use of chemical fertilisers over the years, he says.
"As joint family system disintegrated and landholdings became smaller, people started using more urea to outdo each other. Plus, it is more convenient to empty some bags of chemicals on the land and then sit back and relax," he says.
"Organic farming requires manual de-weeding and making on-farm inputs instead of adding chemicals. And most farmers don't want to put in that effort," Umed says.
"Now due to the use of chemicals, so much salt has been stored in soils that it is difficult to bring them back to the natural fertile state where they require less water and produce healthy food," he says.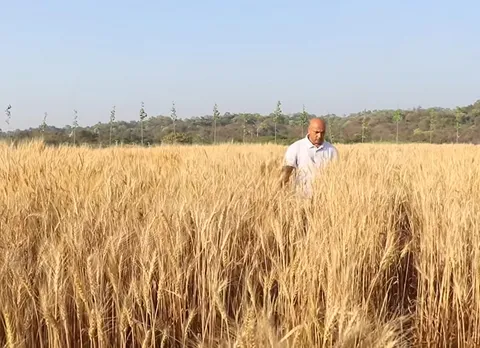 That's why he chose land which has not been touched by chemicals. For irrigation, he has set up a drip system to minimise the wastage of water and ensure that it reaches the root of the plants. "The liquid manure is applied to plants through drip irrigation pipes as well as through foliar spray," he says. 
Also Read: Rajasthan: School dropout woman farmer develops new carrot variety using ghee & honey; earns over Rs 50 lakh annually
The per acre cost of setting up the drip system was around Rs 20,000 and work on around 200 acres has been completed.
Organic farming Vs traditional farming
Wheat is the biggest crop on the farm and Umed is growing both native and hybrid varieties right now. 
The native wheat grown includes C-306, Sona Moti and Bansi varieties. The output is around 15 quintals (1500 kg) per acre through only organic inputs. 
He sells organic wheat at Rs 70 per kg, which is more than double the market rate of around Rs 30 per kg for inorganic wheat. 
Moreover, the costs of organic farming are less than half of that of chemical farming, making it profitable. "Conventional farming requires the application of urea, potash, di-ammonium phosphate, zinc sulphate, weedicides, pesticides, and fertilisers, which add to the costs for the farmer. In contrast, organic inputs cost a fraction of chemicals and can be made using materials available on the farm," he says.
Also Read: How this Rajasthan farmer went from zero to millions with organic farming using his own manures & sprays
For this wheat crop, which is ready in about 110 days, Umed sprays organic liquid fertilizer every 15 days once the growth period starts. "It is sprayed only four to five times during the wheat growth period. Our produce is good quality and has a high nutrient value because of the inputs we use," he says.
"Micronutrients are lacking in crops grown with chemicals. Organic farming gives you what is a complete food," he adds. 
The native wheat variety grown using organic inputs grows up to 5 to 6 feet at Umed's farm. "The plants are strong and can withstand winds unlike hybrid varieties grown using chemical inputs," he points out.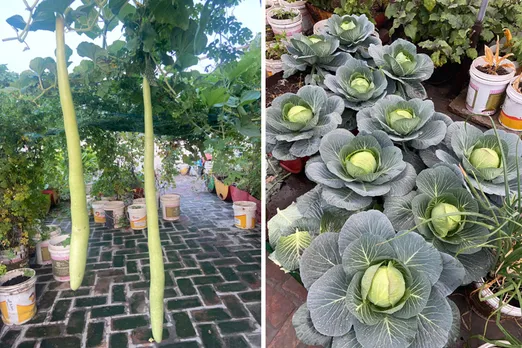 Fruits like guava are planted at a distance of 15 feet from each other while the gap is 20 feet for mango. "Between fruit trees, I plant vegetables to maximize the land usage," he says.
Umed is also conserving native seeds of fruits, vegetables and seeds. 
"We prepare the native seeds ourselves and I also share them for free with other farmers who are interested in indigenous varieties. I multiply the seeds and give them to others," says Umed, who has over 70 native varieties of tomatoes in his seed heirloom.
Currently, Umed sells fruits, vegetables and wheat within the NCR (national capital region) through WhatsApp groups. The ghee made on the farm is also sold for Rs 2500 to Rs 3000 per kg. "Our main target is the Delhi-Gurugram market. We provide a weekly supply of vegetables and other farm produce. The spare produce is sold in the market," he adds.
Now, he is working on bringing more area under crop cultivation. "It is a work in progress and I am hopeful about covering more ground soon," Umed says. 
(Rashmi Pratap is a Mumbai-based journalist specialising in business, financial and socio-economic reporting)
Also Read: How this teacher-turned-farmer created a profitable food forest in Shamli