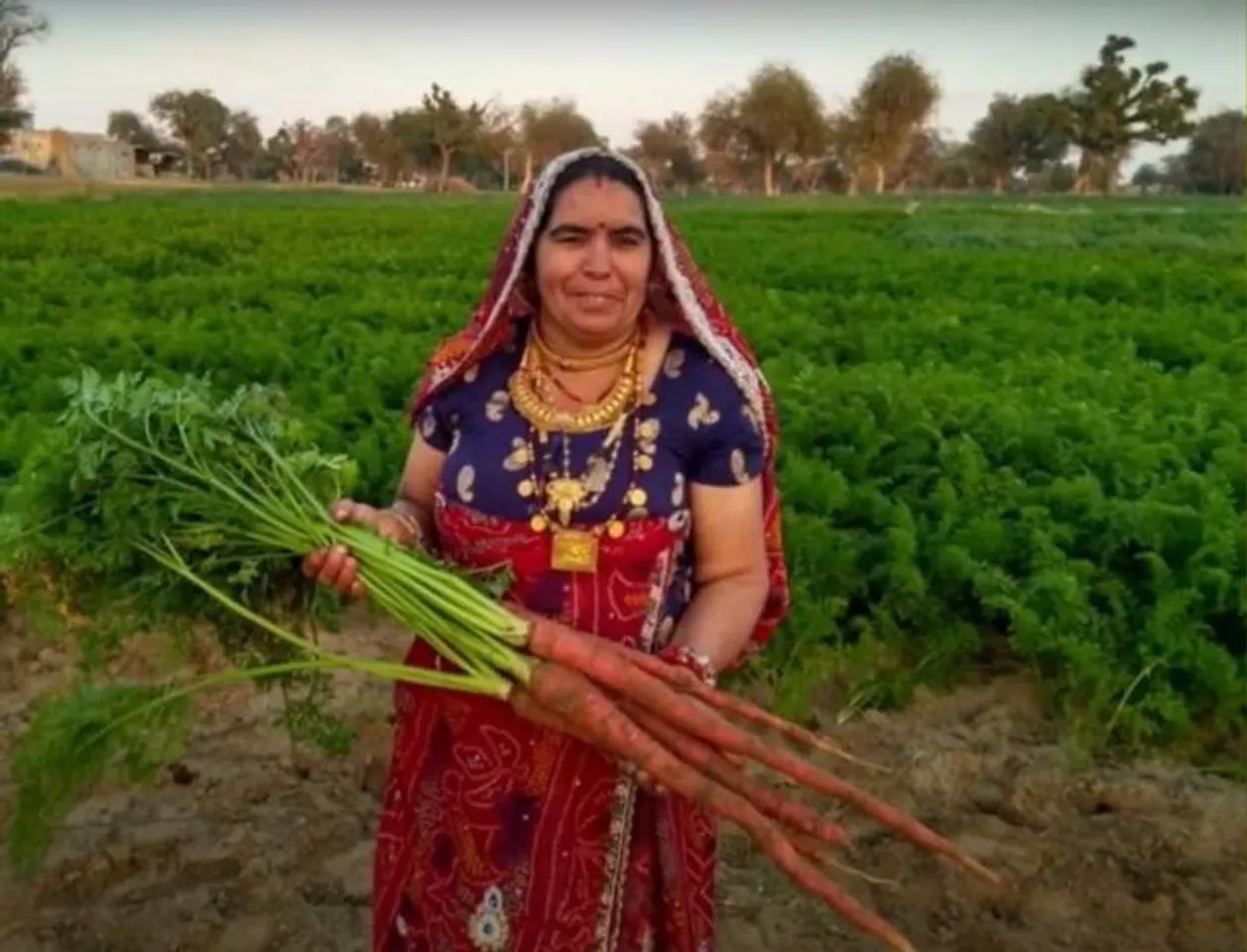 Santosh Pachar from the Sikar district of Rajasthan was not inclined to academics and studied only till Class 8. She had a keen interest in farming since childhood. Her sharp mind and innovative thinking led her to develop a new variety of carrots which has won her the President's award twice.
Today, Santosh, 50, is not only growing this carrot variety on her farm but also exporting its seeds.
This carrot has a distinct vermillion colour and is softer, sweeter and longer than other varieties. She is in the process of patenting her new carrot variety named SPL 101.
Also Read: This MBA quit Wipro for organic kiwi farming in Himachal; turns barren land into profitable orchard 
Santosh's husband Jhabarmal says Anil Gupta, former IIM-A professor and vice chair at the National Innovation Foundation is helping them in the patenting process.
National Innovation Foundation in Ahmedabad is an autonomous body of the Department of Science and Technology that was set up to encourage and develop grassroots technological innovations and traditional knowledge.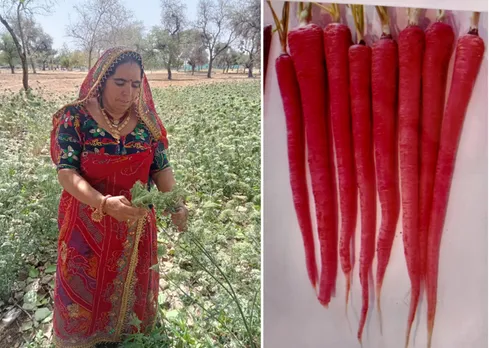 Once faced with impoverishment, Santosh today has an annual income of upwards of Rs50 lakh. But her success did not come easy. It took hard work and out-of-the-box thinking.
A new beginning with honey and ghee
In 2002, Santosh and Jhabarmal started living separately from their family in Jigar Badi village. They got 5 acres as their share of the family land on which they were growing vegetables like wheat, methi, onion, carrot, garlic, coriander, pomegranate and papaya but the returns were minuscule.
Also Read: How Madhya Pradesh homemaker Lalita Mukati became millionaire organic farmer
"We were thinking of ways to curtail our expenses and keep up our production," she adds.
At that time, the Morarka Foundation, a not-for-profit voluntary organisation, held a training session for organic farming near Santosh's village. She attended the training and learnt about organic farming.
After that, Santosh switched to organic farming on her land. Her input costs became almost zero and her production stabilized. She used natural fertilisers such as vermicompost and organic pesticides made from neem oil, cow dung, cow urine and other medicinal plants to keep the soil and plants healthy.
Also Read: Gujarat: This school dropout farmer became a millionaire with organic farming of mango
Quick thinking and innovation
At the same time in 2002, Santosh met Mahaveer Singh, a farmer from Akwa village in Sikar who was doing carrot farming. Jhabarmal says Mahaveer Singh told them the importance of spacing between the crops to get better yield. Singh's carrots were thick, long and with a good vermilion colour.
"We grew carrots too. But our carrots were thin and crooked with forked roots. They found few buyers," recalls Santosh.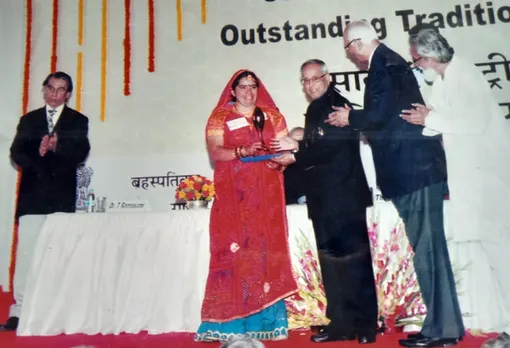 Santosh then set about trying to improve the quality of her produce. "People said that chemicals sprayed into the soil and on crops are harmful as they seep into the crops. So, I thought that if beneficial ingredients are added to the seeds, they will also take in the nourishment," she says.
Santosh used her intellect and came up with a new technique.
She then dried the seeds in the shade and separated them. The results of her experiment were not immediately visible. But Santosh used the seeds from her first crop and sowed them again in a small patch of land.
Also Read: Punjab: MBA farmer turns millionaire with profit of Rs6 lakh per acre from guava farming
She followed this technique till 2010 which stabilised the characteristics of the carrots. After several harvests, the carrots improved in shape, size, colour and taste.
"The carrots were larger between 1.5 to 2 feet, straight with less forked roots, vermilion in colour and tasted sweet," she says.
Santosh says she shared her results with experts and officials from the Krishi Vigyan Kendra and agriculture department who tested them and declared them as a new variety. The seeds were named SPL 101, she says.
Commercial success and a helping hand
Santosh and her husband started selling the carrots in the market. Parallelly, she and her husband created a nursery to prepare saplings from seeds. Seeing her output, farmers from near and far started demanding the seeds.
Also Read: Engineer leaves TCS for organic farming in Jharkhand; builds successful farm-to-table startup Brook N Bees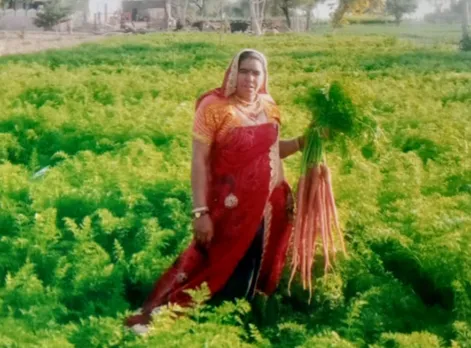 Santosh says earlier they earned about Rs3-4 lakh per year from farming. But with the new variety, their income doubled. With time, it has increased 20 times.
She grows carrots on 2 acres and onions on 2 acres of land. She grows the desi variety of onion which is sweeter and has a thicker skin than the other varieties. The carrot yield is 350-400 quintals per acre while that of the onion is 180-200 quintals per acre. She uses the sprinkler irrigation system on the farm.
The price of crops in the mandi (wholesale market) varies as per the production. For carrots, the rate is between Rs10-40 per kg while for onions it is Rs5-25 per kg.
Also Read: Banker during the week, farmer over the weekend: How Prateek Sharma built Bhopal's Green & Grains organic grocery start-up
But Santosh and her husband have also developed a clientele outside of the mandi and sell carrots at Rs25 per kg.
On the remaining land, she grows some wheat for her family's consumption. She also owns a few cows and buffalos and sells milk as an additional source of income.
Santosh received the President's Award in 2013 and 2017 for her innovative practices. She has shared her learning practices with other farmers, especially women. She has been invited by the Krishi Vigyan Kendras and gram panchayats and farmers' bodies to share her knowledge. She says she has trained over 5,000 farmers to grow carrots through organic farming.
Organic growth
With her never say die attitude, Santosh is currently working on growing the business. She has formed a company, Santosh Pachar Limited (SPL) and is in the process of registering it so she can make the business more structured.
Also Read: How organic fruit farming made Rajasthan's Santosh Devi a millionaire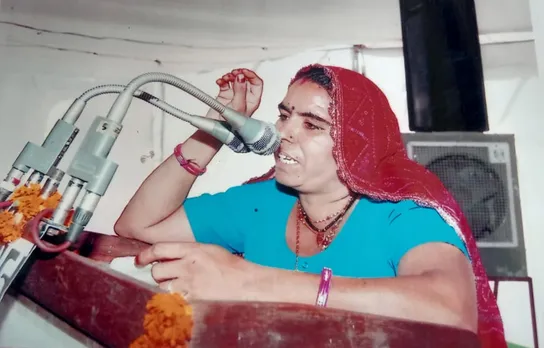 Given the education handicap of Santosh and her husband, she says her son plans to join the agriculture business to take it forward.
Santosh has two children, both of whom are well-educated. Her daughter is in the Rajasthan police while her son currently works in a private firm in Jaipur.
Despite her achievements, Santosh remains unassuming. "Given my limited education and limited exposure, who would have thought I would develop a new crop variety and be awarded by the president? I feel happy about my success. But I feel happier that I have been able to teach other farmers and help them become financially independent," she says.
"I urge more farmers to adopt organic farming which is sustainable and less expensive than chemical-based farming," she signs off.
(Urvashi Dev Rawal is a Jaipur-based journalist specialising in development, gender, and political reporting)
Also Read: From 4 acres to 18 acres: How profitable organic fruit farming helped Rajasthan's Rajnish Lambha expand rapidly