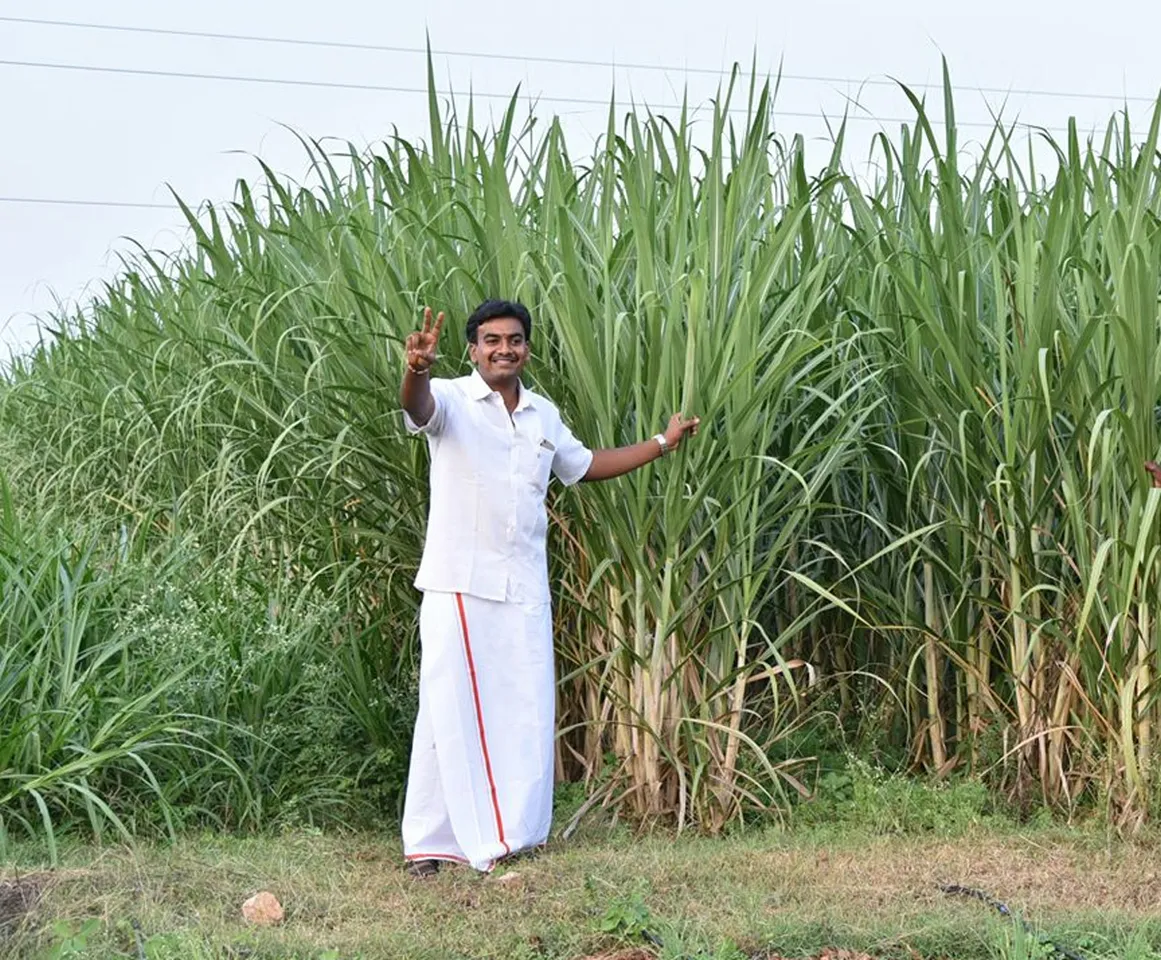 When Amogh S Jagthap was appearing for his MBA final exams in 2016, he would travel from his college in Bengaluru to his home in Mandya near Mysuru almost every second day. His mother, a professor at a local college, had decided to evaluate the answer sheets of her students at the family's farm and he did not want to leave her alone there.
"I used to travel from Bengaluru to Mandya (a distance of 100 km) almost every other day to be with my mother. While spending time at the farm, I would also think about my future. I did not want to work like a machine in an office from morning to night after my MBA," says Amogh.
Natural farming to improve soil fertility
During that one month, he saw the farm more closely than ever before. His father, also a professor, had bought the 20-acre land in 2007 but half of it (around 10 acres) was barren, with wild grasses and some shrubs growing on it. On the other 10 acres, Amogh's father had planted around 250 coconut trees and other plants.
"I knew I would not enjoy sitting in a closed-door corporate office for the rest of my life. Plus the whole idea of converting barren land into a fertile farm seemed exciting," he says.
So after completing his MBA in sales and marketing, Amogh did not even appear for any job interviews. He straightaway began the work to convert that 10-acre piece of infertile land into a natural farm. "I am a strong believer and practitioner of zero budget natural farming (ZBNF), where no external inputs are used," he says.
Renowned agriculturist Subhash Palekar pioneered the concept of ZBNF based on his extensive research on the natural growth of trees in forests. ZBNF is now known as Subhash Palekar Natural Farming (SPNF).
The four pillars of natural farming are the use of Jeevamrut, Bijamrita, Waaphasa (soil aeration) and Acchadana (mulching).
"So as per the principles of natural farming, I first cleaned up the land and applied a lot of cow dung to the soil. I also bought a machine to powder the leaves of coconut and turned it into manure. It has high carbon content which is good for soil fertility," he says.
Repeated application of cow dung, manure and Jeevamrut helped rejuvenate the soil. "My annual net profit from farm operations is around Rs30lakh now," he says.
Also Read: How this Maharashtra engineer-farmer earns Rs 3.6 lakh per acre through organic sugarcane farming
Making the most of the land
Amogh opted for multi-cropping and integrated farming to make the maximum utilization of land. Multi-cropping involves cultivating two or more crops during the same growing season. It increases agricultural production, diversifies crop mix, and reduces pests and weeds. "Around 100 products are produced on my farm right now," he says.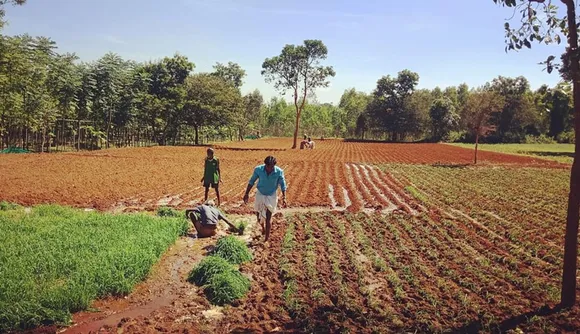 Sugarcane and papaya can be cultivated at the same time, which Amogh also opted for. The sugarcane crop is ready in about 11-12 months and papaya takes up little space in the sugarcane field. That's why growing papaya along with sugarcane gives double benefits. "I plant multiple crops like banana, sugarcane and papaya at the same time. They can be monetized within a year," he says.
As part of multi-cropping, he also plants Green gram, African black beans, horse gram and peanuts according to season. They help in nitrogen fixation, boosting soil fertility.
He planted 4,000 areca nut (supari) saplings of which 200 are yielding crops right now. "The rest of the 3,800 trees will be ready for yielding in about two-three years," he says.
Also Read: Andhra MBA quits job to foray into millet business, earns in crores
Amogh's farm also has 80 mango trees besides jackfruit, chikoo, cherry, tamarind, star fruit, jamun, dragon fruit etc. He grows vegetables only for domestic consumption and not for commercial sale. "Vegetables are highly perishable and zero-budget natural farming cannot be applied to veggies economically. I grow them in limited quantities for my family's use," he says.
Integrated farming
The other important part of Amogh's strategy has been integrated farming, which involves cultivating crops, livestock, aquaculture and poultry to achieve sustainable agricultural growth.
Amogh owns five indigenous cows of the Hallikar and Kakrej breeds. "I sell their milk, butter and ghee," he says. 
Alongside, their cow dung and urine are used to make Jeevamrut. Agriculturist Palekar, who received the Padma Shri for his work in 2016, concluded that an acre of land requires 10 kg of dung from indigenous cows per month. Since cow dung per day from a single animal is around 11 kg, one cow can help make 30 acres of land fertile.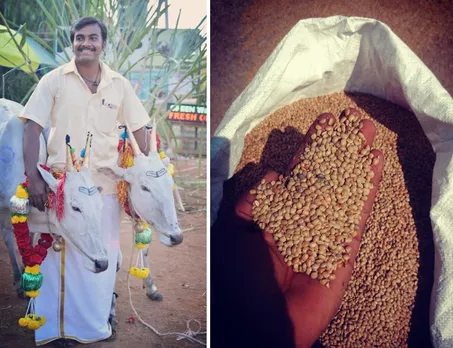 "I apply Jeevamrut through drip irrigation pipes. I also have a sprinkler system. I use machines wherever possible as the investment in machines has cut my dependence on labour. I employ only three workers and I am actively involved in all the operations," Amogh says.
He also prepares vermicompost on the farm using cow dung. "I have five vermicompost beds, which are enough to meet the farm's requirements," he says.
Also Read: From truck driver to millet millionaire, how this Telangana farmer built a successful food business
Amogh has a poultry farm with Naati Murgi (country chicken) which is reared organically.
"About 60 eggs are produced daily and our free range eggs sell at Rs 15 per piece, bringing a monthly income of Rs27,000," he says.
Free-range eggs contain less cholesterol, less saturated fat, more vitamins, and twice as much omega-3 fatty acids as other eggs. That's why they are priced higher. "It requires one year for this chicken to grow. I don't give any special feed to hens and they are not sold for meat," he says.
More importantly, these eggs also form the base for a pesticide used on the farm. "I mix neem oil with eggs and it is sprayed for controlling pests. It forms a shiny plastic-like layer on the plant, preventing attacks from pests," he says.
Farmer to consumer
Early on, Amogh realised the importance of building his own marketing linkages to avoid dependence on middlemen or wholesale markets, where farmers are prone to price fluctuations. "I have two outlets under the Green Valley brand – one in Mandya and another in Bengaluru. Through these outlets, I sell my fresh produce like fruits, eggs, tender coconut, sugarcane juice, peanuts and other farm produce," he says, adding that the daily income from each outlet is Rs10,000.
Also Read: How this engineer-MBA farmer earns Rs70 per kg for wheat grown through natural farming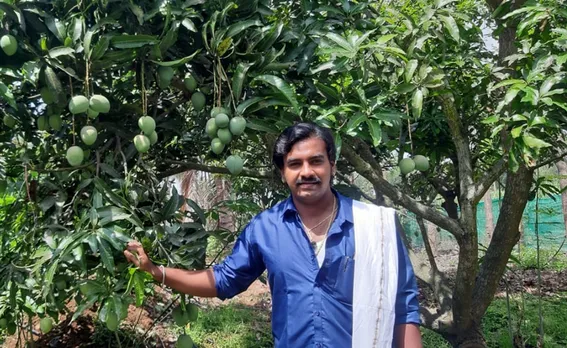 The tender coconuts are packaged on the farm and sold under the Cocoman brand through the two outlets. Besides, Amogh receives orders on WhatsApp and phone and delivers them to Mysuru, Bengaluru and Mandya. 
"We sell around 20 litres of tender coconut water per day and I earn Rs 60,000 per month from sales. Once the other 350 trees are also ready (in the next two years), our earnings from tender coconut will more than double," he points out.
The sugarcane yield is also processed to prepare juice and natural jaggery in both powdered and block form. Sugarcane juice is packaged industrially and sold through the outlets besides being home-delivered in the three cities. "We also put up machines at offices of multinational corporations where our staff extracts fresh juice. We charge Rs 25 per cup of fresh juice, earning Rs 20,000 from each corporate outlet," he says.
Since natural farming creates an ecosystem that supports biodiversity, Amogh's farm is home to honey bees. He has also put up bee boxes and sells natural honey.
For now, Amogh is focused on processing more farm produce for selling directly through the two outlets. And he is waiting for more coconut and areca nut trees to reach the production stage.
(Rashmi Pratap is a Mumbai-based journalist specialising in business, financial and socio-economic reporting)
Also Read: How this Goa family earns Rs 42 lakh per acre from organic coconut farming