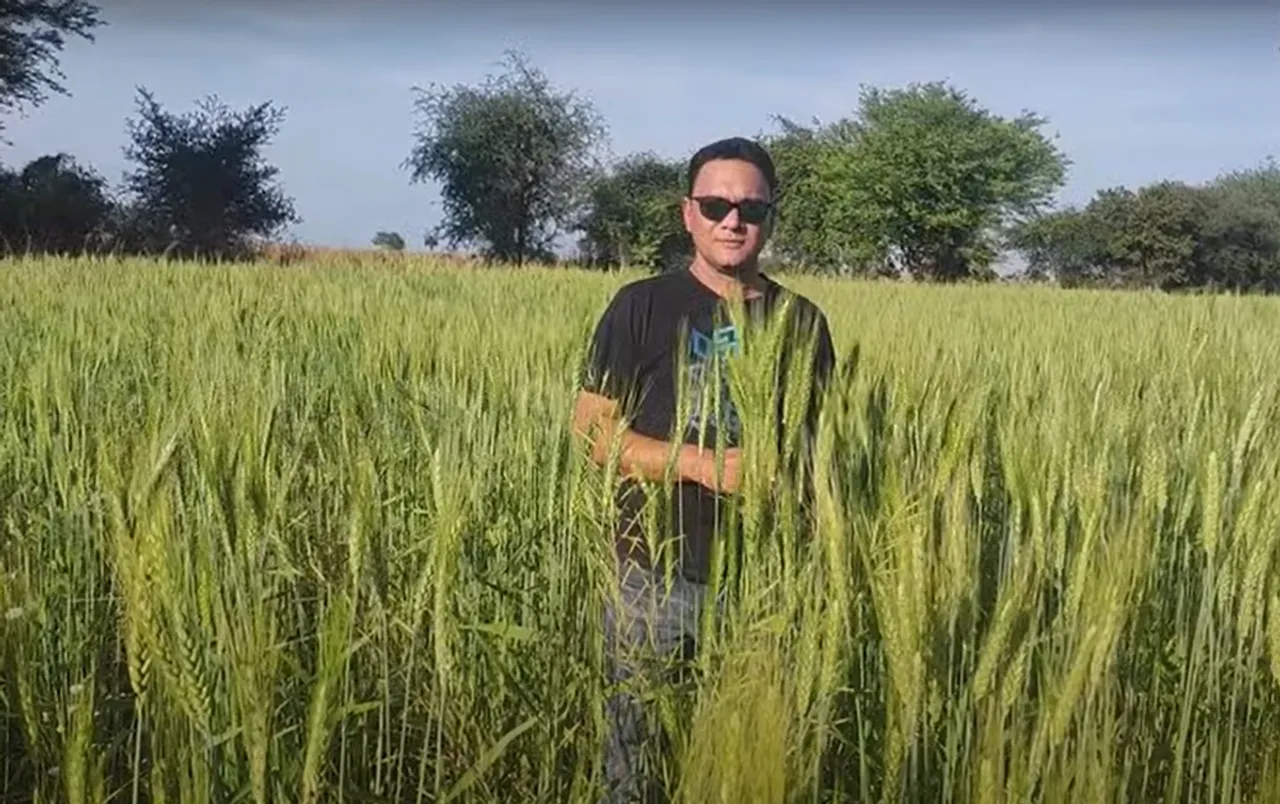 After working for over a decade in the banking sector, Sankalp Sharma could not ignore the call of the soil. His family owned 12 acres of farmland in village Chak-Mehrukhedi of Madhya Pradesh's Vidisha district and Sankalp wanted to take up farming there.
"I was moving up the corporate hierarchy but I was not enjoying my job. The passion was missing. Farming fascinated me since childhood," says Sankalp Sharma, who completed his mechanical engineering at the Bhilai Institute of Technology (BIT), Durg. He subsequently pursued an MBA from Bharati Vidyapeeth's Institute Of Management and Entrepreneurship Development.
Sankalp began his career with an engineering company in Kolkata in 2005 and then moved to Mumbai. He worked with some of India's top private sector banks including ING Vysya (now Kotak Mahindra Bank), HDFC Bank, ICICI Bank and Axis Bank.
"I quit in 2015 with the intention of taking up farming full-time. I couldn't ignore my heart's calling anymore," says Sankalp, whose Narmada Natural Farms is today an inspiration for farmers from across India.
The farm is named after his father Narmada Prasad Sharma. "In 2015, I had zero knowledge about farming and had to start from scratch. In fact, I could not differentiate between plants. My strength was my desire to learn about agriculture," he says.
Also Read:  Punjab: Farmer turns barren land into organic farm of wheat, fruits and vegetables
From traditional to natural farming
While Sankalp was inclined towards sustainable farming, his family had been growing wheat and some pulses including urad, moong and soybean using traditional methods which involved the use of chemical fertilisers and pesticides.
"I was clear that I wanted to practice natural farming that did not require any external inputs. In March 2016, I attended a six-day workshop by Shri Subhash Palekar in Indore. It gave me a solid grounding in the principles and methodology of natural farming," he says.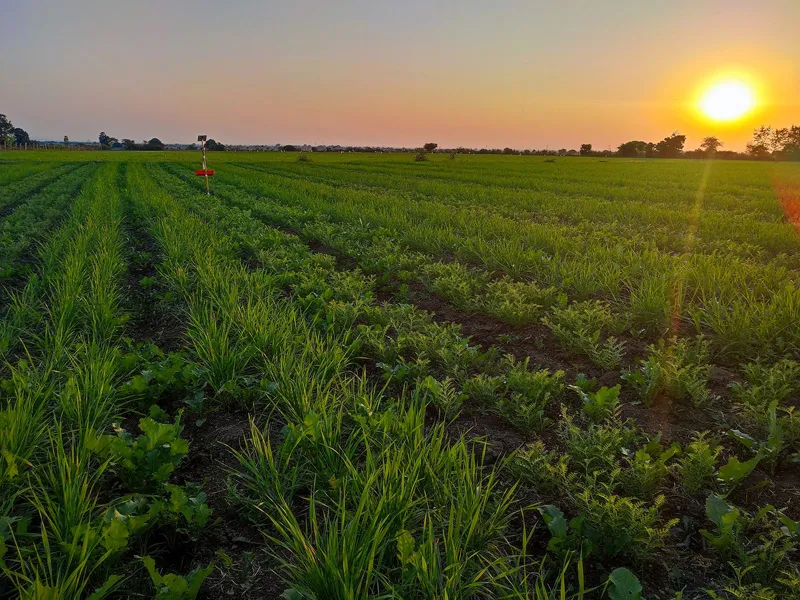 Renowned agriculturist Palekar was awarded the Padma Shri in 2016 for his work towards Zero Budget Natural Farming (ZBNF) without using pesticides. His extensive research on the natural growth of trees in forests provided the basis for ZBNF, which is now known as Subhash Palekar Natural Farming (SPNF).
Unlike organic farming, which requires external inputs like biofertilizers as well as ploughing and tilling, natural farming requires only mulching and all the inputs are prepared on the farm.
"After that workshop, I visited many model farms in and around Nagpur to get a first-hand understanding of natural farming," Sankalp says. And then, in July 2016, he began the journey to wean his farm off chemicals and pesticides.  
Sankalp followed the four principles of natural farming while making the shift from traditional farming – the use of Jeevamrut, Bijamrita, Acchadana (mulching) and Waaphasa (soil aeration). 
Jeevamrut (also Jeevamrit) is a mixture of fresh cow dung and aged cow urine from indigenous Indian cow breeds, jaggery, pulse flour, water and soil. It enriches the soil. "I applied it on our farm extensively. Using Jeevamrut in generous amounts is important to bring back the natural fertility of the soil," he says.
Also Read: Bengaluru techie-turned-farmer creates profitable ecospace with 350 forgotten foods and herbs
Bijamrita (also Beejamarut) is used for seed treatment and is made using cow dung, cow urine, soil and a pinch of limestone. Mulching involves covering the soil with mulches like bark, leaves and other organic material to protect the top fertile layer. Waaphasa is the building up of humus to increase soil aeration.
Learning from mistakes
"I started with vegetable farming and while the crop was good, I incurred huge losses. Since it was my first season, I didn't have market linkages. At the time of harvest, the wholesale rate for tomatoes was 50 paise to Rs2 per kg. I learnt the first lesson that I need to develop my own market to sell directly," he says.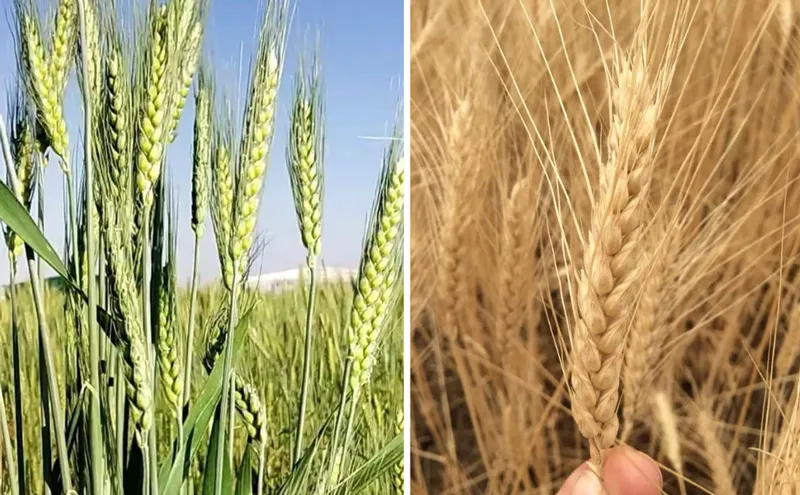 But awareness among people about using naturally-grown foods was low in Vidisha, which is about 70km from Bhopal. "While Bhopal was a better market where customers were aware of the benefits of natural food, it was logistically difficult to carry vegetables to that market," Sankalp says.
So later that year, in the 2016 Rabi season, he decided to cultivate wheat, which has a long shelf life and the wastage and spoilage in its transportation is negligible. "From the winter of 2016, I started growing Sharbati C306 wheat on five acres of land," he says.
Also Read: Bhopal's Math teacher turned farmer-entrepreneur earns in crores through organic farming, helps 1400 farmers double their incomes
Sharbati is the most premium wheat grown in India and is also known as the golden grain because of its colour. With a slightly sweet taste, this variety is packed with essential nutrients and Vitamins B and E. Sehore, Vidisha and Ashoknagar are among the major Sharbati cultivation districts in Madhya Pradesh.
Along with wheat, Sankalp also planted chana or gram for two reasons – one, to ensure that production did not dip too much after transitioning to natural farming. And two, growing wheat with a legume, like gram, makes the soil nitrogen-rich.
"Sharbati wheat is well-known across India and I got a great response to the naturally-grown variety. I started giving the wheat to my friends and acquaintances, who appreciated the product," he says.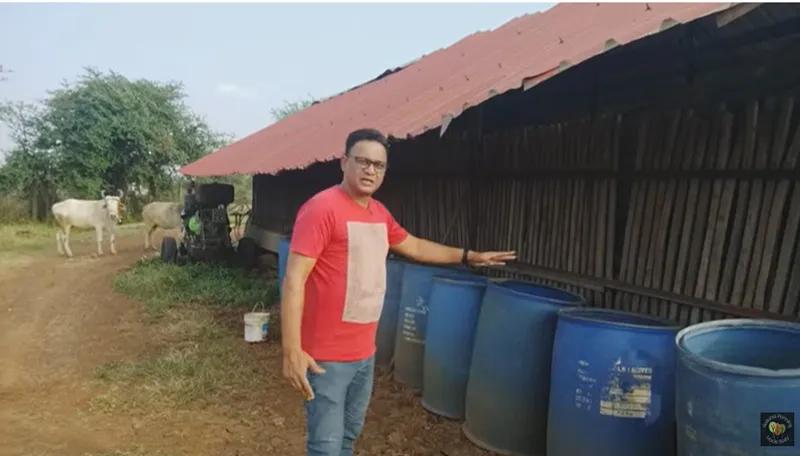 From the next season, he started growing pulses like urad and soybean as well. Today, Sankalp cultivates three varieties of wheat – Sharbati, Khapli and Bansi. "Around 80 percent of the land is used for cultivation of Sharbati. Our buyers are end users as well as farmers who use it as seeds," he says.
How to shift to natural farming
This year, the wholesale rate for Sharbati in the mandis of Vidisha was between Rs3200 and Rs4500 per quintal (100 kg) depending on the grain's size and shine. Sankalp sold his produce for Rs7000 per quintal, which is almost double the market rate. Even his Bansi variety sells at Rs6,000 per quintal while the rate for Khapli is around Rs10,000 per quintal.
"My clients across India are willing to pay for natural and chemical-free wheat. I use Facebook, Instagram and Twitter for sales and we supply across India by trucks," he says, adding that the booking for buying Narmada Natural Farms' wheat closes around April-end or the first week of May. The production is around 12 to 13 quintals per acre, which is the average for Sharbati in the region.
Also Read: How this teacher-turned-farmer created a profitable food forest in Shamli
He has adopted five cows which provide cow dung and cow urine, which is integral to natural farming. His advice to farmers is to have the basic infrastructure in place before switching over to natural farming. "Whenever you begin, set up a well-ventilated cow shed and have the infrastructure for making Jeevamrit, compost etc. and a reliable irrigation facility."
Sankalp treats the wheat seeds with Bijamrut before sowing. "I also apply Jeevamrit in generous amounts to the soil -- around 1,000 litres per acre is the ideal dose per season," he says.
The advantage of Sharbati is that it requires irrigation only once, around 35-40 days after sowing. If needed, water can be applied after 80 to 90 days too but it's mostly not the case, says Sankalp, who has flood, drip and sprinkler irrigation on the farm. He uses mulching to retain the fertility of the topsoil and tilling is not done. The grains are graded and sorted using machines and then packed.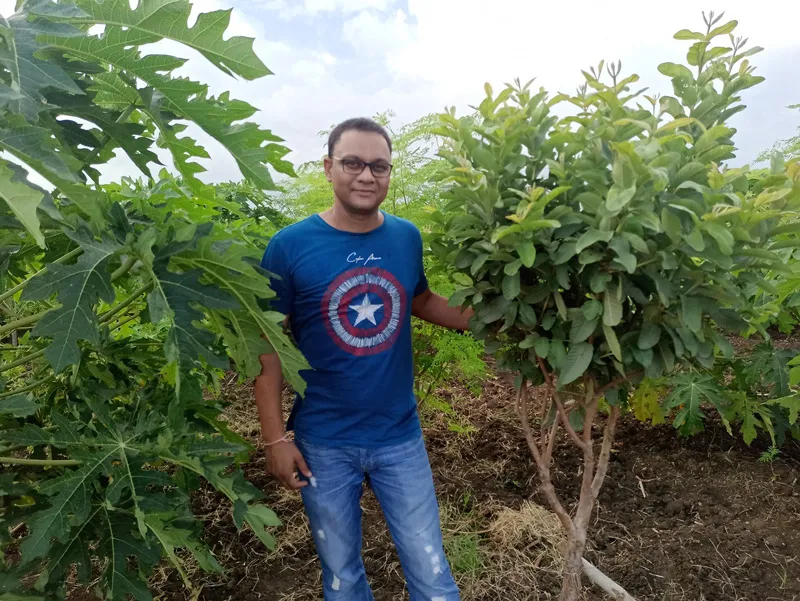 In 2018, he started Subhash Palekar's five-layer orchard on half an acre of land. "It was an experiment to grow many crops in one umbrella. I currently grow guava, which is the main crop, along with papaya, moringa (drumstick), arhar or toor dal and other fruits. I am currently using the produce for domestic consumption and hope to expand this orchard to five acres going forward," he says.
He also grows chana, masoor, urad, moong, soyabean, onion and garlic on the farm.
Last year, Sankalp also grew Sunhemp and Dhaincha, which are used for green manuring. But the remarkable thing about Sankalp's agriculture journey so far has been the sharing of his knowledge with other fellow farmers through his YouTube channel, seminars and webinars. His YouTube channel – Natural Farming Made Easy – has over 78,000 subscribers.
Those interested in his webinars have to enrol by paying a fee. Most of his webinar slots are sold out within 24 hours. "I have a WhatsApp group of my students and I provide them lifetime support when it comes to natural farming," he says.
Sankalp Sharma can be contacted at narmadanaturalfarms@gmail.com
(Rashmi Pratap is a Mumbai-based journalist specialising in business, financial and socio-economic reporting)
Also Read: How this Goa family earns Rs 42 lakh per acre from organic coconut farming