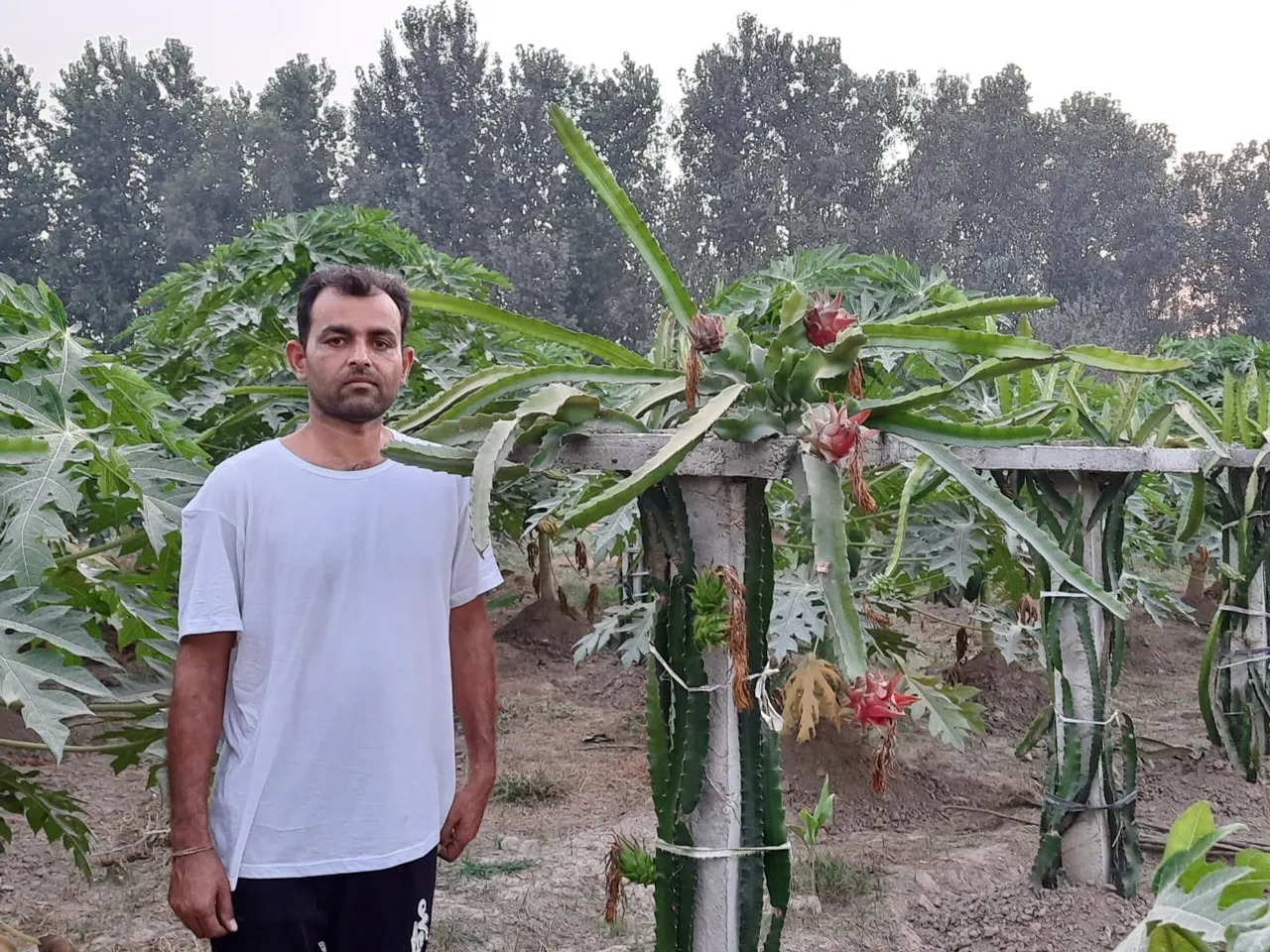 After completing his B.Tech in Civil Engineering from Punjab Technical University, Raman Salaria began working for the Delhi Metro Rail Corporation (DMRC) in the national capital. His parents lived in the Jangal Village of Punjab's Pathankot district. Raman would visit them twice or thrice a month as the distance between his village and workplace was around 400 km.
After a stint of 15 years at the DMRC project, Raman was asked to move to Mumbai in 2018. His next assignment was the Mumbai Metro project. As he prepared for moving to the megalopolis, he told his parents to accompany him because commuting from Mumbai to Pathankot (around 2,000 km) would not be easy.
"My parents were ageing, in their seventies, and I did not want to be away from them for months together. I am their only child. So I suggested they move with me to Mumbai. But they refused," he says.
Raman's father, a farmer, cultivated wheat and rice using traditional chemical-based farming on their 12-acre farm. "The only option for me was to shift to Punjab and look for a job locally. But the quality of work and salaries being offered here were not commensurate with my work experience. So I decided to take up farming, which my father had been doing all his life," he says.
The cancer of chemical farming
Raman wanted to practice multiple cropping, especially fruits, instead of growing only wheat and rice. And he did not want to pursue chemical-based farming, which has poisoned the soil, water and environment in Punjab's villages, increasing the health risks for the people.
"It is well known that chemical pesticides and insecticides used in agriculture in Punjab are one of the major reasons behind the cancer cases in the state," he says. 
Punjab reported 38,636 cancer cases in 2020 and the number went up to 40,435 in 2022, according to the National Cancer Registry Programme of the Indian Council of Medical Research (ICMR). The Abohar-Jodhpur Express has been infamously dubbed as the 'cancer train' because it carries cancer patients from Bathinda in Punjab to Bikaner in Rajasthan where they get treated in a government hospital.
Also Read: Doctor in the morning, farmer in the evening: How Hyderabad's Dr SR Madhavaram earns crores from organic farming of dragon fruit; helps other growers improve incomes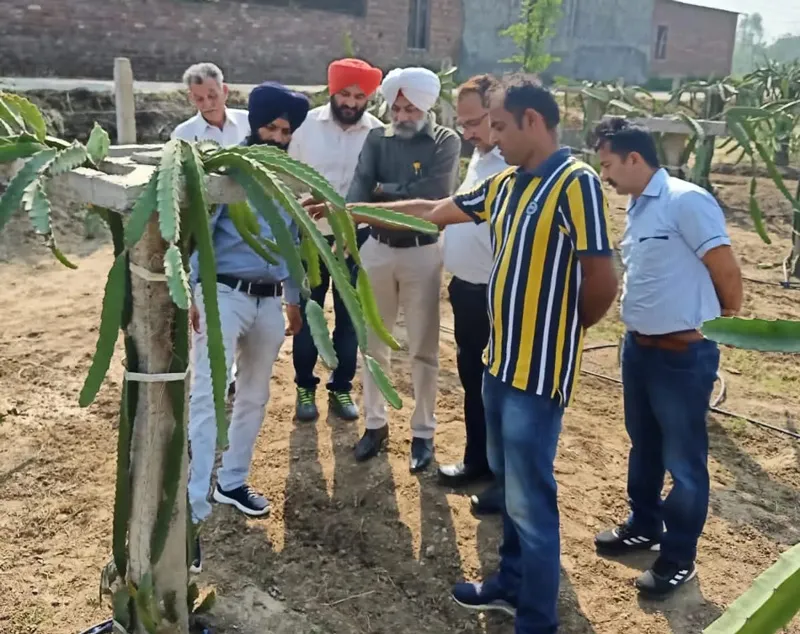 "I decided to practice organic farming so that I could convey the message of being health conscious and environmentally responsible at the same time," Raman says.
Pesticide usage in Punjab is around 1.3 kg per hectare. This is nearly three times the national average of 414 gm, according to government data. 
Punjab is followed by Haryana at 1.15 kg of pesticides per hectare and Maharashtra at 750 gm per hectare.
Raman says it was unfeasible to convert the whole 12-acre farm to multi-cropping and organic farming in one attempt because he did not have a warehouse to store the fresh produce. In contrast, wheat and rice can be stored easily. "I decided to opt for a gradual shift to organic agriculture. I began with 1.5 acres and have converted four acres so far," he says.
Also Read: How this Maharashtra engineer-farmer earns Rs 3.6 lakh per acre through organic sugarcane farming
Raman added a lot of cow dung to the soil to improve its moisture-holding capacity. The dung also loosens the soil, enhancing aeration. 
The Economics of organic dragon fruit farming
At the same time, he was intrigued by dragon fruit, the tropical pink fruit with green scales rapidly gaining popularity in India. He began researching the fruit and found out that its production was low in north India despite high demand. He zeroed in on it for cultivation but could not find any good nurseries supplying dragon fruit saplings.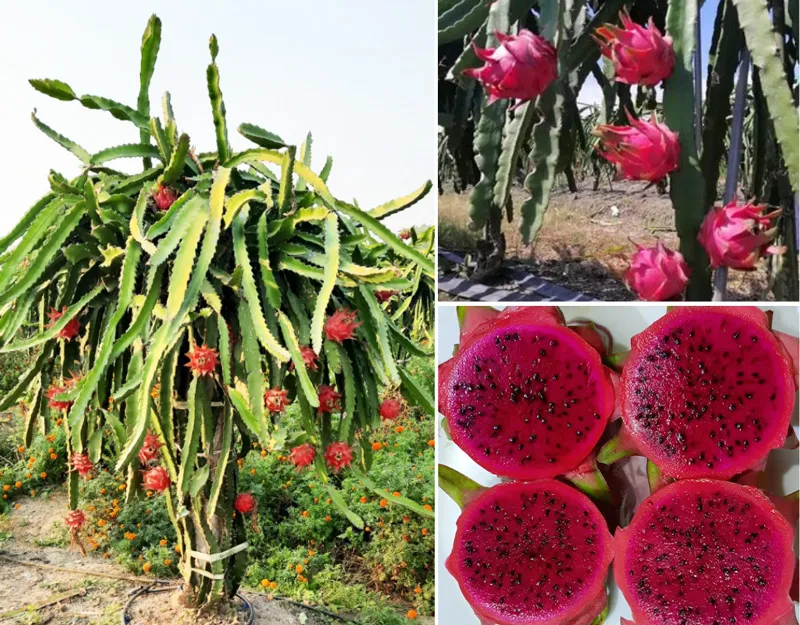 Dragon fruit is a perennial climbing cactus which was introduced in India in the late 1990s. Being hardy, easy to store and giving quick returns, dragon fruit has caught the attention of farmers in India.
"The search for good dragon fruit saplings led me to a nursery in Bhuj, Gujarat. I paid Rs 100 per plant and bought 2800 saplings," he says. 
In the last few years, however, the prices of dragon fruit saplings have come down due to the propagation of nurseries offering the plant. A good quality sapling with an age of six months can be bought for Rs50 now while those less than six months old can be purchased for Rs30 as well.
Raman planted the 2800 saplings over 1.5 acres, keeping a line-to-line gap of 10 ft and a plant-to-plant gap of 7 ft. He grows two varieties of dragon fruit – Vietnamese Red, which has red flesh and Vietnamese White with white flesh and a watermelon-like texture. 
Also Read: How this engineer-MBA farmer earns Rs70 per kg for wheat grown through natural farming
"The other major investment while starting dragon fruit cultivation is the setting up of concrete pillars. Being a cactus vine, the fruit needs the support of pillars for optimum growth. Pillars have a square structure at the top to train the vine for bearing purposes. One pillar can support four plants," Raman says.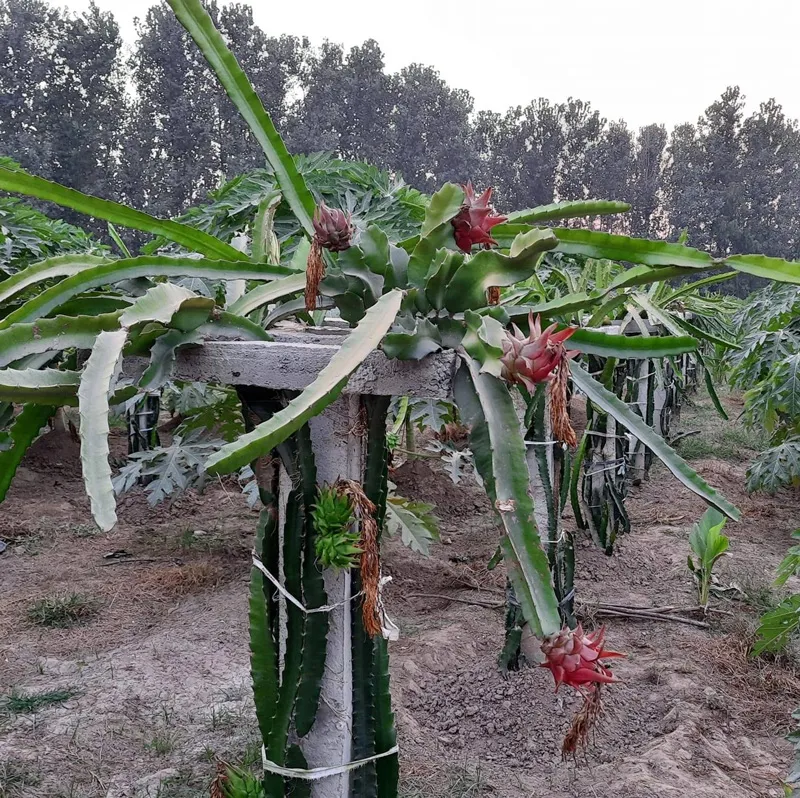 Around 500 poles or pillars are required for dragon fruit farming on an acre of land. Each pillar costs around Rs 1,000 and 500 pillars can support 2,000 plants, he points out.
At this rate, the initial investment for a one-acre dragon fruit farm would be Rs6 lakh. This will include Rs5 lakh for the pillars (500 pillars X Rs1,000 per pillar) and Rs1 lakh for saplings (2,000 saplings X Rs 50 per sapling).
The annual maintenance cost is around Rs one lakh per acre as the dragon fruit plant requires cutting thrice a year besides cleaning, manual ploughing etc., Raman adds.
While the fruiting starts one year after plantation, commercial yield or maximum yield starts from the third year. "With four plants in one pillar, I harvest around 8 kg per pillar per season, which lasts from June to November," he says.
Also Read: How this Punjab farmer makes a profit of Rs 5 lakh per acre from strawberry farming
Raman has two models for selling the chemical-free fruit grown on his Unnat Natural Farm – he supplies directly to customers in nearby cities who place the order through calls, WhatsApp or social media. He also sends them to Chandigarh, Noida and other cities via courier. "Last year, I retailed at Rs400 per kg and this year, I am earning Rs350 per kg due to increased production," he says.
Whatever remains unsold is then supplied to wholesalers, who pay anywhere between Rs120 to Rs140 per kg. 
"Overall, I earn around Rs 5 lakh per acre annually from dragon fruit farming. After deducting the maintenance costs of Rs1 lakh, my profit is Rs4 lakh per acre," Raman explains.
He has also started selling dragon fruit saplings, created through the grafting method. "I prepare and sell them after six months at Rs50 per plant," he says.
Going organic, one step at a time
After planting dragon fruit in 2018, Raman converted another acre to organic farming and cultivated papaya the next year. "The local department of horticulture had advised against papaya cultivation because of local climatic conditions. Pathankot is near Himachal Pradesh and Jammu and Kashmir border and they said the low temperature could lead to fungus in papaya. However, organic papaya cultivation worked out well for me," he says.
Now he sells the organic papaya grown over one acre for Rs2 lakh to Rs2.5 lakh every year. 
In 2021, Raman forayed into organic strawberry plantation. The plantation is done in October and the harvest period is spread from February to April. "I had bought the saplings from Mahabaleshwar (which contributes to about 85 percent of the total strawberry production in the country)," he says.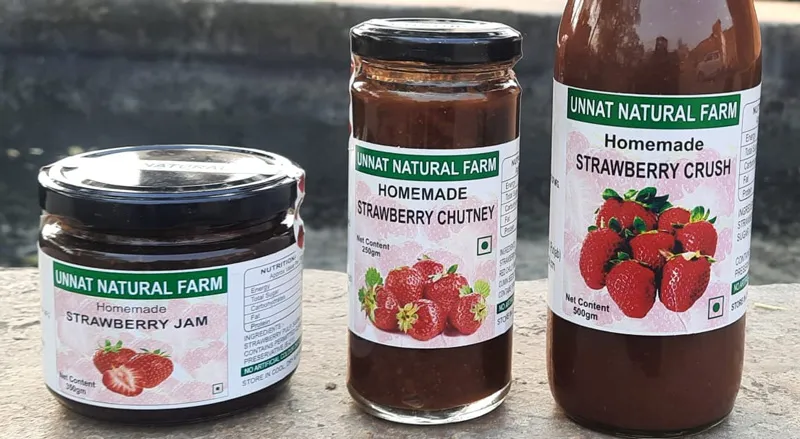 One can buy two types of strawberry saplings – with soil for Rs 10 and without soil for Rs 4. The prices include transportation charges. "I buy saplings with soil as the results are good. The yield is Rs 700 to 800 gm plant. I plant around 25,000 saplings over one acre, which gives me an annual net profit of Rs2.5 lakh," he says. Fresh strawberry saplings are planted each year. 
Raman has also started processing strawberries to make jam, crush and chutney sold under the Unnat Natural Farm brand.
"Right now, I don't have a commercial processing unit. Strawberry is being processed at Punjab Agriculture University. Packaged dragon juice is also under trial currently," he says, adding that he also grows turmeric organically. 
Also Read: How this Goa family earns Rs 42 lakh per acre from organic coconut farming
Making organic inputs on the farm
For various plants, he makes manure and compost on the farm. "I make organic manure using cow dung and also prepare vermicompost on the farm," he says.
For dragon fruit plants, Raman adds farm-made vermiwash. It is a liquid extract produced from vermicompost and is sprayed on the plants. 
Rich in nutrients, enzymes, and antimicrobial peptides, vermiwash protects plants from pests, bacterial pathogens, and fungal diseases. "We make the vermiwash on our own instead of purchasing from the market," he says.
The other inputs Raman uses are sarson ki khali (mustard cake), which is left after the extraction of oil from mustard. Rich in nitrogen, phosphorus, and potassium (NPK), mustard cake helps in plant growth and is an organic method to improve production. 
Raman is now planning to bring more area under organic farming. "It takes time, but I am confident that chemical-free farming is good for humans as well as the environment in the long run," he says.
(Rashmi Pratap is a Mumbai-based journalist specialising in business, financial and socio-economic reporting)
Also Read: Karnataka's MBA farmer turns barren land into a profitable natural farm; earns Rs 40 lakh annually