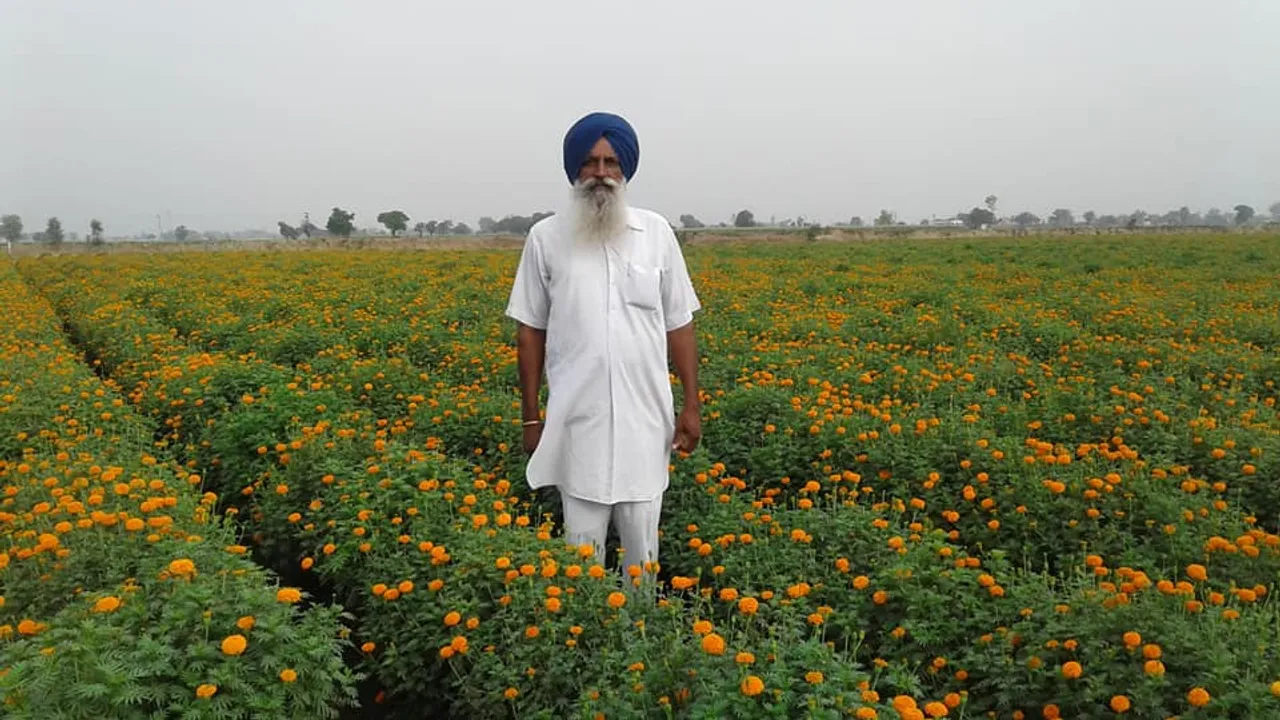 Sometime in 1999, farmer Bharpur Singh from Punjab's Patiala district visited Gurudwara Rara Sahib in Ludhiana. Apart from paying obeisance, he also got the seeds of the chrysanthemum (guldaudi) flower from there. His family had been cultivating wheat and paddy on their 12-acre land for years and the yield was decreasing with each passing day due to the use of chemicals and reduced soil fertility.
Bharpur decided to grow chrysanthemum on a small patch of land (0.25 acre or one bigha) on an experimental basis. The plants started yielding flowers in November and the output was good. He took the flowers for sale at the shops around Gurudwara Rara Saheb where he got a good rate of Rs15 per kilo. 
Back then the market rate for wheat was around Rs 550 per quintal or Rs 5.50 per kg and for paddy, it was around Rs 500 per quintal (Rs5 per kg). 
Bharpur had earned almost three times from flower cultivation than paddy and wheat farming, which also required more water and chemical inputs.
Even today while a kilogram of marigold can sell for up to Rs140 per kg, the minimum support price for wheat is Rs2,015 per quintal or Rs 20.15 per kg.
What further strengthened Bharpur resolve back then to give up cereal cultivation was the encouragement he received from flower shop owners around the Gurudwara. 
"The shopkeepers there told my father that he should also cultivate genda (marigold) as it has a consistent demand throughout the year. Happy with the market rate, my father decided to increase the area under flower cultivation," recalls Gurvinder Singh, who works with his father and elder brother on the family's Nirman Flower Farm in Kheri Mallan village of Patiala.
Also Read: How this Rajasthan farmer went from zero to millions with organic farming using his own manures & sprays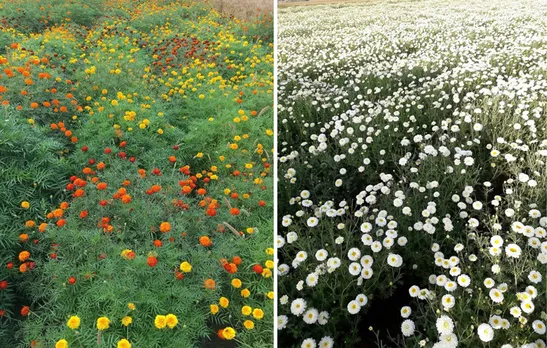 The Singhs now cultivate gladiolus, marigold, chrysanthemum and Jafri over 10 acres of land. Pic: Nirman Flower Farm 
From cereals to flowers
Next year, Bharpur Singh, now 56, planted marigold over one acre. The crop was good and he again received the rate of Rs15 per kg. "That's when my father decided to gradually bring more area under floriculture. My elder brother Ladwinder Singh and I joined the family farm after finishing studies and there has been no looking back," says 36-year-old Gurvinder.
Also Read: Gujarat: This school dropout farmer became a millionaire with organic farming of mango
Bharpur says the vicious circle of wheat and paddy farming has burdened farmers with debt.
"Soil fertility and productivity have been declining, forcing farmers to use more chemicals. But the solution is diversification into flower cultivation to cut costs and improve soil condition," he says.
At present, the family grows gladiolus, marigold, chrysanthemum and Jafri (a variety of marigolds) over 10 acres of land. Sometimes, they also take land on lease for floriculture. "We prepare the seeds of Jafri and chrysanthemum on the farm. The seeds of marigold are ordered from Kolkata, Bangalore and some places in Rajasthan while gladiolus seeds are procured from Holland," says Gurvinder.
Also Read: Hukumchand Patidar: Rajasthan's millionaire organic farmer who exports to Germany, Japan & Switzerland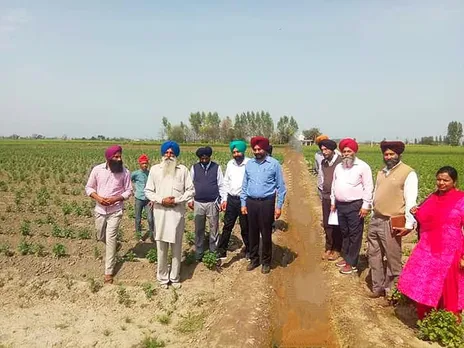 The Patiala Horticulture Department organises training session for other farmers at Nirman Flower Farm. 
They earn an average of about Rs2.5 lakh per acre annually after meeting all expenses.
The economics of floriculture
Gurvinder explains that marigold seeds cost Rs2,000 to Rs4,000 per kg. First, the land is prepared by ploughing, tilling and manuring to improve fertility. Combined with seed and labour charges, the cost for marigold cultivation is Rs 20,000 to Rs25,000 per acre. The annual yield is between 8 to 10 tonnes (a tonne is 1,000kg).
Also Read: Organic farming of dragon fruit and lemon triples Punjab farmer's income
"During weddings and festive season, the prices of marigold increase and we can get up to Rs140 per kg but during other times, it may be just Rs60 per kg. It's an average of about Rs100 per kg," he says.
Marigold plant starts giving flowers after three months. It is a low-maintenance and high-yielding crop. In winter, the Singh family adds organic manure prepared on the farm using cow dung and cow urine.
"We have seven cows on the farm. The milk is used within the household. The dung and urine are used to make organic manure," says Gurvinder, adding that the family employs ten women workers on the farm round the year.
Also Read: How organic fruit farming made Rajasthan's Santosh Devi a millionaire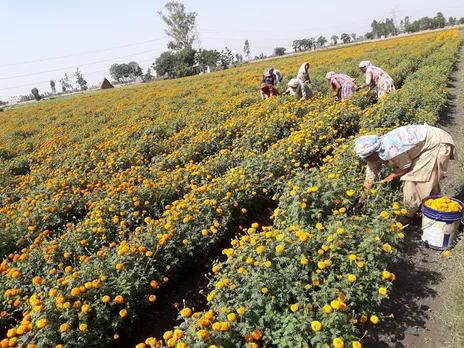 Ten women work on the farm, earning Rs250 per day. Pic: Nirman Flower Farm 
Most families in the village get only seasonal employment if they don't own land. "We provide permanent employment and meals to our then women workers who earn Rs250 per day," he says, adding that floriculture requires skilled hands. 
"Women do a much better job because plucking flowers and also making seeds is work that requires diligence," he says.
The perks of floriculture
Patiala accounts for about 15 percent of all the flower production in Punjab, as per the Horticulture Department of Patiala.
The area under flower cultivation in Punjab has been increasing for the last 20 years given the higher returns from flowers in both national and international markets. There is a robust flower exports market, which makes their cultivation lucrative for farmers.
Also Read: How Tamil Nadu farmer increased profits & cut costs by 30% through organic farming
India exported 15,695.31 metric tonnes of floriculture products, including flowers, seeds, bulbs etc. worth Rs575.98 crore in 2020-21.
The major importing countries were the USA, Netherlands, UAE, UK, and Germany.
Gladiolus is sold at Rs5 per stick in the wholesale market. Pic: Nirman Flower Farm 
The availability of good quality seeds and support from the Horticulture Department has helped in promoting floriculture. The Department has also organized several camps at Nirman Flower Farms to train those farmers who want to diversify into floriculture.
Gurvinder says flowers don't require too much water, especially during winters, which drastically reduces costs compared to wheat cultivation.
Also Read: Andhra farmer gets triple the market rates for mango & paddy with zero-cost natural farming
Typically, irrigation (including electricity) is about 30 percent of the overall farming cost. But in floriculture, this cost is almost negligible.
"In winters, irrigation only once a month is sufficient. In the summer season, you can water once a week or so," Gurvinder points out. Their farm has a tube well to meet irrigation requirements.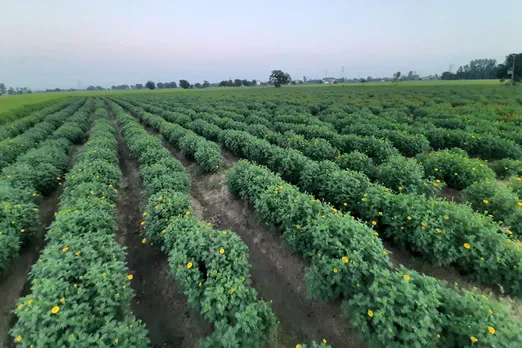 Cost of cultivating marigold is about Rs20,000 to Rs25,000 per acre. The plant starts flowering from the third month. Pic: Nirman Flower Farm 
Apart from 10 acres dedicated to flowers, the Singh family also cultivates rice, wheat and vegetables on another 2 acres for personal consumption. "On this land, we practice crop rotation, not growing the same crop always. The produce is only used for household consumption," he says.
Since gladiolus sees are imported, the cultivation cost is about Rs2 lakh per acre and the earning is about Rs4 to Rs5 lakh. "Each gladiolus stick sells for Rs5 in the market," Gurvinder says.
The Singhs sell flowers across Punjab. "We sell directly in wholesale mandis in Ludhiana, Jalandhar, Sangrur and some other small towns. Within a 100 km radius, we deliver using our own vehicles. In other places like Jalandhar and Bhatinda, we send them through daily buses and they are offloaded by the buyers," he says.
(Riya Singh is a Ranchi-based journalist who writes on environment & sustainability)
Also Read: Engineer leaves high paying job at Microsoft for Gerbera farming; creates jobs in his village