At 65 years of age, when most people have already retired from active work life, Reeva Sood has turned 30 acres of barren land in Una, Himachal Pradesh, into a lush green farm of medicinal plants. She earns Rs50 lakh annually from these herbs sold as saplings, dry roots, powders and in extract form to farmers, medicine makers and agriculture universities across India. 
However, Reeva's journey from social work to organic farming and agro entrepreneurship was not an overnight decision. Her husband, Dr Rajeev Sood, a doctor at RML Hospital, was diagnosed with cancer in 2012. With the realisation that chemical-laden food was behind the disease, Reeva decided to create an example of healthy living through organic farming. "Being a Himachali, the obvious choice for us was to work in Himachal Pradesh," she says.
Journey to a new land
In 2015-16, by the time Rajeev was finishing his chemotherapy, they bought 70 acres of land spread over three villages of Gunghrala, Akrot and Behar Bithal in Behar Jaswan panchayat in Una. 
"We decided to buy this land because it was available at nominal rates due to being barren and inaccessible by road. Uneven and dry land, in the local language, is called 'khud' or good-for-nothing land," says the 65-year-old. 
"But I believe any piece of barren land can be made productive by adhering to organic practices. I wanted to set an example that no matter what the condition, we can make land work by using cow dung, cow urine and other natural organic manures," says Reeva, who has also been working for women empowerment for over three decades.
To Reeva, that land filled with stones had two advantages – one, not even a drop of chemical had ever been used. And two, there was no factory around to pollute the local air, soil or water. Since the area was almost wild, there was no plastic pollution as well.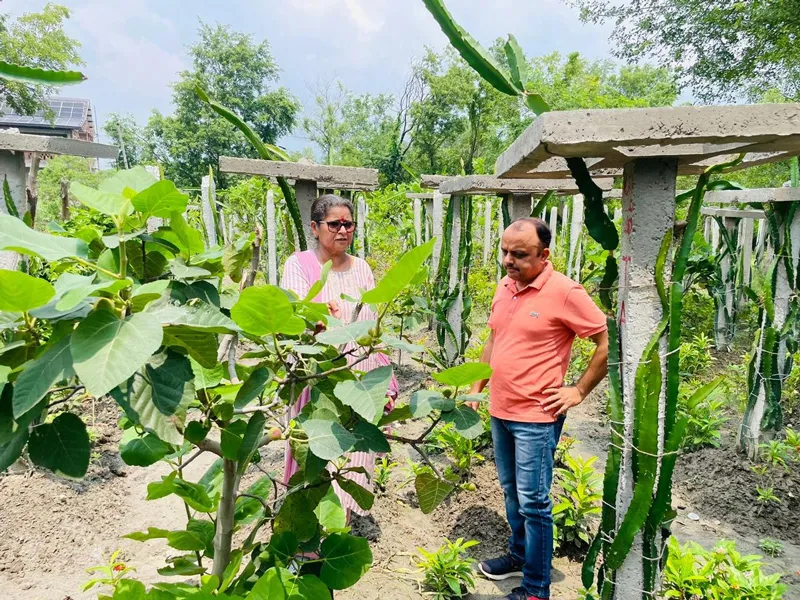 When Reeva began to survey the land, she saw some medicinal plants like Sarpagandha (Rauwolfia Serpentina), Shatavari (Asparagus Racemosus), Vasa (Adhatoda vasica) and Vaijayanti (an aromatic herb) already growing on the land. "These plants made me realise that I could cultivate medicinal plants on that land," she recollects. 
Since that land was a jungle, there were a lot of cactus plants too. "I felt we could plant something from the cactus family as well. I then started to study farming of dragon fruit, which belongs to the cactus family. I went to Maharashtra to learn more about it," says the woman entrepreneur. 
"That was the turning point and I decided to go for intercropping of medicinal plants with dragon fruits," Reeva adds.
Also Read: Punjab's engineer-farmer earns profit of Rs4 lakh per acre with organic farming of dragon fruit
Making barren land cultivable
However, the first task was to make the land fit for cultivation. In tune with her aim to preserve the natural state of things, Reeva did not try to change the land gradient. She is currently using 30 acres for organic farming. "My aim was to not disturb the natural flora, fauna and land structure. We did not make it flat. We made some pagdandis (footways) and some motorable roads and small fields," she says.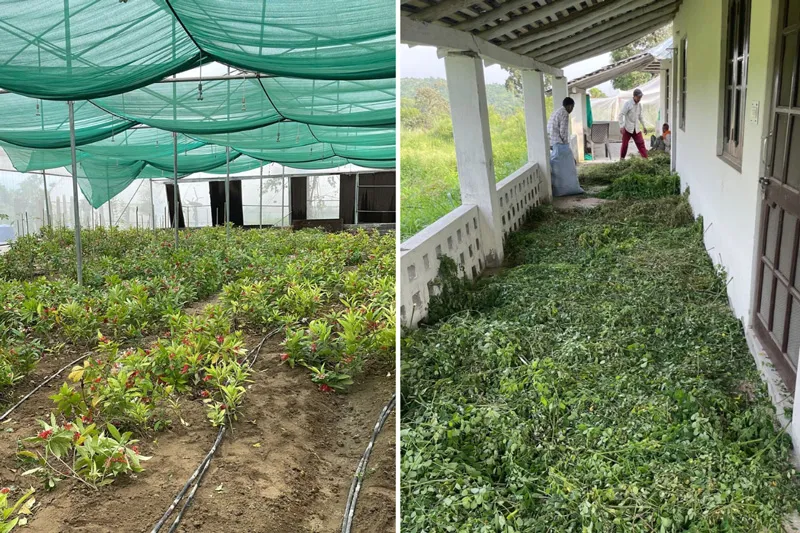 To make the land fertile, she needed cow dung and urine. 
"I adopted infertile cows which are abandoned after they stop giving milk. I made a shed for these cows, fed them naturally-grown grass and trained our field staff to collect the dung and urine for making manure. We applied this organic manure to the soil and soon, it was ready for plantation," she says.
Reeva procured the best quality seeds of Sarpagandha, Drumstick (Moringa), Ashwagandha (Withania Somnifera), Stevia, Kalmegh (Andrographis Paniculata), Vetiver Grass, Turmeric, Tulsi or Holy Basil, and other herbs from India's top agricultural universities and planted them on her land. In 2018-19, her first harvest for many crops was ready.
Also Read: Karnataka's MBA farmer turns barren land into a profitable natural farm; earns Rs 40 lakh annually
The business of medicinal plants
Most of the medicinal and aromatic plants (MAP) are ready for harvesting six months after plantation though some like Sarpagandha and Shatavari are ready at least 2.5 years after being planted. 
Ashwagandha starts yielding in 160-180 days and harvesting is done when leaves are drying and berries change their colour to red-orange. The whole plant is uprooted without damaging the roots, which are separated, cut into smaller pieces and air-dried. Berries are separately air-dried to obtain the seeds.
In the case of Shatavari, the roots mature around 25-30 months after transplantation. Harvesting is done between March and May after the seeds have ripened. The dried roots, powder and extracts have extensive use in medical formulations.
The income from medicinal plants is at least four times of what a farmer can earn from wheat. For example, for an investment of Rs 30,000 per acre in Ashwagandha cultivation, a farmer can earn around Rs 3 lakh per acre.
Apart from cow dung and cow urine-based inputs, Reeva's staff also prepares vermicompost on the farm. "Since a lot of local dairy farmers here throw away buttermilk, we procure it from them and use it for making sprays. Being a medicinal plants farm, we also use turmeric, neem and curry patta leaves for making natural pesticides. Nothing is bought from outside and everything is prepared on the farm," explains the organic farmer.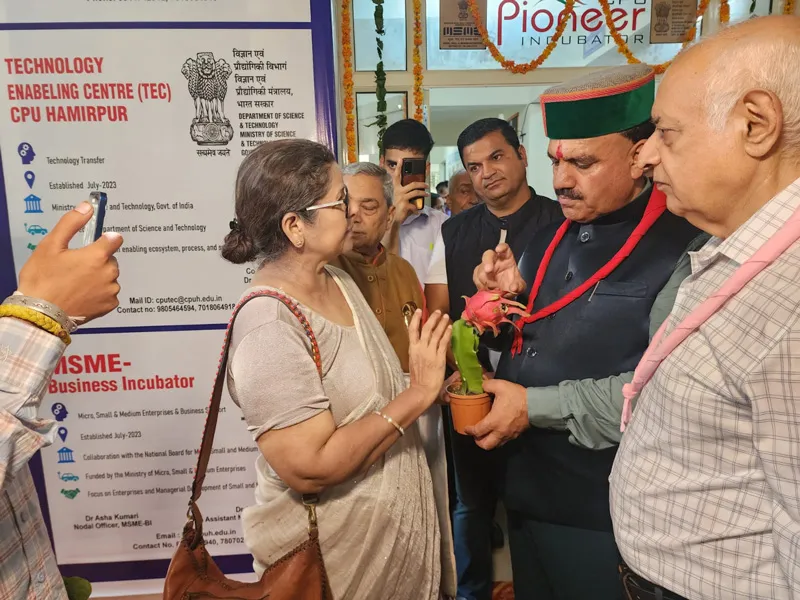 Out of the 30 acres under cultivation right now, Reeva has set up a nursery of medicinal plants like Sarpagandha, Moringa (drumstick), Ashwagandha and Kalmegh over 1.5 acres over various land patches in polyhouses. "Around eight to ten farmers work in this nursery, preparing and looking after saplings. We sell the saplings at subsidized rates to farmers who contact us through the National Medicinal Plants Board (NMPB), NABARD and other government schemes," she says.
Also Read: How this Maharashtra engineer became a hydroponics fodder millionaire
The plants have a mortality rate of less than 3 percent, resulting in a good success rate for farmers. The Sarpgandha sapling is sold for Rs5 per piece while dragon fruit through government schemes costs between Rs 47 and Rs70 depending on the plant size and age. For farmers buying for commercial use without subsidy, the saplings are sold at Rs90 to Rs180 per piece. 
"These high-value medicinal and aromatic plants require few inputs and result in higher income for farmers while maintaining balance with nature. I sell the plants as saplings, dry roots, powders and as extracts," Reeva says, adding that she earned Rs50 lakh from medicinal plants last year.
Organic farming of dragon fruit in Himachal
Another Rs20lakh of income comes from her dragon fruit and other plantations. "We have done plantation in layers. The boundary has plants of dragon fruit and Moringa followed by a layer of turmeric and other fruit plants like anjeer, guava, kamrakh and apple. There is a space of 5 feet between two dragon fruit plants. So we thought of planting other herbs between the gaps to make the best utilization of land," says the woman farmer.
Also Read: How this Maharashtra engineer-farmer earns Rs 3.6 lakh per acre through organic sugarcane farming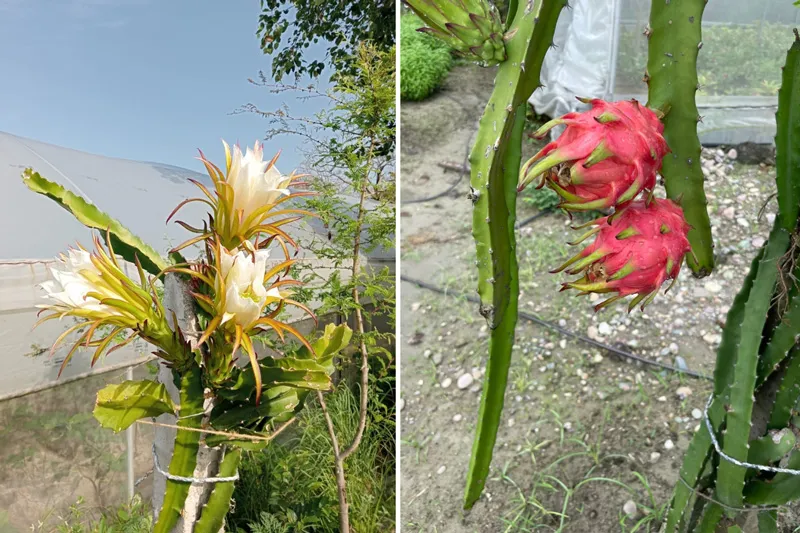 She has 30,000 dragon fruit plants on the farm right now, and some of them are at the fruiting stage. 
"I want to plant one lakh plants of dragon fruit. Being from the cactus family, they are not attached by Nilgai (bluebuck) and monkeys, which otherwise hurt local crops," she says.
The other advantage is that dragon fruit requires watering only twice a week in summer and once a week in winter. "I plant the American Beauty variety of dragon fruit, which is juicy and sweet," she says.
After a visit to her farm, the World Bank has given a grant for a project to put up a dragon fruit juice factory in Una. "We have started work on setting up the factory with an investment of Rs 2 crore. Of this, 35 percent is being given by the World Bank while the rest is my own money and bank loan," she says. When operational, it will be India's first dragon fruit juice facility set up by a woman entrepreneur.
The once-barren land is now today an ecotourism destination as well. "Students, farmers and scientists from across the country visit the place. From primary school goers to university students, I tell everyone to adopt an organic and natural way of life and put an end to the use of chemicals in every form," she says.
(Rashmi Pratap is a Mumbai-based journalist specialising in business, financial and socio-economic reporting)
Also Read: How Madhya Pradesh homemaker Lalita Mukati became millionaire organic farmer