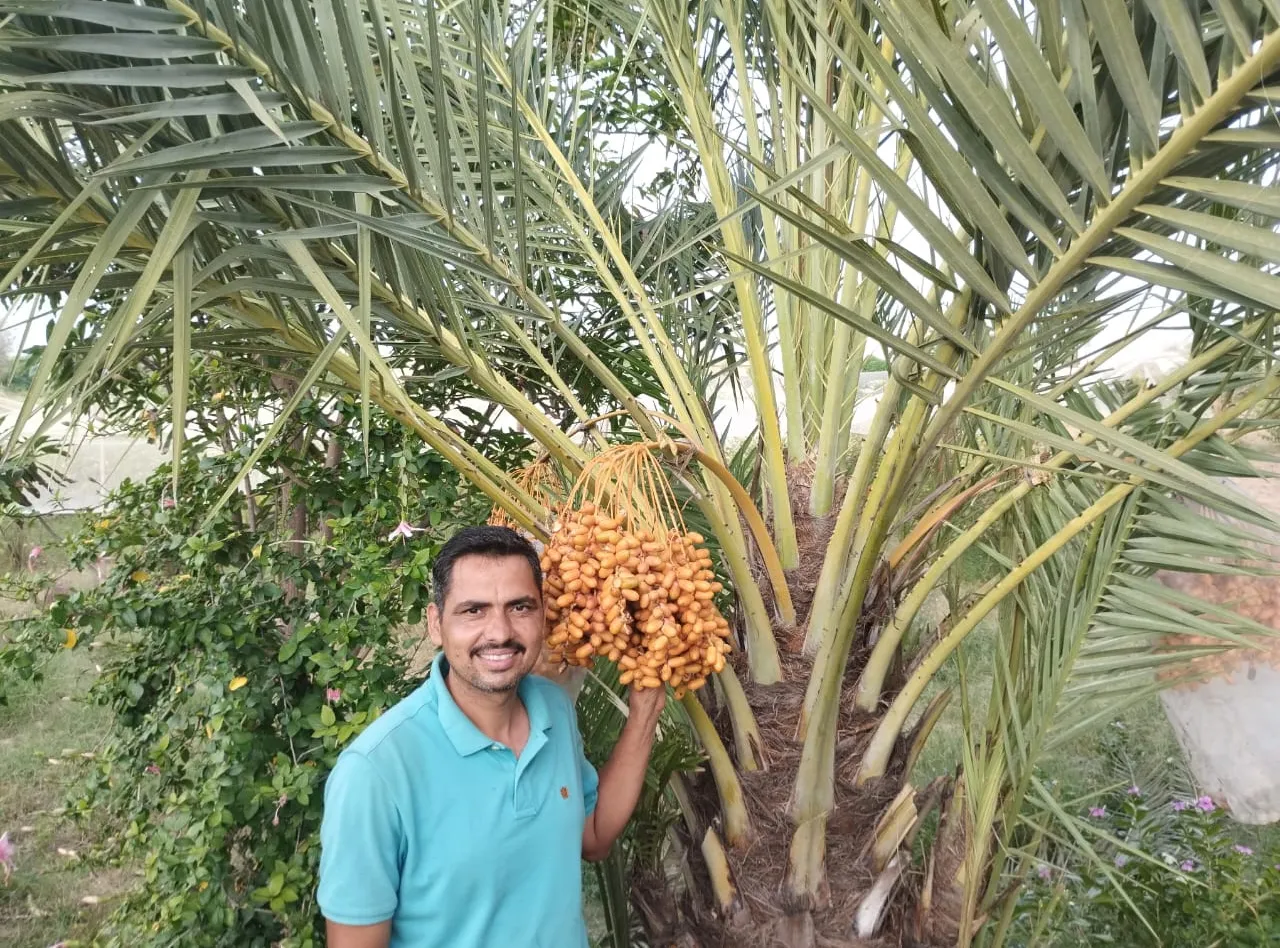 About a kilometre from Birla Institute of Technology and Science, Pilani (BITS Pilani) in Rajasthan, there is a lush green farm with trees laden with dates, olives, sweet lime, kinnow and other fruits. Students, faculty members and hundreds of others throng this farm to buy organically-grown fresh fruits without any trace of chemicals.
The 20-acre Maanjoo Farms is owned and managed by Mukesh Manjoo, an ex-commando specialised in counter-hijack operations, who took voluntary retirement from National Security Guard (NSG) services in 2018. At that time, he was posted at the Delhi Airport. 
Mukesh wanted to be closer to his family and look after his ageing parents. "I had grown up seeing my father and grandfather working on the farm. Apart from going back to my roots, I also wanted to change the perception of people towards farmers and demonstrate that farming can be profitable," he says.
Mukesh says the word 'farmer' is not synonymous with lack of education or dire poverty. "Farmers can be prosperous and become role models for others by following the right farming methods and cultivating the right crops," he says.
The commando's farming training
Before Mukesh took VRS, he had started planning for his post-retirement life. He took training at the Centre of Excellence for Date Palm at Sagra-Bhojka in the Jaisalmer district. At that time, the Rajasthan government, in collaboration with the Israeli government, was distributing date palm saplings, priced at Rs 3600 each, for only Rs1000 to farmers. 
"Today, the market rate is Rs 4,500 per date palm sapling while farmers can procure it from the government for Rs1500," Mukesh says.
"I bought 100 plants of Khuneji date palm variety in 2016-end and planted another 150 plants of Barhi variety in 2019," he says.
Also Read: How Maharashtra's MBA farmer built an organic food supermarket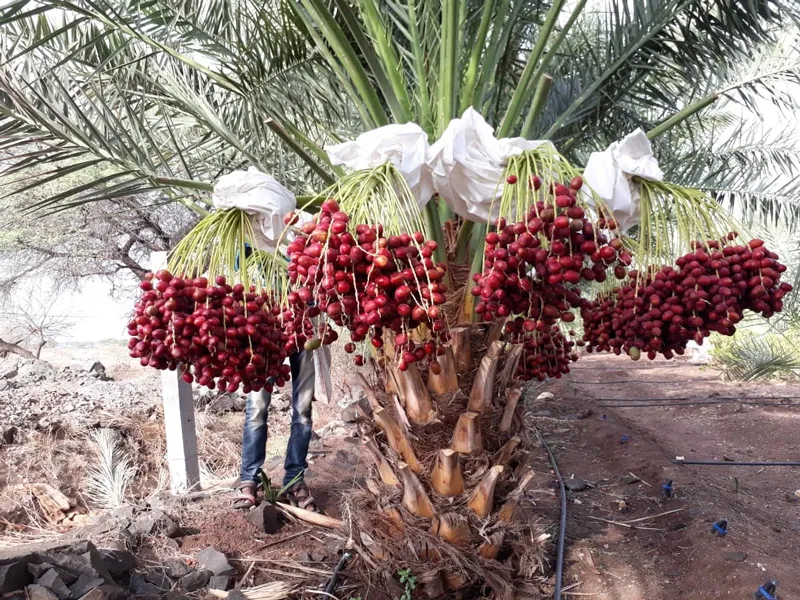 While Barhi or Barhee is a yellow-coloured date with a sweet and creamy taste, Khuneji is the red variety. Both varieties are eaten fresh and are rich in fibre and antioxidants.
Mukesh points out that 40-45 date saplings are planted over one acre land. Each sapling is planted in a pit of 4 feet in length, breadth and depth. "Date palm has deep roots, and the more organic manure you put in the pit, the better will be the yield," he says. 
A gap of 25 feet X 25 feet between plants is maintained, and fruiting starts in the fourth year. "Organically-grown Barhi variety gives 150-200 kg dates per plant annually, and the produce sells at Rs100 per kg. Even if the production is 150 kg from one plant, it will yield an income of Rs15,000 annually," he says.
From 45 plants in one acre, a farmer can annually earn Rs 6.75 lakh (45 plants X Rs15000 income per plant). 
Assuming that a farmer can sell the produce at only Rs80 per kg, the income per acre will still be Rs5.40 lakh per acre with a yield of 150 kg per tree. 
"The yield in the Barhi variety is very high with low maintenance. For farmers, who can ensure a steady market for sale, this is the best variety for horticulture," he says.
Also Read: How this Punjab farmer became a flower millionaire
The annual maintenance cost per tree is Rs1000, including organic sprays, manure and associated labour costs. "This will result in a profit of Rs5 lakh to Rs6 lakh per acre," Mukesh says.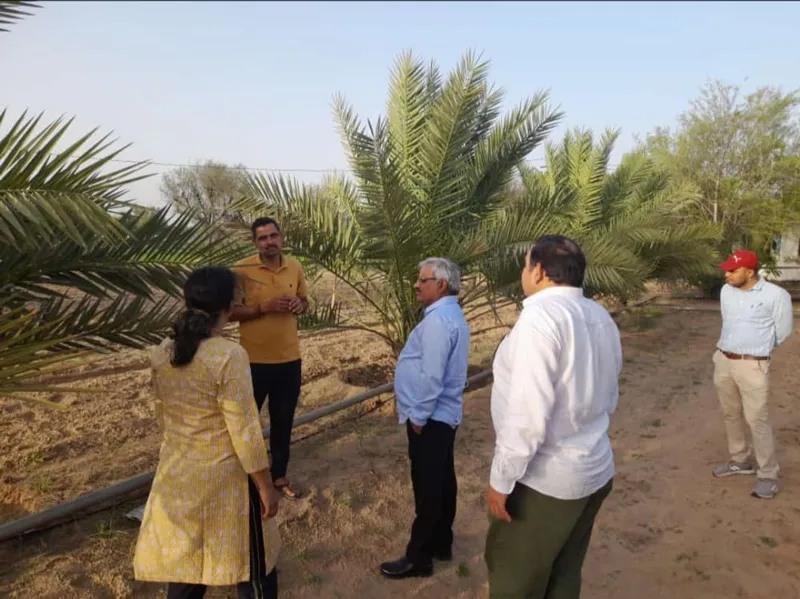 The Khuneji variety at his farm yields around 70 to 80 kg per tree annually and the produce sells at Rs100 per kg. This translates into an annual income of Rs 8,000 per plant or Rs 3.6 lakh per acre," he says.
He has planted date palm over 5 acres out of the 20-acre farm. 
Why date palm farming is profitable in India?
Mukesh has ensured profitable farming at Maanjoo Farms. He says date palm is one of the most profitable crops that can be grown with minimum expenses.The Barhee, for example, is a perennial tree that can grow in desert, tropical, sub-tropical as well as Mediterranean climates. While there are no specific soil requirements for date palms, the land should have moisture-retaining capacity with adequate drainage.
Also Read: Gujarat: Dentist-turned-farmer reaps rich harvest with organic farming of dates
Mukesh prepares organic manure and vermicompost on the farm. "I have ten cows of Sahiwal and Gir breeds. I also mix neem leaves with manure. For soil aeration, I use vermicompost, prepared on six beds on the farm," he says, adding that one bed of vermicompost gives 2 trolleys (2,000 kg) of manure.
The date palm trees are sturdy and do not require any sprays. "All they need is water, manure and protection from birds, which can eat the fruit."
To address the problem of birds, Mukesh puts a net around the date bunches after the fruit formation.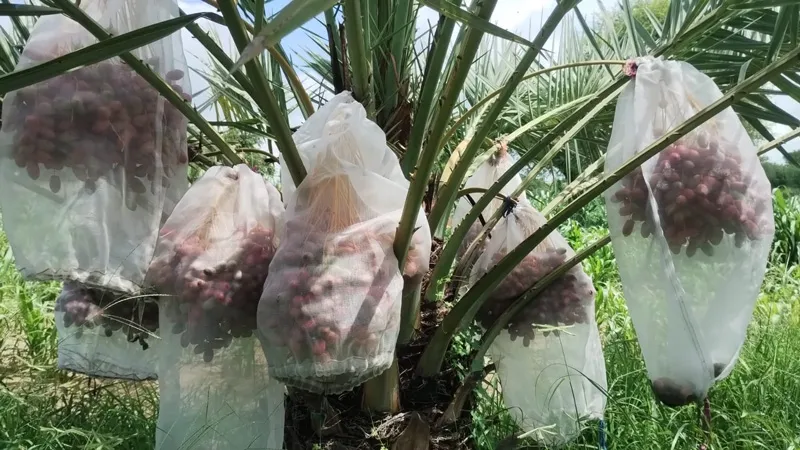 The other requirement in date farming is manual pollination. Date palms develop as either a male or female of the species. While the males produce pollen from flowers, natural pollination is not effective.
"For 100 female plants, you need six male plants for manual pollination. Once flowering in female plants starts, we take pollens from male flowers and spray them on female plants. It is done early in the morning from February 15 to March 15 during the flowering season," he says.
The crop is harvested in July-August. With date palm, he intercrops watermelon to make the most out of the soil. "I plant watermelon in February and the harvesting is finished by June 15. So when the harvesting of dates starts, the ground is clear. I earn Rs lakh per acre by intercropping watermelon," he says.
Overall, he earns an income of around Rs 8 lakh per acre annually by intercropping date and watermelon.
According to the Rajasthan government data, India imports 38 percent of the world's production of date palm, pointing to the high demand for fruit in the country. Date palm farming started in India in 2007 and is currently being done in Rajasthan, Maharashtra, Kerala, Tamil Nadu, and Gujarat.
Also Read: How this Goa family earns Rs 42 lakh per acre from organic coconut farming
Organic fruit farming & marketing in Rajasthan
Mukesh has created a pond for rainwater harvesting on the farm. He uses drip irrigation, which takes water directly to the roots through pipes and minimizes wastage.
"The government offers subsidy for installation of drip irrigation infrastructure as well. While bigger farmers have to pay 50 percent of the total costs, smaller farmers need to pay only 30 percent. The remaining cost is borne by the government," he points out.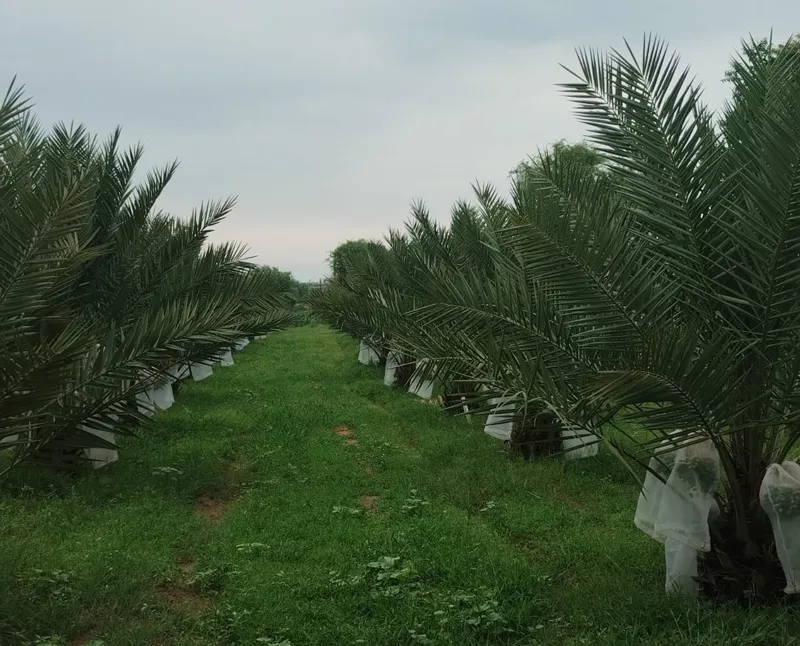 Mukesh has planted organic olives on 2 acres of land. "The saplings were given at a subsidized rate by the Rajasthan government in collaboration with the Israeli government. While the cost was Rs225 per plant, farmers had to pay Rs125 per plant. I bought 400 plants," he says.
Around 200 olive plants are planted over one acre at a gap of 20ft X 15ft from each other. The fruiting starts in the fourth year. "I had planted them 8 years back," he says.
Now he sells organic green olives at Rs400 per kg and organic black olives at Rs500 kg to marquee hotels like the Hyatt, the Taj and ITC in Delhi and the Marriott in Chandigarh.
Apart from olives, he grows Thai apple ber over 2 acres, kinnow and mosambi (sweet lime) over 2 acres each, lemon, and some other vegetables.
Interestingly, he has planted 200 trees of sandalwood over one acre of land on a pilot basis. Sandalwood farming is also gaining traction in India. Once the sandalwood tree is fully grown, mostly after 12 years, a farmer can annually harvest 15-20 kg of wood, which has a high demand from the cosmetics, medicine and handicrafts industries.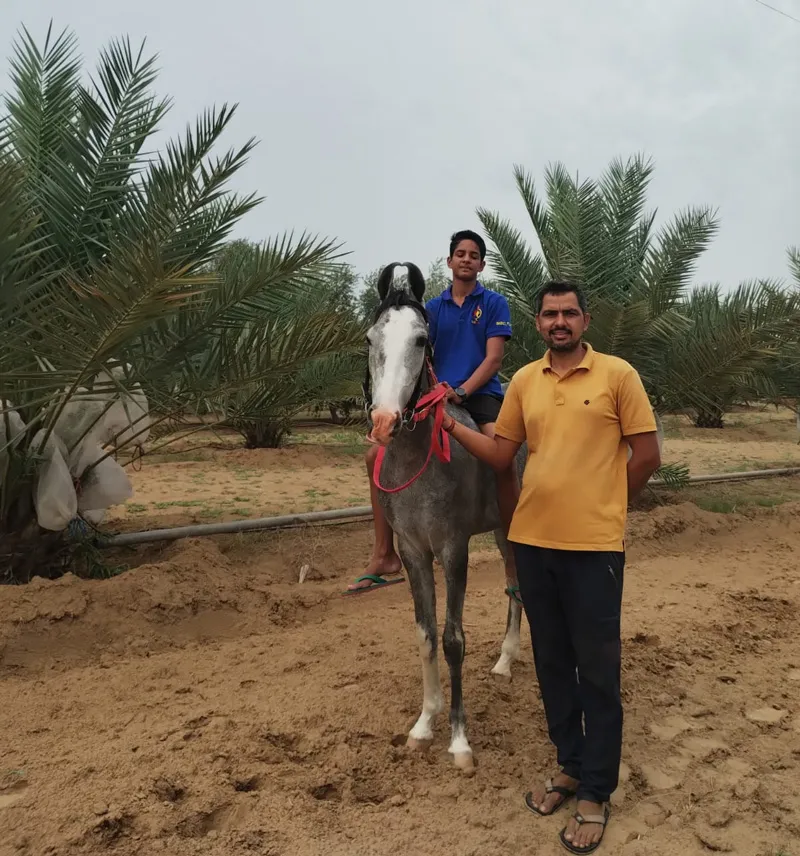 Mukesh doesn't sell his fruits, including dates, in the market. "A farmer can recover the costs in the most profitable manner if either people buy directly from the farm or the products are dispatched to customers from here," he says. 
"I have 200 farm members (dedicated customers) who buy from us – the quantity can be one kg or 100kg. Students and research scholars of BITS Pilani are among my customers and they are happy with the organic produce," he says. He also supplies to customers in Haryana and Delhi-NCR. 
(Riya Singh is a Ranchi-based journalist who writes on environment, sustainability, education & women empowerment)
Also Read: How this Maharashtra engineer became a hydroponics fodder millionaire