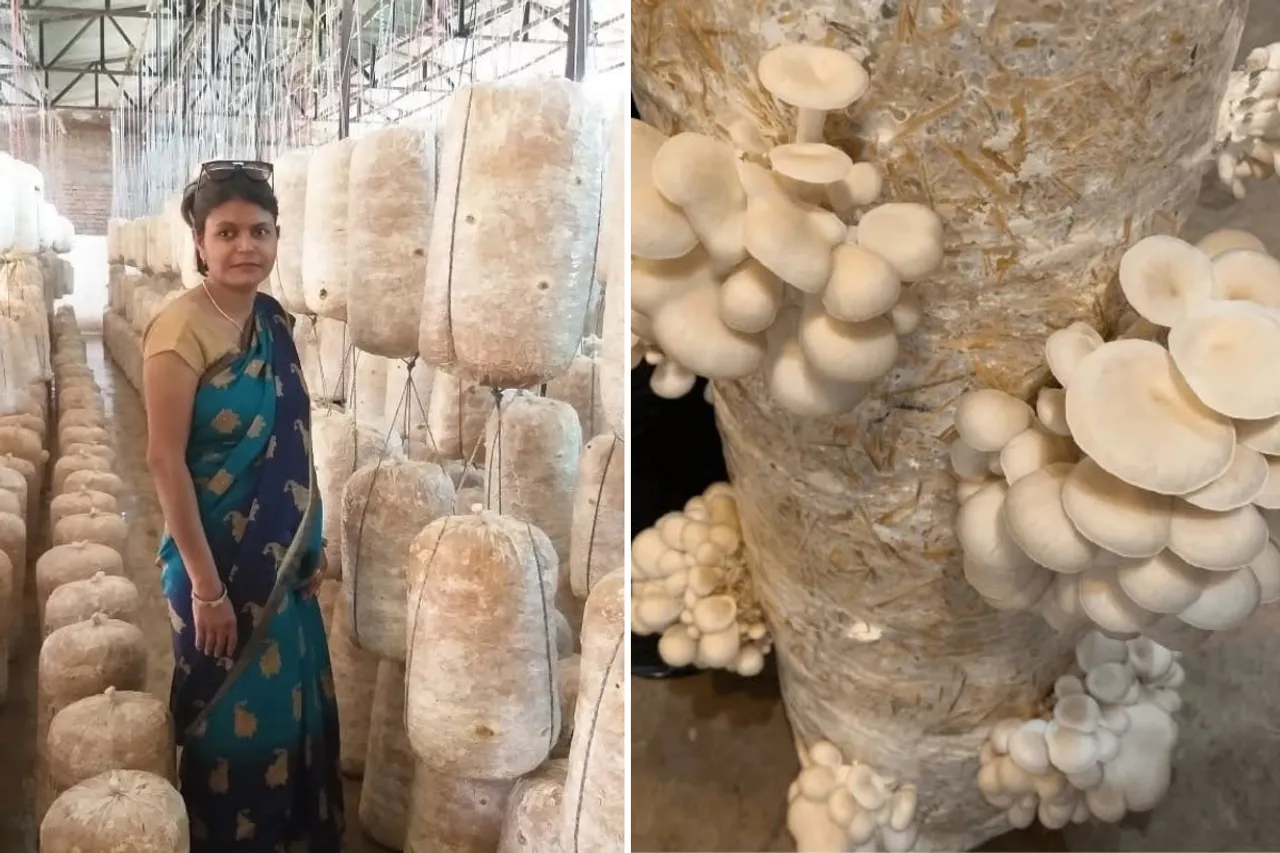 After completing her MSc in Microbiology, Nidhi Katare began teaching in a Gwalior-based private college affiliated with Jiwaji University. The institution was new and 24-year-old Nidhi was among those entrusted with setting up the science laboratories from scratch. From 2007 to 2015, she put her heart and soul into work, which she continued after her marriage.
In 2014, the college management decided to sell the land because it was receiving a good price for it. The institution was to close down in 2016. In front of Nidhi, who was an assistant professor, the college and the laboratories were razed to the ground. "It broke my heart to see it all gone. I decided not to depend on anyone and start something on my own. I had started preparing for the inevitable in 2015 itself," she says.
The mushrooming of an idea
With a background in microbiology, it wasn't difficult for her to zero in on a startup idea – mushroom farming. "I knew the demand for mushrooms was good. So I started in 2015 by preparing some oyster mushroom (Pleurotus Florida) bags at home. I made a thatched shed of 10ft X 10ft on our house terrace for mushroom cultivation," she says.
Mushroom cultivation requires little space, moderate light and aeration and good hygiene. 
Over 1,000 sq ft, one can have a four to five-layer set-up, which produce around 1,000 kg of mushrooms per cycle. Mushrooms can be cultivated throughout the year. 
Nidhi procured the spawns (mushroom seeds) from Delhi and later Agra. The results, however, were not too good due to the poor quality of spawns. Inferior strains and old or contaminated spawns provide lower yields and can even fail to grow. This contamination can also cause moulding and affect the size and quality of mushrooms.
"I thought why I should depend on others for spawns when I could prepare them myself. I discussed this with my husband (Sanjay Katare), who encouraged me to start my own lab," recollects Nidhi, now 40.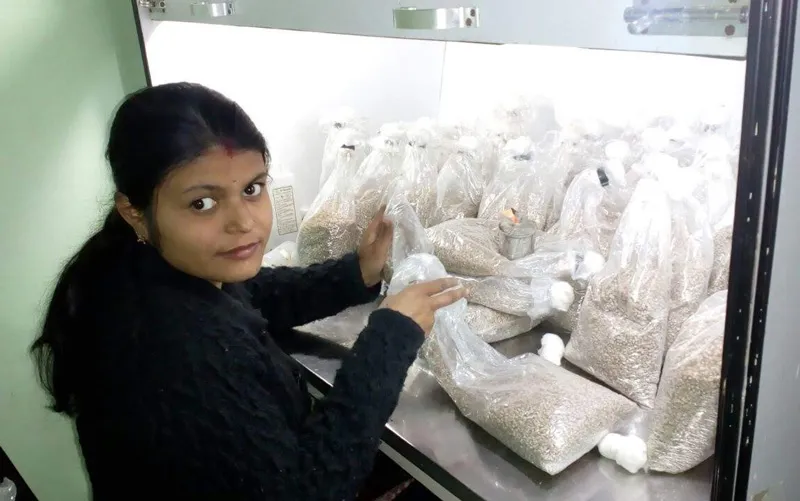 The couple took a 1500 sq ft house on rent in Singhpur Road, Gwalior to set up the lab. A mushroom spawn lab requires instruments like a laminar airflow cabinet to provide a sterile working environment, vertical autoclaves (top loading sterilizers), seed germination chamber and incubator among other items. 
"We did not have too much money for investment. So we took second-hand instruments to start our mushroom spawn lab," she says.
Preparing mushroom spawns
For preparing the spawns, she used wheat although maize or sorghum can also be used. Semi-boiled wheat is air-dried and mixed with calcium carbonate powder. The mixture is then put in empty glucose drip bottles or plastic bags, plugged with cotton and sterilized.
Also Read: Shifting from cotton to mushroom farming increases Haryana farmer's profit ten times
After this, the pure culture of the fungus is added and incubated at room temperature for 15 days. Nidhi procured the pure culture from the Directorate of Mushroom Research, Solan in Himachal Pradesh. After a few days, the spawns are ready. "The results were good and from there on, I started preparing my own spawns," she says.
Nidhi prepares spawns of three varieties of mushrooms – oyster (dhingri), button and milky (Calocybe indica), which is the first indigenous mushroom to be commercialized in India. They are sold at Rs100 to Rs120 per kg.
The officials from Krishi Vigyan Kendra (KVK), Gwalior, visited her lab and also provided technical support whenever required. "The production grew and soon, the word about us spread. People began visiting us not only to buy the mushrooms and spawns but also for training in mushroom farming," says Nidhi, who has received many awards for being an inspiring woman farmer and entrepreneur. 
Initially, Nidhi did not charge for farmer training. But she soon realised that even non-serious people came for the sessions and never cultivated anything. "So I began to charge a nominal fee of Rs1,000 per person and the amount is Rs 1500 now," she says.
Nidhi has trained around 1,000 farmers in mushroom cultivation so far. Many of them are now agri-entrepreneurs, running their mushroom farming business.
In 2017, Nidhi's husband Sanjay quit his job in a private company where he worked as a manager, to support her business. Their company Natural Bio Impact and Research Pvt Ltd supplies spawns to farmers across India and also provides training and consultation services.
Also Read: From juveniles in correctional centres to landless labourers, how Pushpa Jha is helping create mushroom entrepreneurs in Bihar
The business of mushroom farming
Unlike other businesses, Nidhi's mushroom farming did not suffer during the COVID pandemic. "In fact, we did very well. Nothing stopped here. We were preparing spawns as usual in our lab and sold mushrooms too because people became more careful about eating healthy and nutritious food," she says.
Mushrooms contain antioxidants selenium and ergothioneine besides trace elements like zinc, which help maintain a healthy immune system and protect body cells from damage. Their high protein and vitamin content makes them a food of choice for health-conscious people.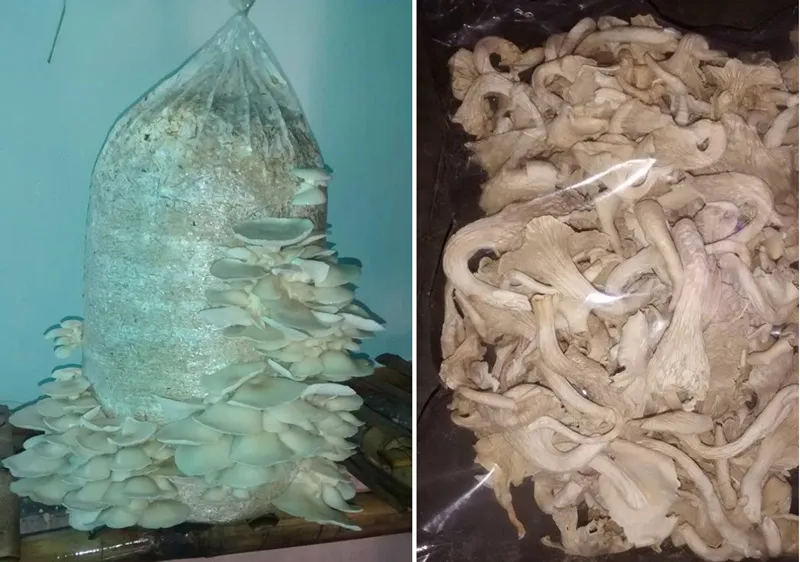 After COVID, Nidhi bought her own space to set up her mushroom lab and cultivation facility. "Currently, my lab is spread over 1500 sq ft on the first floor while mushroom cultivation is done over a similar area on the ground floor," she says.
Over an area of 1500 sq ft, she puts up oyster mushroom bags, which yield around 1500 kg of mushrooms every month. "Though I prepare spawns of three mushroom varieties for sale, I cultivate only oyster mushrooms," she says.'
The oyster mushroom is the largest cultivated mushroom in India. It can be dried and stored for one year in airtight packaging. "I sell dried oyster mushroom to the pharma industry (which uses it in health supplements), the food industry and makers of pet foods," she says.
About 1500 kg of fresh oyster mushroom is reduced to 150 kg on being sun-dried. "It sells for around Rs 650 to Rs700 per kg," Nidhi says.
This generates an income of around Rs one lakh per month (Rs700 X 150kg is Rs 1,05,000). "The costs involved in dried oyster mushrooms include labour, husk, spawn and electricity, amounting to around Rs300 per kg. This leaves a profit of around Rs350 to Rs 400 per kg," Nidhi explains. 
Also Read: Punjab's engineer-farmer earns profit of Rs4 lakh per acre with organic farming of dragon fruit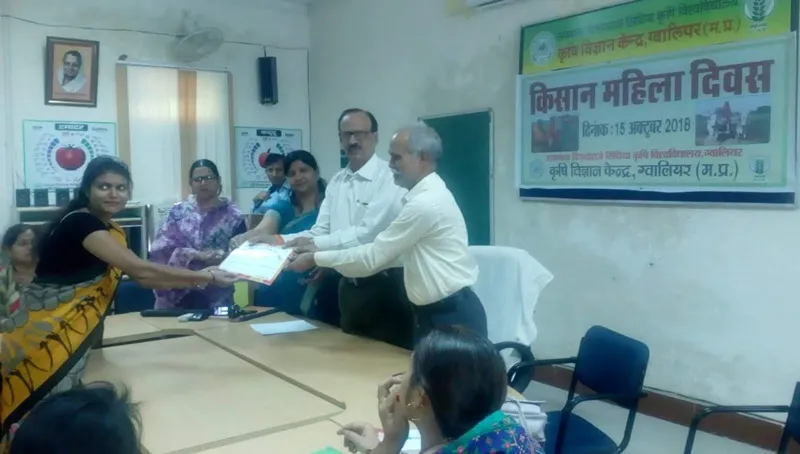 Her other source of income is the sale of spawns. "At this larger facility, I am able to prepare 600 to 700 kg spawn per month. During the mushroom season (July to April), the output reaches between 800 kg and 1,000 kg per month," she says. 
"We sell the spawns for Rs100 to Rs 120 kg depending on the season and demand," she says. This brings in around Rs 70,000 to Rs one lakh per month.
The spawn buyers include farmers from Gwalior, Morena, Satna, Panna, Bhind, Datia, Indore, Khargone, Bhopal, Dhar, Anooppur (Madhya Pradesh), Jaipur and Dholpur (Rajasthan), Mevat (Haryana), Ambikapur and Vishrampur (Chhattisgarh) besides other places.
There is a rising demand for her training sessions as well. In the evening, after finishing her mushroom cultivation work, Nidhi gives coaching to students. "Once a teacher, always a teacher!" says the agripreneur with a laugh.
(Rashmi Pratap is a Mumbai-based journalist specialising in business, financial and socio-economic reporting)
Also Read: How this Maharashtra engineer-farmer earns Rs 3.6 lakh per acre through organic sugarcane farming