VA Thomas Kattakayam's father was an ardent jackfruit lover. He would meticulously sow the seeds of the finest jackfruits he relished and also encouraged him to do the same. 
"Over the years, I started enjoying cultivating new varieties of jackfruit though we had rubber plantations on most parts of our land. In 2015, when the rubber business was down, I shifted to jackfruit cultivation completely. Today, the trees planted by my father and the ones I nurtured continue to flourish in my Jackfruit Paradise Farm," Thomas tells 30Stades.
The 78-year-old organic farmer is also creating the world's largest gene bank of jackfruits by storing seeds and preparing new varieties using the bud grafting or budding method. In bud grafting, a bud from one plant is joined with a compatible rootstock to create a new variety. Thomas currently cultivates nearly 400 varieties of jackfruit.
Nurturing the Paradise
In the first phase, Thomas planted nearly 114 varieties of jackfruit trees in a few patches of his 5-acre land parcel. Along with the old trees grown by his father, he had a total of 140 varieties. Over the last eight years, he has cultivated nearly 400 varieties.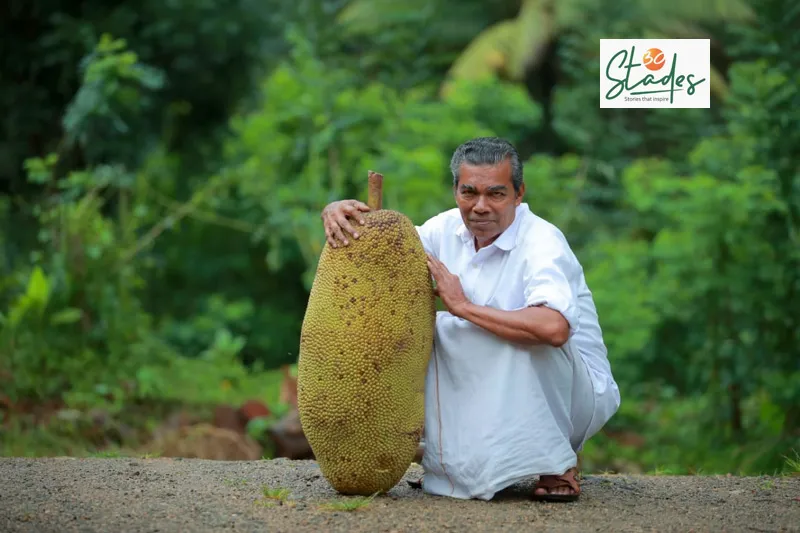 "My father always advised me against felling these magnificent trees. If ever I considered doing so, he would insist that I plant two new trees and patiently await their fruit-bearing years. I still follow this principle and have grown so many trees," he adds.
Thomas used to travel to various places in Kerala and other states in search of new jackfruit varieties. If he loved its taste, he would collect its stem to propagate them on his farm.
Over the years, as the word spread about his expertise, people started inviting him to taste their jackfruit varieties and encouraged him to propagate their breeds.
Also Read: Seven tips for switching to organic farming
"That's how I successfully obtained Vietnamese and Cambodian varieties. Other varieties in my collection include Sindhura, Siddhu, Theanvarika, Super (named for its exceptionally delightful taste), and All Season (consistent fruit-bearing throughout the year). Given the numerous types, naming them all became quite a challenge, so I began numbering the rest of them," he shares.
Budding process 
He follows the budding methodology to propagate new varieties. After sourcing the stem of a new variety, he grafts it onto a jackfruit tree of a different type. After 30 days, when there is a new growth, the knot tied to the stem is removed. Then, the new shoot is transplanted into the permanent soil.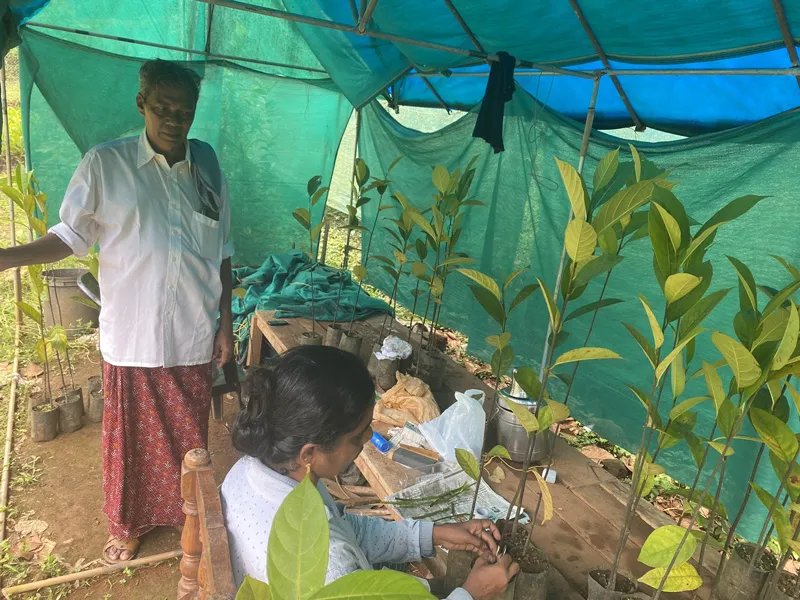 "We conduct the budding process year-round with the assistance of two dedicated staff members. This enables us to cultivate saplings of all these diverse varieties for our nursery, which are available for sale," he says.
Thanks to the spaced-out fruiting schedules of each variety, there is year-round fruit production at his farm.
For instance, he cultivates a type that initiates fruiting in October, continuing for five months. When its season ends, another variety's season, commencing in December will take the stage. In addition to this, Thomas cultivates a unique variety called "All Season" that offers a continuous harvest throughout the year.
Click here to join us on WhatsApp
"Cambodian varieties start bearing fruits in two years, while Vietnamese take only 1.5 years. The All-season variety, on the other hand, requires nearly three years for fruiting. The impressive aspect of these varieties is their faster maturation compared to local varieties," Thomas shares. 
Organic and sustainable farming 
According to Thomas, jackfruit cultivation requires a simple, organic farming practice. He uses only two natural sources of fertilisers -- grass and cow dung. "These two items are sufficient to provide the necessary nourishment to plants. One must broaden the area of application with time as the roots expand in width and length. This ensures that all the essential nutrients are absorbed effectively," he says.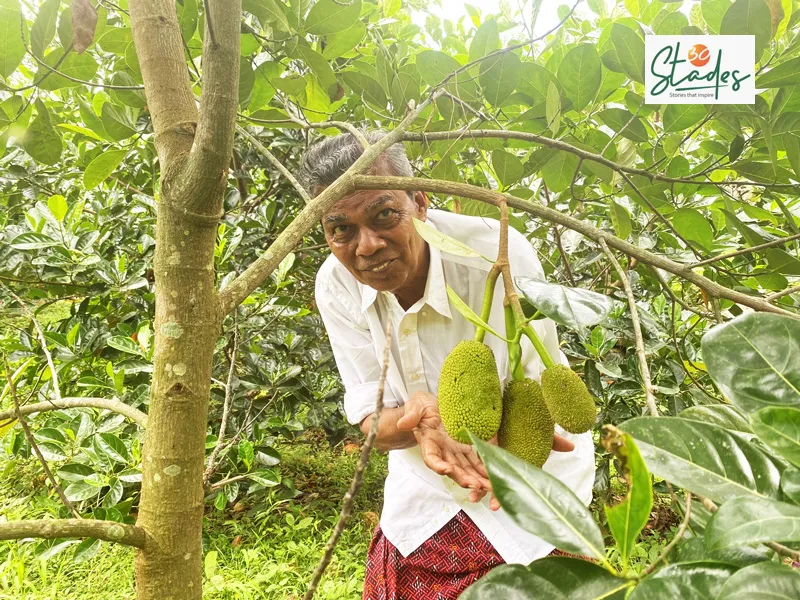 Besides, Thomas has also found a solution for the persistent water scarcity in his region. He has strategically dug pits on his land which drain rainwater into the ground. This raises the water table and over time, the water's weight loosens up the soil beneath. As a result, new pores open up for water to recharge. This is based on the principle that water maintains an equal level in interconnected vessels. 
Through this, he says that the groundwater levels have significantly gone up. 
Also Read: How this farmer earns Rs 6 lakh per acre from organic farming of dates
Thriving business model
Contrary to common belief, selling jackfruits is not his primary source of income. Instead, he sells value-added products like dried versions of the fruits. He also runs a nursery to sell saplings of these organic jackfruit varieties, priced between Rs 150 and Rs 350.
"I am drying these fruits in a machine that was offered to me at a subsidised price by the former minister of Agriculture in Kerala, VS Sunil Kumar. Fruits are carefully handpicked and placed onto the dryer. After the drying process is complete, they are stored in containers and are ready for sale. No preservatives or additional flavours are added," he says. 
The dried form of ripe jackfruit is priced at Rs 2000 per kg, while the dried version of raw jackfruit is available at Rs 1000 per kg. Dried bananas are sold for Rs 750 per kg, he shares. 
Dried jackfruit is rich in proteins, vitamins, minerals and antioxidants. With zero cholesterol, it supports a healthy life style and weight loss. It can be used to make curries, stews, pickles, chips and many other recipes. 
Also Read: Kerala: How this 12th-pass woman turned her organic food processing home business into a successful start-up
Thomas emphasises the importance of value-added products to ensure a profitable return to farmers. He says selling fruits may yield only a minimal profit. Interestingly, Thomas refrains from selling fruits altogether, as he needs the seeds for cultivating saplings.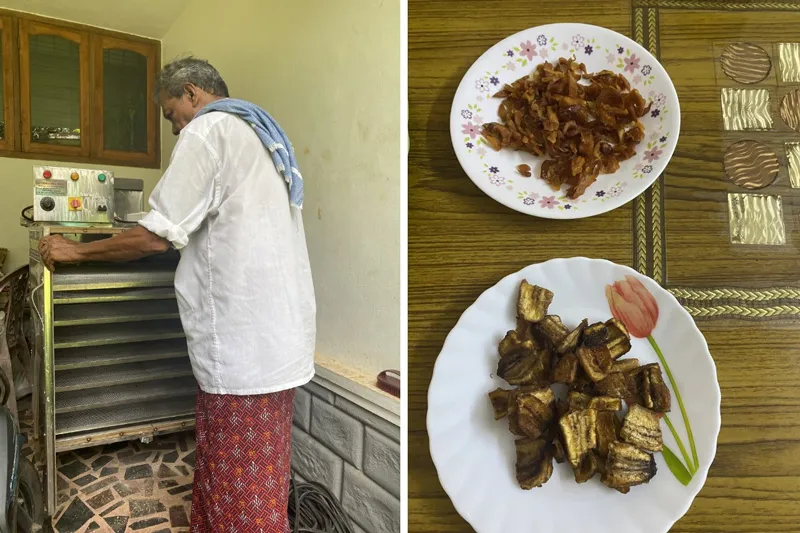 When asked about the marketplace for his products, he says the Jackfruit Paradise Farm has become known across the country through word of mouth. Customers flock to his farm to buy saplings and dried fruits. "I'm fully engaged in managing the nursery and farm and I hardly have time to go to the market to sell my produce. However, the steady demand for dried fruits allows me to conveniently sell them in bulk, directly from my doorstep," he shares.
According to Thomas, in the current scenario, with the declining rubber market barely yielding Rs 1 lakh per acre, he manages to generate Rs 4 lakh per acre through jackfruit cultivation. 
"I have seven staff members to oversee the farm and nursery. So, excluding the expenses, an annual income of around 16 lakh is assured, from this business. That's why I encourage farmers to try jackfruit cultivation. Moreover, unlike rubber, which tends to absorb a lot of water, jackfruit cultivation does not exploit the water table. Instead, this method of cultivation and natural farming ensures sustainability," he adds.
Also Read: 65-year-old woman turns barren land into organic farm of medicinal plants, earns Rs50 lakh annually
One of his regular customers, Anandavalli, says a couple of years ago she had planted two saplings. They have started bearing fruits, and their taste is exceptional. Hence, she recently decided to expand the cultivation. "This time, I am planning to buy more saplings and plant them on our three-acre land. Since these varieties bear fruit quickly we can regularly relish local dishes made of them and not wait for the season," she shares.
Vision for gene bank and farm tourism
Though Thomas has already introduced 400 varieties, he shares that his quest for new types continues. "I have a few more varieties currently planted on my farm. Once they start bearing fruits, I will incorporate them into the nursery," he shares.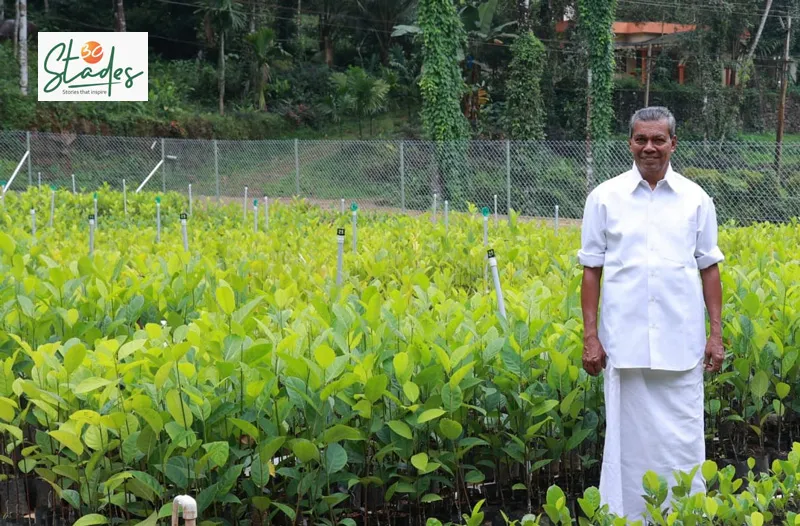 That apart, Thomas has something more on his bucket list—he aspires to offer a farm tourism experience to the public. His plan involves developing a walkway around the farm for visitors, providing educational insights into the significance of the fruit and the benefits of organic farming. 
Also, there will be a space for visitors to relax and savour the delicious fruits. "Much like my father, I wish to share the knowledge I've gained in this field with many, as it brings me immense joy. And, I aspire to achieve this through creating avenues like farm tourism and gene bank," he signs off.
(Chandhini R is a Kerala-based journalist specialising in human interest, entertainment, and art and culture stories)
Also Read: How this Kerala farmer turned barren land into organic paddy farm; helps other farmers sell rice globally