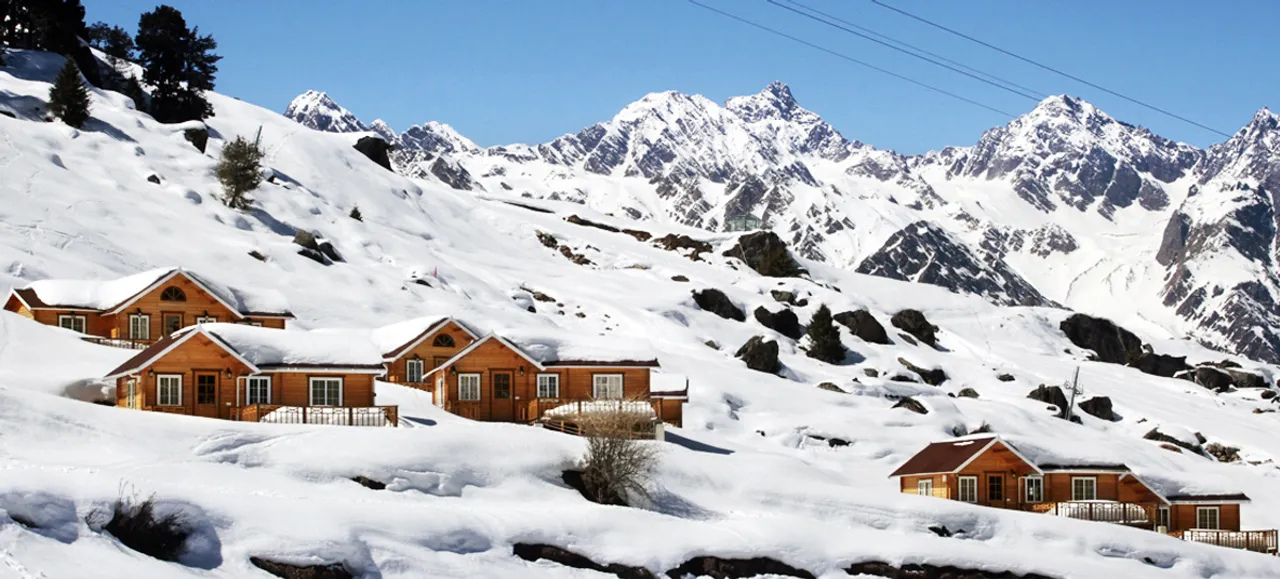 Surrounded by endless stretches of oak trees and coniferous forests, Auli in the lap of snow-clad Himalayas in Chamoli, Uttarakhand, offers scintillating views of the mountains and astonishing natural scenery. Located at around 2,800 metres above sea level, Auli is a hiking and ski destination originally developed as a paramilitary base.
The ski runs at Auli were made when it was a paramilitary station. The slopes were the training ground for the ski-equipped men of the Indo-Tibetan Border Police Force.
Today, these skiing slopes are popular among beginners and professionals alike. In winter, Auli hosts many snow adventure events and trainers here offer skiing lessons as well. The Uttarakhand Tourism Department's winter sports competitions at Auli are aimed at promoting skiing in India.
Also called Auli Bugyal, which means meadow in Garhwali, the picture-perfect town is home to one of the highest numbers of flower species found anywhere in the world. Around 520 species of high-altitude plants are found here of which 498 are flowering plants including many endangered species.
Also Read: Uttarakhand: Garhwali & Kumaoni food in pictures
But there's a lot more to Auli apart from its natural beauty. 
The hill station has a 4 km cable ropeway. Locally called Gondola, it is the highest and longest ropeway in Asia after Gulmarg and connects Auli with Joshimath.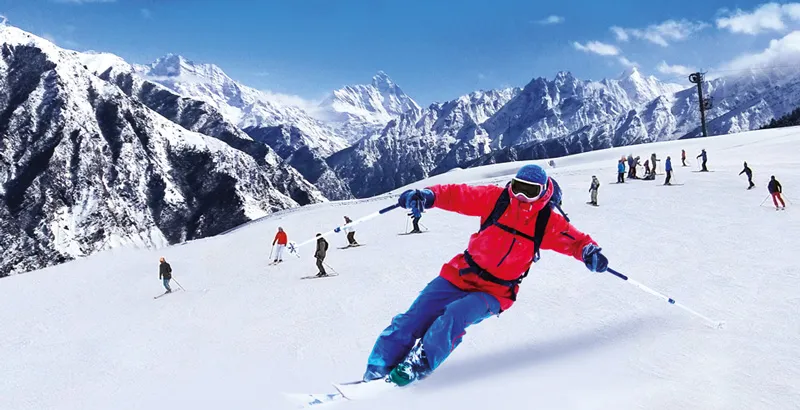 Apart from a well-maintained trek route, Auli also offers facilities of a chair lift and a ski lift that take visitors to the skiing slopes near Auli Lake. This artificial Auli Lake, created by the state government, is the highest in the world. The turquoise water body is bordered by lush green slopes and can be accessed through the cable car. 
History and legends of Auli
Interestingly, a temple dedicated to Lord Hanuman here is associated with the Ramayana era. Legend has it that Lord Hanuman rested at this place for a short time when he was searching for the 'sanjeevani' herb, which saved the life of Laxmana, Lord Rama's brother.
Also Read: Devil's Kitchen: The mystical caves in Tamil Nadu
In the 8th century, Adiguru Shri Shankaracharya established the Jyotir Math or Shri Shankaracharya Math at Joshimath, which is just about 6.6 km from Auli. After the establishment of the monastery, this place also came to be known as the Gateway of the Himalayas.
Auli offers panoramic views of some of India's highest peaks, including Nanda Devi (7,816m), which is the second-highest in India. 
The 23,490-foot-high Trishul (the trident of Lord Shiva) peak is one of the many high crests in Auli. It witnessed a unique expedition in 1958 when the mountaineers took four days to climb the peak and only 90 minutes to ski down to the base camp.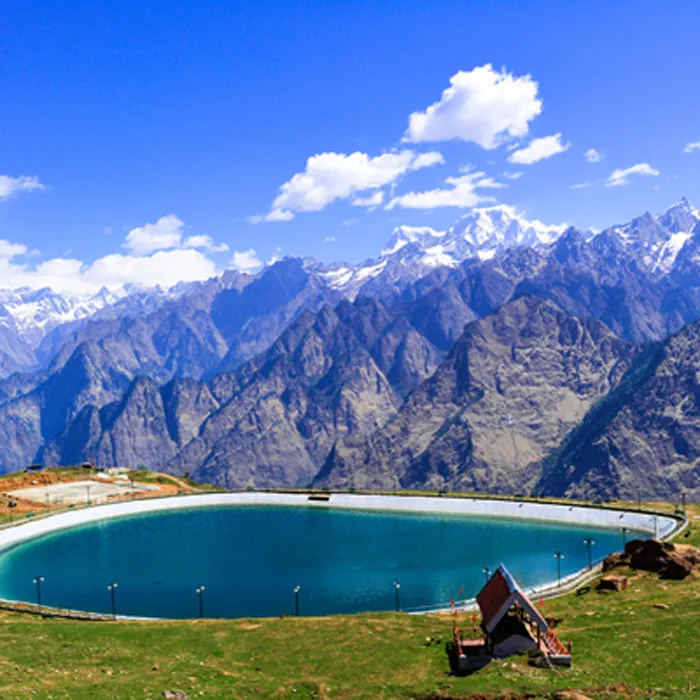 The Valley of Flowers National Park, including the Hemkund Sahib gurdwara, and popular trekking destinations such as Gorson Bugyal, Pangerchulla Summit, and Tapovan can also be accessed through Auli. 
Gorson Bugyal is about 3 km from Auli and is a spectacular meadow surrounded by a dense forest of oaks and conifers. The high-altitude grassland gets covered with snow in winter and turns green in summer. It's a good trek for beginners and offers spectacular views of Nanda Devi, Trishul and Dron Parvat peaks.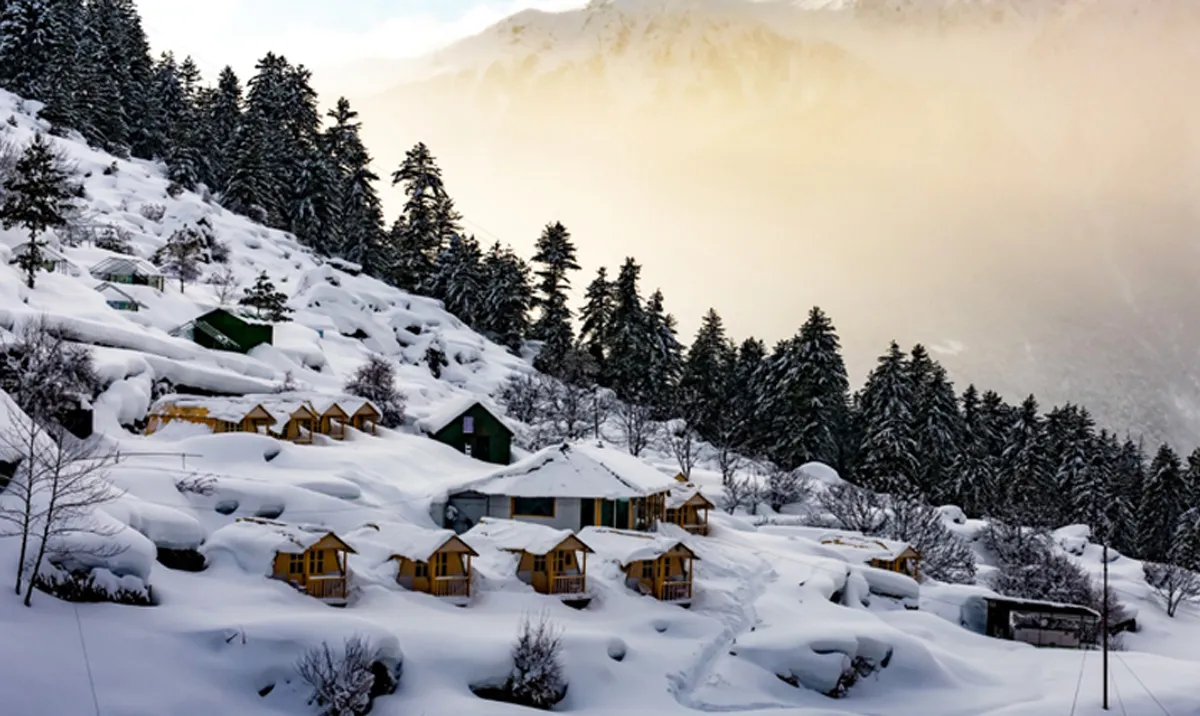 With skiing, trekking, ropeway and an abundance of natural beauty, there's a lot that can keep travellers and tourists busy throughout their stay in the lap of the Himalayas.
Also Read: Harihar Fort's 80-degree rock-cut stairs take you to the top of the world