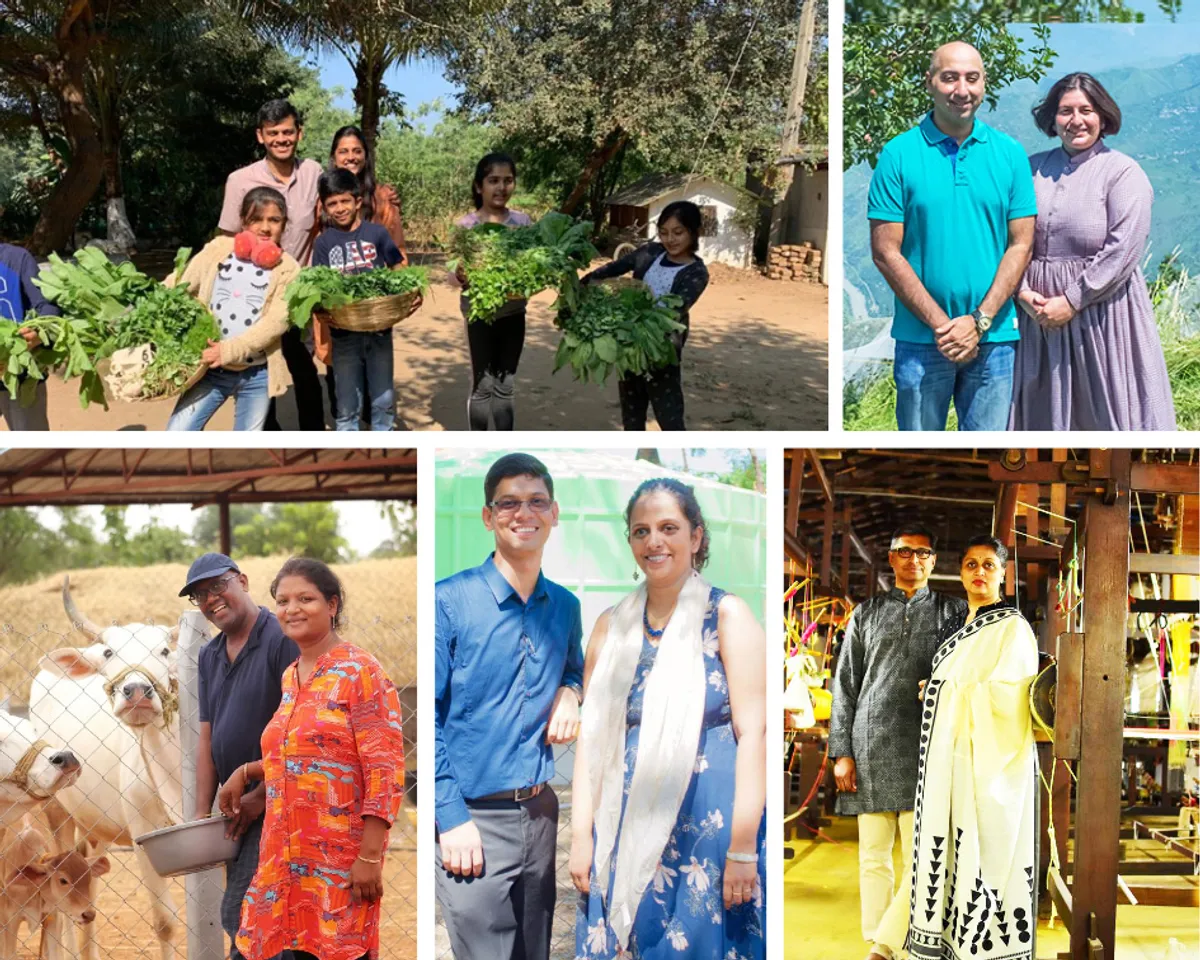 wp:html /
Being an entrepreneur isn't easy. The uncertainty around business taking off, pumping in money while waiting for returns, and the time to reach break-even are factors that make the entrepreneurial journey tough. And what happens when both husband and wife decide to start a venture? The uncertainty becomes two-fold.
There is a growing awareness of building sustainable businesses, and entrepreneur couples are no exception. From growing organic cotton and weaving it into beautiful sarees to creating a food forest or making eco-friendly leaf plates, entrepreneur couples are seeding green startups at break-neck speeds.
Here are five entrepreneur couples and their green startups:
1. Fruit Bageecha: In 2012, Anuradha Kanwar Budhraja quit her job in Singapore and moved to Thanadhar, nestled amid apple and cherry orchards about 80 km from Shimla. Her husband Kartik Budhraja joined her next year, quitting ESPN Star Sports where he was working as Director, On-Air Promotions.
In 2013, the duo set up Fruit Bageecha, a boutique jam and chutney-making firm that sources fruits from about 100 small and marginal farmers and employs local women for processing and packaging. Fruit Bageecha now offers nine varieties of chutneys and preserves, processing about 12 tonnes of fruit annually.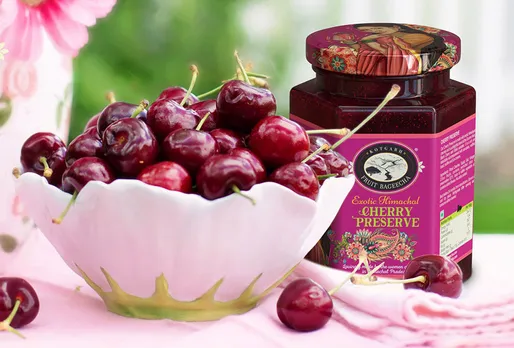 "All the fruit waste, like peels and apple cores, is taken by our employees for feeding their cattle. About five to ten percent of the waste is used to make manure. We don't have to throw anything," says Anuradha.
It uses glass bottles and their gift box is made of tin. With a vintage look, it is a keepsake.
"We are also sourcing from marginal farmers who have older varieties of apples not accepted as table varieties because the fruit is not 'good looking'," says Kartik. So the startup is also playing an important role in biodiversity conservation in the hills while buying from local growers within the 3-4 km catchment area.
Read more here: Couple quits Singapore jobs to set up successful artisanal jams business in the Himalayas
2. Carbon Loops: Set up in 2017 by husband-wife duo Kern Agarwal and Ranjini Prabhakaran, both former banking professionals, Chennai-based Carbon Loops has been reducing the waste sent to landfills through biogas generation. Toxic gas emissions from landfills pose a threat to the environment and human health and the waste contaminates the surface as well as groundwater.
It collects about 10-12 tonnes of food waste every day from companies, educational institutions and some residential societies in Chennai, Chengalpattu and Tiruvallur. It is taken about 80km away to Uthiramerur, a panchayat town in Kancheepuram, Tamil Nadu. There, the waste is segregated, shredded and composted at the biogas generating facility of Carbon Loops.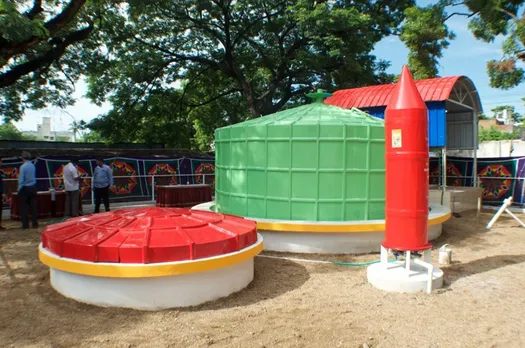 In the last four years, Carbon Loops has processed over 8,000 metric tonnes of food waste, diverted over 7,000 tonnes of waste from landfills and produced more than 3,000 metric tonnes of manure, which is distributed free to farmers.
Read more here: Chennai couple's startup Carbon Loops takes urban food waste back to farms
3. Brindavan: A chance visit to a farm near Los Angeles in the USA and seeing the heavy use of chemicals in farming prompted Silicon Valley couple Vivek and Brinda Shah to quit their jobs and return to India to start organic farming. After gaining some practical farming experience at a friend's plot in Gujarat, they purchased 10 acres of land at Chaklasi, between Anand and Nadiad, about 60 km from Ahmedabad.
Vivek and Brinda have turned four acres of land into a food forest, planting mangoes, lemons, papaya and other fruits. A small banana orchard was grown considering the demand for the fruit throughout the year. The couple grows wheat and other vegetables in another 4 acres and drumsticks on the remaining 2 acres of land.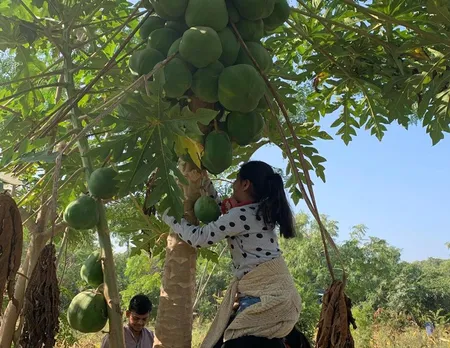 In 2018, the couple started Brindavan – an environmental consultancy that engages with multiple stakeholders at different levels for creating awareness about environment protection, organic farming and climate change.
More here: Environment: Gujarat couple quits US jobs to build own food forest; creates orchards & gardens for others
4. Vistaraku: Telangana-based Vistaraku, founded by husband and wife duo Venu Vippulancha and Madhavi Vippulancha, is taking eco-friendly organic leaf plates to the world, employing women of Thimmareddypalli village at Siddipet district in Telangana.
Founded in February 2019, Vistaraku makes organic tableware like bowls and plates from leaves of palash (flame of the forest or sacred tree) as well as siali, a large-leafed creeper that grows around sal trees. It also makes forks, spoons and knives using birchwood.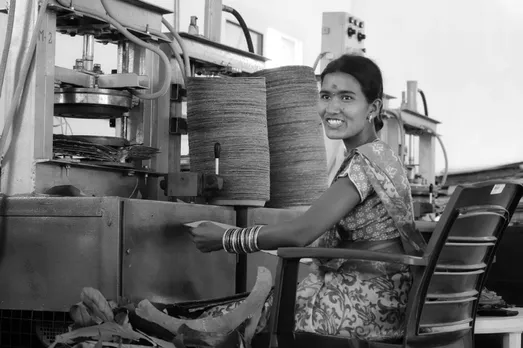 Plate-making is mechanized at Vistaraku. Sheets of cardboard make the plates sturdy. These Vistaraku plates undergo airtight packaging to avoid the formation of any moulds. Its customers are primarily organic retail outlets and also include NGOs, caterers, hotels and banquet halls.
While leaves have antiseptic and antibacterial properties, the cutlery is not only healthy but also sustainable. They are biodegradable and can be easily disposed of. Besides they don't require cleaning and save time and labour.
More here: Vistaraku: How Telangana's start-up is taking traditional Indian leaf plates to the world
5. Ethicus: Pollachi-based Ethicus brand is the brainchild of designer and textile enthusiast Vijayalakshmi Malani Nachiar and her husband, cotton ginner Mani Chinnaswamy.
Farm-to-fashion brand Ethicus was born from Mani's desire to make his business more sustainable and create an identity in the cotton value chain.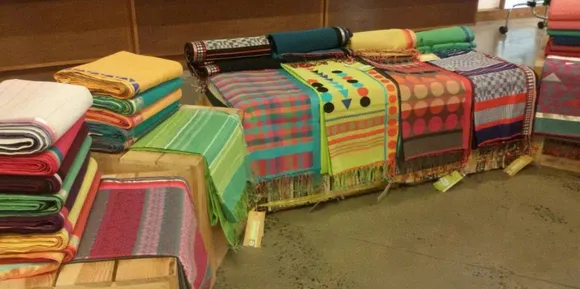 Their company Appachi Eco-Logic Cotton is responsible for growing and ginning the cotton, Viji designs the sarees, stoles and other products and they pay fair wages to weavers or other artisans who work with them. It helps to keep alive dwindling handloom weaving and other handicrafts while also strengthening organic cotton cultivation which would have otherwise lost out to Bt cotton.
Ethicus jacquard cotton saris typically cost between Rs. 6,000 and Rs. 30,000 per piece, with the special collection such as chikan going up to a lakh.
More on sustainable fashion here: The Ethicus Story: How a Pollachi-based couple made sustainable farm-to-fashion viable