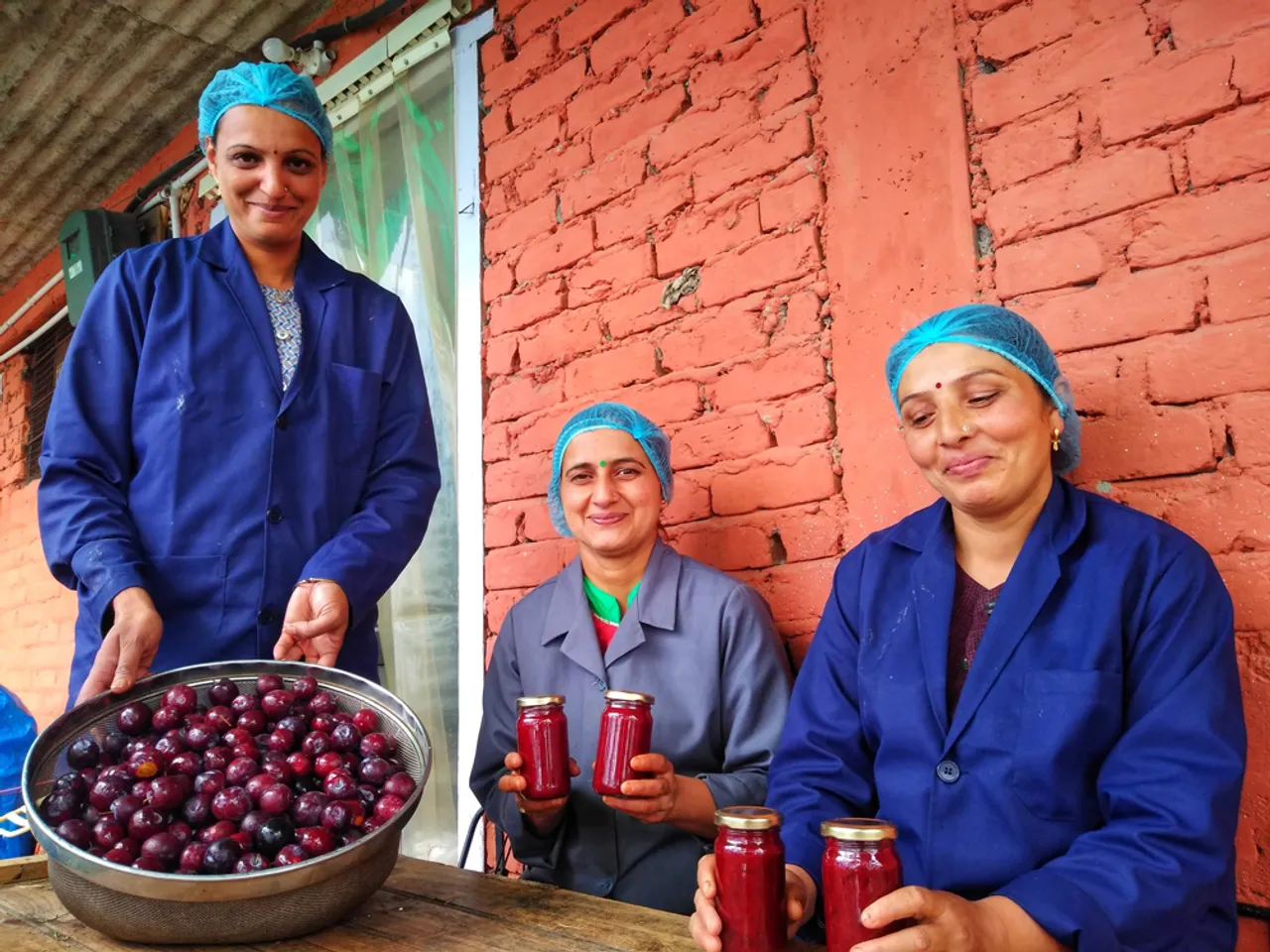 In 2005, when Kartik Budhraja and Anuradha Kanwar Budhraja went for a holiday to Thanadhar, nestled amid apple and cherry orchards about 80 km from Shimla, little did they know that they would set up a food processing business there seven years down the line. 
After the trip, Kartik went back to Singapore, where he was working as Director, On Air Promotions, for ESPN Star Sports. Anuradha joined him soon. Her last assignment was with Reuters in Singapore in 2012 before the couple decided to get back to their roots.
"We wanted to do something closer to the ground back home. While still working, we began our research and met with consultants to understand the options," says Anuradha.
Also Read: IITian gives a business boost to Uttarakhand's Pal, Bhotia & Ansari weavers
Satyanand bought the saplings of Golden Delicious apple variety from Philadelphia with the help of his mother and planted them in the village 105 years ago. About 7500 feet above sea level, Kotgarh is the fruit belt of Himachal Pradesh though it is better known as the apple bowl of India because of the quality and variety of apples produced there.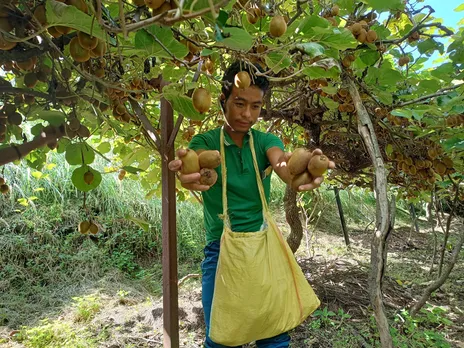 Anuradha came back in 2012 and Kartik returned in 2013 to set up Fruit Bageecha, a boutique jam and chutney-making firm that sources fruits from about 100 small and marginal farmers and employs local women for processing and packaging. 
Also Read: Mirzapur man leaves high-paying job at ILO to set up FPO; turnover crosses Rs 2 crore in two years
Boutique jam maker in the hills of Himachal
"We decided to make jams and chutneys but not the way they are produced by mass-market players. Our focus is on quality, freshness and taste without the addition of artificial flavours," says Kartik.
His father worked in the Army and the family travelled across the country. "When my father was posted in Jammu, I remember my mother making preserves and chutneys from fresh fruits. They tasted different from what was available in the market. We wanted to recreate that taste in our products," he says.
Fruit Bageecha employed local women and production began in 2014. The first product was Pahadi apple chutney made from green apples and young ginger. This was followed by kiwi preserve, plum jam in two flavours, then apricot and cherry jams. Fruit Bageecha now offers nine varieties of chutneys and preserves, processing about 12 tonnes of fruit annually.
Also Read: One knot at a time: Chennai's Vidya Sam sets up successful home business using age-old macramé art in household décor 
"Our target customers are boutique resorts around our area and luxury hotels. We are also supplying to the Army as well as corporates for gifting," he adds. Oberoi Hotels and Trident Mumbai are among their customers.
Fruit Bageecha also sells through the online marketplace Amazon and gourmet food seller Urban Platter besides its own website. It exports to Singapore where the products are available on seven platforms. 
Women power at Fruit Bageecha
The duo took advantage of the pandemic and went for re-branding that worked well for Fruit Bageecha. "An artist in Ukraine designed it for us. The look (on the bottles) is inspired by Raja Ravi Varma's painting - Woman Holding a Fruit," says Anuradha.
And it is women who are at the core of Fruit Bageecha's operations. Anuradha herself visits orchards to procure the fruits. "I go to the trees and check the fruits, meet farmers and collect data. It also builds a rapport with the local farmers and helps understand their issues," she says.
Also Read: Village Ways: How eco-friendly holidays are lifting Uttarakhand villages out of poverty
Back at the production unit, a typical day starts early with women washing the fruit followed by cleaning it and sending it to the processing area spread over 3000 sq ft. The fruit is then cut and peeled.
"We check the sugar level of fruit, its temperature and PH level and set the recipe accordingly. The fruit is cooked exactly by proportion, packaged in sterilised bottles and a sample is sent to the lab. We keep auditing our processes regularly," Anuradha says.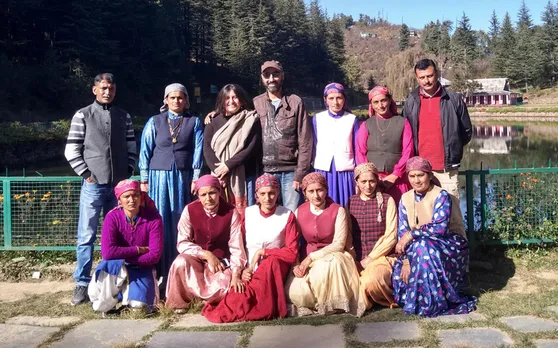 Fruit Bageecha employs about 16 people, including drivers, and hires more hands during peak production season.
They are free to leave for home if the day's work finishes early. Natasha Jaret, who has been working with Fruit Bageecha since its inception, says the flexibility at work allows her to look after her family effortlessly.
"It has also helped me build a social circle, which would have been impossible otherwise. Financial freedom, of course, is a big advantage as livelihood options are limited to farming and livestock rearing in the hills," she says.
Also Read: Uttarakhand: Himalayan homestay empowers women through ecotourism
The startup provides transportation facilities from the unit to the villages for its employees. "The wages are increased periodically," Natasha adds.
In the early days, Fruit Bageecha's operations were mostly manual. In 2016, the entrepreneur couple moved to a semi-automatic mode to save time on non-core activities like peeling fruits and coring apples so that the workers could focus on hygiene, making preserves etc. Kartik and Anuradha designed the machines and got them made by an engineer in Delhi.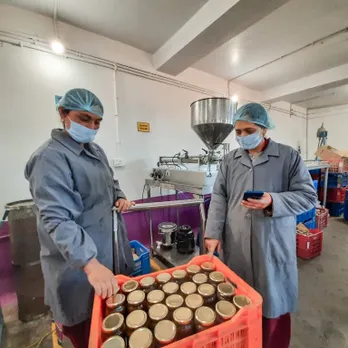 For apple chutney, the workers have to peel, 10-15kg of ginger for a batch of 120-150 kg. 
To core the apples, they designed a machine with two cylindrical pipes run by an air compressor that reduces the time drastically. 
Ecofriendly business
"All the fruit waste, like peels and apple cores, is taken by our employees for feeding their cattle. About five to ten percent of the waste is used to make manure. We don't have to throw anything," says Anuradha.
It uses glass bottles and their gift box is made of tin. With a vintage look, it is a keepsake. 
Also Read: Udaipur's Jovaki empowers tribal women by processing wild fruits & vegetable
It is also playing an important role in biodiversity conservation in the hills while buying from local growers within the 3-4 km catchment area.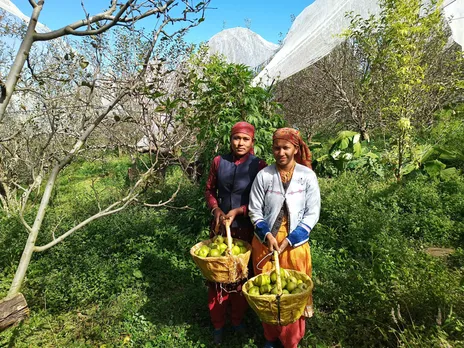 Like the green apples, which came to Kotgarh before the British and American influence in the area, are not preferred by buyers due to their looks. But these green apples, along with the Golden Delicious apple variety, act as pollinators.
Also Read: How a daily wage earner set up Rs 250-crore breakfast company ID Foods
About 10 percent of the apples are pollinators and for the last 20 years, growers have been grafting the Golden variety for pollination and cutting down green varieties. Many of the trees are over 100 years old and occupy a lot of land. Growers were cutting them down. "We asked the growers to not cut these trees and assured them product offtake," says Kartik, adding that they offer better rates than markets to the growers.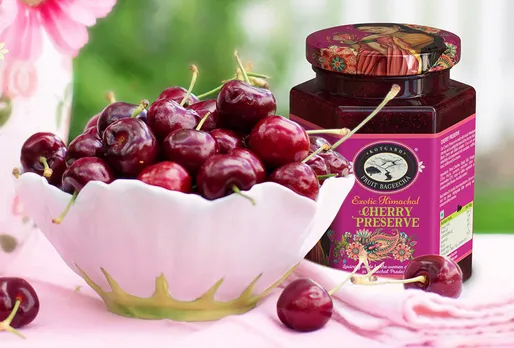 Fruit Bageecha picks up fruits from orchards in its own vehicles, so growers don't have to worry about reaching the mandis or negotiating for rates. Cherry farmer Rita Roach says her income has gone up after the couple set up operations in the area.
She grows four varieties of cherry over her four-acre farm – Red Cherry, Black Cherry, Durone Nero and Stella. 
Kartik and Anuradha say till now, the last mile connectivity was poor and the cost of product transportation was high. Now the networks are opening up, which will boost sales. "Our exports market have also picked up and the new look has been well received. So we are hoping for better times ahead," she adds.
(Rashmi Pratap is a Mumbai-based journalist specialising in business, financial and socio-economic reporting)
Also Read: From 9-to-5 job to making artisanal cheese, how Nitin Dayalu built Old Hill Foods in the Himalayas