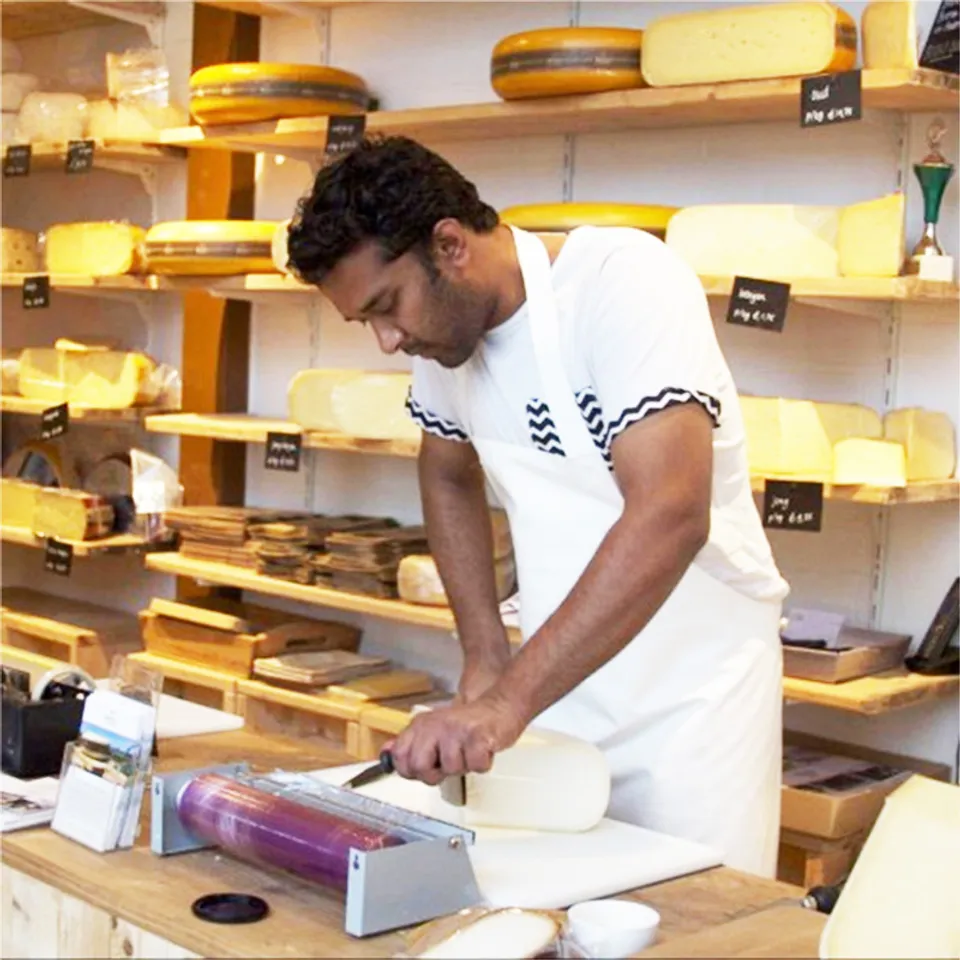 Nitin Dayalu remembers carrying an icebox in a gym bag as he would drive down from the Kumaon Hill in the heart of the Himalayas to the dusty roads of Delhi. The icebox would contain packets of parmesan, cheddar, gruyere and gouda cheese varieties made at the Old Hill Foods' plant in Mukteshwar, Uttarakhand.
The year was 2018 and Nitin would go from store to store, urging shopkeepers to display the cheese made at his unit. Some would agree and some would be outright nasty, declining to keep an 'unknown' brand on their shelves.
Cut to 2021. "Now refrigerated trucks carry our products to Delhi. There is far more demand than we can meet," says Nitin, who co-founded Old Hill Foods with writing coach Chetan Mahajan in 2018. 
Also Read: Chennai couple's startup Carbon Loops takes urban food waste back to farms
The startup turned profitable in the eighteenth month of its operations in a sector where the average time to break even is three years.
The market is dominated by Amul, with 45 percent share, followed by Parag Milk Foods' Go Cheese brand at 34 percent.
Say cheese!
Nitin, who quit his job in a bank in 2012, wasn't content with corporate 9-to-5 work. "After quitting, I decided to travel to figure out what I wanted to do as I wasn't happy with a corporate lifestyle. I wanted to do something where I could add value to others' lives," he says. 
Also Read: Rajasthan's Camel Charisma builds a superfood business with camel milk and cheese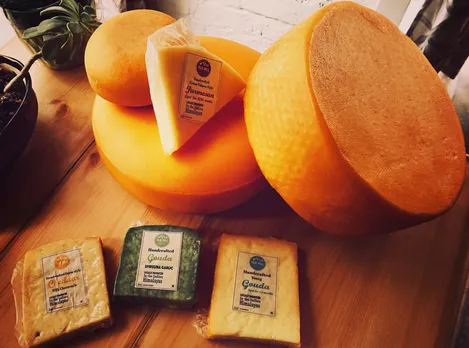 During his travels, Nitin learned many things including cheese making. "And then I began thinking of a small cheese-making unit in a rural area that could be operated even by unskilled people," he says.
So he started his research around the Terai region – the lower part of Nainital district – where the Van Gujjars and other farming families were well off with large landholdings and high volumes of milk from cattle. "I realised they don't need a project like ours. But in the Kumaon region, most families had small landholdings and were engaged in subsistence agriculture."
Also Read: Jharkhand: Tech graduate duo's dairy venture Puresh tastes success amid COVID-19
Every family had two-three cows as they required compost from cow dung for their farms. They had two to five litres of surplus milk every day, which they sold to a local cooperative. "I thought we could pay a little more for the milk and employ village women for cheese production."
"From raw materials to quality control and marketing, there were huge misses on my part as I had no business background. I had invested all my savings and I didn't have anything to invest further," he recollects.
Since Nitin's heart was in cheese making in the Himalayas, he ended up finding a business partner in Chetan, also co-founder of The Himalayan Writing Retreat and an MBA from Kellogg, who invested in the business to start afresh. 
Cheese-making challenges in the Himalayas
It took months for them to finalize a place and the next challenge was to convince locals of Budi Bana village to work with them. Since Nitin was not a local, there was obviously mistrust towards him.
Also Read: Last Forest takes honey & beeswax products from Nilgiri forests to global markets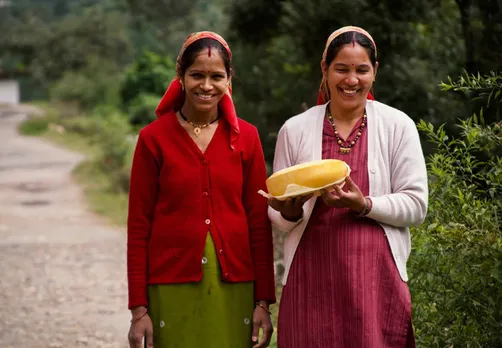 "It wasn't easy to convince the villagers to either sell their milk to us or work at the unit. I showed them videos of cheese-making plants, ads for pizzas, retail outlets with cheese on the shelves to make them understand what we wanted to make," he says.
However, over the next few weeks, when the locals saw the product moving out, some of them got interested. "Gradually, others joined. While nine women now work at the unit, four youth are involved in milk collection besides sales and allied staff," Nitin says.
Also Read: Tage Rita: Arunachal woman entrepreneur making India's first organic kiwi wine Naara Aaba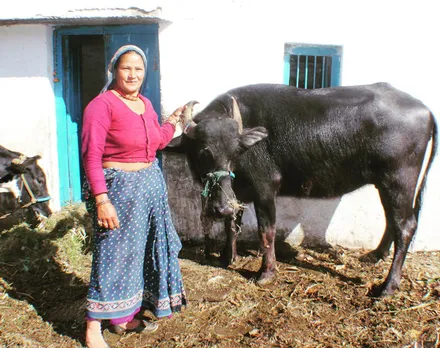 Old Hill has set up four village level collection centres within a 15km radius. They are equipped with milk analysers and weighing scales to check the quality and quantity of milk.
Early in the morning, the milk is carried on bikes to the unit. "We are paying Rs 4 to 5 per litre more than others," Nitin says. Since most of the 300 farmers are below the poverty line, a regular source of income has provided financial stability.
Also Read: How all-women dairy Shreeja has created one lakh milk entrepreneurs in Andhra Pradesh
Women empowerment
Old Hill also provides subsidised cattle feed and medicines in case cows fall sick. "We buy in bulk and give them at cheaper rates, which results in savings for them."
The unit offers economic independence to women who were earlier restricted to household work, farming and rearing cattle. "Their families are taking them seriously and they have more respect in the community because they have a respectable job," Nitin says.
Neema Devi is a case in point. She joined Old Hill Foods in February 2019 and has since been able to improve her family's finances. "The benefits of working here have been two fold – one we can meet our financial expenses comfortably and save for the future. Two, I have learned a new skill. I can now work independently at the unit," she says.
Also Read: Sundarini: the organic milk revolution by women of Sundarbans
Hira Devi, another worker, says the families in the region have to struggle financially despite farming as selling the produce is a challenge. There is no minimum support price (MSP) in Uttarakhand.
All the women workers live within a walking distance from the unit and can choose between part-time (five hours) and full time (eight hours) work shifts. Work has also brought a social balance in the otherwise patriarchal society of the region.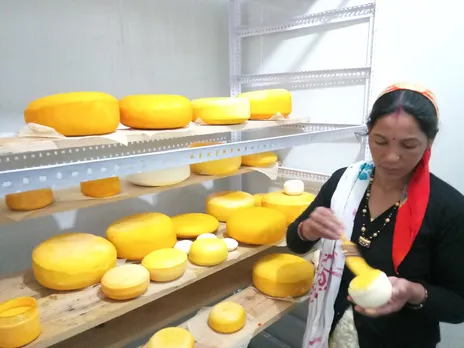 The women have now learned to make the various varieties of cheese, examine the wheels for quality and run all operations independently.
How cheese is made
For making cheese, the milk is first pasteurized and set into cheese curd using vegetarian rennet -- the enzyme that curdles milk. Outside India, cheese manufacturers use rennet from the calf intestine.
The curds and whey are separated. The solids are pressed into a wheel to get a wheel of cheese and it takes six to eight hours. The pressing continues for 24-48 hours more depending on the moisture content required.
Also Read: Koraput Coffee: How Odisha tribals brew a global coffee brand
The cheese is then aged from six weeks to a year or even 18 months though mozzarella and ricotta can be consumed the same evening. Old Hill Food, however, does not produce these two varieties.
Nitin explains that parmesan ages in 12 months, tomme or tome-style cheese is aged between 6 to 8 months, gruyere eight months and young gouda for one to three months. Medium aged Gouda cheese is aged for three to six months.
So a 200-gm block of medium-aged gouda and even cheddar from Old Hill is priced at Rs 405while gruyere cheese of similar weight is available at Rs 450. Grana Padano style parmesan cheese, aged 12-24 months, is priced at Rs540 for a 200-gm block.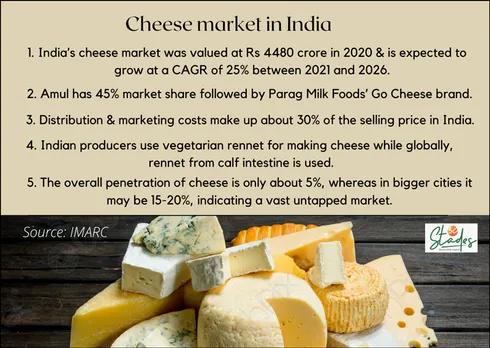 Old Hill unit has tonnes of cheese stock which is ageing comfortably on its cold shelves right now.
It supplies to stores in Delhi and Pune and retails through two Foodhall outlets in Mumbai. Online grocery store BigBasket is selling its products in nine cities. "We have some institutional buyers but we can't meet the rising demand," he says.
The next leg of Old Hill' journey involves raising funds to expand the business. "We started on a shoe-string budget and managed to turn profitable early on. Now I want to have more micro-processing units to make cheese in the Himalayas," he says.
(Rashmi Pratap is a Mumbai-based journalist specialising in business, financial and socio-economic reporting)
Also Read: How a daily wage earner set up Rs 250-crore breakfast company ID Foods