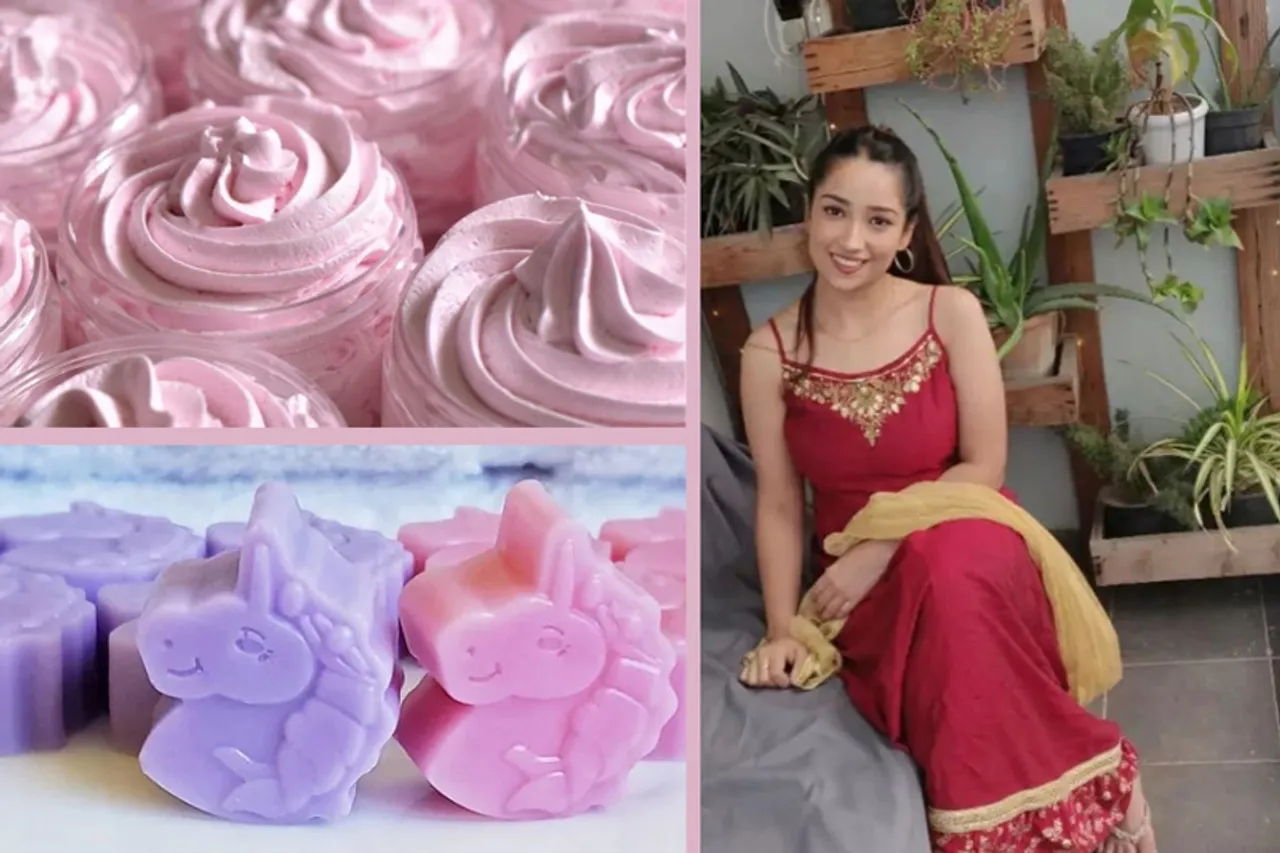 wp:html /
Anushka Sharma found herself at a crossroads during the year 2019. She was pursuing her articleship as a CA (Chartered Accountancy) student after completing B.Com from Delhi University. However, she realised that completing the course would take a long time and she had to start earning soon due to her family's uncertain financial condition.  
"I used to work on weekdays and find ways to generate some income on the weekends as I was hardly earning anything during my articleship. I was 21 then and I knew that by the time I was 24, I'd still be earning a stipend," she says. At that time, Anushka had never thought that she'd quit the course and shift to a completely new industry.
Today, the Delhi-based entrepreneur earns up to Rs2 lakh per month through her venture The Beauty Butter, which sells a range of unique and colourful handmade bath and body products throughout the country.
The inspiration for beauty business
For Anushka, the Eureka moment for starting her niche business struck when she read an article about a teenager who had a soap-making business. "She started when she was 16 and had a steady business by the time she was 19. This instantly grabbed my interest," she says. What started as a hobby for Anushka transformed into a full-fledged business within no time. But she had to go through the hiccups first.
Also Read: Kashmir's Sabira Mattoo: Pickling her way to success through home business
"Nobody was teaching how to make soaps. It was a very new concept in 2018-19 and I found it difficult to source raw materials and even the basic moulds to make them. Baking cakes, making chocolates and pastries were common, but not soaps and cosmetics," she explains.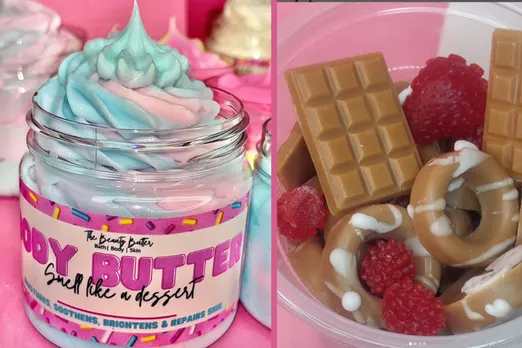 When she did not find soap moulds, she used chocolate and doughnut moulds to make her beauty products.
After testing out a few batches and gaining feedback from friends and family, she started an Instagram page in 2020. "I was getting requests from many followers to sell my products. Although I initially refused, I took it up, learned how to pack and ship the items," she says. 
Also Read: Triguni Eze Eats: How 79-year-old Radha Daga's ready-to-eat meals travelled the world with Indigo airline
The thirst to start a business
Way before The Beauty Butter was set up an 18-year-old Anushka was involved in the AliExpress affiliate program, an online retail service based in China, for six to seven months. "I had a Facebook group which had more than 5,000 members where I used to share links of trending products ranging from T-shirts, make-up products, jewellery to shoes. When they bought from the link, I used to get a commission from sales," she recalls.
Although she earned Rs10,000 to Rs15,000 from the programme while working for an hour a day, there were issues in shipping and products would take several weeks to get delivered to India. "There were a lot of uncertainties as it could stop anytime, so I discontinued working on it," she adds.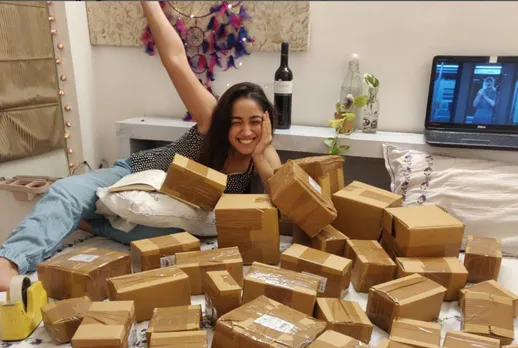 In 2020, AliExpress was among the many Chinese apps including PUBG Mobile and TikTok that were banned in India due to security and privacy concerns.
During the same period, she was also working on selling used clothes and reselling clothes bought from Delhi's Sarojini Nagar market with a profit margin.
Also Read: Kashmir's women entrepreneurs combine innovation with social media to run successful start-ups
The process of hand making soaps, scrubs & more
Anushka shares that she did her research on the internet for a year before launching an array of products and until then, she stuck to making soaps and lip balms.
"The body scrubs that I make are sugar-based and also contain glycerin, soap and coconut oil. The lip balms are all organic and have shea butter and olive oil. The products are all lab-tested and completely safe to use," she elaborates.
Anushka sources the raw materials from across India as well as some from abroad like Morocco in Africa for shea butter and argan oil.
About the process of making the products, Anushka says, "I have a big room where I've set up my equipment," she says.
It is then poured in a lip balm container and allowed to set."
Also Read: Tamil Nadu: How Deepika Velmurugan set up a successful home business by taking Kolam from doorstep to drawing room
"When it comes to soaps there are two types: cold processed and melt-and-pour. For melt-and-pour, the soaps are melted in a double boiler with colours and fragrances. After it cools down to room temperature, it is poured in different moulds and sprinkles and other decorations are added. Even the glitters I add are skin-friendly and don't cause any allergies," she says.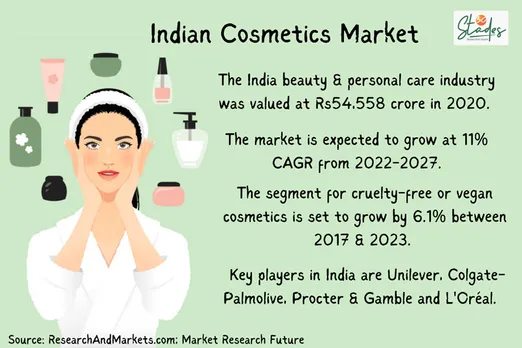 What were the challenges? "It took a long time to find quality raw materials and trustworthy suppliers. I learnt this the hard way as many times I got scammed. The suppliers would get the money and block me everywhere. So, I am very specific about getting samples first and testing them, before giving a big order to any supplier," Anushka shares.
Also Read: One knot at a time: Chennai's Vidya Sam sets up successful home business using age-old macramé art in household décor 
Growth and success
Currently, Anushka has over 80 products ranging from soaps, lip balms, body butters and scrubs, lotions to shower gels.
Anushka's mother works with her to make and ship the products. She has also hired another person to pack the items.
Anushka's venture hit the gas on the popularity button and soared to nearly 10,000 followers within three years of her Instagram page debut. Her brand Beauty Butter has sold over 4,000 products to date.
After receiving orders through direct messages (DMs) on Instagram and emails for several months, she launched her website five months back. Soon, the orders started pouring in and her products got sold out of the website quickly many times.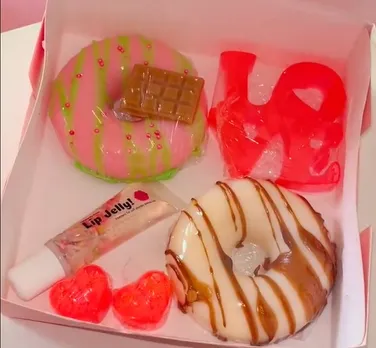 "The reception has been huge. My website accounts for 80 per cent of the sales," she says.
Also Read: Gujarat's Pabiben Rabari: from a daily wager to a millionaire entrepreneur
She has also started a wholesale line recently, where if anyone wants to start their own brand, she supplies the raw materials which include body lotion, body butter base, unrefined organic shea butter, extra virgin coconut oil as well as private labelling for her finished products for reselling. "If anyone wants to get into this business, they can start by reselling small quantities and see if they are able to sell before investing a huge amount of money in it," she tells. She already has five small business brands on board.
The Beauty Butter also caters to bulk order requests and hampers for corporates and other private events like baby showers, bridal showers and birthday return gifts.
"Earlier I used to work on weekdays and get the weekends off. Now, I work on all seven days. Sometimes, I work for 16 hours a day," she says.
Ask her about her future plans and she reveals, "I am looking at increasing the marketing of my products and hiring more skilled people. I am also looking at placing my products on e-commerce platforms like Amazon and Flipkart in the near future."    
(Narayani M is a Chennai-based writer specialising in longform writing and human interest stories.)
Also Read: How Coimbatore's organic cosmetics start-up reached 30 countries