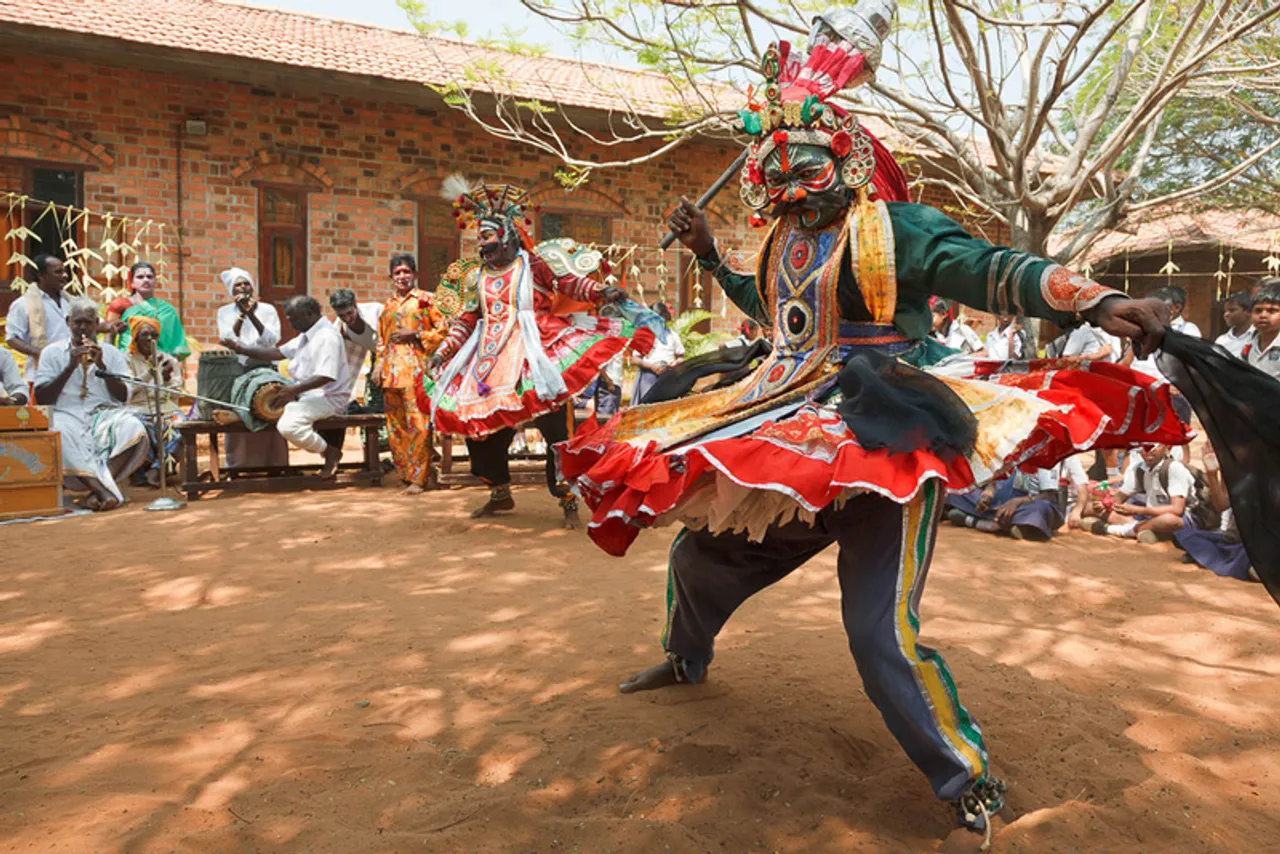 wp:html /
Therukoothu or Therukuttu is a street theatre from Tamil Nadu. Theru in Tamil means street and Koothu means theatre. The folk art form dates back 200 to 300 years. Therukoothu: Tamil Nadu's street theatre fading into oblivion
Therukoothu or Therukuttu is a street theatre from Tamil Nadu. Theru in Tamil means street while Koothu means theatre. The rural folk art dates back 200 to 300 years.
In olden times, the artists were respected for their skills and were invited to perform in villages during the festivals. Like other folk theatres, Therukoothu was not only a mode of entertainment at a time when there were no televisions or radios but also a medium of social instruction. Through the performing folk art, people learned about the history and culture of Tamil Nadu.
However, with modern forms of entertainment, Therukoothu has taken a backseat and is facing an uncertain future as young people are not learning the art form and performances and audiences have shrunk.
Read More: Pala: Odisha's 16th-century folk ballad with roots in Hindu-Muslim unity
The themes are drawn from the epics of Ramayana and Mahabharata, mythological stories and classical Tamil texts.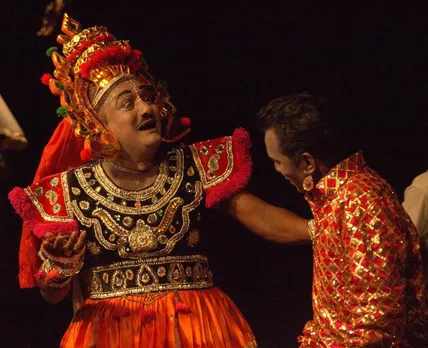 Traditionally, the theatre was performed only by men and the tradition has continued. Since Therukoothu was a mobile art form and artists travelled from one village to another during medieval times, it was thought more suited for men.
Therukoothu plays are a combination of music, dance and drama.
Read More: Jaipur's Bhatt family struggles to keep alive the Tamasha tradition
The musical instruments used by the Therukoothu musicians include harmonium, drums, Mukhvinai and cymbals.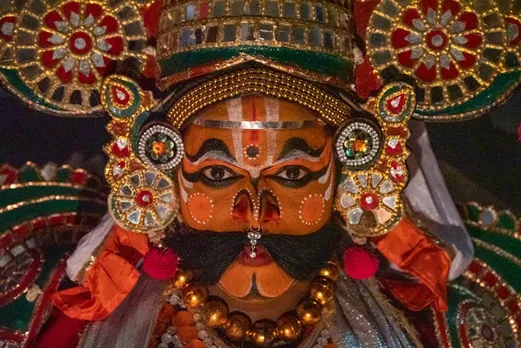 The costumes of artists are heavily embellished with bright colours. The make-up too is heavy and elaborate so the entire audience can see the characters.
Read More: Thali ki Ramayan: The 150-year-old farmers' performing folk art from Uttar Pradesh
The plays take place in a temple courtyard or ground in the village. A stage is set up and the musicians and singers sit at the back.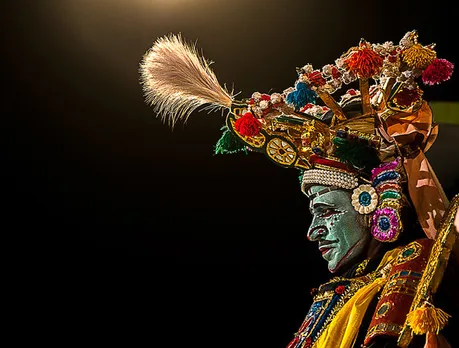 The play begins with an invocation to Lord Ganesha. Two persons holding a curtain enter the arena along with an actor dressed as Lord Ganesha. The singers sing an invocation to Lord Ganesha and other deities.
After this, the Kattiyakkaran (narrator and jester) enters the stage and narrates the story of the play and introduces the characters. In the traditional play, the narrator is a crucial element who links and weaves the story together, provides narration and context wherever required on stage.
Also Read: From online performances to vaccination, Bangalore's StillSpace Theatre helps artists keep alive their arts during the pandemic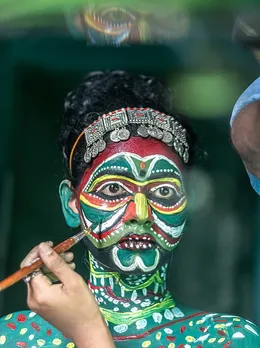 There are different forms of Koothu such as Nattukoothu, Kuravaikoothu, and Vallikoothu which depict the culture of the Tamil land. Samayakoothu is based on religious topics while Porkaalakoothu, Peikoothu, Thunangaikoothu depict the martial arts. While Therukoothu has a rich history behind it, the future is uncertain given the declining interest of the audience as well as the younger generation. More pictures here: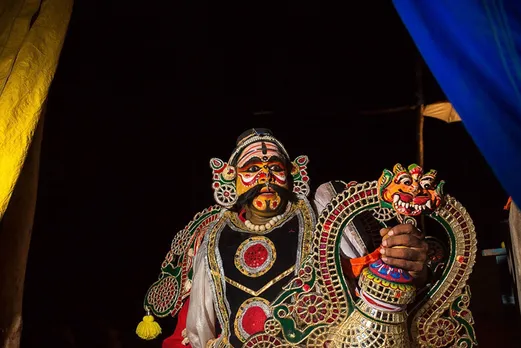 Read More: Yakshagana: Karnataka's ancient theatrical dance art adapts to reach global audience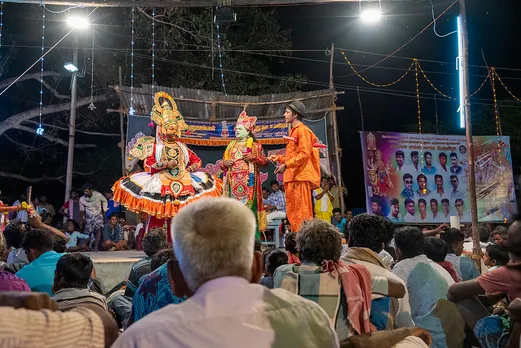 Also Read: Buried at birth, how Gulabo Sapera survived to become the global ambassador of Rajasthan's Kalbelia folk dance: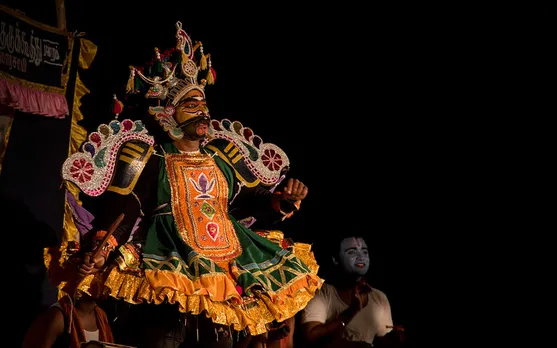 Also Read: Five Indian performing arts that might soon be lost forever