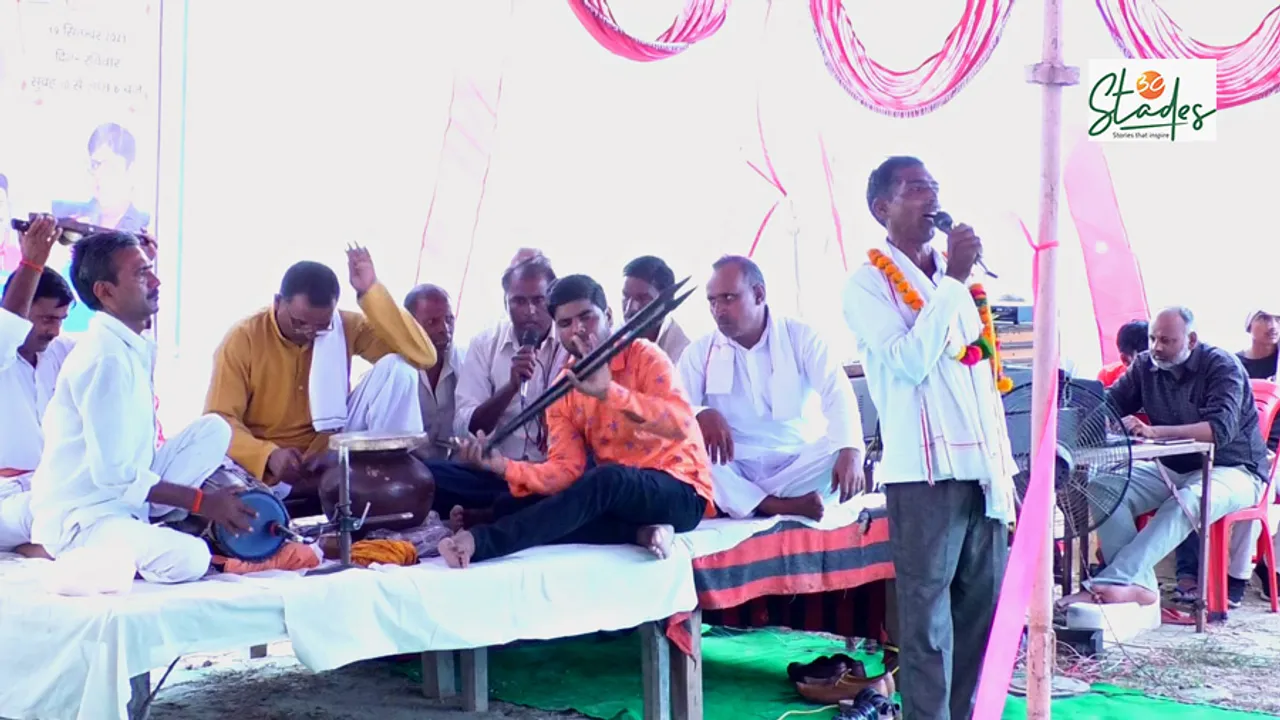 A Google search will not return any text results for Thali ki Ramayan -- an Indian folk art form that has been enthralling the audience for over 150 years. Literally meaning rendition of the Ramayana using a plate (thali or thaali in Hindi), the art is practised by mandalis or small troupes in Etah district of Uttar Pradesh who perform across north India. 
The performances are not limited to just episodes from the epic Ramayana as the name suggests; they also include stories from the Mahabharata. Off late, social issues around unity, brotherhood, environment and community development are also highlighted by artists who include one or two lead singers accompanied by others playing the musical instruments. 
Also Read: Ramlilas across the world show the enduring influence of the Ramayana
The art form is passed on orally from one generation to the next as there is no documentation on its origin. Dinesh Chandra Yadav, who has been performing Thali ki Ramayan since he was 13, says children in the area grow up watching the elders perform and learn from them over time.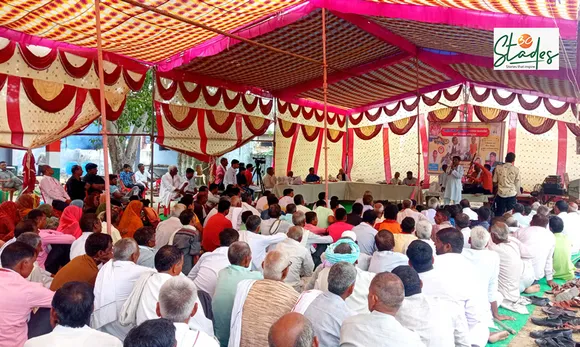 "I was inspired by my grandfather Bhagwan Singh who used to travel far and wide to perform. As a child, I was very inquisitive about this folk art and by the time I was 13, I began accompanying him to performances. My father also performed," says the 46-year-old.
Also Read: How 'Dohar' is trying to preserve folk music of Bengal & Assam since two decades
Folk art with a difference
While Thali ki Ramayan is mostly based on the two epics, it is very different from the regular rendition of Valmiki's Ramayana or sage Vyasa's Mahabharata written in Sanskrit.
"The idea behind using the local language is to make it easier for people to understand the values embedded in the epics," says Dinesh. 
Also Read: Yakshagana: Karnataka's ancient theatrical dance art adapts to reach global audience
"By making him go to the forest for 14 years (vanvaas), Kaikeyi does Rama a favour as it makes him stronger," explains Vinay Kumar, a young theatre artiste who began learning the art form when he was eight years old.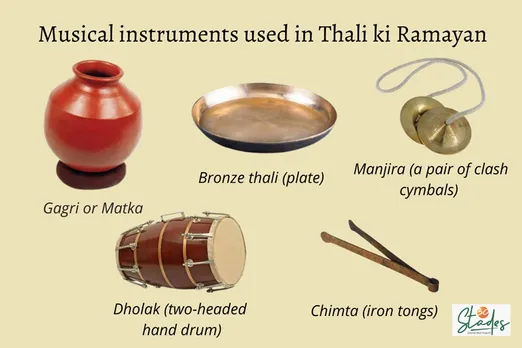 "Also Ram going to the forest is not seen as a life of hardship, leaving the comforts of his kingdom behind, but as a test and learning that fulfils many other purposes of larger societal good. The other characters highlighted in performances are those of Ravana's wife Mandodari, Sita, Laxman, and the Vanar Sena led by Lord Hanuman," says Vinay, who practices theatre in the social sector in the field of disability.
What also distinguishes Thali ki Ramayan from other performing arts is the fact that it's not a full-time occupation of the artists.
Also Read: Nirvana through dance: Uma Dogra's journey through Kathak
Thali ki Ramayan – a celebration of life
"Thali ki Ramayan is intrinsic to our lives and is performed in the evening to bring together the community for entertainment after a day of hard work. I decided to learn it as I have grown up watching it," he adds.
Audiences contribute money for the performers out of their choice. Competitions are also held and the community members contribute money only if they like the performance. "So some groups earn money and some groups don't, depending on whether the audience is happy with what they see or not," says Vinay. 
Dinesh says they also perform on invitations for special occasions like childbirth, weddings and during festivals like Navratri and Diwali. "We earn about Rs 5,000 to Rs 6,000 per performance on average as per audience contribution," says Dinesh, who also works as a farmer.
Also Read: How Ustad Moinuddin Khan is keeping the rich legacy of sarangi alive
"The origins of this art form go back 150 years. It's popular in rural north India and we have performed in Uttar Pradesh, Haryana, Delhi and even Karnataka," he adds. 
An online performance of the art form was held at Bengaluru-based artist's collective, StillSpace Theatre, as part of its Community Box initiative, in which online performances of various Indian art forms were held. It piqued the interests of art lovers. And it's not difficult to fathom why.
Also Read: From online performances to vaccination, Bangalore's StillSpace Theatre helps artists keep alive their arts during the pandemic
Music & musical instruments
The lead singer in Thali ki Ramayan is accompanied by others who play the manjira (a pair of clash cymbals), dholak (two-headed hand drum), chimta (a pair of tongs), gagri or ghara (a metallic or earthen water pot) and the thali – a plate made of bronze. Played together, their vibrations energize the surroundings and complement the lead singer's rendition.
Vinay points out that the instruments of Thali ki Ramaya are inspired by kitchen utensils, in what is yet another proof that the folk art was meant to simplify the meaning of the epics for the common people using commonly available items while providing a source of entertainment and information.
"We invert the thali on the gagri. Earlier, brass gagris and tongs were used but these days, clay pots and iron tongs have become more popular as the use of brass in kitchens is going down," says Dinesh.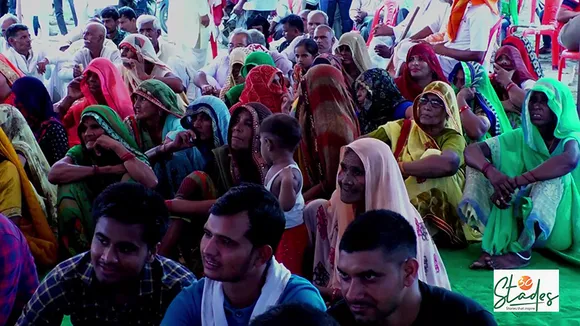 The gagri is struck with a sheesham (North Indian rosewood) stick to produce a melodious sound as the lead singer sings. The gagri is somewhat similar to ghatam, the percussion instrument used in various repertoires across India. Some troupes have also started using the harmonium now. "Our performances please the Gods and enthral the audience," he says. 
Also Read: Left on their own, performing artists bear the brunt of Covid19
The performance is also known to be held when someone is bitten by the snake with the belief that the sound of the beating of the thali will keep the person awake till medical treatment can begin. "One must remember that in earlier times doctors were not easily accessible," Vinay says.
While not much is known about the history and origin of Thali ki Ramayan, Vinay says, "It almost runs runs parallel with another traditional art form called Alha or Aalha, the folk music from Bundelkhand, which was patronized by the Chandel king Senapati in 1182."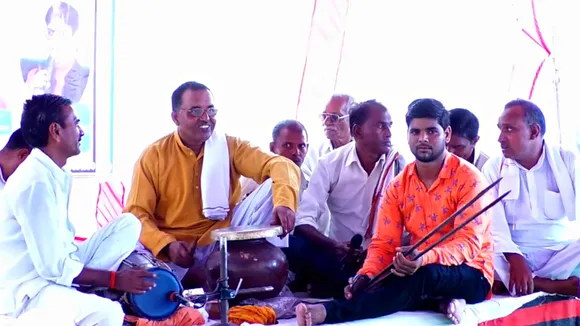 In Aalha folk music, the lead singer narrates tales of bravery and battlefield accompanied by others who play the harmonium, manjira, dholak, chimta and sometimes, also the shehnai – the double-reed conical oboe of North India.
Also Read: Buried at birth, how Gulabo Sapera survived to become the global ambassador of Rajasthan's Kalbelia folk dance
While the tales of Laximbai, the valorous queen of Jhansi, are very popular, the folk music also narrates tales from Alha Khand, which comprises several ballads in Hindi describing the brave acts of two 12th-century heroes -- Alha and Udal. It was written about a thousand years ago by Jagnayak (or Jagnik), a contemporary to poet Chand Bardai and the court poet of Chandela ruler Paramardi Deva (Parmal) of Bundelkhand.
The two arts are somewhat similar in the use of instruments, language and format of rendition. 
However, Dinesh says the next generation is not interested in learning Thali ki Ramayan. "Though my children and others of the younger generation do not show much interest in it, we are training the few who are. We hope these youngsters will carry forward the legacy of our ancestors," he says.
(Sravasti Datta is a Bengaluru-based independent journalist, who writes art, culture and human interest stories)
Also Read: Jaipur's Bhatt family struggles to keep alive the Tamasha tradition