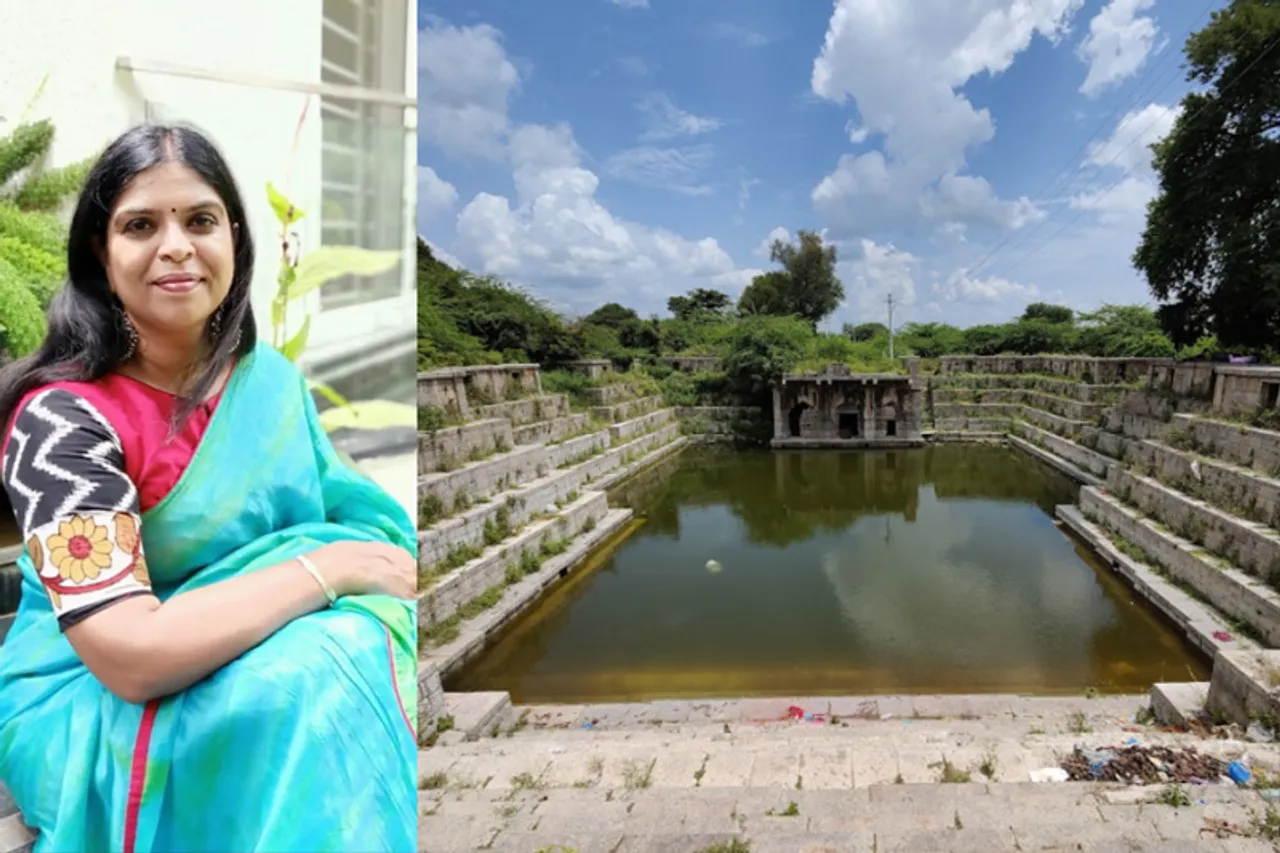 When Kalpana Ramesh returned to India from the US in 2000, she had to set up her home as well as her interior design studio. Just as she was settling down in Hyderabad, she was confronted with the problem of water shortage. Tankers came to supply water to her residential society almost daily. The water had excess chlorine and an odd taste.
"Whenever I would ask the tanker's driver from where they got the water, he would not answer," recollects Kalpana, an architect and environmentalist advocating and facilitating water conservation.
The lack of answer left Kalpana wondering not only about the quality of water she was using but also about steps that could be taken to minimise dependence on tankers through water self-reliance. Alongside, she began to work on sustainable homes in her design studio and on ways to make the community water sustainable.
A journey through waterways
"I educated myself through water conservation and sustainability workshops and by meeting officials in the government departments. Once I understood that I could become water self-reliant, I began to work on making the city sustainable," says Kalpana.
Also Read: Water conservation in rural Rajasthan increases farming incomes four times; checks migration
She started offering rainwater harvesting services to her clients and to anyone interested in saving water. In 2015, Kalpana joined SAHE (Society for Advancement of Human Endeavours) and began leading the NGO's water conservation initiatives. Around the same time, the Hyderabad Design Forum, a community of architects founded by renowned designer and conservationist Yeshwant Ramamurthy, began documenting the historic stepwells of Telangana.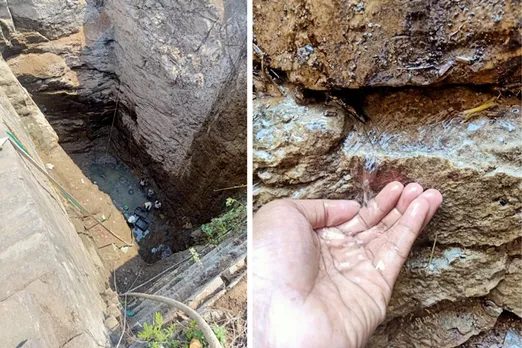 Kalpana was among those who would visit various districts for the project. "We started with 33 stepwells and found more than 220 such water structures in Telangana," she says.
Historically, stepwells were present throughout India, constructed mostly by royalty to provide water to people and shelter to travellers.
But most of these structures were abandoned and turned into garbage dump yards with the proliferation of piped water and bore wells.
Also Read: Bihar: Asia's largest oxbow lake Kanwar caught in the crossfire between farmers & fishermen
While conducting awareness meetings around stepwells, Kalpana did not see any behavioural change among the locals who did not take any action towards the restoration or upkeep of stepwells. "It was then that I founded the Rainwater Project to design and execute rainwater harvesting, restore water bodies and offer integrated water management services," Kalpana says.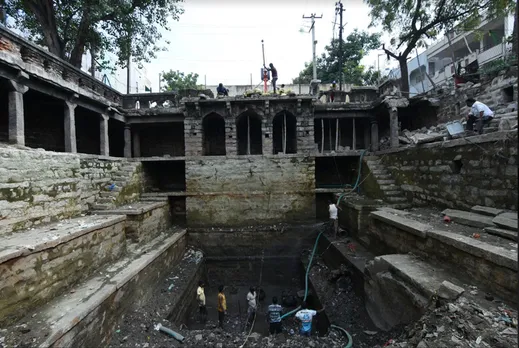 She began by providing end-to-end solutions to builders and private homeowners but her heart was drawn to the restoration of historic stepwells which could help communities around them.
It was overflowing with garbage and nobody knew where exactly this stepwell was, Kalpana says. The team went through old maps and books to find its location. 'Gachi' in Telugu means limestone and 'bowli' or 'baoli' is stepwell. The well belongs to the era of Asaf Jahi dynasty which ruled over Hyderabad between 1724 and 1948. The structure next to the Jama Masjid Dilawarsha Begum once provided water for 'wuzu' - ritual washing before prayers – to the devotees.
Also Read: How Nahargarh's 300-year-old water harvesting system beat the desert's water blues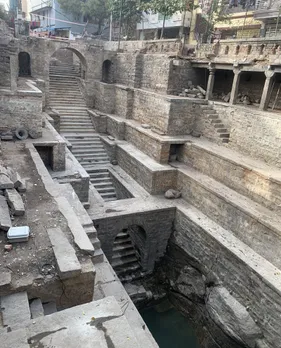 In 2020, it was undiscoverable. "It took us eight months to restore the stepwell, which has an annual water capacity of 12 lakh litres," Kalpana says.
Implementing restoration projects
Her social enterprise Rainwater Project roped in SAHE as the NGO partner and other restoration specialists for desilting and rebuilding the stepwell. The work has improved aquifers and water quality in the nearby areas. The masjid is now using the stepwell's water for gardening and its rooftop has been connected with the well for rainwater harvesting, explains Kalpana.
Her team later discovered an abandoned irrigation well-turned-dump yard next to a temple in Kondapur. The well was desilted, repaired and restored over six months. Plantations have also been done around the restored structure, which can now hold 30lakh litre of water annually.
Also Read: Delhi water crisis: 5 historic forts from which India's capital can learn water harvesting & conservation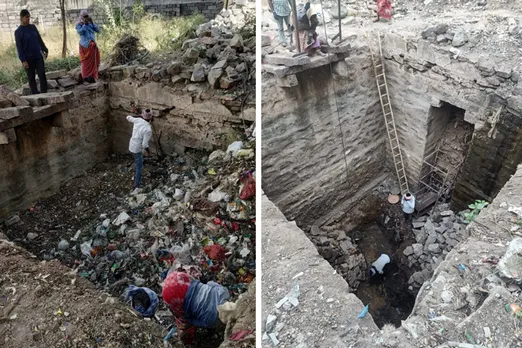 "Our model is to identify and take up projects, align them with the government goals, try to get funding and complete the restoration," says Kalpana. The projects have been funded by schools, local communities, companies and the government and the funding is not restricted to any individual or institution.
Kalpana ropes in conservation experts as well as local communities to ensure a sense of participation in restoration projects.
"Our ancestors built wells and stepwells that lasted beyond their lifetimes. We are trying to bring back that traditional reverence for water and water bodies through our conservation efforts," she says.
The restoration work for Bansilalpet was in for praise by Prime Minister Narendra Modi in his 'Mann ki Baat' in March this year. "The 18th-century stepwell at Bansilalpet in Secunderabad was first desilted and dewatered. The teams repaired the damaged portion of the well. Its stone walls were cleaned and they were structurally strengthened by conservation experts," Kalpana says.
Also Read: Gagron: Rajasthan's unique hill & water fort that is a UNESCO World Heritage Site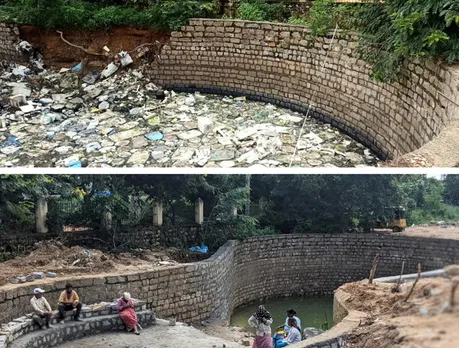 The work rejuvenated the aquifers, filling the stepwell with water once again after over half a century. The surroundings were improved through landscaping and paving, creating an oasis in the middle of the city.
Rainwater harvesting in homes, schools, farms & factories
But the restoration of historic water structures is just one aspect of the Rainwater Project's work. It also offers rainwater harvesting and water conservation consultancy services for individual homes, gated communities, farms, resorts, schools and other institutions.
"We take a holistic approach to water management. Rainwater harvesting is our primary goal. Our foundation is built on the idea of conserving water and protecting its natural resources," she says.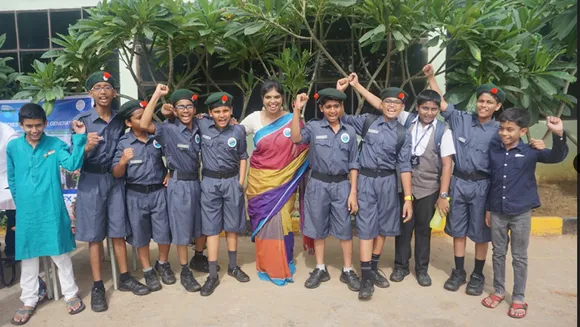 For a consultation fee, Rainwater Project provides the proposal for water management at any site that can be implemented by the owner or user on their own. "If they can't implement it, we send a team for implementation," says Kalpana.
Also Read: Maharashtra's Sea Forts: A testimony to the rise & fall of kingdoms on India's West Coast
"If you have a rooftop, then a pipe can bring down the rainwater collected there. You just need to fit this pipe with an in-line filter and then connect it to an existing bore well or tank to reuse rainwater," she explains.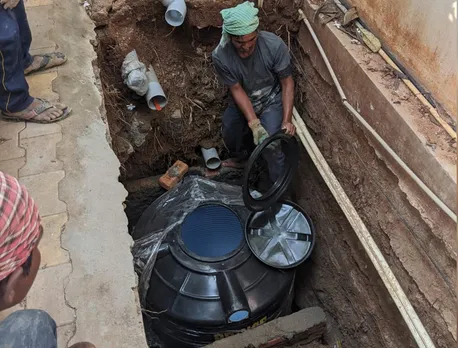 One, it improves the quality of groundwater and two, it reduces dependence on municipal water, which, in turn, decreases the stress on rivers from where water is carried through pipes to urban homes.
"Today, we are connected with tap and tanker. I believe we should get connected to the source; save the source and replenish the source," says Kalpana, who has revived hundreds of bore wells across Telangana in the last decade.
"I want to create a replicable model of wells restoration. And I want to keep pushing for rainwater harvesting and water conservation until people realise that this is mandatory," she says.
(Rashmi Pratap is a Mumbai-based journalist specialising in business, financial and socio-economic reporting)
Also Read: Bengaluru engineer revives 11 dead lakes, targets to rejuvenate 45 water bodies by 2025